APIs, commonly known as application programming interface, comprises ready-made tools, resources, and kits to develop software applications without coding from scratch and with easy integrations. Similarly, a video API can help develop video call applications with designated communication systems and other useful features without consuming many resources. In this article, you'll find the 10 most demanded video call API tools to start your development.
10 Best Video APIs with Feature Comparison
Upon searching for the best streaming video API, a list of API tools will appear in front of you. Thus, you will automatically get double-minded while choosing the option that aligns with your requirements and objectives. To make things easier, we have drafted the top 10 video call APIs.
Start building your video call applications with minimal hassles; ZEGOCLOUD is a trusted solution by over 4000 businesses worldwide. With this video chat API, you can quickly integrate video call functionality into existing applications without the need to code from scratch. For an enhanced user engagement and fully immersive experience, ZEGOCLOUD delivers video calls in a crisp 4K resolution that is backed with 300ms low latency.
The best part is users can create large video call conferences without any problem because this video API can support up to 10,000 participants in a single call. Subsequently, for developers, there is a facility for documentation, tutorials, and support service to make things easier to process.
Key Features
Users can do live streaming of their important content through screen sharing, perform co-hosting and even record the entire session.
With the availability of virtual backgrounds, face beautification, and super-resolution support, your video call becomes creative and special.
This video API comes with cross-platform support that allows users to interact on the Web, Android, and iOS operating systems.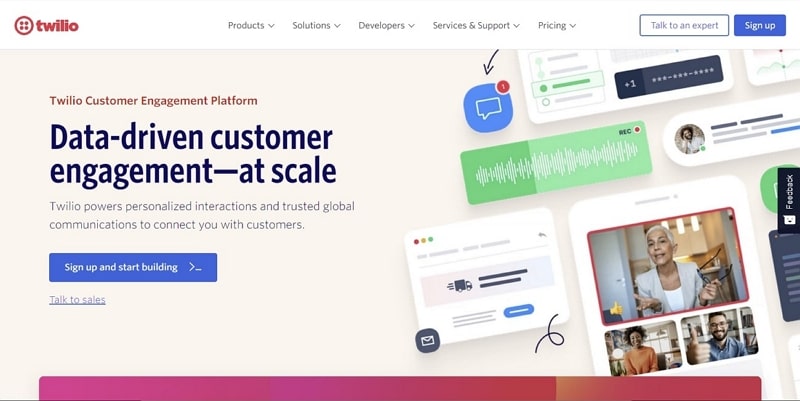 Build your video call application with minimal resources and effort, thanks to Twilio video API, an ideal solution for developing personalized communications with innovation. Although this API is paid, it allows you to start for free as a new user so that you can build your first application without charge. As a developer, Twilio API is a great assist that offers quick integrations for solutions like video, messaging, voice, and email.
Meanwhile, the API possesses customized solutions for business sectors like marketing, engineering, healthcare, retail, etc. In addition, Twilio is trusted by top brands like Allergan, Natwest, Doordash, and more.
Key Features
You can easily customize features and functionalities as per your business demands.
Twilio is developed on WebRTC technology, providing a stable platform with top-notch video call experiences.
It also allows you to utilize quality control tools for monitoring the network's performance.
Sinch is your trusted solution for developing a fully customizable video chat API for web, mobile, or desktop applications. This API provides a seamless video-calling experience with extraordinary audio support and no unnecessary disruptions. Thanks to its easy-to-understand GUI that helps make managing and integrating APIs simpler for all developers.
With the available detailed documentation, developers of all levels are given brief knowledge and ways to start the integration process. Thanks to 24/7 connectivity support, the servers are active throughout, and you won't be disconnected from your call anytime, anywhere.
Key Features
With peer-to-peer communication, send all the data to the receiver without compromising quality.
Take screen controls into your hand with effects like blur faces, bunny ears, and more.
The cross-platform support allows you to connect and call anyone, irrespective of the platform.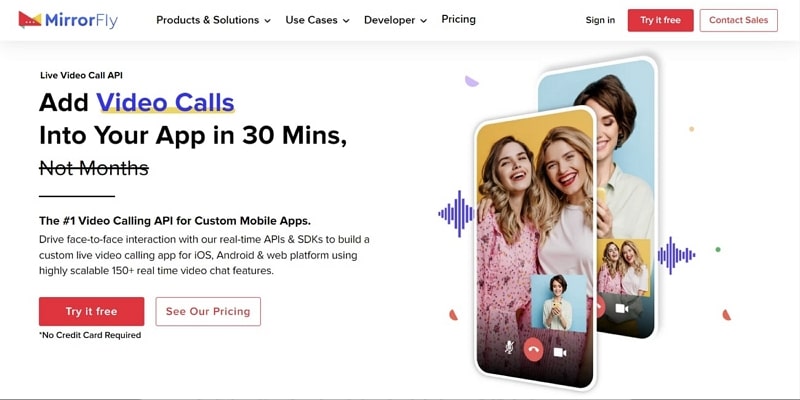 Taking video call experiences to the next level, MirrorFly is an industry-leading API for web and mobile applications. Subsequently, this streaming video API leverages over 150 real-time functionalities that drive face-to-face interactions in a more organized way. Meanwhile, the platform is easy to use, which makes it easier for the developers to handle and manage tools, resources, and widgets to execute API integrations efficiently.
Interestingly, this video chat API is built on WebRTC technology, which ensures uninterrupted video calls with clear and crispy quality. As a new user, start building your video call application on a first free trial and experience an unmatchable quality.
Key Features
The pre-built UI Kit could be modified to add functionalities like whiteboarding, recording, streaming, etc.
You can use this API to build an app for organizations such as Education, Healthcare, Gaming, Enterprise, and Financial Services.
From app design to API implementation, you have the support of 300+ professionals to guide and support you.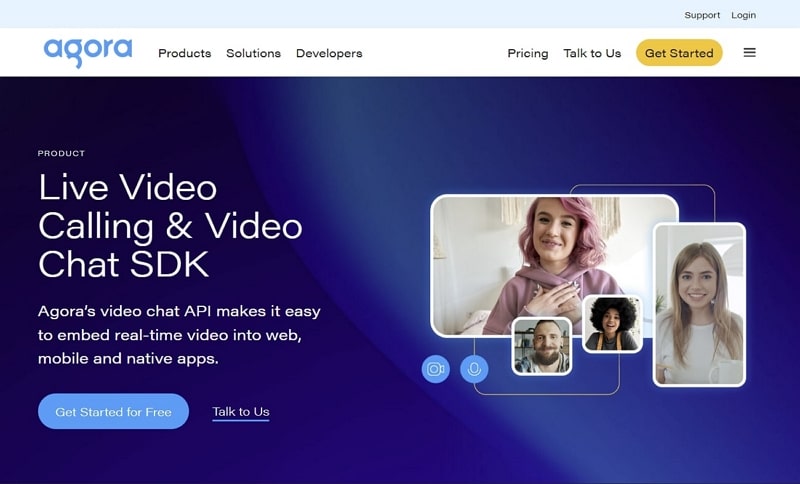 Building real-time video call applications is now easier, smarter, and more secure with Agora video call API, which conveniently drives real-time engagement. Furthermore, this fully modifiable API allows you to personalize it according to your brand's goals and within the desired features. With cross-platform support, you can quickly build your application and go live to the market faster.
As a developer, irrespective of your level and skills, there's a facility of documentation with step-by-step approaches to get started with app integrations. With a simple line of codes and other clickable tools, the final app is ready in a quick time.
Key Features
Supports wide functionalities like video calling, voice calling, message chat, whiteboard, streaming, and more.
With AI noise suppression and 3d spatial audio, experience a fully immersive sound quality with a clear voice.
By utilizing the Agora analytics tool, monitor and improve the quality of video calls by detecting issues and solving them.
You may also like: Top 10 Agora SDK Alternatives & Competitors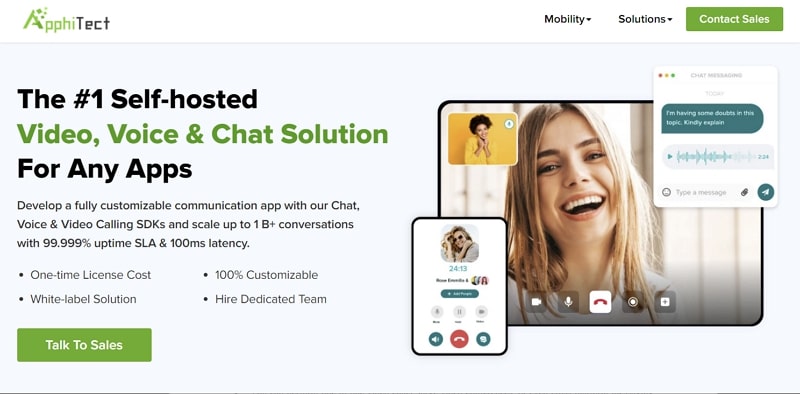 Meet Apphitect, an industrial standard streaming video API that helps businesses and enterprises build video chat applications while saving time and money. Moreover, this API has everything embedded in it, as you can perform video calls, audio chats, and text messages in a real-time scenario.
Furthermore, this API is an excellent facility for developers as it allows easy access to a range of tools and technologies that ensure streamlined app development. Meanwhile, the API supports conversational possibilities in all sectors, including gaming, health, banking, education, and more. With the scalability options, promote app engagement within the features you want.
Key Features
Apphitect API is backed with security measures like E2E encryption, HIPPA, AES26, and GDPR compliance.
With this video chat API, you can perform one-to-one video chats, large video conferences, or even cross-platform messaging.
Screen sharing, whiteboard, and language translation support features can enhance maximum participant engagement.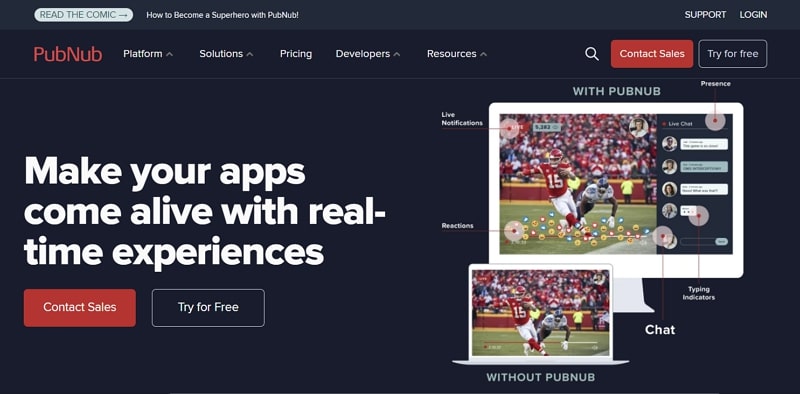 Make video calling come alive with real-time experiences at PubNub, an industrial-grade video API that offers API support for over 50 mobile, web, and IoT environments. Moreover, this API comes with over 65 pre-built UI kits that could be integrated into your applications with zero hassles while bringing tons of essential communication facilities to your app.
PubNub has a 99.999% uptime SLA, making it a stable API without interruptions and downtime errors. Moreover, it has in-detailed tutorials, demos, and documentation to make app integration easier for developers.
Key Features
Build customized apps that are tailor-made to your business goals without having tensions of infrastructure issues.
Don't worry about data privacy because PubNub complies with SOC2 Type 2, ISO 27001, HIPAA, GDPR, and CGPA.
With the file-sharing options of this API, you can also upload and share files and documents without any problem.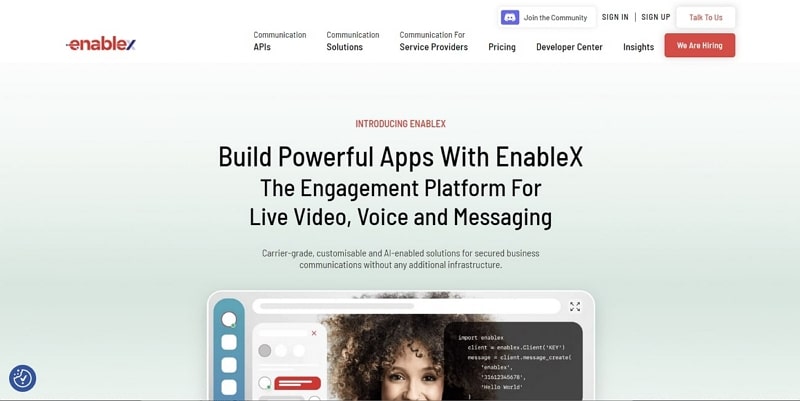 Building powerful video chat apps in a quick time is possible with EnableX video call API; you can now make personalized communication facilities to connect. With this API, you cannot only perform video calls with your loved ones, but it also supports audio calls alongside in-app chat leverage. With an intuitive overall display and easy navigation, this video API isn't difficult.
Being a developer, you've got the option to build applications using the programming language of your choice. Moreover, you can also use Visual Builder to develop apps using drag-and-drop features.
Key Features
With EnableX Cloud support, perform all your communication tasks without the problems of physical infrastructure.
Due to the Emotion AI technology of this API, you can read another person's facial expressions on-call based on their mood.
This video chat API allows you to scale your video communications with future-proof infrastructure that is both reliable and fast.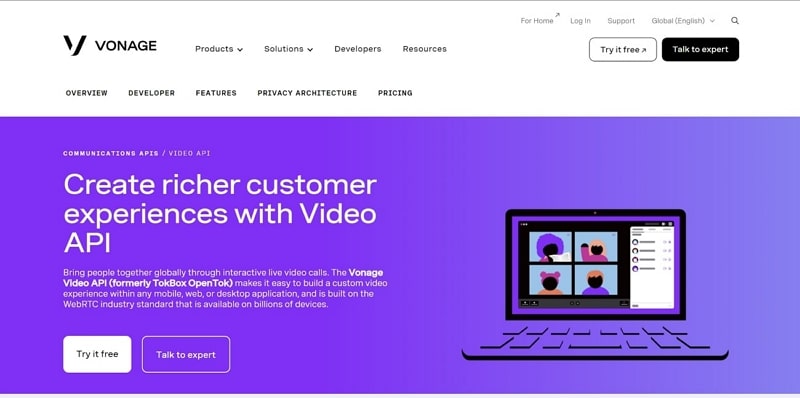 Accelerate your connections with meaningful interactions with Vonage video chat API, a powerful yet efficient video API integration. Thus, you can custom-make your video call applications without coding from scratch, as Vonage APIs offer dedicated resources, packages, and tools.
Similarly, this API aids all developers with hassle-free integrations with the availability of developer docs and programmable solutions. While using WebRTC standards, all your video call sessions remain stable and uninterrupted, which you can access on different web browsers, mobile devices, and even desktops.
Key Features
Screen sharing is a possibility by which host or even participants can share their screens for user engagement.
You can modify the video streams using filters, effects, AR/VR, and more.
With the analytics facility, review the data insights from video calls, account dashboards, and APIs themselves.
You may also like: Best 5 Vonage Alternatives & Competitors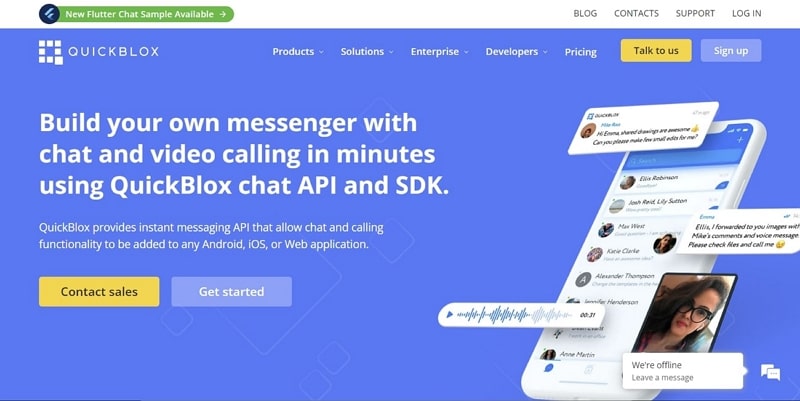 QuickBlox is a leading streaming video API that offers instant video chat integrations into Web, iOS, or Android applications. Therefore, businesses can quickly produce video chat applications with modern features in less time. This way, developers don't need to waste time building apps from scratch so that they can focus on more useful tasks.
Moreover, with the available documentation, developers are provided with step-by-step insights to implement video and calling facilities in real time. Since there is cross-platform support, you have a facility for multiple programming languages and frameworks.
Key Features
You can also manage the participants present in a video call by muting and unmuting them to avoid unnecessary noises.
With flexible data storage options, your privacy is protected from unnecessary customizations or hacker threats.
It has multiple advanced features like push notifications, file sharing, and screen sharing.
Conclusion
Video chat APIs are an excellent utility for embedding ready-made video chat functionalities into existing applications. This not only saves important time and money but also allows businesses to be more productive while reducing the time to market an application.
With this article, you have discovered the 10 best video chat APIs. Meanwhile, if you're looking for the most reliable yet efficient video chat API for your application, ZEGOCLOUD is the most-recommended video API option.
Talk to Expert
Learn more about our solutions and get your question answered.
Talk to us
Take your apps to the next level with our voice, video and chat APIs
10,000 minutes for free
4,000+ corporate clients
3 Billion daily call minutes