Tools like Agora SDK are commonly used to integrate cognitive voice calling, video calling, and chatting. But what if the Agora doesn't work well for you? What is the best Agora alternative? This article will provide the top 10 Agora SDK alternatives if you are not having access to one.
Best 10 Alternatives to Agora in 2023
There are numerous video and voice chat APIs and SDKs available in the market. Moreover, with dedicated support for multiple functions, these platforms offer extensive utility. While they generally make operations and communications more accessible, finding the best alternative to Agora is essential. Hence, let's dive into the details of looking for the best voice and video chat APIs and SDKs.
As one of the best Agora alternatives, this communication utility provides one of the most powerful systems in the network. ZEGOCLOUD is known for catering to any straightforward development of communication systems with its developer-friendly APIs. Moreover, it is the perfect tool to get along for high-quality engagement with other users and groups in the business.
While it offers dedicated voice and video chat APIs to its users, it integrates several other functions within the system. From direct calling to group calling and dedicated screen sharing, everything is available at ZEGOCLOUD.
Key Features
To know more about ZEGOCLOUD, get a view of their features in a more specific manner:
Users can go live with their communication API in a few minutes with a few lines of code. In summary, there is no need for detailed code development required on ZEGOCLOUD.
Subsequently, there is a dedicated tool available for creating a 3D avatar for an application or metaverse, which helps people personalize their character in depth.
To induce collaborations on another level, ZEGOCLOUD offers SDKs to add digital whiteboards to mobile and web applications.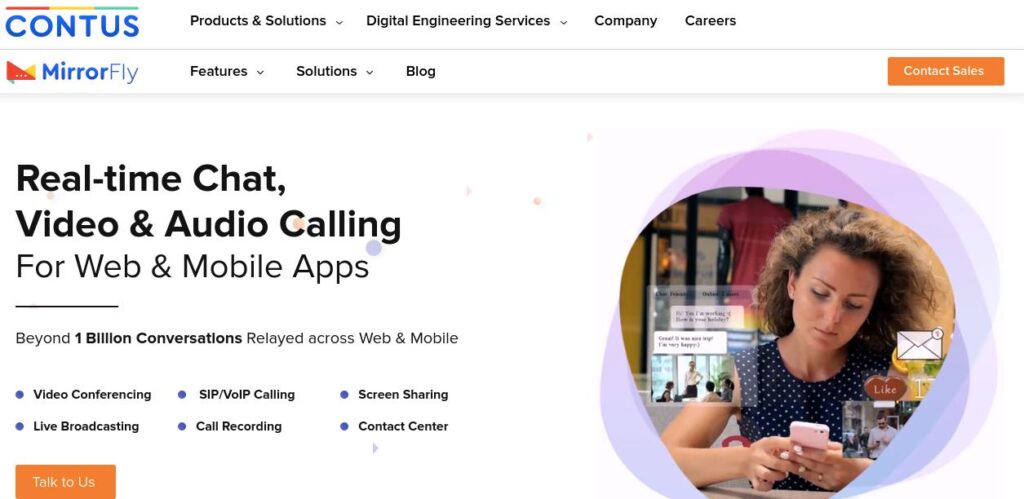 There are many reasons why you should go with CONTUS MirrorFly as the best alternative to Agora. This impressive chat communication API provides some of the smoothest functions that make it a preferable choice. In any case, with an industry-competitive speed with low latency rates, MirrorFly features a multi-platform development that allows users to operate it on different devices.
Under such unique and exclusive operations, the complete service is easy to integrate. Moreover, such qualitative operations give users a controlled environment to work with. It ensures achieving the limits of flawless communication at all costs.
Key Features
Following this, let us view some important features explaining explicit details about MirrorFly:
Every collaboration recorded by MirrorFly comes with encryption of multiple security layers.
MirrorFly integrates dedicated connections with multiple industries, with unique treatment offered for every niche.
The infrastructure provided by MirrorFly helps companies connect to millions of users, which influences scalability to better scale.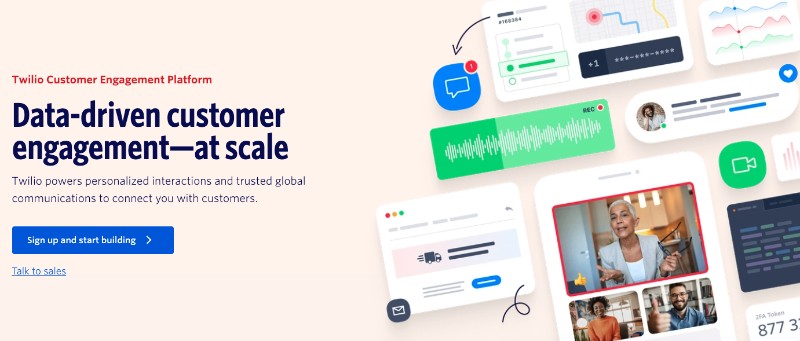 Global communications target the better side of a company's growth. For that, a proper communication system is a necessity that needs a diagnosis. Agora vs Twilio, Twilio provides the finest functionalities in managing video and voice chat communication. Subsequently, with a function to monitor calls and chats throughout the world, it makes it another best Agora SDK alternative.
Twilio API charges several other functions to make interaction proper and coherent. Moreover, to ensure that the communication between customer and provider remains intact, different personalization options are available to work with.
Key Features
Finally, let us go through the characteristics that make Twilio a special communication API in the market:
Its messaging API is quite intuitive, with provisional support for SMS, WhatsApp, and other forms of chatting platforms.
Twilio features a dedicated engagement toolkit that provides the opportunity to create omnichannel campaigns based on customer data.
Users who want to deliver emails on bigger scales can utilize the email API available to get better conversions.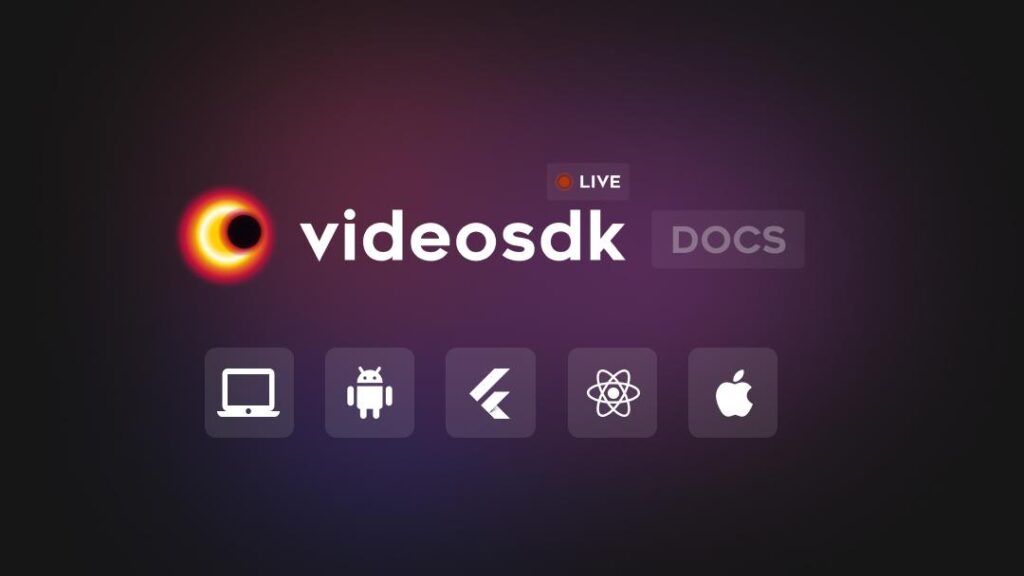 Are you looking for an agora.io alternative to develop and integrate video and voice chat APIs? VideoSDK provides a free system to companies searching to build audio and video platforms to the next level. Its level of expertise helps users create a fully customized user interface that is interactive to the easiest levels. Indeed, the availability of dynamic layouts gives an inclination to uniqueness and innovation.
VideoSDK covers several features to offer a real-time experience of the finest quality. With audio and video SDK providing a communication solution, there are other interactive functionalities available to give companies and quick and efficient solution.
Key Features
In summary, VideoSDK provides some essential features that help us recognize it in the top-notch communication APIs:
Apart from video and audio calling, this platform also offers a live-streaming SDK service for integrating this particular feature.
There are three different options of code languages available for using Web SDKs within the platform.
VideoSDK mentions some unique niche-based solutions in its API and SDK models, covering a diverse range of audiences.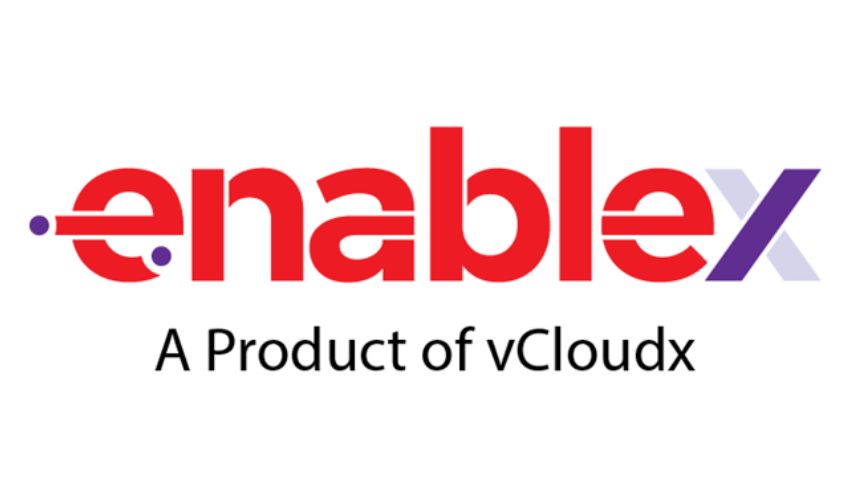 If you are up for AI-enabled solutions, EnableX gives in a secure system of developing communication without requiring complete building infrastructures. The communication APIs provided by EnableX make it a great Agora competitor, with the option of selecting the programming language of choice. While combining the communication API with other functions, EnableX offers more control over the complete model.
To begin with, this communication API and SDK ecosystem can provide a great base for developers to work on. Rather than working from scratch, using such utilities makes operations smoother and simpler. While EnableX have you covered, it provides some comprehensive resources for effective results.
Key Features
For more AI-enabled communication, go through these features to learn more about Agora SDK alternative – EnableX:
The analytics and management tool offered by EnableX helps users sharpen their conversations by pointing out the errors and issues in quality.
Moreover, apart from a video API system, there is a separate feature that allows users to develop their personal video applications within minutes.
By powering emotion-based AI learning, conversations enhance significantly through API.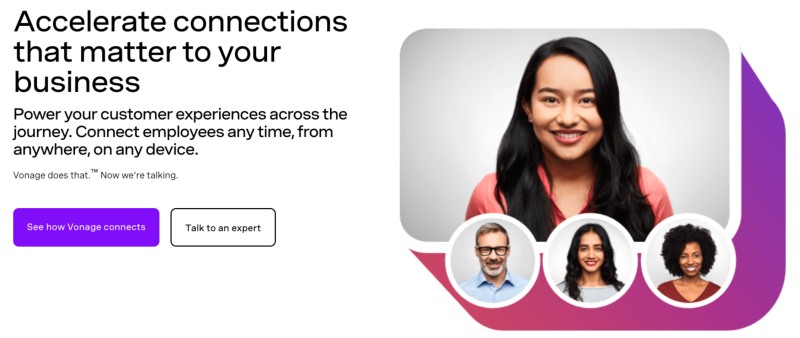 Communication, one of the best Agora competitors is the key to building a strong company and relationship in the market. Whether it be the customer or the employee, you need to have a powerful connection. For that, using Vonage can be an excellent option for effective discussions. This API service helps users reach out to customers through different means. Moreover, from messaging, voice calling, and video chatting, everything is possible with Vonage.
Subsequently, to enhance the complete process, contact centers usually require services for scaling their connections. Vonage helps in boosting communication with its tools which would eventually help in directing reasonable and appropriate connections with customers.
Key Features
Want to know more about Vonage – one of the best Agora alternatives? These features will help you out in detail:
You can unify all channels into a single platform using the voice call API and its distinctive operability.
Similarly, improvise automated responses through this communication API for converting customer calls.
Utilize the workforce management software system to influence the achievement of the service level goals within contact centers.
7. Mesibo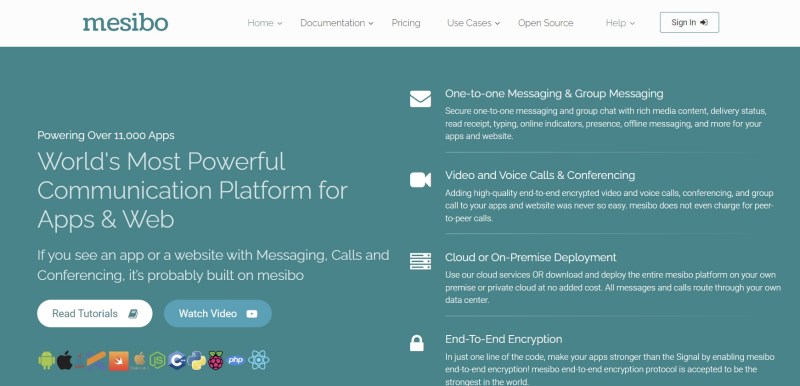 Users that confuse about the suitable communication model for their application should consider adopting services like Mesibo. This communication API provides in-app messaging, chatting, voice, and video calling services to the highest levels. Indeed, people fed up with having latencies in their communications should try to adopt this Agora SDK alternative.
In summary, Mesibo induces several other functions into its model to provide a better option to its users. While it helps users save costs on development, it ensures that communication executes in the best way possible. The APIs offered are quite powerful and simple to code in Mesibo.
Key Features
Mesibo offers some great features that make it a special tool to adapt to the systems, mentioned as follows:
Mesibo provides an exceptional system of controlling the expenses of the company by charging the service per user.
The source code available on GitHub provides other parties to utilize the code for the creation of their autonomous system.
There are different real-time indicators available in the messaging API offered by Mesibo.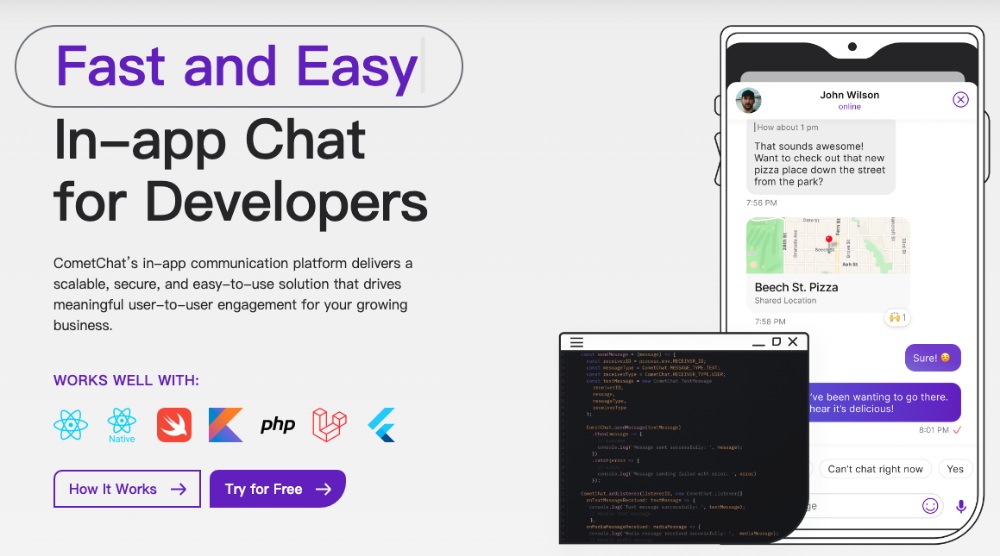 For a controlled all-in-one experience, CometChat provides an intuitive experience to customers and other users without leaving the platform as another Agora alternative. From perfect integration to great deployments, there are different user interface kits offered for polishing the experience to a better level. Similarly, the implementation options are diverse, with a system of no-code widgets for accommodating first-time users.
CometChat offers configurable systems with secure connections with protocols supported by major applications and platforms. The experience provided by this communication API builds up a new experience for the users and the consumers benefitting from it.
Key Features
Subsequently, let's find out some features which is the backbone of this API:
Apart from the basic video, voice, and chat APIs, this service also offers Single Sign-On (SSO), where user authentication is only required once.
Different bots help notify users of a particular event and execute functions that have been designated prematurely.
Review panels of rich media for all the popular sites on the internet are also supported by CometChat, making it a different API tool.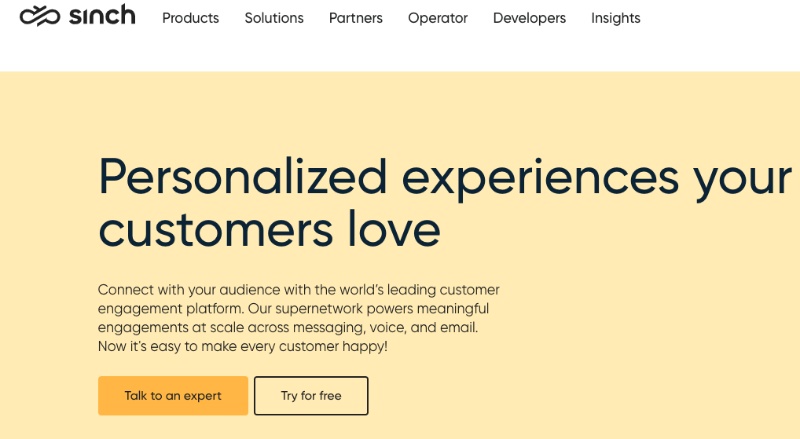 Do you wish to convert your prospected query to a customer? Sinch provides a platform that caters to a unique collaborative system where everyone is served with efficiency. The communication protocol utilized by this API brings up the narrative of creating a powerful network. Subsequently, having a good network influences a good conversion.
Sinch is a great alternative to Agora, with the ability to influence a personalized experience for converting more queries. While it secures the data involved in the process, Sinch ensures that the communication API is developed to perfection with no chances of fraud.
Key Features
Let's review some common and important features of Sinch that can help you learn more about this communication API:
A single API provides users with a direct connection to their customers, giving an enhanced experience of conversation.
To enhance the outlook of a brand, the user of messaging campaigns is also commonly managed in Sinch.
There is a verification API providing a distinct set of features that includes control of the user sign-ins.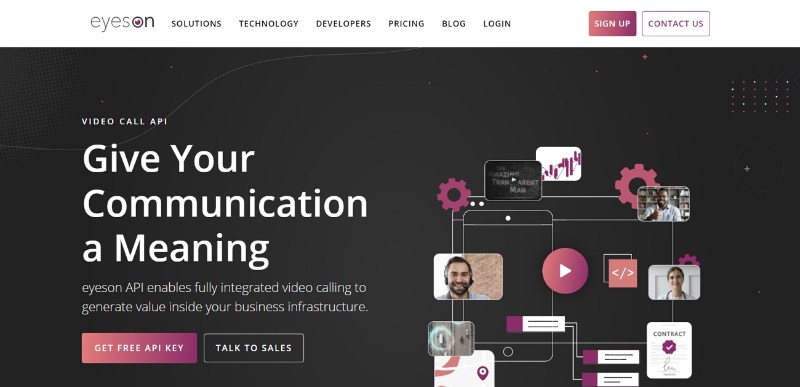 If you wish to give communication meaning, Eyeson API features a video-calling API system that brings value to the business. With dedicated utilities related to video communication, this API brings a simple and innovative solution to the desk. As it influences synchronization, there are technical hurdles that explain the quality of the API that is created.
Similarly, another important factor that is effective in this video-calling API is its full compliance with the rules and regulations set by different countries, which makes it a tangible option to work with. Considering its usability, API integration is a matter of minutes for developers.
Key Features
Eyeson offers some prolific features which make it a special tool, which is discussed below:
The speed required to execute a foolproof connection is 2MBits/s for each client, followed by no installations.
During conferencing, no user is left out of the conversation due to synchronized conferencing.
You can consider customizing your interface to perfection with the help of multiple elements available on the platform.
Why ZEGOCLOUD is the Most Reliable Agora Alternative?
Whenever a user proceeds to select a particular communication API service, they are advised to consider ZEGOCLOUD in their primary settings. For that, there are some progressive reasons for it, out of which you will be working on some of them.
The following points highlight why ZEGOCLOUD should serve as the Agora SDK competitor:
Availability and Scalability: There is a complete option for scaling the model out in seconds. The quality of this platform is evident with its viable opportunity of handling millions of multi-stream subscriptions.
Control on Latency: It effectively controls the latency rate in communication APIs. While it puts itself in comparison, it brings 300ms of average global latency, with lower records too. Conclusively, it ensures that the data packets sent through it are smooth.
Easy to Integrate: One primary reason why it is always preferred to have a good API on your system is its integration. If it is easy to integrate, it saves much time in scaling the solutions.
Developer Resources for Help: Another highlighting and impressive function offered to users in this model are rich developer resources reviews to understand the build and its quality.
Final Thoughts
Class-act products are a necessity for every company to flourish. Moreover, having the right communication API is the most important thing for a company to help them assess their client management. From proper communication to high-quality interactions, everything is possible with tools like Agora SDK.
Read More
Talk to Expert
Learn more about our solutions and get your question answered.
Talk to us
Take your apps to the next level with our voice, video and chat APIs
10,000 minutes for free
4,000+ corporate clients
3 Billion daily call minutes