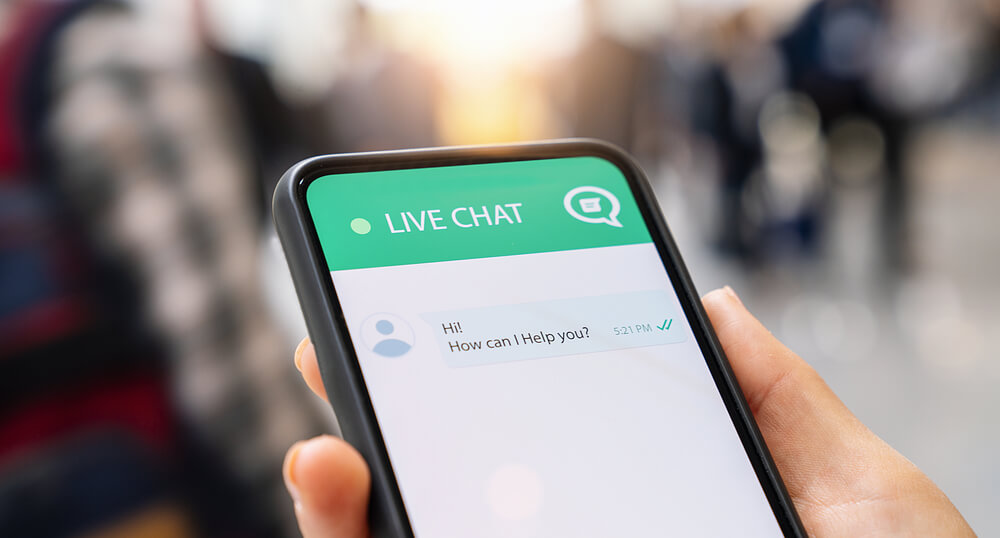 Communication is the key and what else would be better than quick and safe conversations? Therefore, different chat API platforms are developed to meet all server interactions.
These real-time live chat API programs not only engage the users but also compile everything on a single platform. Thereby, it saves your time by providing an encrypted communication environment. Let's look at what else these platforms hold for you.
Top 5 Chat API Platforms of 2022
With the advent of technology, multiple live chat API platforms have been developed. It becomes difficult to choose the best platforms among hundreds of such platforms. Therefore, here are the top five chat API platforms which you can use for your daily needs:
1. ZEGOCLOUD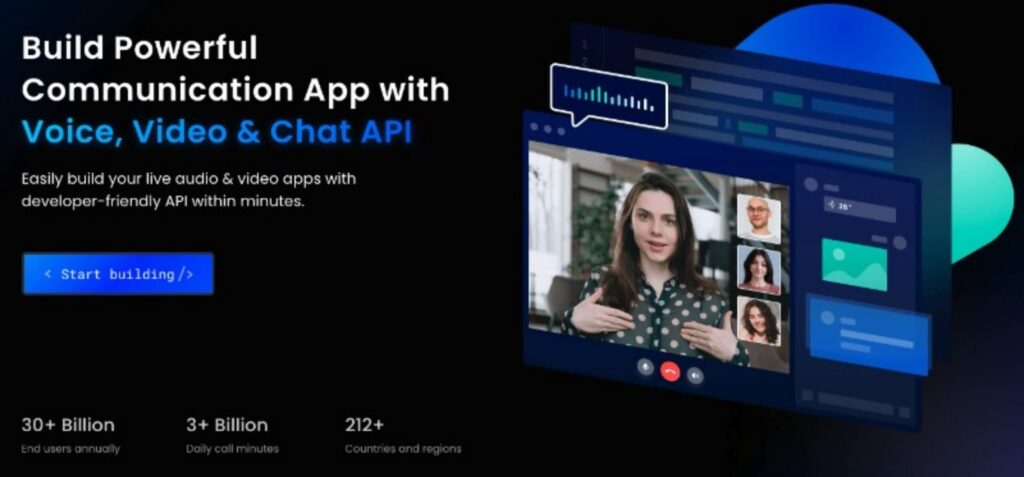 On top of all comes the ZEGOCLOUD. With the help of this chat API platform, you can get an interactive messaging service with high reliability and low latency. The simple and easy-to-use interface further adds to the functionality of this API chat system.
The best thing about ZEGOCLOUD is it is highly compatible with all android, ios, and Windows versions. Not only this but more than 200 countries are using this fully functional platform for real-time messaging scenarios. From video calls to millions of concurrent messages, you can rely on it for a smooth communication experience.
Features:
Provides a real-time video and voice streaming
Best to use for business needs and sales projects
Comes with handless CMS and web accessibility
Monitor online status and support historical messages
Offer a one-to-one chat room for both parties
Provide call invitations, and push system notification features
Price:
With well-developed and fully integrated features, ZEGOCLOUD offers competitive pricing. For startups and enterprises, it offers a 30-day free trial with 10,000 minutes free every month. Besides this, enlisted below are different pricing plans:
Basic Plan- Free with 8 business hours response time
Premium Plan- $1000/month with 2 business hours response time
Website: https://www.zegocloud.com
2. Vonage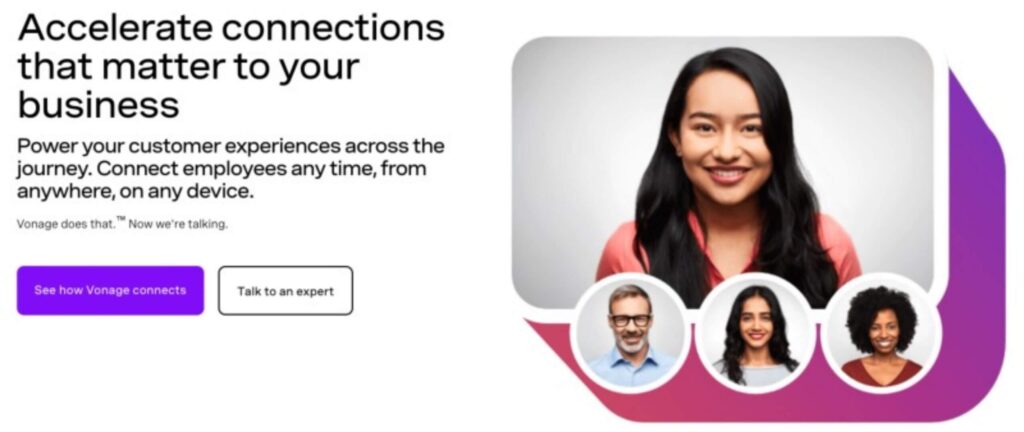 To power up your business experience and make a powerful connection between the two dealers, nothing is better than Vonage. This live chat API platform provides ultimate voice, video, and instant messaging features to its users. With unified communications, it makes the communication process easier for business dealers.
Moreover, over 100,000 businesses choose Vonage due to its simple integration and real-time analytics. By providing versatile solutions and multiple use cases, it has successfully turned many business chats into multifold sales and revenues. Thus, if you want to innovate your business communications, using Vonage is the best option.
Features:
Provides a high level of customer satisfaction
Has added desktop plugins and business desktop app
Comes with additional features for faxing and managing extensions
Best for cloud house voice, video chats
Has enhanced call forwarding options
Integrates over 40 advanced call features
Pricing:
As per the advanced features, Vonage has flexible price rates. Just like other live chat API platforms, it provides multiple pricing plans depending on your employees and business needs. Let's have a quick look at its various pricing plans below:
Basic Plan- $19.99 per month
Premium Plan- $29.99 per month
Advanced Plan- $39.99 per month
Website: https://www.vonage.com
3. Sendbird

For building a stronger community worldwide, you can use the Sendbird chat API platform. Whether it's chat, video, voice, or messaging, you can get everything under this simplified chat box. Best of all, it drives customers and increases your business engagement with its pretty simple interface.
Sendbird has a built-in modern experience for its users so they can fully manage their online communications without wasting much time. Compared to other live chat API programs, it has advanced tools and features that add to its value in the market. Thus, you can use it to access all the premium voice and video functions.
Features:
No lags and best for socializing
Has combined chat, voice, and video features
Support live chats with push notifications enabled
Provides an initiative user interface
Can be used for gaming, live-streaming, and digital health services
Offers 8% increased user retention
Pricing:
Sendbird demands the payout due to its modern and advanced in-chat experience. It provides different price rates for different employees, developers, and social media users. Here are three different pricing plans you can choose from Sendbird:
Free Plan- 10 concurrent connections
Starter 5K Plan- $399/ month
Pro 5K Plan- $599/ month
Website: https://sendbird.com
4. TalkJS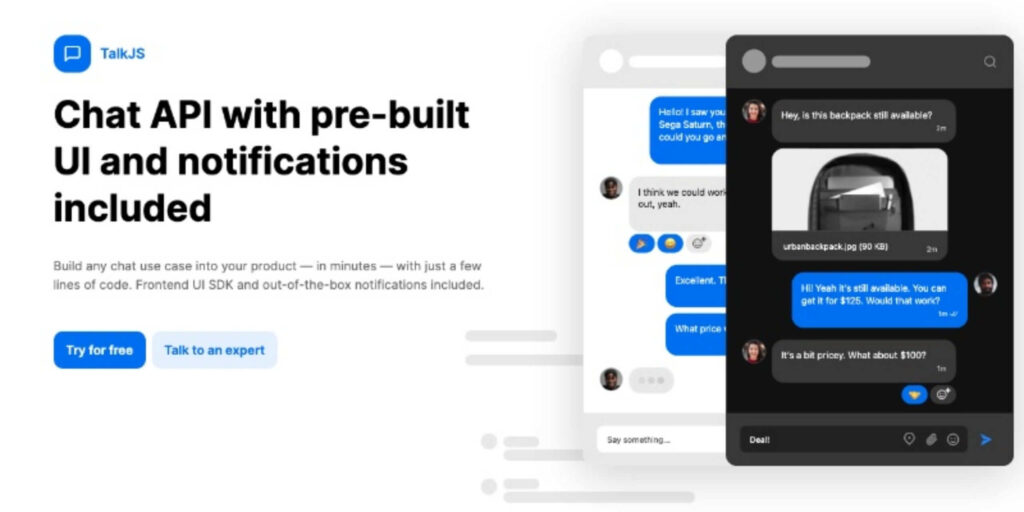 One of the simplest and easy-to-use live chat API platforms is Talk/s. The personalized features and the high response rate has made it one of the best chat apps in the market. With its fully-functional management system, you are just one click away from interacting with the World.
Moreover, Talk/s is compatible with all android, ios, and older Windows versions so it is easy to operate on every system. You can talk to anyone with its easy-to-use interface without any fear of call lags or internet disruptions. Not only this but the voice chat features enable you to fully express your emotions over the globe.
Features:
Provides read receipts feature to its users
Enable you to share high-resolution files and media
Support offline messages and stored chats
User-friendly and has built-in advanced messaging features
Comes with live chat API integrations
Pricing:
Being the simplest chat box, Talk/s provides reasonable plans for small and large individuals and business persons. You can for sure access its 30-day free trial and enjoy all voice, and video features on one hand. Discussed below are its different pricing plans:
Basic Plan- $279 / month
Growth Plan- $569 / month
Enterprise Plan- Customized
Website: https://talkjs.com
5. Twilio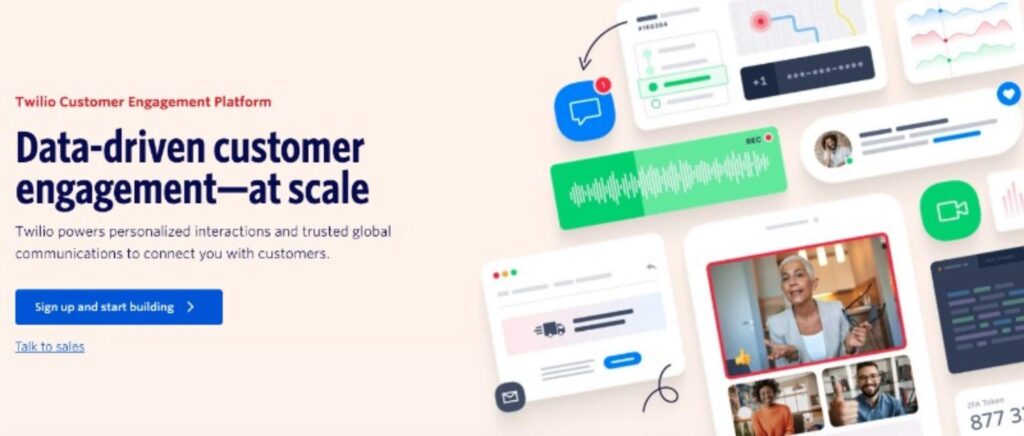 For personalized communications and global interactions, what would be better than the Twilio chat API platform? It is trusted worldwide for flexible all-in-one messaging and 1:1 automation. You can connect anywhere in the globe due to its highly integrated system that features a one-hand solution for voice, video, and email.
Best of all, Twillio chat API offers a proactive and convenient communication platform so you can experience a stress-free chat environment. From flexible workflow to seamless cross-channel communication, it empowers your business in new and innovative ways.
Thus, you can trust Twilio in terms of smooth and unified communications.
Features:
Has a programable messaging interface
Best for sending and receiving emails
Popular as WhatsApp business chat API platform
Easily monitor voice, video, and emails
Offers a simple entry point into the telephony world
Comes with step-by-step encryption
Pricing:
Twillio has made its mark in the live chat industry and is popularly known due to its unique functionalities. Thus, the pricing rates are made per minute depending on your locality and use case. Here are the multiple pricing plans for Twillio:
$0.0085/min
$14.95/month
$0.005 for WhatsApp
$0.05 per active user per month
Website: https://www.twilio.com
The Most Developer-Friendly Chat API – ZEGOCLOUD
Now, you have a list of the best live chat API platforms for all your business and social communication needs. You can choose the one according to your budget and daily needs. All of them have different functions with a different set of piercings.
However, if you are still confused about choosing the one, then ZEGOCLOUD should be your first priority. Why? The reason lies in the fact that ZEGOCLOUD is the best Twillio chat API alternative that not only manages your live chats but also comes with reasonable price rates.
Why ZEGOCLOUD's In-app Chat
For developers, ZEGOCLOUD is the only suitable live chat API platform as it provides social interactions, live call streamings, and many more. Hence, you can choose it for a more safe and more encrypted messaging environment. Enlisted below are some unique functionalities that make ZEGOCLOUD stand out from the rest:
It is a trusted and secure chat box
It is perfect for work collaborations and gaming
For students, it has an online interactive communication system
It can easily monitor smartwatches and safety cameras etc
It is compatible with all web versions, Flutter, and React Native
What are you waiting for? Sign up on ZEGOCLOUD now and get yourself free from all kinds of communication problems.