In the dynamic world of real-time messaging platforms, Sendbird has made a significant mark. However, as businesses evolve, so do their needs. Whether you're looking for more features, better pricing, or a different user experience, it's essential to know the top contenders in the market. Let's delve into the top 5 Sendbird alternatives and competitors that might just be the perfect fit for your communication requirements.
What is Sendbird?
As far as the introduction of Sendbird is concerned, it is a platform that provides in-app messaging services to its users. Companies who are careful about converting their customers at a higher rate prefer working under this model. Subsequently, while the platform claims to provide you with retention, the brands find this route an engagement-boosting experience.
Sendbird is generally recognized as a conversation API that provides businesses an in-app chatting experience. Similar to most messaging platforms that we can find, it induces an easy-to-use system with multiple elements. Moreover, conversations are effective with rich media, translation, and several other elements.
Platforms like Sendbird influence scalability to millions of users, with the opportunity to start the process in a few days instantaneously. Furthermore, users reportedly do not find this platform difficult to implement and consume.
Comprehensive Features of the Sendbird API
To learn more about Sendbird and its features in the market, this article will highlight the features of the in-app messaging API. Moreover, as you go through the features, find out why it makes it a special tool amongst users:
Checking Up on Customers: One of the most prominent utilities of having such platforms is the availability of introducing timely offers to the clients. Furthermore, you can also take follow-ups and updates from them in different instances.
Using Webhook: Sendbird features the existence of webhooks for tracking results. Any messages sent to a brand for growth tracks through it.
Mobile Integration: One of the most submissive features of the Sendbird app includes its ability to shift the conversations onto the mobile. In summary, its mobile support makes users feel more composed while conversing with their clients or customers.
Niche-Diversity: The diversity of support in niches is one of the best features offered by Sendbird API. The realization of having support for industries such as live streaming, digital health, retail, etc., clearly shows us what kind of audience Sendbird can cater to.
Pricing Plan of Sendbird API
Sendbird has positioned itself as a leading player in the world of messaging APIs, catering to a diverse range of businesses and applications. Understanding its pricing structure is crucial for businesses to make an informed decision.
1. Free Tier or Trial:
Price: Often $0 or limited-time free access.
Features: Basic messaging, limited integrations, and user count.
Limitations: Might be restricted by the number of messages or active users.
2. Basic Plan:
Price: Typically a set monthly or annual fee from $399.
Features: Standard messaging capabilities, basic integrations, and a higher user limit than the free tier.
Limitations: There might be restrictions on advanced features or higher usage tiers.
3. Premium Plan:
Price: Higher monthly or annual fee than the basic plan from $599.
Features: Advanced messaging features, more integrations, and priority support.
Limitations: There still might be some user or message limits, but higher than the basic plan.
4. Enterprise Plan:
Price: Often custom pricing is based on the specific needs of the business.
Features: All platform features, dedicated support, and custom integrations.
Limitations: Tailored to the business, so limitations are negotiated based on requirements.
5. Additional Costs:
Price: Varies based on the feature or service.
Features: This could be for extra storage, additional bandwidth, or special integrations.
Limitations: Costs might apply for overages or additional services beyond the standard plan features.
| Package | Pricing |
| --- | --- |
| Developer (100 MAU) | Free |
| Starter 5K (5000 MAU) | $399/month |
| Pro 5K (5000 MAU) | $599/month |
| Enterprise | Custom Pricing |
Best 5 Sendbird API Competitors in 2023
With a comprehensive overview of Sendbird API, you might also be thinking of knowing other tools. Indeed, although Sendbird offers a great messaging API system for its users, there still are some drawbacks that remain. For that, the discussion will redirect to finding out about some exquisite Sendbird competitors.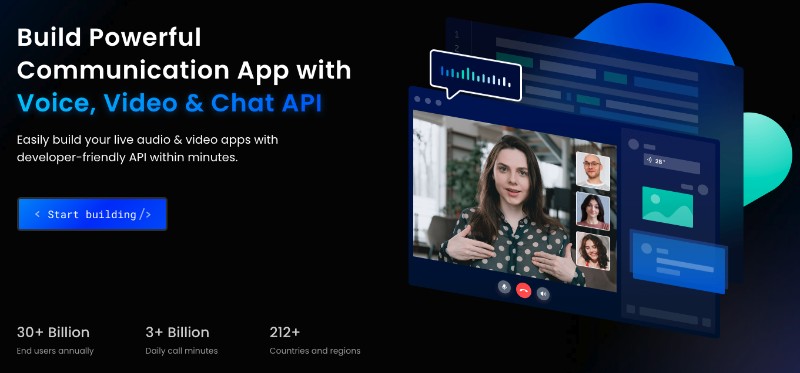 Having a comprehensive toolkit is a much better condition and situation than having a dedicated service in this market. While this puts a burden on your pocket, it gets insignificant in many ways. Subsequently, ZEGOCLOUD provides a prolific of communication APIs that cater to messaging along with other functions. The availability of voice and video chat API communication marks a different form of communication with customers.
ZEGOCLOUD is quite serious about converting customers, which needs to utilize other communication methods too. As it influences easy-to-build codes for its users, it makes it one of the best and smoothest API services in the market.
Key Features
Although ZEGOCLOUD has much to offer, the following are some prominent features of it:
More than 18 programming languages and frameworks are used to develop consumer SDKs.
Different code snippets and implementation practices are available as rich resources for building a use case for the business.
For enhanced collaborations, the use of whiteboards is optimal. ZEGOCLOUD offers a dedicated service allowing users to add this within their online platforms.
Offers 10,000 free minutes when you sign up for the app building.
If you are consistently connected with messaging APIs, GetStream API is another unique platform available as a Sendbird competitor. While it is believed to bring more composure in the market regarding services, GetStream API also offers an additional API for inducing live feeds in the company model. Moreover, as this promotes scalability to a bigger scale, GetStream is believed to present a great alternative to users who look for more reliable results.
From accelerating a product in the market to focusing on the application, GetStream API ensures that nothing is left behind. In summary, it provokes a compounded growth of your service or application in the market with scaled results.
Key Features
Indeed, GetStream API is a good competitor to consider for your system. Learn more about it with an overview of its features:
You can use auto-moderation to locate and remove harmful content within the communication channels of the company.
It provides an adequate opportunity to personalize the machine learning experience provided within the API.
There is a multi-tenancy support system available in GetStream API for users.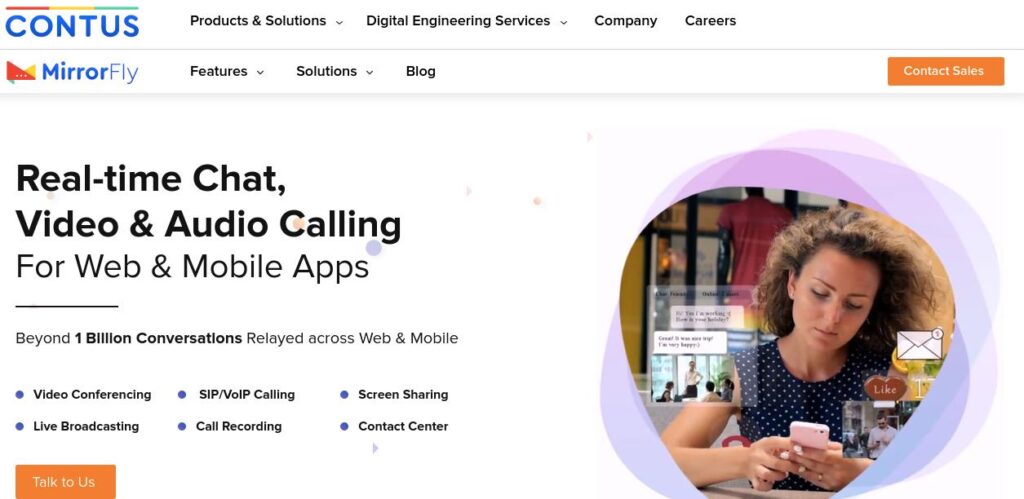 Developer-friendly APIs are recognized as a game-changing facility that is introduced on a professional scale. Subsequently, MirrorFly is among those who promoted the existence of developer-friendly integrations. It created APIs and SDKs that did not require any pre-eminent knowledge of codes. While it makes integration a matter of minutes, it influences several other prominent features.
From low latency rate to cross-platform support with multi-platform development, it helps companies run their services on every operating system and device. Along with that, MirrorFly is quite vocal about providing high security and privacy to its users.
Key Features
Subsequently, let's proceed to discuss more about MirrorFly's features:
You can find one of the best latency responses in the market of 3ms, which makes it quite efficient.
The API service is very easy to integrate, with no diversity of knowledge required throughout the procedure.
Ensure a quality result in the voice and video call APIs offered by MirrorFly to its users.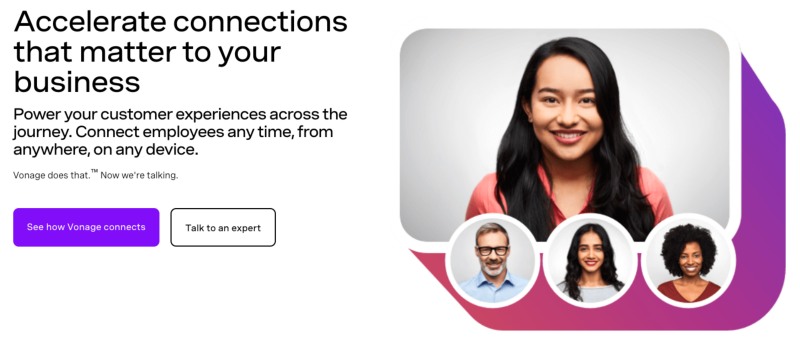 As you find the best Sendbird competitor in the market, Vonage is another unique service for influencing controlled communication. With some outstanding services in providing voice and video chat solutions, it gives multiple directions to companies that can help them accelerate their businesses. Its communication APIs cover messaging, voice, video, and several other sources, under a single hub.
Vonage provides dedicated support for contact centers and helps them convert their customers. While it empowers the customer experience, they are significantly moved by the availability of connecting with the company at any instant.
Key Features
Following this, figure out some essential points about Vonage communication API:
Create a complete admin portal within Vonage using the unified communications services in the API.
You can also influence the feature of live chats within your operations for better conversation with the customers.
The dedicated contact center services provided by Vonage give full control to the user on the communications, allowing them to influence maximum conversions.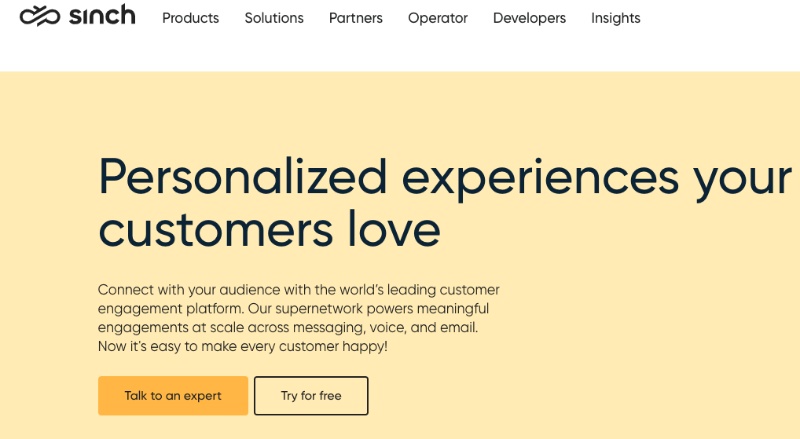 Customer connection is an essential element for a company to grow in the market. Although Sendbird features a great system of messaging for its users, there is always a need for more. Being a one-stop solution, Sinch offers message support, including voice API connections. It also provides email servicing, which gives companies the leverage of sending controlled emails to customers for more conversions.
There is always room for more, which Sinch caters to as a platform. Its development as an API gives many benefits to the company. The conversation is the key to converting a customer; however, it should be more defined. This is what drives Sinch as a communication API in the market.
Key Features
Although Sinch's introduction was comprehensive; however, there is still a need to know more about its features:
Omnichannel customer service is available for creating an engaging environment within Sinch API.
Using AI chatbots and voice bots helps users scale their communication on a bigger scale.
There are different security protocols practiced within the service for keeping customer data safe.
Why ZEGOCLOUD is the Most Reliable Sendbird Alternative?
With an overview of all major communication APIs present in the market, it has been discovered that ZEGOCLOUD provides the most diverse and composed API integration services among the competitors. To begin with, it offers more diversity in its toolkit and influences reliability among the users.
With such competitive features to compare from, this Sendbird competitor stays at the top. Let's find out why this is the case:
Easy to Install and Use: The reason for using and shifting to APIs is to have a simple and easy-to-install system in a running system or business. Furthermore, ZEGOCLOUD provides the required possibilities with a straightforward installation model and implementation.
Archive Data on Cloud: Another reason for having ZEGOCLOUD as your Sendbird alternative is its ability to store dedicated data within the cloud. You can have your streams recorded and archived onto the cloud with ease.
Rapid Uptime and Conversion: You will get an exclusive 99.99% uptime while using ZEGOCLOUD as your communication API. If you intend to scale your business, this is the right direction for you to take.
Low Latency Rates: ZEGOCLOUD is a great option in the market for many reasons; however, one prominent highlight of this communication API service is its ability to ensure low latency rates. With an average of 300ms global latency, the results are always optimal and high-quality.
Final Thoughts
You will surely learn about Sendbird API and its unique services. While it enhances your messaging protocols, there are other services that are based on providing impressive communication enhancements with their APIs. Platforms like ZEGOCLOUD efficiently ensure a complete communication system for businesses through their accessible video call, voice call, and chat APIs and SDKs, as discussed in the article.
Read more:
Talk to Expert
Learn more about our solutions and get your question answered.
Talk to us
Take your apps to the next level with our voice, video and chat APIs
10,000 minutes for free
4,000+ corporate clients
3 Billion daily call minutes