Like all other fields, the health industry relies heavily on technology for almost everything nowadays. As technology advances, so does the need for secure and compliant messaging apps. With patient privacy and data security at the forefront of every healthcare provider's mind, finding the best HIPAA-compliant texting app has become more crucial than ever. This article will introduce you to the top 10 HIPAA-compliant texting apps in 2023.
What is a HIPAA-Compliant Texting App?
A messaging app that adheres to HIPAA regulations is known as a HIPAA-compliant text messaging app. HIPAA is a US law that governs the handling of patient medical data. One of the essential criteria for any HIPAA-compliant app is to ensure the secure transmission of Protected Health Information (PHI) between intended recipients.
Typically, these apps utilize high-level encryption and security protocols to transmit PHI and prevent unauthorized access securely. They may also include message archiving, user authentication, and remote wipe capabilities to enhance the communication's security further.
Experts in relative fields usually do rigorous testing and validation to ensure that a targeted app follows HIPAA guidelines.
How to choose the best HIPAA-compliant Texting App?
When choosing a HIPAA-compliant texting app, it is essential to consider several important factors.
1) It is crucial to prioritize security features. Look for apps that offer end-to-end encryption, ensuring that all messages and data remain confidential and protected from unauthorized access. Additionally, opt for platforms that provide secure user authentication methods such as two-factor or biometric verification.
2) The app complies with HIPAA regulations, another crucial evaluation aspect. Ensure the app has undergone a thorough audit and meets all requirements to safeguard patient information.
3) Consider the ease of use and compatibility with your existing systems. Look for apps that integrate seamlessly with your electronic health record (EHR) system or other communication tools used within your organization. It is also beneficial to choose an app that offers additional features like message recall, message status indicators, and message forwarding capabilities to enhance communication efficiency.
4) Assess the app's customer support and training resources, as prompt assistance can be vital.
The Benefits of HIPAA-Compliant Chat Apps
Using HIPAA-compliant apps is always more beneficial regarding health matters than common text messaging apps. Your medical history and data are extremely private bits that you shouldn't take lightly. Some of the benefits of HIPAA-compliant chat apps are the following:
Enhanced Security: First and foremost benefit of using a HIPAA-compliant texting app is enhanced security. These apps use encryption and other advanced security measures to protect sensitive patient information. Additionally, many HIPAA-compliant texting apps offer features like remote wiping and automatic logouts to enhance security further.
Improved Communication: The HIPAA-compliant texting apps in the healthcare sector can enhance communication between healthcare providers and patients. With these apps, they can follow up on patients, provide quick responses and share important news. It can lead to real improvement in patient life and make the doctors' work less hectic.
Increased Efficiency: Text messaging is a fast and convenient way to communicate, and HIPAA-compliant texting apps can improve efficiency by reducing communication delays. For example, healthcare providers can use the app to quickly communicate with colleagues about patient care without having to call them.
Cost Savings: These apps can help healthcare providers save money by reducing the need for paper-based communication and other costly communication methods. In addition, the reduced use of paper also helps in the Green Earth initiative. Moreover, it also makes the whole communication system more efficient.
You may also like: Best 5 Chat API Platforms for Developers
Must-Have Features of HIPAA-Compliant Messaging App
Now that you know how useful HIPAA-compliant text messaging apps are, let's look at their core features. There are certain features that make these apps different from regular messaging apps. Below are some of the must-have features of HIPAA-compliant messaging apps:
Encryption: Whenever the question of data security arises, the best answer is always encryption and preferably end-to-end encryption. Moreover, it should use the latest and public encryption algorithms for end-to-end encryption of user data.
User Authentication: Users on HIPAA-compliant apps should have to go through strong authentication measures before they can access the messaging app. The app will remain at high risk without strong authentication mechanisms like two-factor authentication.
Access Control: The messaging app should have access controls that allow administrators to manage user permissions and restrict access to certain features or data. It should follow a well-established access control approach like RABC or ABAC.
Audit Logs: It is also a must for a HIPAA-compliant app to maintain audit logs of all user activity. If the user activity is securely stored, it is easier to apprehend the attackers in case of a data breach. Moreover, it is also helpful with system issues arising in the app.
Data Retention: How the HIPAA-compliant app you use handles your data is also essential. The apps should have publicly stated data retention, transmission, and disposal policies. All of their data handling policies should strictly comply with HIPAA.
10 Best HIPAA-Compliant Text Messaging Apps
While choosing the best HIPAA-compliant text messaging app, you will come across many options. As your medical data is extremely important, you need to be careful when selecting an app. Below is the list of the 10 best HIPAA-compliant text messaging apps: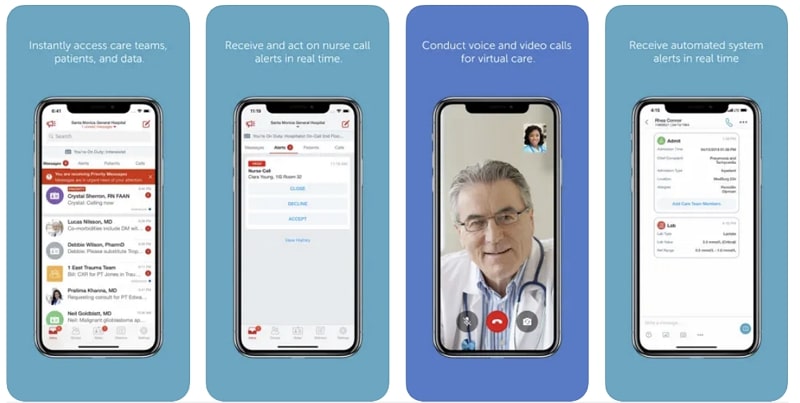 TigerConnect is a leading HIPAA-compliant secure text messaging app that is widely used in the healthcare industry for secure communication among healthcare providers and teams. It contains all the features of a modern messaging app, from group voice and video calls to file transfer and screen sharing. Moreover, its many features include end-to-end encrypted messages and the ability to undo a sent message.
It also allows users to send priority messages to ensure critical messages are addressed promptly. Furthermore, it supports team collaboration features through groups and channels for easy communication and coordination.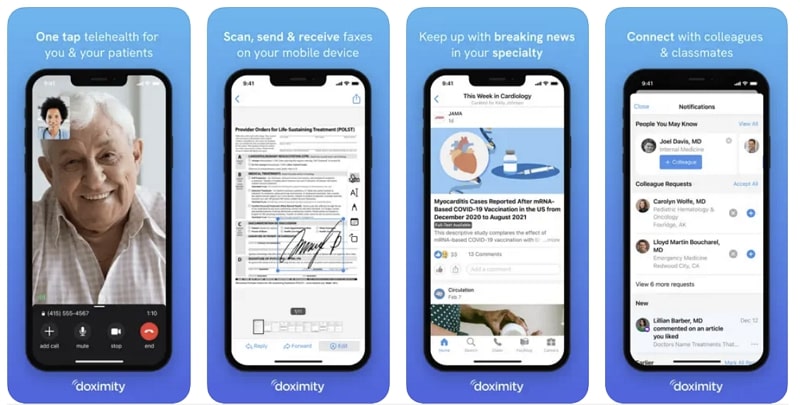 With over 2 million users, Doximity is commonly referred to as the HIPAA compliant messaging app for healthcare providers. It contains all the needed services for a modern social media platform but with added security and regulations of HIPAA. As for the features, it contains numerous, but the two most important regarding this discussion are powerful end-to-end encryption and telemedicine.
Users can arrange virtual visits and online consultations using the telemedicine feature of this HIPAA-compliant texting app. It also supports many features focused on healthcare professionals, like job listings, physician directories, and EHR integration.
It is a product of qliqSoft and ranks among the best HIPAA-compliant text messaging apps for Android and iOS users. Using qliqCONNECT, patients can stay in contact with their healthcare providers as this app bridges the communication gap between doctors, nurses, paramedics, and patients. For communication, the app support secure messaging, which is end-to-end encrypted.
Other features offered by qliqCONNECT include patient communication, chronic care management, and on-call scheduling. Furthermore, it also supports Document Management and E-Signature.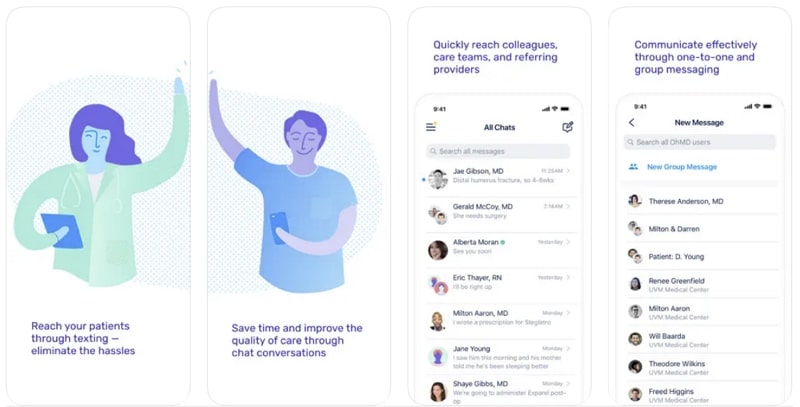 Working as both a telehealth platform and HIPAA-compliant secure text app, ohMD is an excellent choice due to its impressive list of features. It offers a wide range of features to support secure messaging, telehealth consultations, patient engagement, and care coordination. This app supports secure, end-to-end encrypted message services for one-on-one and group chats.
ohMD also offers features for patient engagement, such as appointment reminders, patient surveys, and secure messaging with patients. It allows healthcare providers to communicate and engage with patients securely and conveniently.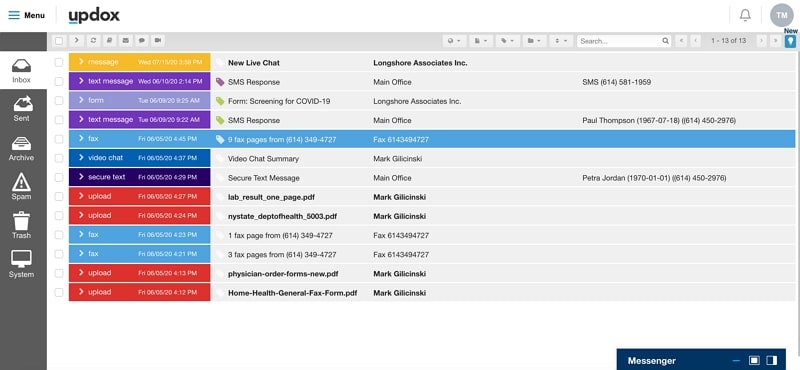 Updox is a cloud-based HIPAA-compliant chat platform specifically designed for healthcare organizations. It offers a suite of tools that enable healthcare providers to securely exchange messages, share files, manage appointments, and engage with patients. Some of the key features of Updox include secure messaging, electronic faxing, online scheduling, patient reminders, video visits, and a patient portal.
It is suitable for healthcare practices of all sizes, including solo practitioners, small clinics, and large healthcare organizations. Moreover, apart from HIPAA, it also complies with other industry regulations and data security and privacy standards.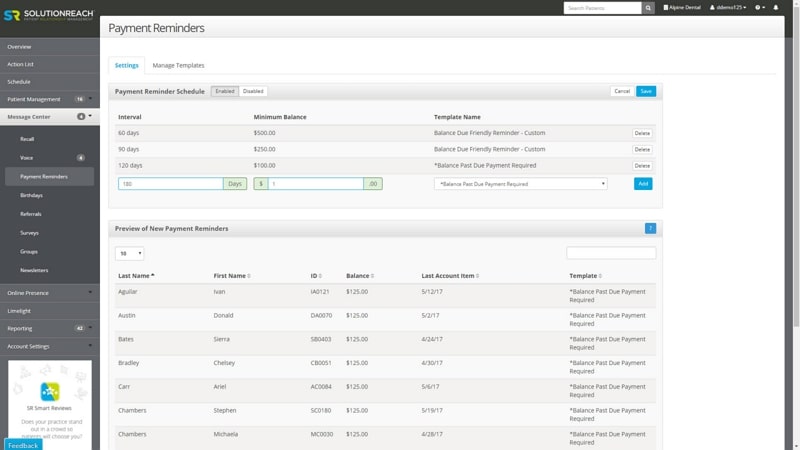 When looking for an easy-to-use and quick HIPAA-compliant instant messaging app, the recommended choice is Solutionreach. It is a cloud-based patient engagement platform designed to help healthcare organizations engage more effectively and personally with their patients. The app's communication features include two-way texting, video call, and batch messaging.
Solutionreach offers features like appointment scheduling and reminders, patient surveys and feedback, patient messaging, etc. Moreover, it also provides analytics and reporting capabilities that help healthcare organizations track and analyze their patient engagement metrics.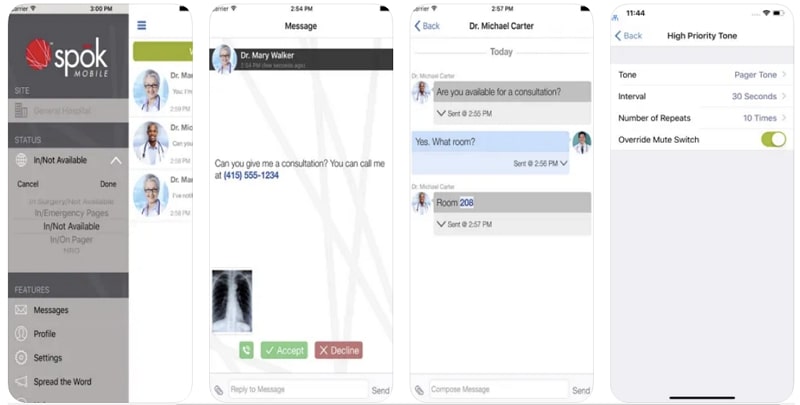 If you are looking for the best HIPAA-compliant text messaging app that can easily integrate into EHR and other clinical systems, Spok is a great choice. It provides secure messaging, voice communication, alert and alarm management, and clinical information systems integration, among other features. With Spok, healthcare providers can access patient information and clinical data from various systems.
It allows them to make better and more informed choices when caring for the patients. Furthermore, it also reduces time and effort by automating and streamlining workflows, which improves overall efficiency.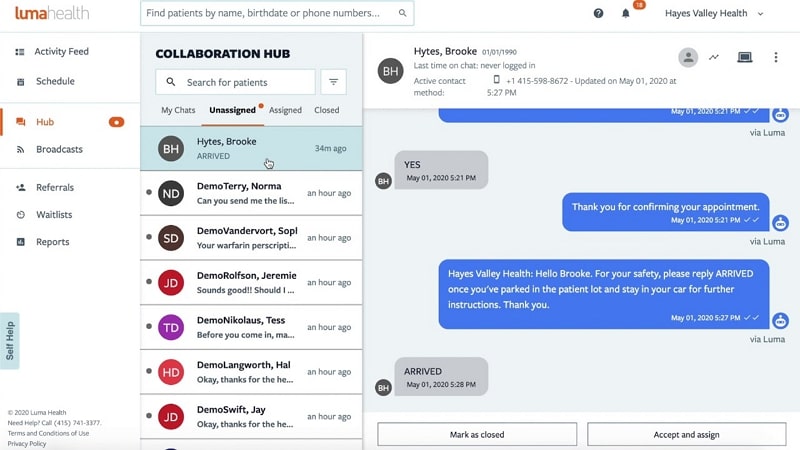 Luma Health is a HIPAA-compliant texting app that helps healthcare providers improve patient experience and outcomes by facilitating communication and streamlining administrative tasks. The platform includes features such as appointment scheduling, patient messaging, referral management, and patient feedback surveys.
Moreover, it aims to reduce no-shows and cancellations by using automated text messages and email reminders to keep patients informed and engaged. The platform offers real-time waitlists and a cancellation management system to help providers fill open appointment slots.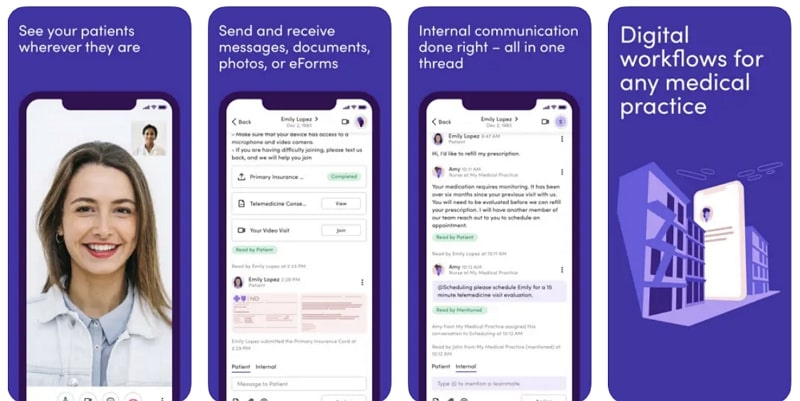 Aimed at simplifying the communications between healthcare providers and patients, Klara is a popular choice in the healthcare sector. This HIPAA-compliant secure text platform provides messaging and video chat capabilities that allow patients to connect with their healthcare providers and receive care remotely easily. It offers features such as appointment scheduling, automated reminders, and secure file sharing.
Klara also integrates with Electronic Health Record (EHR) systems to comprehensively view patient health information. Since Klara is fully HIPAA compliant offers high data security and privacy protection.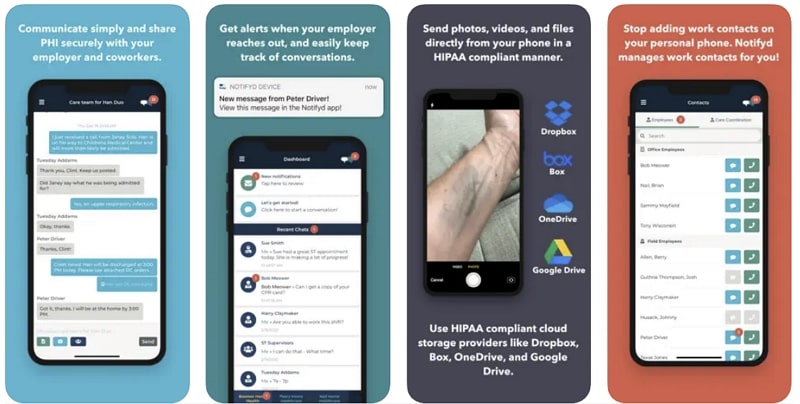 Notifyd is among the best HIPAA-compliant texting app free for communication between healthcare providers, such as doctors, nurses, or other paramedic staff. It frees users from finding numbers and calling people and allows them to send quick messages. You can also integrate this app into other third-party apps easily.
It is also an excellent choice for organizing and scheduling daily tasks. Moreover, it fully integrates with HER, providing healthcare officials with a seamless way to handle and manage patient data.
Get HIPAA-Compliant Chat API for HIPAA-Compliant Chat Apps
Are you looking for a HIPAA-compliant texting service to build a messaging app? If yes, then the best choice is to use ZEGOCLOUD's In-app Chat API. It fully complies with HIPAA and other regulations like GDPR and PCI DSS. This API lets you build the best possible text messaging and chatting app in a short time and at an affordable cost.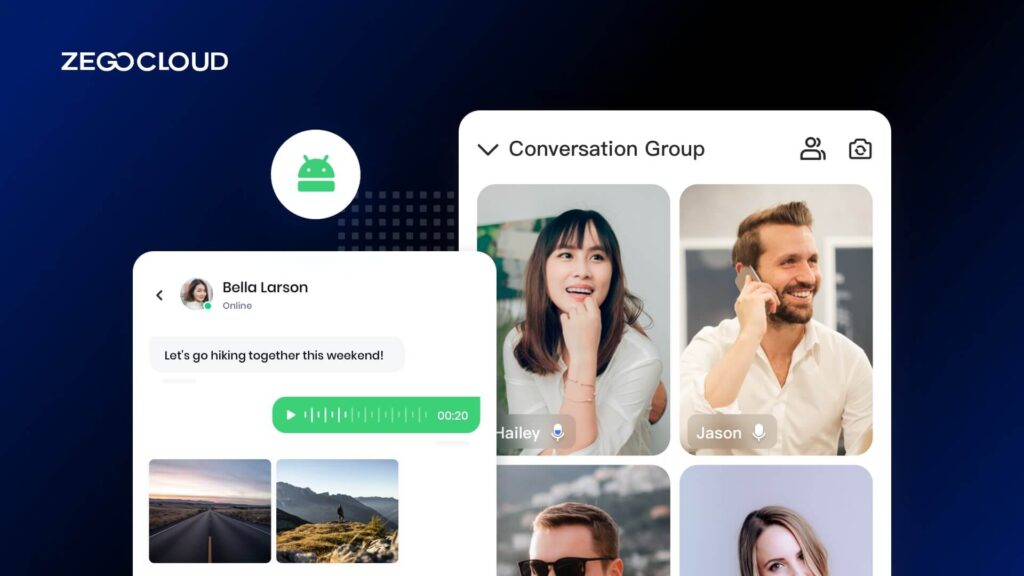 With the ZEGOCLOUD in-app chat API, you can customize the chat interface to match your brands and needs. It is also highly scalable, meaning it will grow with your app and will always be able to accommodate your requirements. Additionally, it also provides robust security features, including end-to-end encryption for messages, authentication, and access controls.
Amazing Features of ZEGOCLOUD HIPAA-Compliant In-App Chat API
Now let's look at the features offered by ZEGOCLOUD in its APIs. It offers many unique and amazing features which help it stand out among its competitors. Below we have described some of these features for your ease:
Real-Time Messaging: With ZEGOCLOUD In-app Chat API, your app will be able to handle billions of messages at any moment without any lag or delay. This API works on an ultra-low latency of up to 300ms.
File Sharing: The API supports the sharing of files such as images, documents, and videos within the chat interface. It also supports rich media attachments like GIFs, stickers, emojis, reactions, etc.
Analytics: To monitor the progress of your app, you can get detailed analytics and reporting features in ZEGOCLOUD's In-app Chat API. It will allow you to track user engagement and monitor the performance of the messaging features.
Customer Support: ZEGOCLOUD provides dedicated customer support to help developers integrate chat API into their applications and resolve any issues that may arise. There are also detailed documentation and video tutorials available to help you.
Conclusion
In summary, many options are available in the market regarding HIPAA-compliant texting apps. This article has listed the 10 best apps for you to choose from. After thorough research and analysis, we have identified ZEGOCLOUD APIs as the best option for building HIPAA-compliant texting apps. With robust security features, customization options, and scalability, ZEGOCLOUD APIs provide a powerful toolset to build the best possible app.
Talk to Expert
Learn more about our solutions and get your question answered.
Talk to us
Take your apps to the next level with our voice, video and chat APIs
10,000 minutes for free
4,000+ corporate clients
3 Billion daily call minutes