Technology has ideally revolutionized different sectors of our daily life, which includes healthcare, also called telehealth, in modern times. Telehealth is like a digital hospital or clinic where doctors can connect and diagnose patients in a virtual environment. For this purpose, there exist several telehealth HIPAA-compliant platforms. This article will discuss the 10 best platforms on the internet.
Top 10 Telehealth HIPAA-Compliant Tools
When it comes to finding the top telehealth HIPAA-compliant tool, you'll find a range of options on the internet. This may confuse you as a user while disrupting your decision-making process to proceed with the right option. Meanwhile, you'll find here the 10 best HIPAA-compliant telehealth platforms: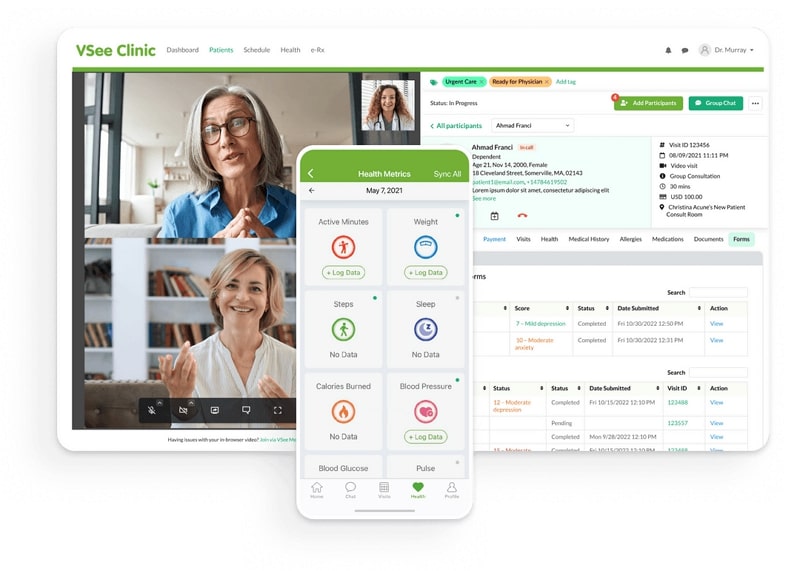 Taking the healthcare system to the advanced levels, VSee is among HIPAA-compliant telehealth platforms that connect doctors with their patients in a virtual environment. The connection gets established through video calls and text messages.
There isn't any limit on the video call duration, and all the video chats are in HD quality. In general, there is dedicated support for waiting room management that helps doctors manage and accommodate multiple patients simultaneously.
Features
Medical History Management
Provider Alerts
Patient Portal
Device and RPM integration
Pros
Live Chat Support
Analytics Dashboard
Con
Pricing Plan
Plus: $29/month
Premium: $49/month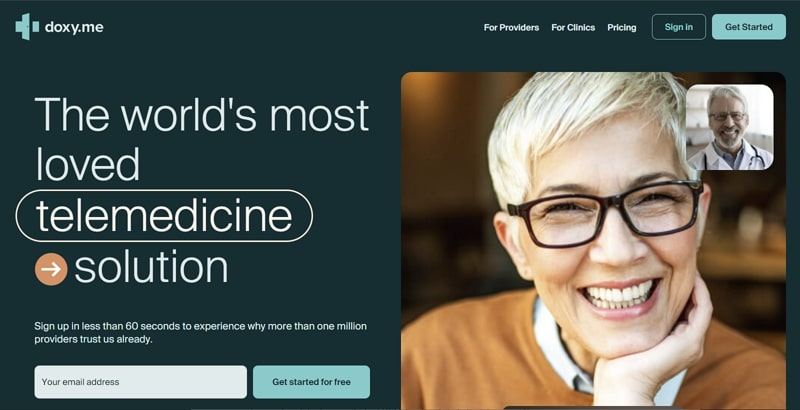 A smart telehealth solution for all the people in the healthcare industry, Doxy.me is a trusted solution to establish digital connections between doctors and patients. In this way, doctors can assess their patient's condition in real-time scenarios and provide timely cures. Similarly, patients don't have to visit their doctors physically, which may involve conveyance problems.
This best HIPAA-compliant telehealth platform supports HD video calls together with text messages, and data privacy gets backed with HIPAA compliance. Using Doxy.me is simple and easy because the platform has a user-friendly interface.
Features
Analytics Dashboard
Group Training Sessions
Background Effects
Patient Transfer
Pros
Check-in Notifications
Virtual Waiting Room
Con
Pricing Plan
Pro: $35/month
Clinic: $50/month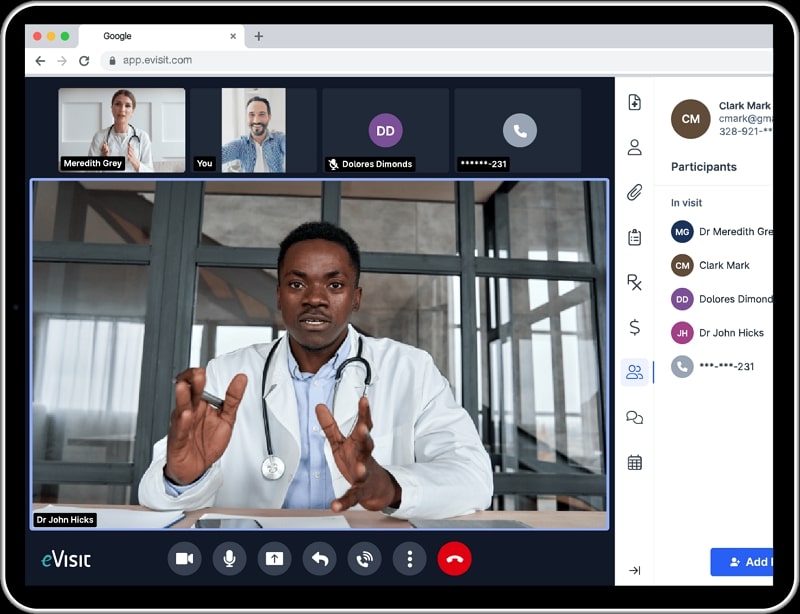 Through the eVisit telehealth HIPAA-compliant platform, healthcare professionals can take care of their patients more convincingly. After all, there exist dedicated patient waiting rooms, visit history, and scheduling, which simplifies the overall user management becomes on this network.
Thus, you can schedule appointments for primary care, specialists, pediatric, emergency care, and occupational health as a patient. Ideally, through the clinical solution, patients can contact their doctors via video or chat mediums. It's also possible to share medical reports through the file-sharing option.
Features
Capture Notes through Preferred HER
Data and Analytics
e-billing Solutions
Single-click Patient Invitation
Pros
Self-Appointment Scheduling
Routing and Referrals
Con
Video Chat Quality is Not Stable
Pricing Plan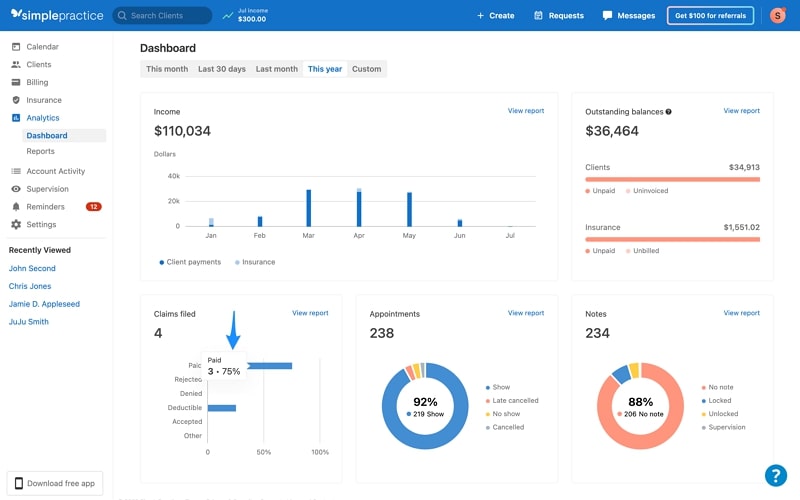 Meet and greet your patients in a secured HIPAA-compliant virtual environment with SimplePractice. This HIPAA-compliant telehealth platform helps connects doctors with their patients through reliable video-call appointments.
Secondly, the video calls are accessed with shareable links, and choosing your view within the call is possible. Through the available whiteboard, it's possible to draw, type, and even add images for enhanced interaction within doctor-patient communications.
Features
Self-appointment Scheduling
Background Customization
Advanced Calendar Filters
Appointment Reminders
Pros
Calendar Sync
Live Customer Support
Con
Pricing Plan
Starter: $29/month
Essential: $69/month
Plus: $99/month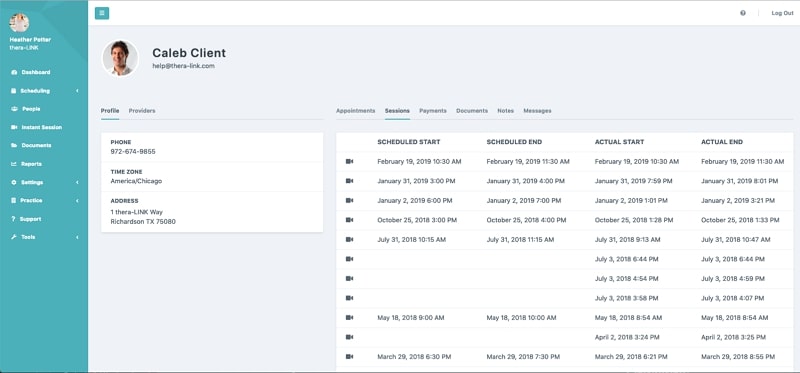 Thera-LINK is a HIPAA-compliant telehealth platform for behavioral health. Thus, if you're seeking health solutions to mental and behavioral health, this platform is an ideal solution for you. In fact, even if you're a healthcare professional with expertise in mental and behavioral health, Thera-LINK can be an excellent opportunity to excel in your career.
Meanwhile, just like other telehealth platforms, Thera-LINK allows patients to connect with doctors. The possibility is through secure messaging within waiting rooms and sessions.
Features
Client & Session Notes
Group Sessions
Email Notifications Reminders
File Sharing
Pros
Custom Waiting Room
Payment Acceptance
Con
E-Prescribing Not Available
Pricing Plan
Basic: $30/month
Plus: $45/month
Ultimate: $65/month
While digitizing a hospital-like environment, Zoom for Healthcare has everything to extend care and improve patient health anytime, anywhere. Apparently, the platform can connect patients with their doctors through HD-quality video calls with crispy clear audio support.
Thus, doctors can assess and analyze their patient's conditions instantly while giving better care. It's also possible to schedule the meeting in collaboration. Furthermore, both doctors and patients can set desired meeting times for the calling room.
Features
Screen Sharing
Interactive Whiteboard
Zoom Phone and Rooms
App Marketplace
Pros
Zoom Events for Health Sessions
Mail and Calendar
Con
Expensive for Small-Scale Enterprises
Pricing Plan
Zoom One Pro: $14.99/month/user
Zoom One Business: $19.99/month/user
Establishing virtual healthcare for patients across the world, Pexip is a telehealth revolution. Generally, this telehealth HIPAA-compliant platform intends to improve patients' underlying health conditions by providing them with instant face-to-face interaction with a doctor.
Of course, the connection is through video calls which are fully secured with HIPAA compliance in place. Regardless of the weather connections and location, unnecessary interruptions won't disrupt your video calls.
Features
Private Patient Meetings
Data Privacy
Customizable Video Chats
Cloud Infrastructure
Pros
Room Connector
User-friendly Interface
Con
Limited Integration Support
Pricing Plan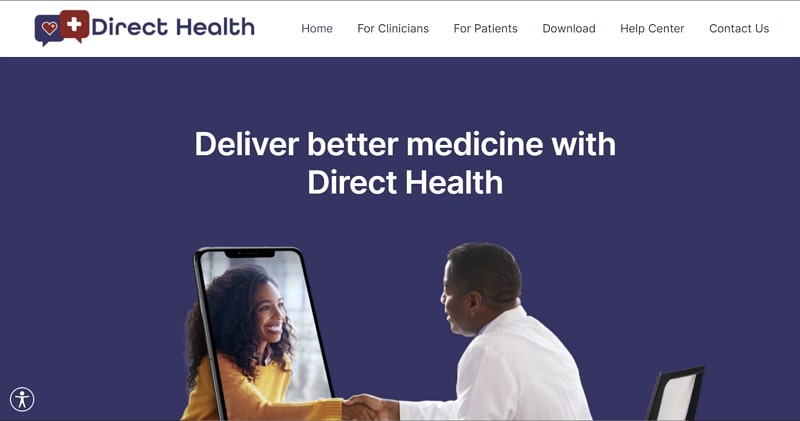 Known as amongst the top HIPAA-compliant telehealth platforms, Direct Health is a dedicated solution for all healthcare service providers to better view and assess their patients. After all, Direct Health allows face-to-face virtual interactions seamlessly without interruptions.
Secondly, there are three different consultation options for patients: text, video, and audio. For healthcare providers, the platform is an excellent opportunity to earn money because they can set their rates and be available to start practicing.
Features
Supports Over 40 Languages
E-Referrals and E-Prescriptions
Earning Dashboards
Multi-Patient Management
Pros
Physician Directories
Group Chat Capabilities
Con
Pricing Plan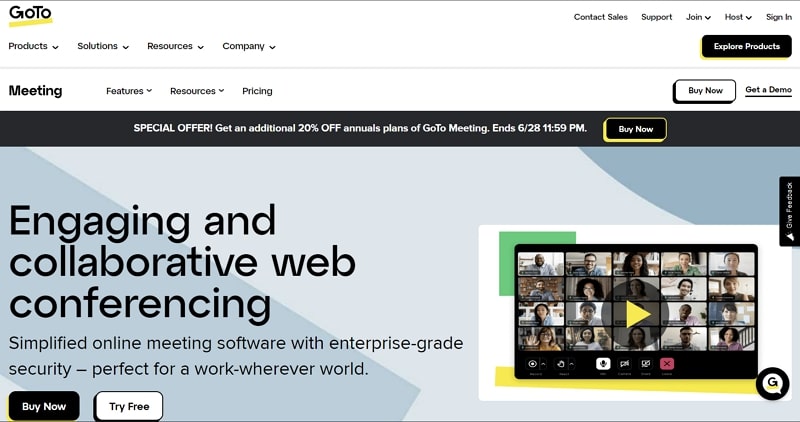 Make your healthcare business more extensive with the GoTo Meeting telehealth HIPAA-compliant platform. This communication tool brings patient-doctor collaboration to life with simple and efficient solutions. Ideally, the platform allows one-on-one video calls and even group video conferences. The exciting part is that there exists 99.999% service uptime.
Overall, the call quality remains exceptional because of available background noise suppression. With the screen sharing and drawing tool facility, virtual medical interactions just get better.
Features
Drawing Tools and Screen Sharing
Call Recordings
Fast Integrations
Meetings Transcriptions
Pros
Conference Calling
Crystal Clear Audio
Con
Pricing Plan
GoTo Meeting Professional: $14/month
GoTo Meeting Business: $19/month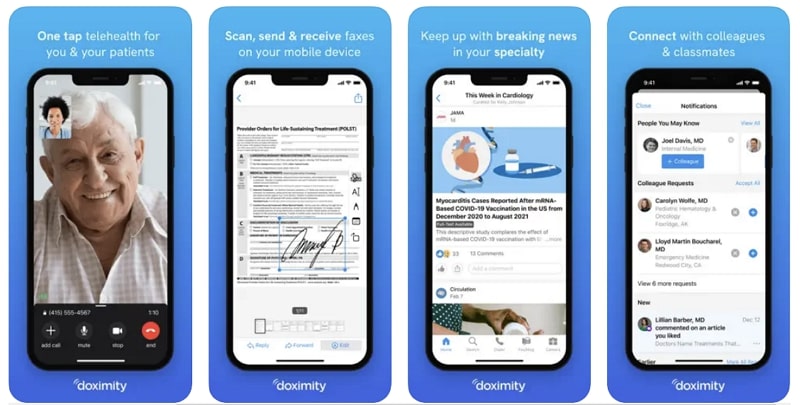 Doximity is a HIPAA-compliant healthcare collaboration tool, making it a top choice for clinical operations. Not only can doctors interact with their patients in a real-time video call, but the healthcare staff can also communicate with other members through internal interactions.
There is also a mobile app available that you can use. In fact, you can also customize your caller ID by skipping *67 and choosing the displayed number upon calling. It's possible to send no-reply texts to all the patients as reminders.
Features
Sign and Annotate Documents
Search Healthcare Providers
Personalized News
Free Mobile Electronic Fax Number
Pros
User-friendly Interface
iOS and Android Apps
Con
More Resources Can Be Added to Developer Documentation
Pricing Plan
How to Add HIPAA-Compliant Video Conferencing Technology to a Telemed App
Do you own a telemed app and want to make it more extensive? It's possible with ZEGOCLOUD Telehealth SDK because it can help you add a HIPAA-compliant video conferencing feature to your telemed app. The SDK comprises different code blocks and resources to embed video chat functionality into your app.
Hence, the developers don't need to code the entire application from scratch because they can simply integrate SDKs into existing applications. Moreover, ZEGOCLOUD comes with 20+ built-in UIKits with more than 50 components. Consequently, you'll be able to scale your telemed application according to your business requirements.
Regarding compatibility with different frameworks, ZEGOCLOUD SDK supports React Native, Flutter, Android, iOS, Electron, JavaScript, PHP, Unity3D, and more. In addition, the video chat gets featured in 4K quality with 300ms ultra-low latency. You will get features like virtual backgrounds, screen sharing, live video calls, group video calls, call recording, call invitations, video conferences, whiteboards, text messages, file sharing, and more.
Not to forget, ZEGOCLOUD Telehealth SDK is built on WebRTC protocol for reliable and disruption-free connections. Moreover, it also provides extensive features to other industries such as Social, Education, Fitness, and E-commerce.
Conclusion
With the rapid availability of telehealth systems in this modern world, healthcare is becoming simpler and more innovative with time. After all, it allows doctors to get connected with patients anytime, anywhere. Interestingly, this article discussed the 10 best HIPAA-compliant telehealth platform list.
On the other hand, you also discovered ZEGOCLOUD Telehealth SDK for building your telemed application with minimal resource utilization.
Talk to Expert
Learn more about our solutions and get your question answered.
Talk to us
Take your apps to the next level with our voice, video and chat APIs
10,000 minutes for free
4,000+ corporate clients
3 Billion daily call minutes