As technology is getting advanced, medical systems and processes are also getting revolutionized through digital workflows. Thus, as a patient, you don't have to visit the doctor physically, which may be inconvenient. In general, the availability of HIPAA-compliant video conferencing platforms has made patient-doctor interactions more simplified. In this article, you'll find 5 top HIPAA-compliant video conferencing platforms.
Why is HIPAA Compliance Important for Telemedicine?
HIPPA (Health Insurance Portability and Accountability Act) compliance is an important telemedicine protocol. After all, it involves remote diagnosis and treatment of patients through telecommunication technology. Hence, there's a need for data privacy and confidentiality related to patients' personal health information. This is where the importance of adhering to HIPAA Compliance comes into the picture.
In general, HIPAA ensures that the electronic transmission of personal health information between healthcare providers and patients remains secure from potential breaches. This is because communication and other important data are being shared via the internet. Consequently, all telemedicine or telehealth apps are bound to have HIPAA compliance.
Top 5 HIPAA Compliant Video Conferencing Software
Although several video conferencing software exists on the internet, not all of them satisfy HIPAA compliance. So, if you're looking for a promising yet reliable telehealth video conferencing app, find here the top 5 options:
Zoom for Healthcare
GoTo
Mend
Direct Health
Doxy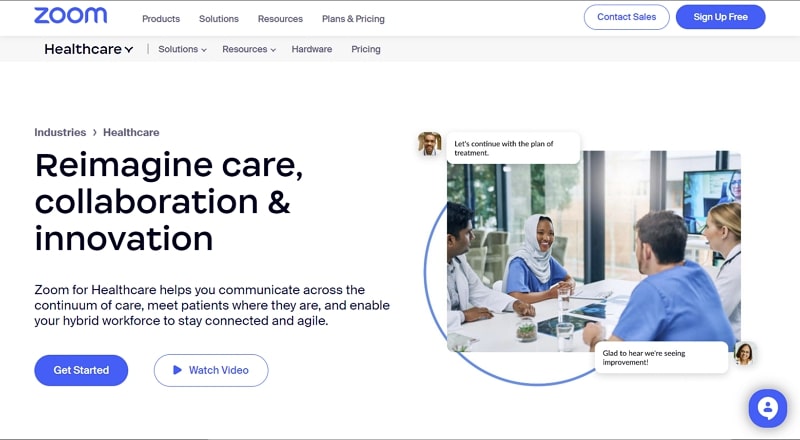 Known as a trusted telehealth platform for many doctors and patients across the globe, Zoom for Healthcare provides collaboration with ease. Apparently, doctors can virtually diagnose and assess their patient's conditions through real-time audio or video chats within Zoom meetings. In addition, there's also a possibility to create Zoom rooms where an entire team of doctors can assess a serious patient.
Moreover, this HIPAA-compliant video conferencing free application also supports instant messaging to ensure text communication. It's ideal for situations where doctors can't talk on video or audio chats because of their busy schedules.
Features
HD Video Calls
Cloud-based Infrastructure
EHR and Medical Device Integrations
OnZoom Health and Fitness Classes
Zoom Webhooks
Platforms Supported
Web/Desktop: Zoom Rooms & Zoom Meetings
Mobile: Android & iOS
Plugins: Lync & Outlook
Browser Extensions: Chrome & Firefox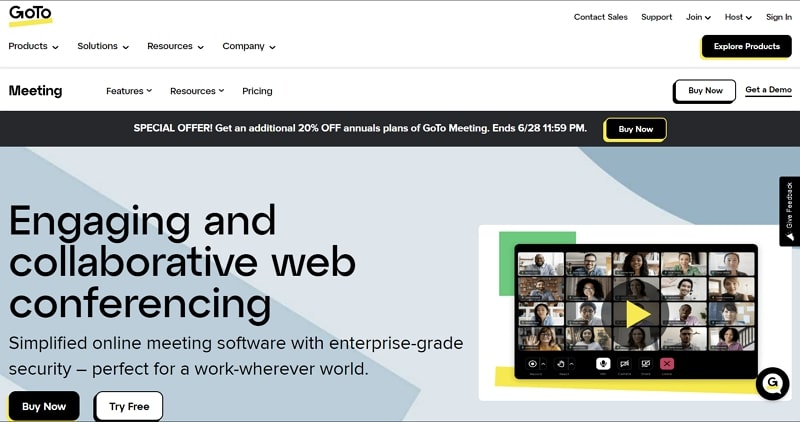 GoTo is a free HIPAA-compliant video conferencing platform that provides video conferencing as a way to connect healthcare professionals with patients anytime, anywhere. Generally, GoTo gets used for establishing meaningful connections within the healthcare sector.
The availability of chat message support, in addition to voice and video meetings, makes GoTo a superior choice of communication. While being HIPAA compliant, GoTo follows all the necessary protocols to secure a platform containing medical data.
Features
Cloud Phone System
In-Session Chat
Up to 250 Participants in a Video Call
Screensharing Available
File Sharing is Also Possible
Platforms Supported
Desktop: macOS & Windows
Mobile: iOS & Android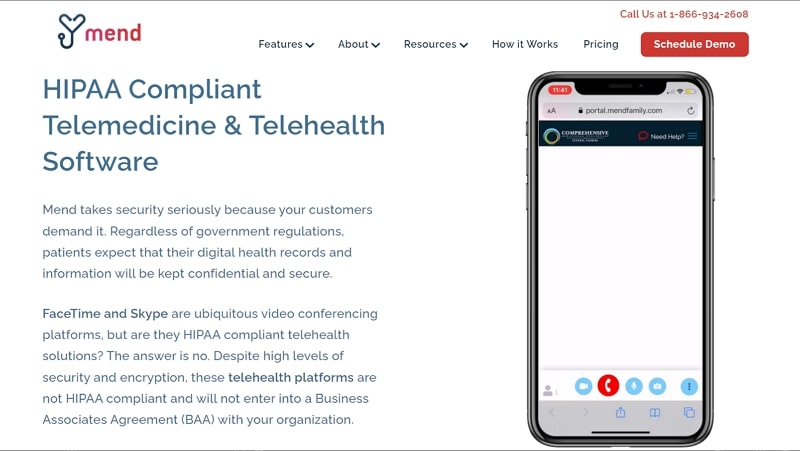 Taking telemedicine and telehealth facilities to the next level, Mend is a HIPAA-compliant video application that aims to bridge conveyance barriers between patients and doctors. As a result, patients can get brief insights into their medical reports without visiting a doctor.
Similarly, doctors can provide timely and instant assistance to their patients through virtual appointments. By utilizing Mend, users can access video, audio, and chat facilities in a real-time scenario. Remember, there's also an option to share files which can be medical reports or other medical data.
Features
Automated Patient Payments
EHR/PMS Integrations
Patient Appointment Reminders
Screensharing Facility
High-Definition Video Calls
Platforms Supported
Web: Supports All Browsers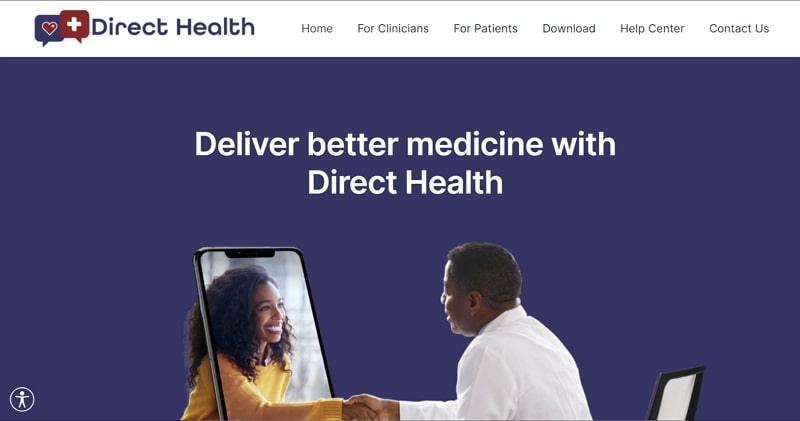 To connect doctors with their patients easily yet efficiently, Direct Health is amongst the best HIPAA-compliant video conferencing tools. With this platform, doctors can provide instant and better care to their patients through virtual means. Not only HIPAA but Direct Health is also compliant with SOC2 Type 2 and VCPR.
Ideally, patients can opt for three consultation options through virtual waiting rooms: text, voice, and video chat. Besides, doctors can set their consultation rates and availability as needed.
Features
Text Translation in Multiple Languages
Multi-Patient Management
Important Message Broadcasting
Built-in Revenue Dashboard
Private Business Phone Number
Platforms Supported
Mobile: Android and iOS
Web: Supports All Browsers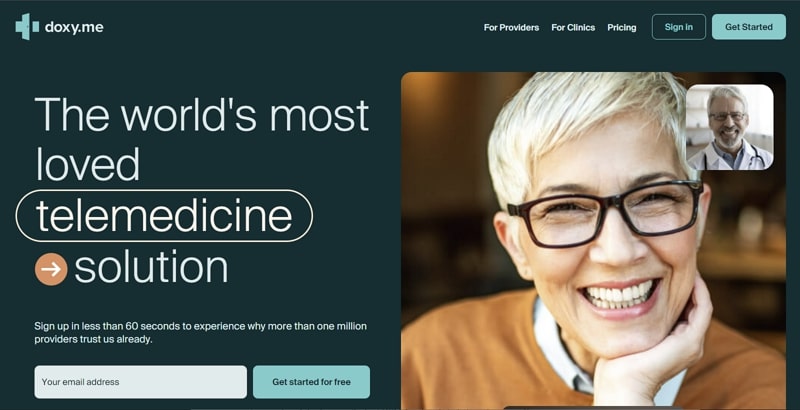 By using Doxy, healthcare communication has become simplified and easier. After all, Doxy leverages solutions to support one-on-one video calls that connect doctors with their patients in a virtual environment. Ideally, communication is within a waiting room where you must invite the other participant through a shareable link.
There's also a possibility to edit the waiting room through the adjustable settings. In general, Doxy also allows chat with the participants.
Features
Patient Transfer
Photo Capture and Meeting Support
Group Calling
Screenshare and Whiteboard
Picture-in-Picture Mode
Platforms Supported
Web and Mobile: Browser support
How to Choose HIPAA-Compliant Video Chat Platform
When it comes to locating the HIPAA telehealth video conferencing platform for yourself, it becomes challenging to decide on the right platform considering your healthcare business. Find the best factors to consider while choosing the best HIPAA video chat platform for yourself:
1. Analyze Your Needs
First, assess and analyze your organization's requirements and workflow. Based on that, consider what functions you need in a HIPAA video chat platform. Secondly, the functions may include the limit of participants, integration with other systems, ease of use, and other features like screen sharing, file sharing, and recording capabilities.
2. Review Privacy Policies
Examine the platform's privacy policies to ensure they align with HIPAA requirements. Look for policies regarding data handling, storage, sharing, and any additional safeguards in place to protect patient privacy. Moreover, this measure is essential to consider before pursuing your medical-related business workflows.
3. Evaluate Security Measures
After confirmation of HIPAA compliance, ensure that the platform provides robust security measures to protect patient data. Hence, look for features like end-to-end encryption, user authentication, access controls, and even data storage policies. Additionally, check if the platform has availability audits or certifications within healthcare data privacy from third-party platforms.
4. Full-end Communication Support
Ideally, the best HIPAA Compliant video conferencing application must have all-in-one communication support. Henceforth, the platform must provide real-time audio, video, and chat functions. Meanwhile, in this way, users can decide how they want to pursue medical communication. After all, users must have independence in deciding on their communication medium.
How to Add HIPAA-Compliant Video Conferencing Technology to a Telemed App
Although there exist several HIPAA-compliant video conferencing free platforms on the internet that you can use to control and manage your telehealth business. If you're looking to build your own telehealth video conferencing app, ZEGOCLOUD is the trusted solution. It's because ZEGOCLOUD allows maximum scalability through its customizable APIs that come with 50+ components and 20+ UIKits. So, you scale the functionality according to your telehealth business.
ZEGOCLOUD's infrastructure is cloud and mobile; hence the application can get accessed anytime, anywhere. In addition, with the availability of 1-on-1 voice and video calls, live text chat, recording, and push notifications, you can make your telehealth application more functional. You can also experience screen sharing, offline messages, private chats, and sharing rich media files.
Moreover, ZEGOCLOUD is built on WebRTC protocol with end-to-end encryption, that's ideal for telehealth app development. This way, the communication network remains stable and reliable. In contrast, there exist demo apps, documentation, and blogs to assist developers in the API integration process. Furthermore, the supported frameworks are iOS, Android, Web, Flutter, and more.
Conclusion
With the continuous advancement of technology, medical systems are revolutionized with digital means. Apparently, it's the presence of HIPAA-compliant video chat platforms that simplifies communication between doctors and patients.
In this article, you discovered 5 top free HIPAA-compliant video conferencing apps. Moreover, you also discovered ZEGOCLOUD, the best HIPAA-compliant video conferencing API/SDK to integrate within your telehealth system.
You may also like:
Talk to Expert
Learn more about our solutions and get your question answered.
Talk to us
Take your apps to the next level with our voice, video and chat APIs
10,000 minutes for free
4,000+ corporate clients
3 Billion daily call minutes