When the COVID-19 pandemic forced people to stay at home, using a telehealth app was their only choice to seek healthcare. These apps proved to be a key factor in maintaining the essential link between doctors and their patients. Ever since the telehealth app trend has improved significantly, so has their popularity. This article will guide you if you are also looking for the best telehealth app for your health.
5 Popular Telehealth Apps You Can Choose
Telehealth apps have made it possible for you to visit your doctor at your comfort. You no longer need to clear a whole day to go and see your doctor. A telehealth app allows you to hold virtual doctor visits and receive prescriptions in your home or office. While it is hard to find totally free telehealth apps, below are 5 most popular telehealth apps: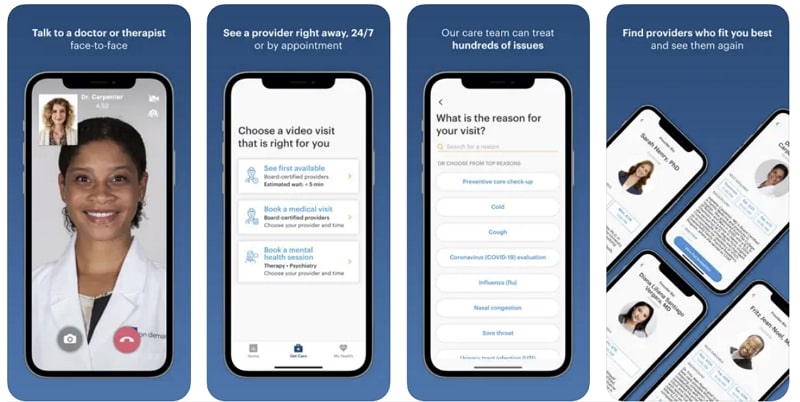 As the name suggests, Doctor On Demand is a popular telehealth app that allows you to see a doctor on an urgent basis. This app provides medical services for mental health, skincare, chronic illness, and urgent care. With this app, you can get connected to a doctor in minutes. It also allows you to book doctor or therapist appointments at any time of the day.
Doctor On Demand also falls among the affordable health services app, as its doctor consultation bookings start from $79. It also supports Medicare and other insurances, which can reduce the cost of using it to zero.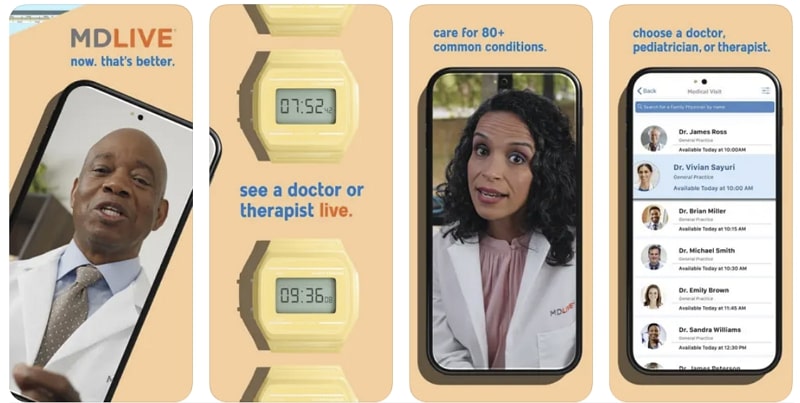 Offering treatment for over 180 medical conditions, MDLIVE is a widely used telehealth app. If you have the right insurance, using the app can cost as low as 0$, making it a reliable app among the cheapest telehealth apps. Its services are divided into four categories, urgent care, primary care, mental health, and dermatology. This telehealth app is also available for Android and iOS platforms.
It is also known for providing behavioral health services. These services include support for Bipolar, Depression, LGBTQ+ support, OCD, phobias, and relationships. The app also includes treatment for Asthma, Type 2 Diabetes, High Blood Pressure, etc.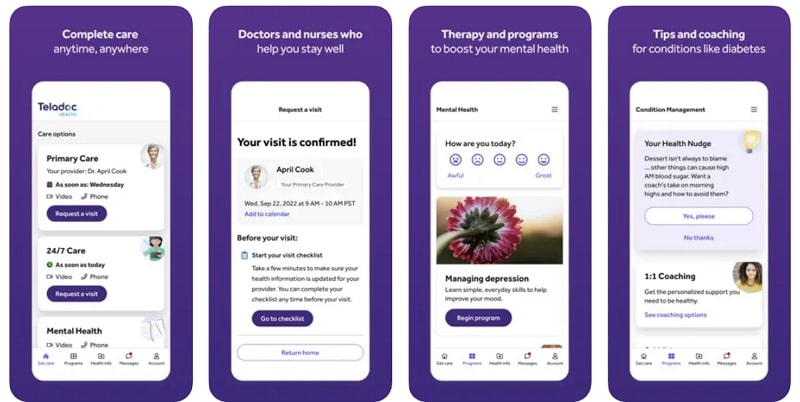 Ranked highly by users and associated with top health officials, Teladoc is considered the best telehealth app in the market. It provides primary care, specialty care, chronic sickness, and mental health services. Teladoc claims its affiliated health officials are among the nation's top 15%. You can use their services through a mobile app (Android or iOS) or web portal.
The prices for using Teladoc are dependent on your insurance provider. This telehealth app will also send prescriptions to your local pharmacy. Along with individuals, this app also offers its services to companies and organizations.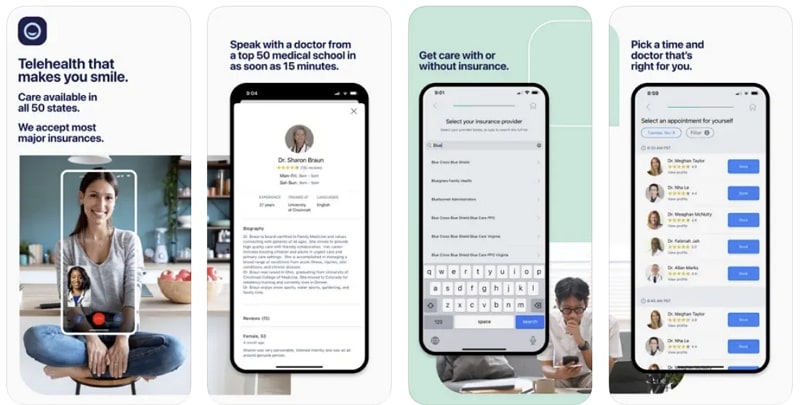 Providing services like online doctors, online prescriptions, and online therapy, PlushCare is a recommended affordable telehealth app. With this app, you can book doctor appointments for any time of the day and can also book physical visits for the same day if needed. It also provides services regarding sexual health, with the ability to make online and physical bookings with the nation's leading sexual healthcare providers.
PlushCare supports the insurance providers like United Healthcare, Humana, Aetna, and many more. It is also affordable for people without insurance, as self-pay packages start from USD129 for the first visit and USD69 for any subsequent visit.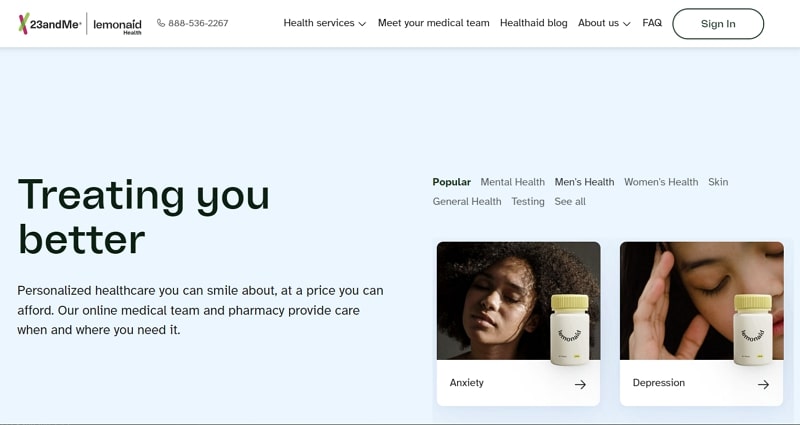 Primarily working as an online pharmacy, Lemonaid Health is also an excellent telehealth app for online doctor visits. With a doctor consultation costing as low as $25, it is the most reliable app among the cheapest telehealth apps. This app provides a wide range of services, from mental health to men's health and skincare to lab tests.
It is also a trusted platform for treating adult health issues like Erectile Dysfunction, Premature Ejaculation, Urinary Tract Infections, Birth Control, and many more. To get your required prescription, you must fill out a form listing your conditions. An expert medical board will review it and deliver the prescribed medicine to your home.
How to Build Telehealth Apps with ZEGOCLOUD API/SDK
You are a bit off the mark if you think building the best telehealth app must be costly and time-consuming. Nowadays, APIs & SDKs are the best way to quickly develop apps with versatile features in a limited time. Want to create your telehealth app? We recommend you use ZEGOCLOUD APIs and SDKs. They will ensure your telehealth app has the most unique and comprehensive features at the lowest possible cost.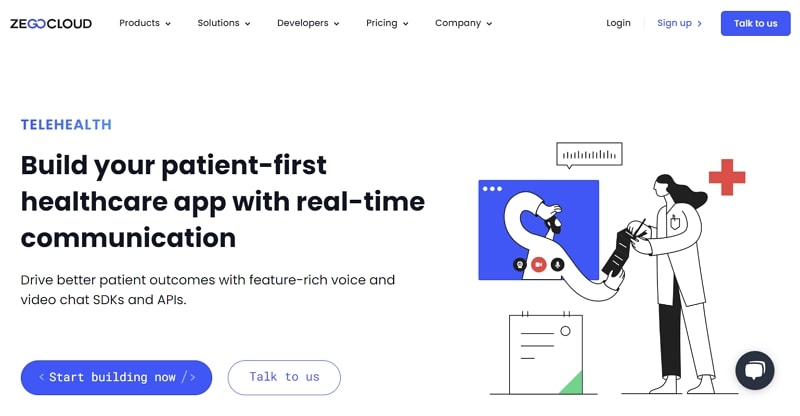 ZEGOCLOUD also offers free 10000 voice and video minutes to minimize your app's running costs. It is especially useful if you want to build a telehealth app for a trust or non-profit healthcare provider. The low-cost and easy-to-implement ZEGOCLOUD APIs & SDKs are ideal if you want to develop free telehealth apps. All of these APIs and SDKs also comply with HIPPA and GDPR.
Key Features
For telehealth apps, the most important point is patient satisfaction. To ensure patients using your telehealth app get maximum satisfaction, ZEGOCLOUD APIs for telehealth apps offer many unique features. Some of these amazing features are summarized below:
To make patients feel like they are in an actual doctor's clinic, ZEGOCLOUD provides amazing one-on-one voice and video calls. During the calls, patients can describe their ailments clearly due to high video and audio quality. The option of live text chat is also available if they are unable to explain their problem. Both doctors and patients can record the calls for future reference.
Do you need to arrange medical webinars on a large scale to raise awareness about different issues? The ZEGOCLOUD-powered telehealth platform will be able to easily host a large virtual medical webinar. During the webinar, you can live-stream your content to the masses with up to 10 million users per stream. The webinar participants can do live text chat, screen sharing, and record the whole event.
Diseases are complex, and healthcare providers usually have to connect and gather specialists to discuss different cases. ZEGLOCLOUD provides a high-quality and low-latency video conference call where different specialists can gather. It can be helpful during an emergency when getting a specialist onsite is impossible.
Medical records of patients are sensitive, and to ensure there is no threat to them, ZEGOCLOUD provides military-grade security. All the communications on your telehealth app with be end-to-end encrypted using AES-256. The cloud recording services offered by ZEGOCLOUD also come with end-to-end security.
Final Thoughts
Telehealth apps are the future of the healthcare field as with each passing day, better tech is under development. These apps will help ease the burden on healthcare providers and allow better medical data management. If you are also in the health business and want to develop the best telehealth app, using ZEGOCLOUD APIs and SDKs is the best way.
Read more:
Talk to Expert
Learn more about our solutions and get your question answered.
Talk to us
Take your apps to the next level with our voice, video and chat APIs
10,000 minutes for free
4,000+ corporate clients
3 Billion daily call minutes