The use of communication APIs serves multiple purposes in companies and different platforms. From basic interaction to customer-making gigs, the use of API service is increasing intermittently. Vonage is one such API that features a great communication API system. If you wish to look for more, this article provides insight into some impressive Vonage alternatives.
What is Vonage?
Vonage, founded in 2001, is a cloud communication platform that has transformed the way businesses communicate. Initially known for its Voice over Internet Protocol (VoIP) services for residential customers, Vonage has since evolved into a comprehensive business communication solution.
At its core, Vonage provides a suite of communication tools that enable voice, video, messaging, and more, all integrated into a cloud-based platform. This allows businesses to connect with their customers and teams seamlessly, irrespective of geographical boundaries.
One of the standout features of Vonage is its adaptability. Whether it's a small startup or a large enterprise, Vonage offers scalable solutions that can be tailored to specific business needs. This includes API solutions that allow businesses to embed communication functionalities directly into their applications or platforms.
Moreover, with the rise of remote work and the increasing need for reliable digital communication tools, Vonage's significance has grown exponentially. Its platform ensures high-quality calls, reduced latency, and a suite of features that enhance collaboration and productivity.
Vonage is more than just a VoIP provider; it's a holistic communication platform designed for the modern digital age, bridging the gap between businesses and their audiences.
Why You Need Vonage Alternatives
While Vonage is a renowned cloud communication platform offering a plethora of services, there are several reasons one might consider using a Vonage alternative:
Cost Efficiency: Different businesses have varying budget constraints. An alternative might offer a pricing model or package that aligns better with a company's financial plan.
Specific Features: Some businesses might require specialized features or integrations that Vonage doesn't provide, leading them to seek platforms tailored to those needs.
User Experience: The ease of use and interface design can vary among platforms. An alternative might offer a more intuitive or user-friendly experience.
Regional Support: While Vonage has a broad reach, certain regions might have better support or performance with local or specialized providers.
Customer Support: The quality and responsiveness of customer support can be a deciding factor. Some businesses might have had better experiences with alternative providers.
Scalability: As businesses grow, their communication needs evolve. An alternative might offer more flexible scalability options or better handle high-volume demands.
In essence, while Vonage is a robust solution, the diverse needs of businesses mean that there's no one-size-fits-all answer in the realm of cloud communication. Exploring Vonage alternatives allows companies to find the best fit for their unique requirements.
Best 5 Vonage API Alternatives and Competitors
There are multiple communication APIs that you can utilize to enhance interaction and communication with other users. Moreover, if you are one of those confused about connecting with your subordinates properly, a communication API can be of help. Although Vonage provides impressive services, you might still be looking for an alternative to Vonage.
To begin with, let's look into some great Vonage competitors that you can consider for procuring a perfect communication environment: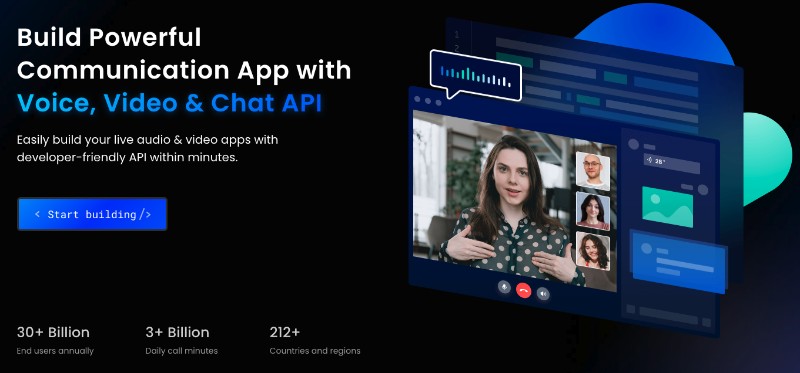 For the first alternative to Vonage that comes into discussion, ZEGOCLOUD provides one of the finest options for influencing controlled interaction. This communication API offers the option of building quick and effective communication platforms for its users. While it serves as a great service, it features a variety of other options, which makes it a calculated option.
Apart from building great voice and video chat systems for users in the market, ZEGOCLOUD features some state-of-the-art models for effective communication.
Key Features
In summary, the following features highlight how this Vonage alternative makes things effective for users:
There is a dedicated in-app chat API provided by ZEGOCLOUD for allowing applications to add a complete chatting system within seconds.
For accommodating a group of members, you can utilize the group call kit provided by the voice chat API.
To bring diversity and enhance the outlook of communication, you can utilize the face effects and AI effects provided by ZEGOCLOUD.
Mesibo proudly states powering more than 11,000 applications in the market for enhancing communication. While it gives such a number, it also discusses being the most powerful platform for catering to such details. Furthermore, Mesibo provides an open-source code that is used to add the voice chat or messaging API present within it.
This alternative to Vonage offers a diversity of messaging within the system, which is covered by end-to-end encryption for extensive data protection.
Key Features
Why is Mesibo good for you? Although there is a lot to talk about, let's go through the important features:
There are complete cloud services offered by Mesibo to cover the deployment of their communication API.
You can create group messaging platforms with the dedicated API, along with an in-app messaging system for generic messaging.
The existence of different chatbots and scripts under the frameworks allows the users to induce translation and several other procedures.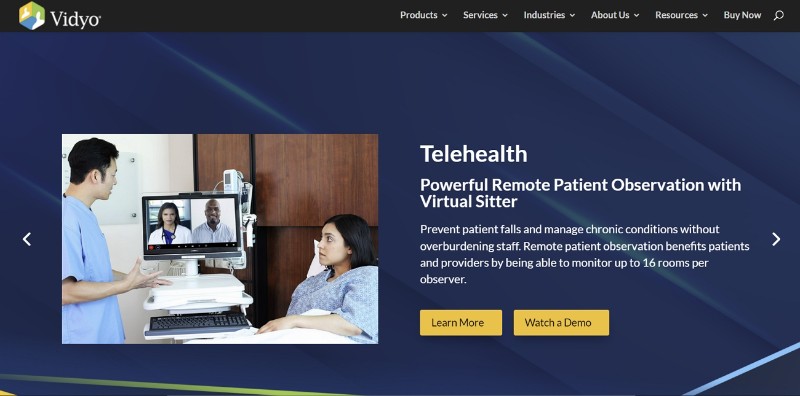 While this platform offers a low-cost, low-end solution, Vidyo provides a real-time experience in managing videos in the applications under a few lines of code. For high-quality results, the platform ensures the attainment of every minute detail. While it can be used to build video chat applications on all major platforms, it can also accommodate multi-party videos.
This wide variety and controlled ecosystem by a communication API is encouraged at the greater level and always looked upon.
Key Features
Subsequently, let's learn more about Vidyo by pointing out its important features:
The platform ensures the highest audio quality for its users under the wide-band audio functionality.
There are different layouts available for users to select from, which cover the needs of the application accordingly.
It has the ability to connect dynamically to all networking environments by surpassing all distinct firewalls.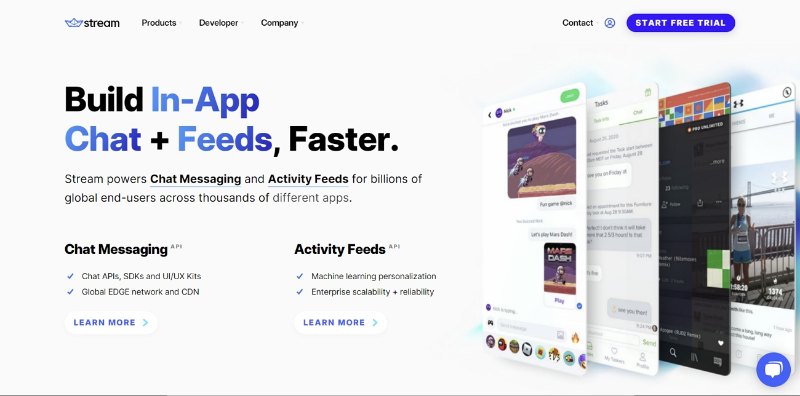 GetStream API is another Vonage alternative that offers a dominating system for chatting APIs and activity feeds APIs. As this can considerably help a company focus on the launch of their application, it also helps them grow it to one. The designed APIs and SDKs are extensive to cater to the existence of such models for enhancing communication.
If you have an interest in building a system with sustainable communication through chatting, this is surely the API tool.
Key Features
GetStream API can serve as a good communication API alternative. Moreover, there are some features you should be aware of:
There is diversity within the messaging API, with progressive social in-app messaging systems practiced within it.
The live chat platform provides several contended functions, such as AI-based AutoMod, for influencing customer engagement.
Apart from defined use cases, other options are available to manage custom use cases, making the messaging API a different platform.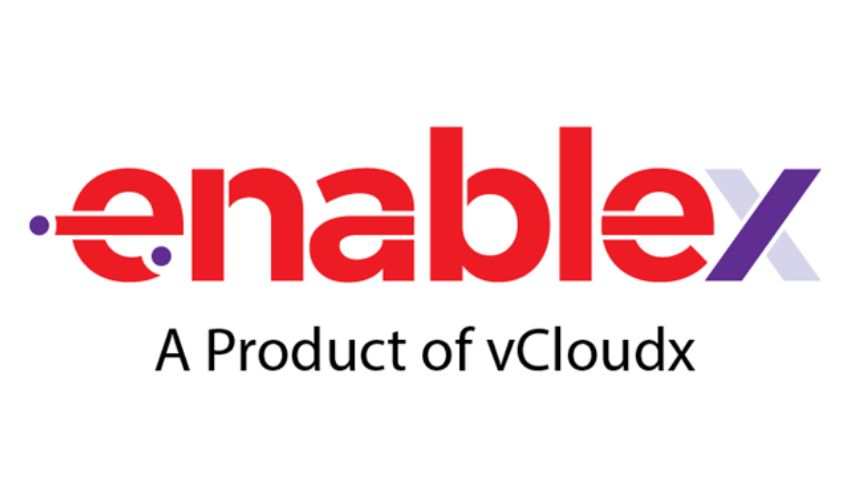 If you tend to use the service of artificial intelligence in this communication API, EnableX is a great option to go with as one of the best Vonage alternatives. Combining with the major video, voice, and messaging APIs used to cover communication, this service induces several other functions to encourage a heightened use of this capability. EnableX transforms the conversation with the help of uniquely intelligent models.
Moreover, those who are finding other communication APIs to go with can consider using EnableX as their primary option in the market.
Key Features
Finally, let us review the vital characteristics of EnableX that make it special:
With EnableX, you can connect with users worldwide through virtual numbers.
There are multiple deployment options to consider in EnableX, which helps cover different market competitions.
The platform accommodates and caters to all needs of scaling communication to higher levels.
Why ZEGOCLOUD is the Most Reliable Vonage Alternative
Are you looking forward to adopting ZEGOCLOUD as your reliable alternative to Vonage for real-time communication with clients? Since the need to have the most appropriate tool is necessary, this part will recognize why it is essential to have ZEGOCLOUD as the Vonage alternative:
Fair Pricing Plans: When compared with other communication APIs, the variety of features offered by ZEGOCLOUD is quite extensive, making it a reasonable option in terms of pricing. It gives 10,000 free minutes for app-building after you sign up.
Better Audio and Video Results: A perfect connection and collaboration are equivalent to a good audio and video result. Any communication API that does not fail to bring high-quality results for its users is the one that is preferred at all costs.
Interactive to The Lowest Scale: The division of operations done at ZEGOCLOUD is quite diverse, which accommodates interaction under different APIs. While the service offers generic models, there are smaller sections that cater to a particular need.
Get Customer Conversions: The success of any communication API lies in its ability to guide a company into making conversions. While it brings different analytics in power, it ensures its users attain the customer conversions they look out for.
Final Thoughts
We hope that you were able to discover the 5 best alternatives to Vonage for accommodating client communication. As this article discusses some of the most outstanding options in communication API, find out more about Vonage competitors by going through the provided details. For effective results, users prefer working with platforms like ZEGOCLOUD, which offers high-quality video and voice-calling experiences.
Read more:
Talk to Expert
Learn more about our solutions and get your question answered.
Talk to us
Take your apps to the next level with our voice, video and chat APIs
10,000 minutes for free
4,000+ corporate clients
3 Billion daily call minutes