Nowadays, video call service has become a constant presence in our lives. The pandemic normalized working from home, distance education, telemedicine, and remote tourism, which all require video communication.
What is Video Calling Service?
Video call services have increased both quantitatively and qualitatively. Especially video conferencing apps must allow everyone to do their work without impediments. A video call service must ensure high-quality data transmission and offer rich and useful features.
They are especially useful for remote work and virtual meetings, as they allow participants to see and hear each other in real time, making it feel more like an in-person meeting. They are also useful for socializing and staying in touch with friends and family who live far away.
However, video call services also come with some challenges, such as internet connection issues and privacy concerns. It's important for users to be aware of these challenges and take steps to address them, such as ensuring a stable internet connection and using secure passwords to protect their accounts.
How to Choose the Best Video Call Service
There are several elements to evaluate when choosing a video calling service.
In general, a good choice depends on the following assessments:
– Video conference size: the video call service must be able to accommodate the number of people the business or organization has; during the pandemic, significant tele events took place, like exhibitions or summits;
– Video streams: when there is a high number of participants, many of them are just spectators; platforms often have a limited number of people who can transmit video and actively participate in the videoconference;
–Duration of the video conference: time is an important parameter, and many video call services, especially free ones, have a time limit; it is essential to have as much time as necessary for a peaceful video conference experience
– Scheduling options: it's essential whether they integrate with typical scheduling and calendar services such as Google Calendar, iCal, and Microsoft 365.
– Tools and Functionalities: these are critical for groups and teams in the work environment; a good video calling service has many tools that can easily integrate with existing platforms.
– Value for Money: no less critical in evaluating the best video calling service for your needs is a consideration regarding its utility so that it can be a good investment.
You may also like: Top 10 Video Conferencing API & SDK Lists
Best 10 Video Calling Services
Now, let's look at the best video calling services. Please note that this is not a ranking, as there is no one best video conferencing software: the choice depends on the needs of the company or organization, its size, its budget, and the use it will make of it.
However, we can say that each video call service excels in a specific feature or category.
Let's look at them.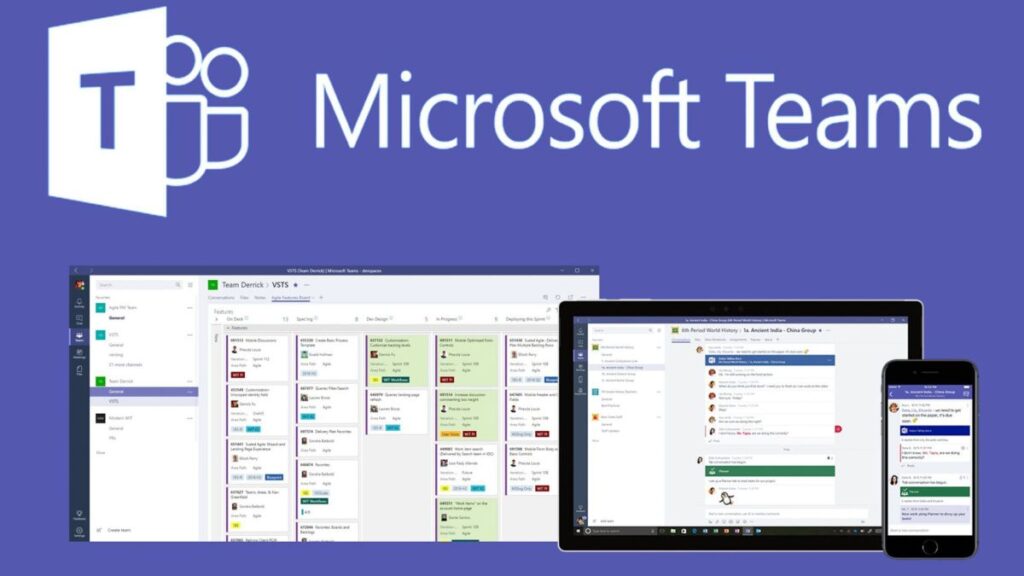 Companies appreciate Microsoft's signature video calling service for their internal communication. With full integration with Microsoft 365, the platform is the market leader for video conferencing and digital workspace integration.
Through a single app, Microsoft Teams allows you to:
– schedule video calls quickly between colleagues and departments
– schedule a video or audio meetings for either multiple people or one person
– organize webinars or meetings for up to 10,000 participants, ideal for multinational companies with offices in multiple parts of the world.
Microsoft Teams also offers a full range of features, including screen sharing, call recording, background image blurring technology, real-time captioning, and live chat. Alongside its excellent software is its hardware allowing users to participate in video conferences virtually anywhere and from any device.
The free video call service of Microsoft Teams boasts all the features needed to enable employees to collaborate remotely. However, it lacks some vital security and administration facilities, such as multi-factor authentication, single sign-on, and user management, which most companies need.
It's, therefore, better to opt for Office 365 Business Essentials and Office 365 Business Premium, respectively, $8 to $10 per month to unlock all the features and benefits of the Microsoft 365 video calling service.
You may also like: How to Make Apps like Microsoft Teams Chat
Zoom has gained extreme popularity during the pandemic. It offers video calling and messaging services for mobile and desktop devices with speed, ease of installation and use, and scalable functionality.
High video and audio quality enable conferences with 1,000 participants with as many as 49 videos on a single screen.
Top-rated features include:
the ability to save meetings locally or on the cloud with associated text transcripts;
screen sharing;
chat that allows file sharing;
conversion of meetings to individual calls;
256-bit TLS encryption for sessions and shared files;
automated scheduling via Gmail, Outlook, and iCal.
The free option is suitable for a small team; it offers many features and can accommodate up to 100 people for up to 40 minutes. However, The Pro or Business plans enjoy Zoom's maximum potential. Prices start at $14 per month, up to $19.99 per host per month, for packages more focused on larger companies and businesses.
GoToMeeting is the standalone video calling and web conferencing service offered by LogMeIn.
It integrates easily with the systems in use in businesses and is compatible with mobile devices, allowing you to set up and start conferences from a smartphone. It offers two separate apps for Android and iOS.
There is no free version; the service starts at a basic level, costing $14 per month or US$12 with an annual payment with a limit of 150 participants per videoconference. The Business plan costs $19 per month and extends the maximum number to 250 participants, along with drawing and mouse-sharing tools. Finally, the Enterprise plan increases the number of participants to 3,000, and the price depends on the customized package for each company.
The Business and Enterprise plans are very similar and provide:
Unlimited meetings of unlimited duration.
Integration with Salesforce.
A Slack meeting launcher.
An administration center.
Should companies want an enterprise VoIP solution, GoToConnect offers a cloud-based phone system that integrates GoToMeetings into the video call service package and may be more cost-effective.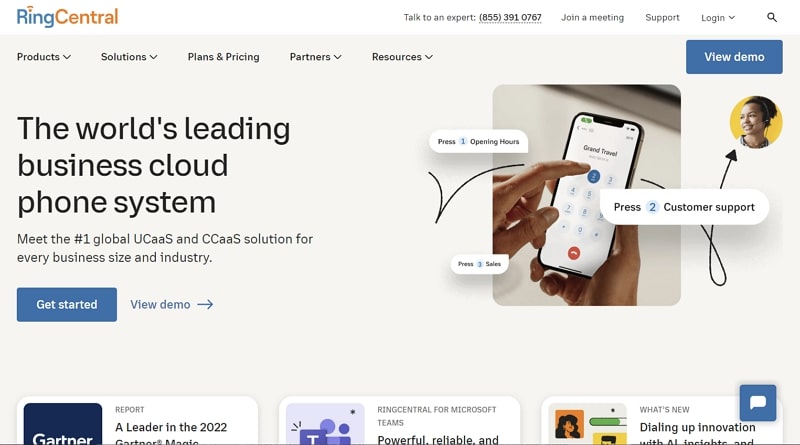 Speaking of VoIP, among the best service providers of business phone plans is RingCentral. Today it has adapted to video communication, bringing the two services together and taking the name RingCentral Video.
RingCentral's plans include scheduling, video call recording, screen sharing, note taking, and built-in chat features. The list is not exhausting since there are so many features available. RingCentral Video is optimized to run on web browsers, minimizing the need for additional applications and software.
Its best feature remains its integration with Slack, G Suite, and Microsoft 365, allowing users to schedule and initiate calls directly from these platforms.
RingCentral's statistical data dashboard is another excellent feature offered, essential for businesses. It allows administrators to monitor service usage and pinpoint performance issues, at the ISP, network, and endpoint levels, with the utmost accuracy.
RingCentral Video has an excellent free video call service, allowing 100 participants up to 40 minutes of video conferencing and unlimited minutes for one-on-one video calls.
With a slight upgrade of $14 per month, you get 1000 minutes of video calls and 27/7 client service, while with the $20 monthly advanced plan, you can take advantage of the real-time usage dashboard and SLA.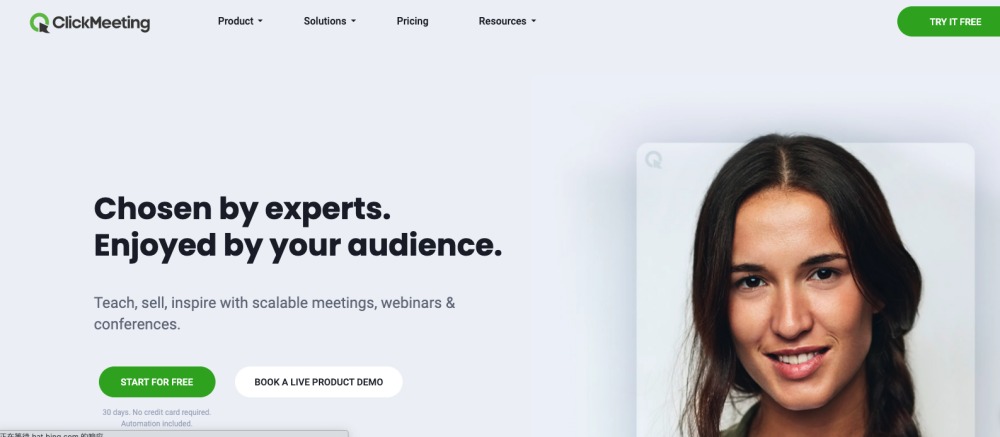 ClickMeeting is a particular video calling service specialized in webinars. It also allows traditional video conferencing; however, it's an excellent solution for those who organize online events, hold live classes, or view products with video demonstrations.
The software offers many tools for interacting with the audience during meetings:
Screen sharing;
Slideshows and videos;
An interactive screen where participants can control the mouse;
Audience participation with questions and polls.
For businesses, the most valuable features of ClickMeeting are the integration with:
Data collection and analysis systems;
Corporate marketing tools;
Popular business software such as Dropbox or Zapier.
ClickMeeting is more expensive than other video call services. It allows a 30-day free trial with a maximum of 25 participants per webinar. Its pricing plans are complex and depend on the number of participants; the more the price increases. The Automated plan is the most popular option. It includes advanced features such as automatic streaming to Facebook or YouTube, integration with Google Analytics, and automatic follow-up emails to participants. For webinars with up to 25 participants, it costs $45 monthly; for a Maximum of 1000 participants $356.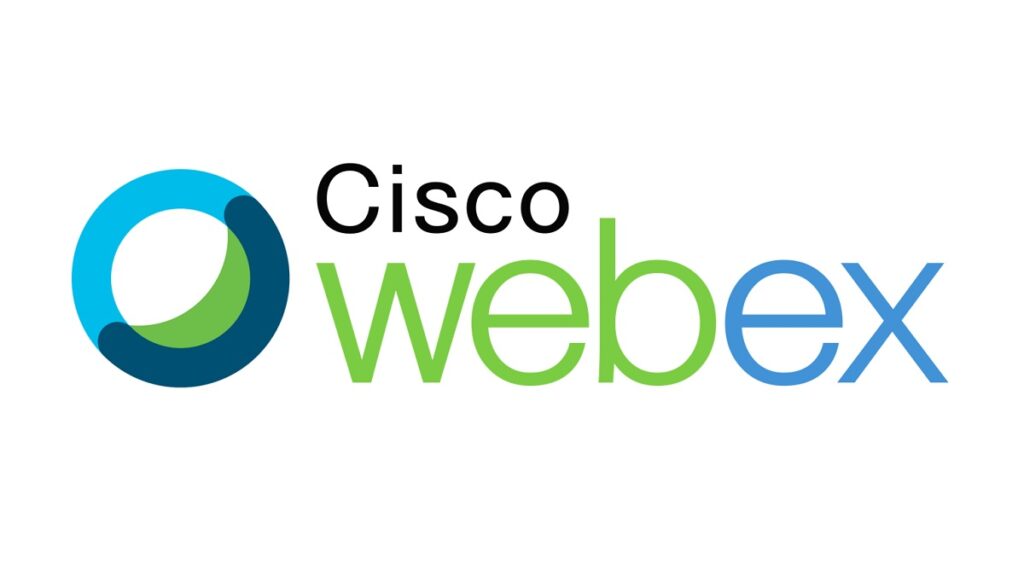 Webex belongs to Cisco, among the best service providers for business technology.
Its free video-calling service meets the needs of many. Indeed, it allows unlimited meetings with HD video for up to 100 participants, using features such as screen sharing and private chat rooms.
The best part of this video calling service is the cloud collaboration features. It is easy to share files and screenshots with other meeting participants to stay organized, make the conference more interactive, and enjoy more than 1 GB of cloud storage for free, useful for storing recorded meetings in MP4 format. For the best experience, it's recommended to use the app, but one can also access Webex from the browser.
Starter, plus, and business plans are available for up to $32 per month, enabling webinars with thousands of participants. Webex is an excellent choice if you want business or organization features, even for small teams.
For small teams, however, another video call service excels.
This service offers an easy-to-use solution through a link to join without being subscribed to the platform. The video conferences are customizable, as well as the link itself.
Join.me offers many packages easily accessed and purchased from the site without consulting the vendors. It starts at a minimum of $10 per month with unlimited meetings for up to 5 participants, so it does not include video conferencing. For $20 a month, you can go videoconferencing with 250 people while enjoying cloud storage services and recording capabilities. Finally, the $30 per month business option integrates salesforce and enterprise authentication.
Although payments are monthly, the plans require an annual membership. For this Join.me allows an entirely free two-week trial.
It is a good option for those who do not need more than ten simultaneous video streams per conference. Hence it's perfect for small teams and those who want to enjoy an excellent video call service with convenient pricing.
However, the following is the most affordable service for essential videoconferencing functions.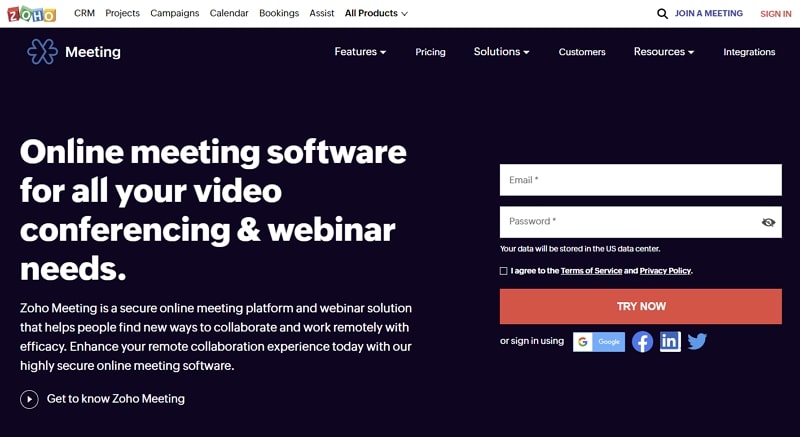 Zoho Meeting is the simplest and cheapest video calling service on the market. It is an optimal solution for small businesses that need basic functionality and already use Zoho products, as it does not integrate with other providers' productivity tools.
Its main functionalities are:
Video conference scheduling
Screen sharing
In-session chat
Meeting blocking
Moderator controls
Inclusion of links to meetings
The free Zoho Metting plan supports 100 participants per meeting and 100 participants per webinar. Features are limited; a slight upgrade is all that is needed to take advantage of them. For a minimum of ten participants, you pay only $3 per month; the more they are, the more the price increases, up to $18 for 250 videoconference participants.
We cannot end this list without mentioning Skype, one of the oldest and best-known online video calling software and, according to many, the best free video calling service for two people or small groups. Many of us have made our first video call with Skype, and as you read, we know its well-known jingle is ringing in your head.
Microsoft's video chat tool is often considered just another way to keep in touch with friends and family and informally with colleagues; however, the cross-platform app supports video conferences with up to 50 participants. For work-related matters, it is best to opt for the Business version, which for a small price, allows you to video chat with up to 250 users and integrate Office products.
Skype is available for all devices, both on the browser and app. Its valuable features include screen sharing, background blurring, real-time captioning during conversations, and chat recording. From a security point of view, it is highly reliable.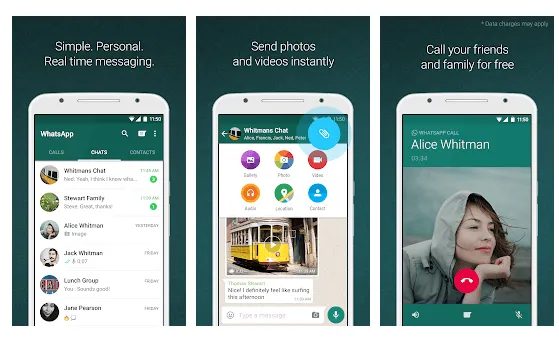 WhatsApp is a messaging app that offers a built-in video call service, allowing users to make high-quality video calls with their contacts. The service is available on both Android and iOS devices, and it's free to use.
One of the biggest advantages of WhatsApp's video call service is its simplicity. Users can initiate a video call with just a single tap, and there's no need to download any special software or plugins. This makes it easy for users to connect with friends, family, and colleagues, even if they're not familiar with the platform.
WhatsApp's video call service also offers end-to-end encryption, which means that calls are secure and private. Additionally, it allows users to make group video calls, making it easy to connect with multiple people at once.
Overall, WhatsApp's video call service is a simple and secure way to connect with others through video calls. It's widely used for personal and professional communication, and it's likely to remain a popular choice for video calling in the years to come.
How to Build Your Own Video Call Service App ZEGOCLOUD
Alongside the off-the-shelf video call services, a viable alternative is projects based on the WebRTC standard. Indeed, video calls can be integrated into the existing platform in companies or organizations or create an app for this purpose. Providers such as ZEGOCLOUD guarantee an excellent online video calling and video conferencing experience with multiple users. Its video chat and video conferencing SDK is fully customizable and easy to integrate.
Features of ZEGOCLOUD API for Video Call Service:
Real-time audio and video transmission: It enables real-time audio and video transmission with low latency and high stability, ensuring a smooth and seamless video call experience.
Multi-party video conferencing: The API supports multi-party video conferencing, allowing multiple participants to join a video call and communicate with each other in real time.
Screen sharing: The API supports screen sharing, allowing users to share their screen with other participants during a video call. This can be useful for giving presentations or demonstrating software.
Recording and playback: The API allows users to record video calls and save them for future reference. It also supports the playback of recorded video calls, making it easy to review previous discussions.
Customizable UI: The API offers a range of customizable UI components, allowing developers to create a video call interface that fits their specific needs and branding.
Cross-platform compatibility: The API supports cross-platform compatibility, allowing users to join video calls from a variety of devices and platforms, including web browsers, mobile devices, and desktop applications.
Advanced security features: The API offers a range of advanced security features, including encryption of audio and video data, prevention of unauthorized access, and protection against data leakage.
To learn more or for a demo, visit the official ZEGOCLOUD website and consult our Experts.
Talk to Expert
Learn more about our solutions and get your question answered.
Talk to us
Take your apps to the next level with our voice, video and chat APIs
10,000 minutes for free
4,000+ corporate clients
3 Billion daily call minutes