For businesses, achieving the respective brand goal remains a priority. Subsequently, technology aids businesses a lot in their path toward selected objectives. Similarly, video streaming is a technology that allows businesses to go global and promote their services to a broader audience. Moreover, this article will discuss 10 popular video streaming SDK options that businesses can integrate into their apps and ultimately enhance output.
Why API for Video Streaming is Important for Your Business
Video streaming is an ideal communication plus collaboration facility that allows businesses to conduct virtual meetings or display important content for target customers. Indeed, it's an excellent way for businesses to grow, due to which its API is beneficial to integrate. Thinking about the benefits of API for video streaming? Following are some of the benefits:
1. Scalability and Flexibility
Using video live streaming API, businesses can easily scale and enhance their video streaming services without investing in infrastructure or other resources. Meanwhile, with scalability, they can add more flexible features that aid branding and marketing prospectus or other important streaming features like analytics.
2. Streamlined Development and Competitive Advantage
Of course, the availability of pre-built libraries, resources, and code blocks will streamline the development. Meanwhile, this will not only save cost and time, but it also provides a competitive edge. With simple integrations, businesses can make their streaming applications go live within minutes, leading them to compete with other similar players.
3. Opportunity for Monetization
Secondly, businesses can turn their video streaming into a passive income source by giving access to paywall systems, ad servers, and other monetization tools. Automatically, this will add significant value to the business since they can utilize the revenue to improve their services and other parameters.
4. Improved Workflow with Reduced Maintenance
To be precise, certain tasks, such as video transcoding, are fully automated in most API providers. Therefore, businesses don't have to work on this area, and this will ultimately streamline their workflows. Moreover, businesses also don't have to worry about API maintenance because the service provider will manage and handle maintenance.
Which is The Best Video Live Streaming API
Upon searching for a live video streaming service, you will most likely get confused about which option best suits your business goals. Hence, picking the right one is a difficult task, not until you follow these 10 top video streaming APIs:
Extend your business's proximity to the global market and wider audience through ZEGOCLOUD. This is basically a top video live-streaming API that will help your business to create live interactions with different companies and customers across the globe. Consequently, businesses can market their brand objectives to secure various deals and ultimately sell.
In addition, ZEGOCLOUD API comes with built-in components that offer easy and straightforward app integrations. Meanwhile, with the option of screen sharing, businesses can actively illustrate their products or services.
Key Features
With real-time messaging, users can send bullet-screen messages to each other during the live streams.
Moreover, face beautification allows participants to look beautiful during the streams. So they can smoothen skin or add retouches to the face.
Screen recording is also a possibility for users to share recordings with those who missed the video stream.
For a better and more enchanting experience, use the super-resolution to enhance the video quality of the stream in a convincing way.
Secondly, protect your business content privacy by adding watermarks to it. This also serves as a branding tool for your business.
Using RTMP technology, forward business live streaming to social media platforms and derive organic leads from target customers.
Price: Starts from 3.99/1000 participant minutes (Video HD)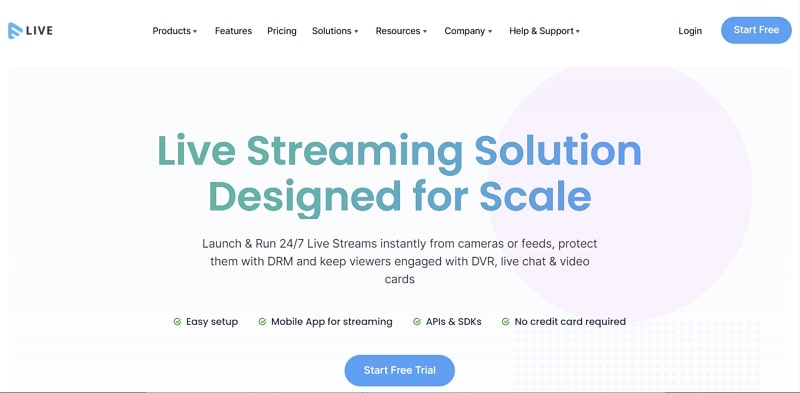 Muvi is a specialized API for video streaming that provides businesses with a platform to go live and display their services, products, and offerings in a unique way. Apparently, the live streams of this API can hold up to 600 participants without disruptions. Moreover, users can join the streams from desktop, mobile, or tablet devices.
Key Features
Screenshare Display
Live Chat
Real-Time Analytics
Buffer-free Streaming
Price: Starts from $79/month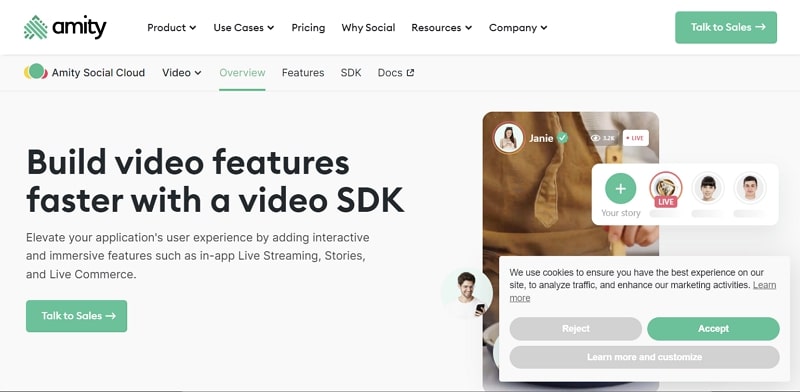 Known as a top cloud video streaming SDK, Amity is an ideal solution to elevate your business's brand awareness towards a global audience and entities. Subsequently, the delivered video streams are backed with a high-quality video and extraordinary sound support. Thus, you can broadcast your business offerings in all sorts of visual content and may even add e-commerce experiences.
Key Features
Create Short Videos
Analytics Panel
Push Notifications
Recording and Playback
Price: Starts from $0.06/MAU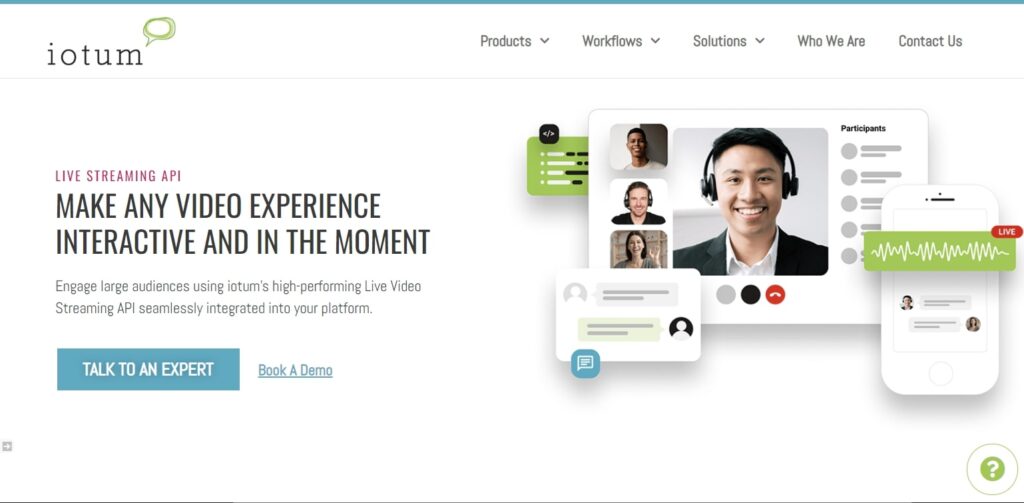 Boost your business sales by driving a large organic audience using the iotum's API for live video streaming service. Secondly, this API is a perfect digital solution to broadcast all your business's dynamic events efficiently. Moreover, it can actively engage your audience with streaming functions like live annotation, screen sharing, etc.
Key Features
Co-hosting Available
Recognizing Gestures
1080p Resolution
Two-tier Video Streams
Price: Talk to an Expert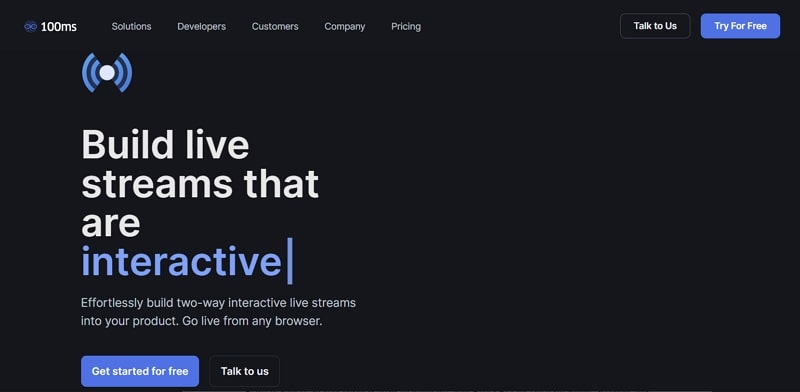 With 100ms, build meaningful live streams for your business that derives potential leads and sales into your brand. Concurrently, while using this video live-streaming API, you can develop two-way interactions with customers and buyers to showcase the specialties of your offered services. Not to forget, it's extremely simple to integrate this API with scalable infrastructure.
Key Features
Built-in Media Systems
Less than 7 Seconds Streaming Latency
Emoji Reactions
Chat options
Price: Starts from $0.0012 per viewer per minute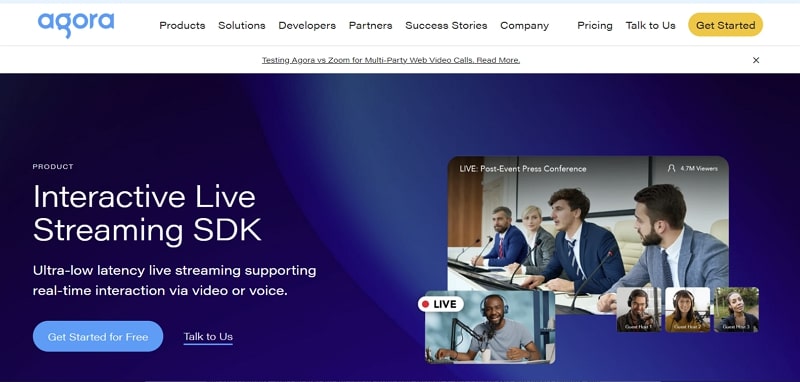 Actively achieve all your business goals by going live with Agora API for video streaming. Secondly, this platform provides a way to engage and interact with your customers with real-time video streaming that comes with ultra-low latency. Not only with customers, but you can also broadcast your product promotions with business entities to secure deals on higher levels.
Key Features
AI Noise Suppression
No Buffering
Channel Switching
Dual Live-stream Videos
Price: Starts from $0.99/1000 minutes for Audio Only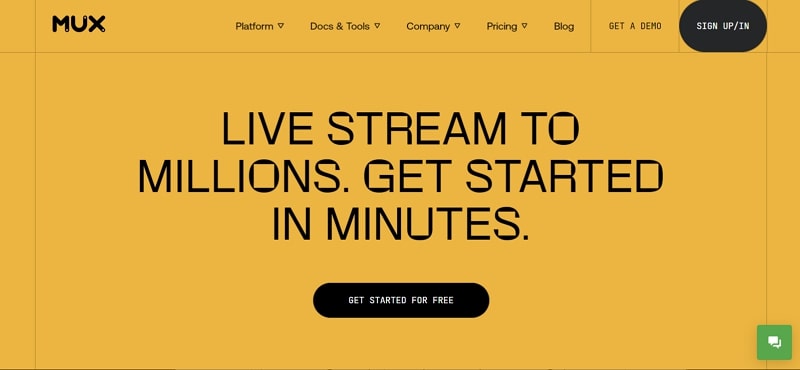 Mux Video is a great video streaming API that enables businesses to stream globally in just minutes. Meanwhile, this video streaming SDK is backed with developer-friendly APIs that make it easier to integrate and go live within minutes. On the other hand, businesses can scale the APIs as per their required streaming features. In addition, the platform uses RTMP technology for live streams.
Key Features
Multiple CDNs
Token-Based Security
Auto-Generated Live Captions
HLS Output Streams
Price: Starts from $0.00096/min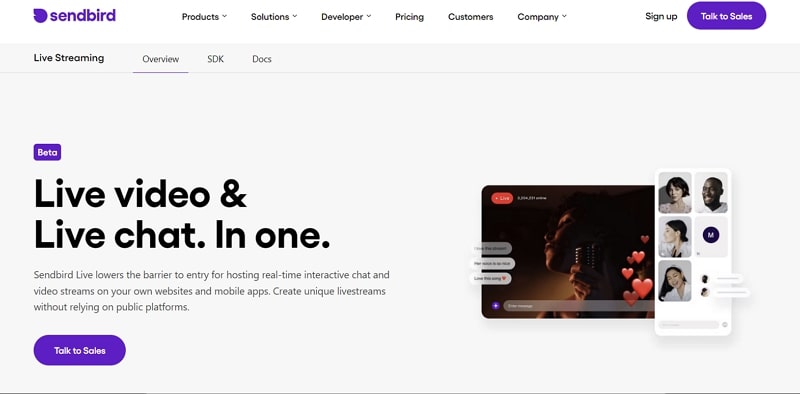 Sendbird is the perfect solution for businesses to host interactive live streams with customers around the world. Meanwhile, this live video streaming service offers real-time audio and video support that helps businesses to display their product's live events in a unique way. Henceforth allowing companies to launch sales and marketing campaigns in a meaningful way.
Key Features
Screen Sharing
Camera Filters
Livestream Playback
Chat Support
Price: Starts from $399/month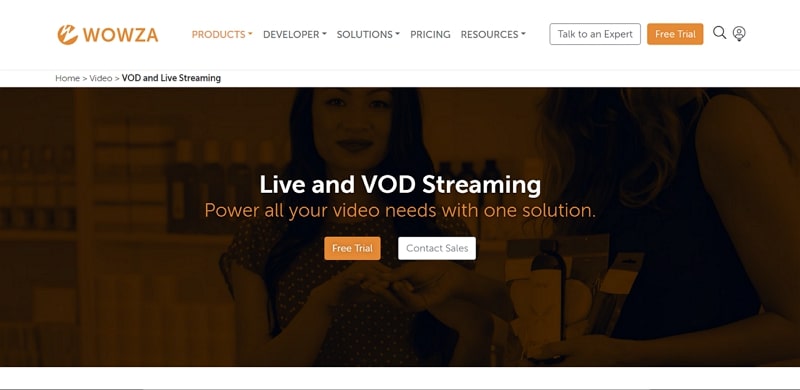 Bringing businesses and customers closer together, Wowza video streaming SDK is the ultimate solution to help enterprises to deliver potential leads and sales to their brands. Moreover, this platform uses Rest API, by which it can integrate third-party business processes to improve the streaming experience. Indeed, the low-latency feature ensures reliable live streaming that ensures the audience and host remain connected without interruptions.
Key Features
Synchronizing Metadata
Live Video in Two-way Standard
Chat Functionality
Multi-Device Streaming
Price: Starts from $25/month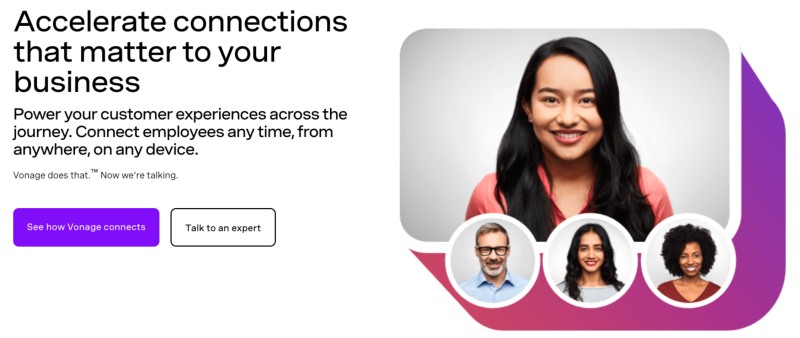 Vonage is a developer-friendly API for video streaming that allows businesses to build brand image by targeting and engaging a wider audience globally. Ideally, this platform utilizes RTMP stream or HTTP live streaming (HLS), ensuring stable connectivity during streaming sessions. Henceforth, businesses can convert this opportunity into a potential selling factor by broadcasting events, meetings, and conferences relating to their services.
Key Features
Flexible Storage Options
Crisp Presentations
AAC Audio at 128 Kbps
Create Instant Replay
Price: Starts from $0.00395 per participant/per minute
Conclusion
Overall, video streaming is an excellent utility for businesses to enhance their brand identity while actively achieving business goals. After all, video streaming allows companies to attract audiences worldwide and engage with potential big business entities. Consequently, this article discussed the top 10 video streaming APIs, including ZEGOCLOUD, an industry-standard API/SDK for developing video streaming apps.
Talk to Expert
Learn more about our solutions and get your question answered.
Talk to us
Take your apps to the next level with our voice, video and chat APIs
10,000 minutes for free
4,000+ corporate clients
3 Billion daily call minutes