During the last decade, especially amid the COVID-19 pandemic, video communication has gained tremendous momentum, particularly in the corporate sector.
In this brief article, we will define video communication and the underpinning technology and learn about the different types of communication. Finally, we will explore ZEGOCLOUD video communication solutions.
What is Video Communication?
The delivery of information via live video streaming or video sharing is called video communication. Information senders and recipients can use voice and visuals in this communication.
Users may need to use the internet, a video communication compatible device such as a smartphone or laptop, and/or additional software to connect. Low latency technology allows video communication in real-time, alongside 5G technology, which improves network speed for rapid information delivery. Ultra HD video is essential today for the best quality user experience. The unstoppable spread of cloud service is boosting video interaction due to low costs and no IT infrastructure required. AI will further improve this technology as it is increasingly present in creating video calls and conferencing apps.
Altogether, these underpinning technologies allow for real-time interaction, which we consider an upgraded version of real-time communication (RTC), including video communication.
Advantages
One advantage of video communication over other modalities is that it allows immediate and effortless face-to-face connection with family, friends, or coworkers. For businesses and organizations, video communication has enabled worldwide personnel to connect instantly and collaborate seamlessly. It has allowed for improved customer care and partner management. Every industry, from business to education and entertainment, has substantially used video interaction, including business, casual, gaming, education, health care, e-commerce, etc.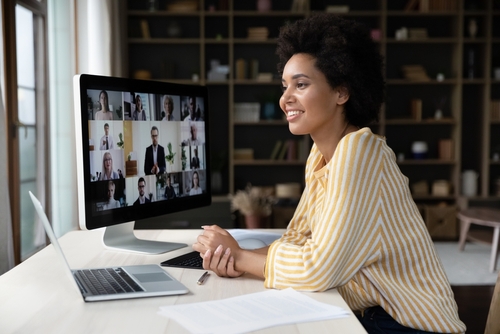 Video Communication Trends and Drivers
The main trends and eco-social drivers for the growth of video interaction technology applications are:
Intelligent and hybrid working (a combination of remote and office-based performance), which exponentially in the last three years and made video conferencing and calls the norm
Distance learning, another critical area where video calls have been highly successful
Telehealth industry growth, with many patients using video communication to get health care securely and promptly.
The banking, finance, and insurance industries are all heading, in the same way, to adapt to the changing expectations of consumers, particularly the younger generation.
A strong emphasis on engagement and productivity in the workplace, for which video conversations are used to plan work and complete assignments
If you would like to learn more details about video communication trends, click here: Video Communication Trends In 2023
Different Types of Video Communication
The primary and most common types of video communication are video calls, video conferences, telepresence, and video sharing.
1. Video call
A Video Call is a service that allows two or more individuals to interact through video using their phone or computer. Depending on the technology used, video calling can take three forms:
On-landline network, occurring between two PCs connected to the same internet platform or between a computer and a landline phone number. The video calling service is charged when using a Computer to make a video call to a mobile or landline phone, or else users may communicate using software like Messenger or Skype;
Mobile network, 3G, 4G, and 6G mobile phones. To work, 3G phones employ the H324M protocol, which uses the Circuit Switched Mode. Most 4G mobile devices use the Packet Switched Mode protocol without bandwidth limitations. The video quality of the 5G is superior to that of the former. Telecom operators usually charge depending on the mobile data package clients have and how long they stay connected;
Internet network via Session Initiation Protocol (SIP) or the H323 protocol. A VoIP service can link communicators using a variety of gear and software like FaceTime, Skype, Google Hangouts, WhatsApp, and other popular smartphone applications to make video calls.
2. Video Conferencing
A video conference is audio-visual real-time communication that involves numerous individuals. It is mainly used for business meetings, events, seminars, and training. This separates it from standard video calls, a quick and casual manner in which just two people participate. In addition, video conferencing software is more advanced than video calling software.
Therefore, video conferencing is mainly utilized in formal, work-related settings. While we may participate in a video conference using our smartphones, the standard business method is to utilize a laptop and projector. This facilitates understanding shared files and information such as charts, tables, and diagrams.
It works as follows:
each participant's video stream is initially sent to a Multipoint Control Unit (MCU)
Feeds are picked, merged, and delivered to all participants as a single audio and visual stream at the MCU
All conference attendees can see live video feeds as if they were conversing with the other participants in person.
Cloud-based video conferencing is the primary one in the industry since its convenience of no fixed hardware required. Today there are countless popular cloud video conferencing solutions, including Zoom, Google Meet, and Microsoft Team. In addition to face-to-face communication, pretty much any software includes features like screen sharing, application sharing, whiteboards, and meeting recording and playback features. A popular option is video sharing.
You may also like: Best 5 HIPAA-Compliant Video Conferencing Platforms
3. Video Sharing
This is more of an integrated part of video conferencing. Indeed, most video conferencing solutions allow users to share videos during presentations. Meeting attendees may use this feature to observe the presenter's real-time presentation. This is made feasible by the packet data connection, which operates in conjunction with the voice call.
4. Telepresence
Telepresence is an upgraded form of a video conference that enables real-life simulation. Conference participants feel as though they are physically speaking with one another. It requires more sophisticated equipment, such as:
specially built cameras
LCD panels to function correctly
Seating configurations must also be distinctive, such as curved seating that allows individuals from both ends of the conference to view each other directly.
Sound and video are broadcast in high-definition format, making meetings more realistic.
Telepresence is generally used by businesses to have corporate meetings with employees or to connect with clients, suppliers, and partners all over the world.
ZEGOCLOUD Real-time Video Communication Solutions
As we have mentioned, excellent apps and software are available on the market, allowing for good-quality video calls and conferencing. However, commercial solutions aren't always the best choice for businesses and organizations willing to scale up their activities and customer-oriented services.
Often, the best strategy is to integrate video communication into existing platforms in enterprises or organizations or develop a dedicated app. That's why many opt for a tailored solution instead. Thanks
ZEGOCLOUD is a comprehensive video conferencing/video call platform that offers a wide range of features and capabilities to let developers build high-quality video conferencing apps quickly and easily. It is an excellent choice for designing video conferencing apps due to its powerful video chat SDK.
It offers a full set of video communication system building blocks, including real-time voice, real-time video, interactive live streaming, recording, screening sharing, whiteboard, and so on. Additionally, the company provides powerful backend monitoring as well as an analytic dashboard for overall performance enhancement.
Why Choose ZEGOCLOUD
Some of the primary reasons why you should work with ZEGOCLOUD to create your next video call and conferencing app:
High-definition video and audio
ZEGOCLOUD employs cutting-edge technology to ensure that your video conferencing software delivers crystal-clear video and audio quality even in low-bandwidth conditions. This implies that when your clients use your app, they will receive a consistent, uninterrupted experience.
Flexibility
Video call and conferencing software can quickly grow to handle huge numbers of users with ZEGOCLOUD, making it a great choice for enterprises or organizations that need to support numerous participants in a single conversation.
Safety
ZEGOCLOUD offers strong security measures to keep your users' data and interactions safe. Encryption, safe data storage, and user authentication are all part of this.
Customizable
A plethora of customization possibilities will allow you to adapt your software or app to your unique requirements. You may build a unique and engaging user experience by selecting from a choice of layouts, themes, and other design components.
Simple integration
You can quickly combine your video call and conferencing app with other tools and platforms, like calendars, CRMs, or project management software, using ZEGOCLOUD. This can aid in streamlining your process and increasing productivity.
Reasonably priced
ZEGOCLOUD's pricing options are competitive, making it an inexpensive solution for enterprises and organizations of all sizes.
Assistance
ZEGOCLOUD offers exceptional customer service, assisting you with resolving any difficulties that may emerge throughout the development process.
Finally, ZEGOCLOUD provides powerful backend monitoring and an analytic dashboard for total performance improvement. To learn more or for a demo, visit the official ZEGOCLOUD website and consult our experts.
Talk to Expert
Learn more about our solutions and get your question answered.
Talk to us
Take your apps to the next level with our voice, video and chat APIs
10,000 minutes for free
4,000+ corporate clients
3 Billion daily call minutes