For years, the prominent video chat and call apps market competitors have tried to show the world that their technologies were ready and mature enough for everyday use in business operations.
It wasn't until 2020, as the pandemic disrupted our lives willy-nilly, that the way we live changed. From work to school, shopping, banking, health care, video calls, and chat apps played a significant role in shaping this new reality. They enable people from all over the world to stay in touch and interact instantaneously. Even more in 2023, video communication trends are emerging as the most critical forms of real-time Web communication in various industries.
Pandemic effects
The phenomenon of smart working arose in the exceptional situation of the pandemic to ensure business continuity; it entailed greater importance to the use of video calls and conferences. Flexible and hybrid work models became famous and appreciated by the public. Private companies realized there could be productivity even remotely in the months of lockdown. This upheaval in the labor market makes Global Market Insights predict that the size of the video conferencing market could exceed $75 billion by 2027. But this goes far beyond intelligent working and hybrid productivity.
So let's look at the significant video communication trends that will boost the industry significantly in the coming years.
Emerging Major Video Communication Trends
As mentioned, intelligent and hybrid working (a combination of remote and office-based performance) are here to stay. Video communication trends are at their core.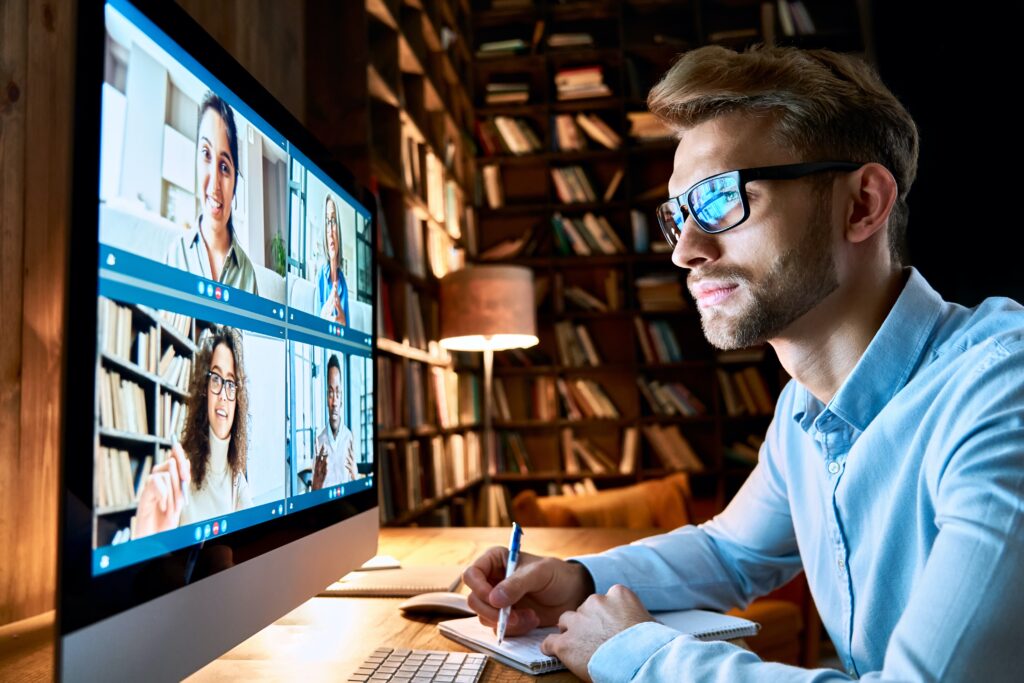 Hybrid work, the new normal
People like the flexibility and resulting savings of valuable time and resources, such as the budget companies allocate to large office space rentals. This translates into increased demand for video communication solutions like video calls, critical for business continuity and agility. This increase is to be understood not only quantitatively but especially qualitatively. Workers and companies have accrued the need for high audio and visual capabilities, so much so that they have launched the trend of providing employees with kits and packages useful for an improved video chat experience.
Some companies have guaranteed a bonus to upgrade workers' home offices. Priorities on visual and audio qualities have thus changed and are a propulsive push for industry competitors to develop and deliver an excellent video calling and conferencing experience. Not only quality-wise but also customizable and adaptable to different contexts and needs, as ZEGOCLOUD solutions effortlessly offer.
Productivity imperatives
Alongside the focus on the basic functionality of meetings, it has also implied much attention to meeting productivity. Video calls in the work environment aim not only at work planning but also at completing tasks and getting the work done. Therefore, the demand for features for increased productivity will continue to grow over time, now offering options such as file sharing, real-time automatic translation, and video clipping. The latter includes developing new streaming software to provide live video editing; it creates post-production effects during a video call ranging from editing backgrounds to advanced camera effects and features. Among these engagement-increasing features, ZEGOCLOUD offers screen sharing, co-hosting, face beautification, super-resolution, recording, call quality monitoring, and more.
Smart learning
Distance learning is another central area where video call has been enormously successful. During the pandemic, it became the norm, providing virtual classrooms and school continuity. As much as students have gradually returned to the desks of schools and universities, the remote mode continues to be helpful, especially for conversations between students and faculty. It will be essential in supporting access to education worldwide, opening the door to digital tutoring. This industry has recently seen a considerable increase in taking advantage of video chat app technology; especially when it comes to tailored virtual teaching experiences, like the solutions provided by ZEGOCLOUD, which best fitting with specific needs both for one-to-one tutoring and large-scale live classes.
Telemedicine
The telehealth sector has also experienced a steady boost since 2020, where many patients have used video communication to access health care safely and immediately. Before the pandemic, telemedicine had shown great promise. Still, by April 2020, overall telehealth use for office visits and outpatient care was 78 times higher than pre-epidemic, according to McKinsey&Co. Telemedicine will become an enduring and increasingly prevalent aspect of healthcare delivery.
For this reason, companies like ZEGOCLOUD are working to develop better patient-centered care apps through video calls and chat, ensuring real-time engagement and integrating useful options. Among these, document sharing, multiplatform support, and whiteboard, in order to ensure a better diagnosis of symptoms, private and convenient virtual appointments.
Smart banking and financial services
In the same direction goes the banking, finance, and insurance sector. These were already involved in a massive digital transformation in recent years to adapt to the changing needs of consumers, especially the younger generation. Video chat and other digital channels will help serve customers. This is proven by the growing trend of using video calling for step-by-step consultations on banking services, thus offering a personalized and efficient experience.
New frontiers of video communication
Video call technology gradually extends to all social activities, opening a wide range of opportunities for software developers.
Virtual tours of historical and cultural attractions by museums have spread successfully in the tourism and cultural sphere.
Entrepreneurship is adapting to the new ways consumers make purchasing decisions, and dedicated video conferencing can help customers with their purchases. E-commerce, a reality already established for over a decade, finds further room for customer retention in this technology.
Technology enablers
It is due to mention that significant developments in the digital sector favor these technologies. The most important of which include:
The inexorable spread of communication in the cloud. It is more convenient and easier for both users and IT professionals. Moreover, it has the merit of significantly reducing IT costs, as there is no need to use infrastructure or equipment.
The deployment of 5G. It will help to increase speed and reduce latency, especially for mobile users, ensuring a better quality virtual experience.
Artificial intelligence. It integrates into the development of video conferencing applications; virtual assistants are helpful, for example, in solving many problems related to online negotiations, collecting and analyzing data from online meetings, translating in real-time, and so on.
The boom of the metaverse. It will transform video conferencing by allowing people simultaneously to hear and see the presenter without worrying about how many cameras or computer screens are available. Although the metaverse is still in its early stages, developers have already ventured into creating customizable applications, so there is no doubt that it will revolutionize the video conferencing market in the coming years.
Avangard video communication: customizable video chat apps
The significant competitors in the video chat app market will continue to grow and innovate their technologies. The current trend – boosted, as mentioned, by AI and the metaverse boom – is to create customizable video chat applications or integrate these functions into existing apps.
For this, one must rely on a competent video communication service provider and software developer like ZEGOCLOUD, a global provider of cloud communication services that enables companies and developers to obtain real-time audio and video communication capabilities. Thanks to its integration of a single SDK, users can enjoy smooth and reliable high-quality audio and video experiences even in weak network conditions.
ZEGOCLOUD's video call solutions provide an effective engagement given the wide range of add-on features, which will help meet the increased productivity demand that video chat in the nowadays work environment requires. Not only for work, but ZEGOCLOUD's solutions also help integrate interactive real-time video into every aspect of life, from online education and telehealth to customer services and social and live events.
To help you get started, development tutorials and sample codes are provided, so that you can learn how to build your own SDKs and API.
Now that you might have all you need to know, get started with ZEGOCLOUD's unique solutions!
Talk to Expert
Learn more about our solutions and get your question answered.
Talk to us
Take your apps to the next level with our voice, video and chat APIs
10,000 minutes for free
4,000+ corporate clients
3 Billion daily call minutes