Nowadays, video chatting has become a favorite pass time of people. It is a feature most commonly used on a random video chat app to randomly talk with people worldwide. Subsequently, it has raised the popularity of random video chat apps. Continue to read this article until the end to learn more about random video chat and the 10 best apps.
Things You Need to know about Random Video Chat App
Having video chat with random people might sound interesting, but there are things you need to know. The internet is not all fun and games; it also has a dark and hideous side. That's why before using any services like random video chat apps, you should keep the following things in mind;
Personal Safety: Nothing is more important than your personal safety when talking to random people. Never share your personal information like contact number, email, home address, etc. Moreover, make sure that there is no information about you on your account or background.
Privacy: You must also check the privacy and data protection policies of the platforms you use for random chatting. Ensure the platform offers encryption for all communication and doesn't harvest your data. Likewise, the targeted platform should also comply with data protection laws.
Internet Connection: Before starting video chat with random people, check and ensure your internet connection is stable. It should also be powerful enough to handle high-quality video chat without lags or interruptions.
Open-Minded: The world is full of all types of people, and you will experience some of them when chatting with people randomly. Some of them will be good, while others will not be so great. Thus, it is essential that you keep an open mind during video chats with random people.
10 Popular Random Video Chat App Lists
Due to the popularity of video chatting, if you look for the best random video chat app online, there are hundreds of them. Although admittingly, most of these options are probably useless due to lack of users, After combing the internet thoroughly, we have put together the 10 most popular random chat video apps for you to check out below: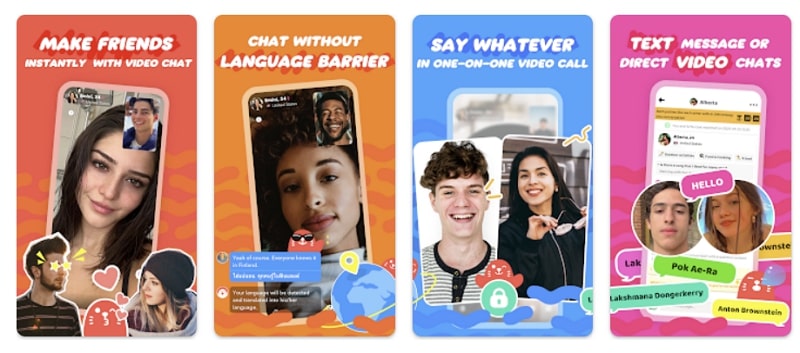 Available in over 190 countries and with over 30 million active users, HOLLA is a great choice to have a video chat with random people. It is not just a video chat app but offers a complete fun time package with voice, text, live-streaming, games, etc. Additionally, it also includes a real-time translation feature, while the app itself is available in most languages.
HOLLA uses a random matching algorithm that pairs you with other users based on your interests and preferences. It also allows you to filter people based on location, gender, and interests.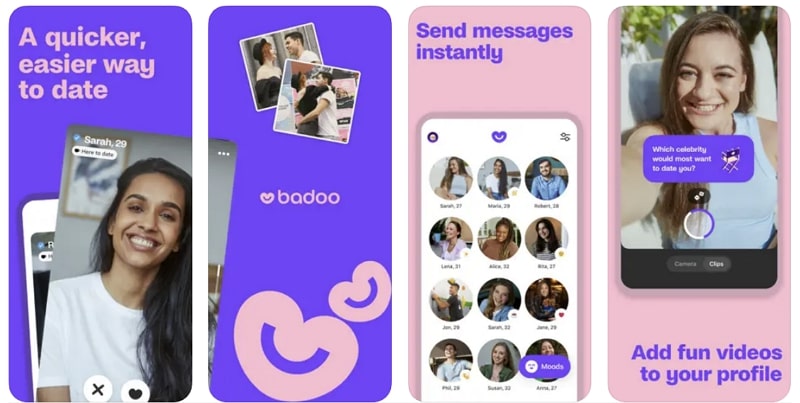 Competing with Tinder, Badoo is a hybrid dating and random video chat app available in over 190 countries. Many have called it the best random video chat app due to its numerous features. Furthermore, this app has a three-step verification process, ensuring you always talk to a real person. When looking for possible matches, it allows users to use a location filter.
Users are able to talk with random people using high-quality one-on-one video calls. It also includes AI content moderation tools that blur explicit images automatically.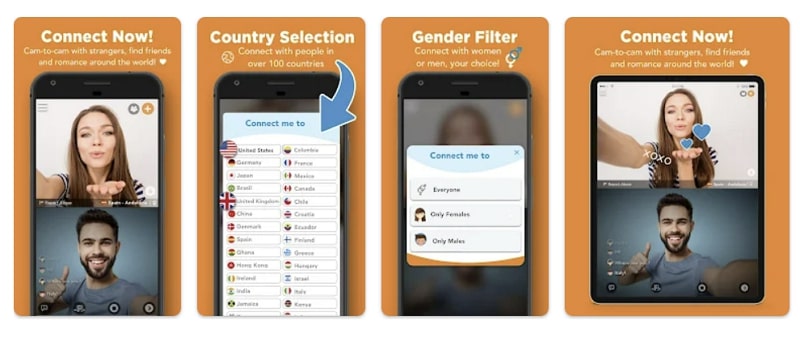 Considered among the top random video chat sites, Camsurf is a famous name among random video chatters. This platform offers a simple and user-friendly interface, and users can start chatting with just a few clicks. Moreover, this random chat site is also available as a mobile app for both Android and iOS devices. When using this platform, users can engage in video, voice, and text chats.
Camsurf provides options for both one-to-one and group chats. Besides, it also offers many premium features like language filters, gender filters, and the ability to add friends.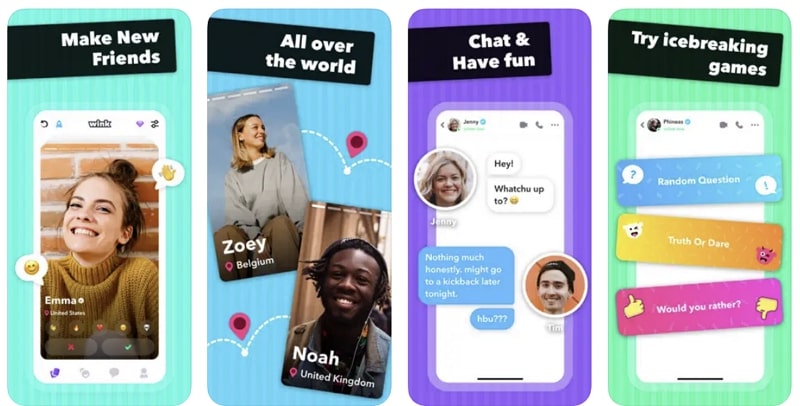 Claiming to be full of only authentic people due to verification restrictions, Wink is a great choice if you are avoiding fake profiles. With strict content moderation policies, it is an excellent random video chat website for fun and talking with people. The interface of the app is also user-friendly, with the addition of a Tinder-like swap feature. With this feature, users can easily browse through profiles.
While Wink is available to download for free, it also has different premium subscription packages. Users need to use "Gems," an in-app currency, to perform many tasks.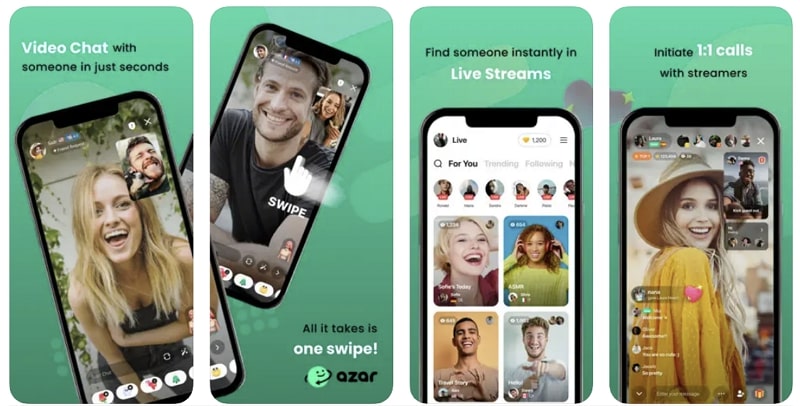 Offering great features like video chat, live-streaming, and virtual events, Azar is among the most used random video chat app nowadays. It has over 100 million downloads and is available for Android and iOS. It uses a unique matching algorithm to connect users based on their interests and preferences. Likewise, users can also add hashtags, filters, and interests to optimize their profile for matching.
Azar also offers many features, such as virtual gifts, backgrounds, and language translation, to enhance the user experience. This app also has free and premium subscription options for users.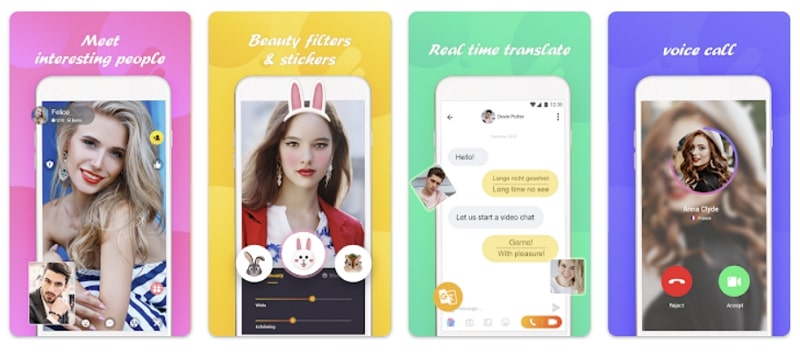 It is an excellent random video chat app for people looking to make new friends, practice language skills, or just have fun chatting with Random people. A unique feature of this app is the real-time translation. Through this feature, users can chat with people who don't speak their language. Furthermore, the app also has real-time matchmaking where you can talk with random people on a location basis.
Tumile offers a high-quality one-on-one video chatting option with no lag or stutter. It also includes many beautifications and magic filters for video chats.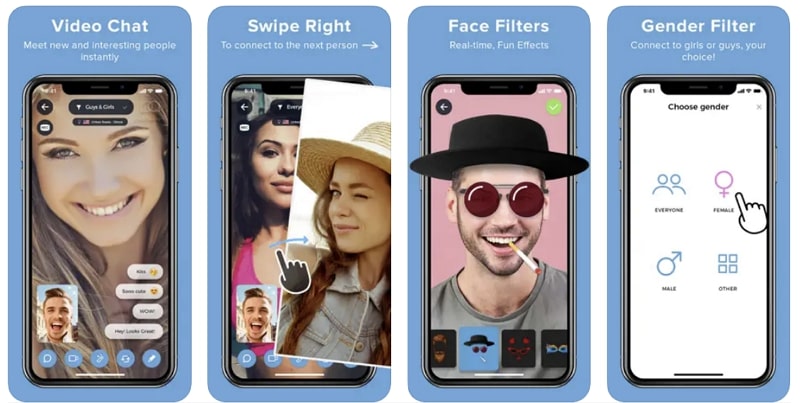 Starting as a random video chat website, Chatrandom has gained a large user base and is now available as a mobile app. It is famous for providing anonymity to users with no registration or verification requirements. In this app, users are able to video chat with random people using a single button. Additionally, this app also allows users open group video chats with up to 4 participants.
This app has both free and premium tier packages for users. Premium users enjoy many benefits like gender filter, location filter, faster connection, etc.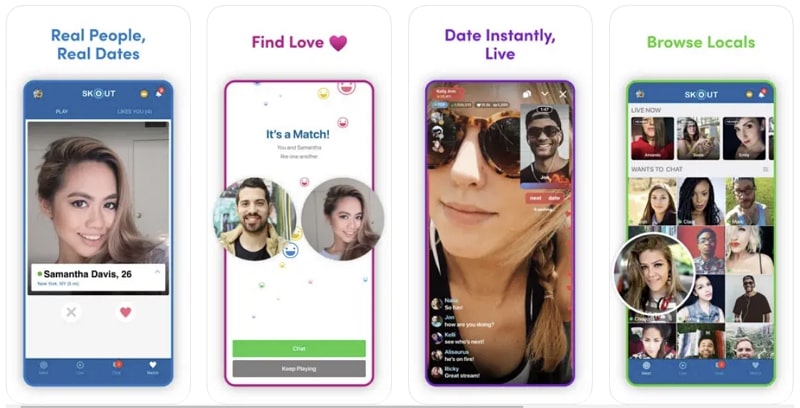 With over 50 million downloads on Play Store, Skout is a decent choice for video chatting with random people based on location proximity. This app allows users to talk with people using video, voice, or text chat. Moreover, they can also send virtual gifts and share photos and videos. Users can use location filters or shared interests when looking for people to chat with.
Skout is available for iOS and Android platforms and has strict content moderation policies for users. It also allows users to broadcast themselves to gain popularity.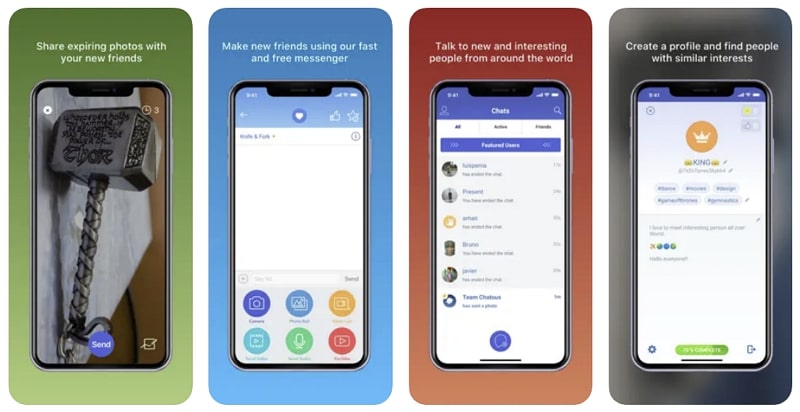 Known for allowing users to chat anonymously, Chatous is a great random video chat website to meet strangers if you are conscious about your privacy. It was first released in 2013 and is available as a mobile app for iOS and Android devices. To meet with people who share the same interests, Chatous allows users to add their interests and match them with people on their basis.
Apart from video chat, it provides features like text messaging, voice calls, video and photo sharing, etc. Furthermore, it protects users' privacy by allowing them to choose changeable and unsearchable display names.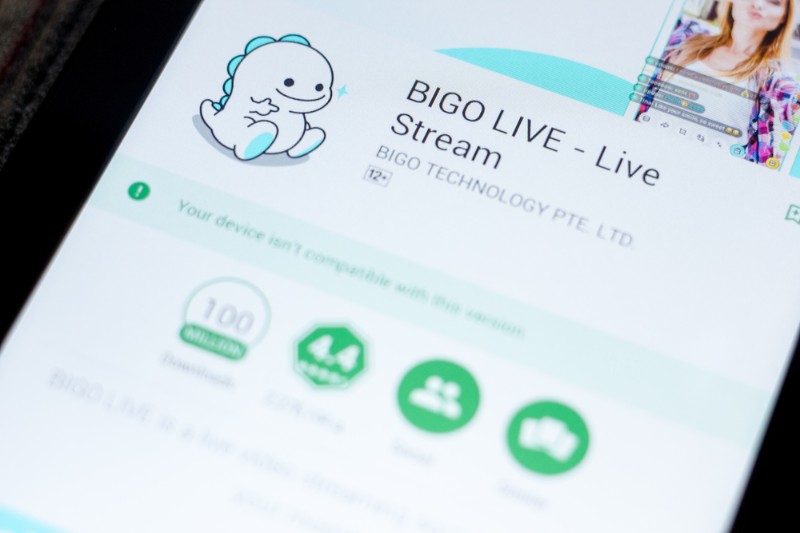 One of the most popular random video chat sites, BIGO LIVE, is widely popular in South Asia, Southeast Asia, and the Middle East. This app has over 500 million downloads and provides many unique features alongside video chat. It also allows users to live stream their activities, including singing, dancing, gaming, etc. Furthermore, users can also watch other streamers and send them virtual gifts.
When doing live chat, users can create one-to-one chat rooms or group rooms with up to 9 people for video and voice chats. Additionally, it also includes a gaming center where users can play gamers against each other.
Why ZEGOCLOUD SDK for Random Video Chat App
Random video chat apps are fun to use and are a great way to meet new people. Furthermore, Users can also chat with other people without adding them to their friend list. These features have led to the popularity of such apps. If you also want to develop a random chat app at an affordable cost, the best way is to use ZEGOCLOUD Video Call SDK.
You can integrate fantastic audio and video chat features into your applications using this SDK to build a random video chat app. It offers high-quality audio and video chat, low latency, wide compatibility, and easy integration. Moreover, you will also get 10000 free minutes monthly to ensure your app running costs are as low as possible. It also offers advanced features, like beauty filters, background noise suppression, screen sharing, recording, and more.
Prominent Key Features of ZEGOCLOUD API for Random Video Chat App
When diving deep into the features included in the ZEGOCLOUD Video Call API & SDK, you will understand why it is so widely used. It is hard to mention all the features, so below discussed are a few key features:
The first thing that matters is video quality when you are talking to someone using video chat. If video chat quality is inferior, people will soon get bored and stop using that service. Thus, ZEGOCLOUD Video Call API & SDK will ensure that your random video chat offers 4K quality calls at ultra-low latency of 300ms.
Due to the rising cybercrimes and data privacy, users take data protection and security policies very seriously. Since, unlike text chat, users' face and voice is also getting transmitted; it makes them very conscious of their privacy. To ensure your random video chat app is known as the most secure, use ZEGOCLOUD Video Call API & SDK, as it complies with GDPR and HIPAA.
You can add an amazing video conference feature by using ZEGOCLOUD Video Call API & SDK when building your random video chat app. It will increase the user range for your app as it will attract users looking for random group video chats. At the same time, it will be attractive to remote workers looking for a secure platform to hold meetings.
Chatting with random people, while fun, also has its demerits. For example, the users you meet can be criminals or sex offenders. Thus, taking steps to ensure your privacy is important. That's why ZEGOCLOUD Video Call API & SDK offer features like virtual background, 3D avatar, and many more. Using the virtual background feature ensures people aren't able to gain any info about you from your background.
Final Words
To summarize the article, we can say that random video chat apps are likely to get even more popular. In this scenario, thinking about developing your own random video chat app isn't a bad idea. However, your app must be secure, safe, and feature-rich to stand out. To put this dream into reality at the lowest cost possible, using ZEGOCLOUD Video Call API & SDK is the best choice.
Read more:
Talk to Expert
Learn more about our solutions and get your question answered.
Talk to us
Take your apps to the next level with our voice, video and chat APIs
10,000 minutes for free
4,000+ corporate clients
3 Billion daily call minutes