Working from home has become a significant trend in the last two pandemic years. Professionalism and concentration are on the line with work entering our living rooms and bedrooms. A clean, tidy, and bright environment behind us is ideal for a good and productive video call. And it is precisely this need that has opened the door to the massive world of offline and virtual video call background office solutions.
Why Use a Video Call Background Office
Office video call backgrounds, or at least a formal, clean background that alienates the actual location of those participating in video conferences have many benefits. It tells much about the person and company with whom one communicates:
1) Professionalism. Having a polished environment around you conveys trust and authority.
2) Clarity and order. It helps eliminate typical distractions that can be present at home or in public settings, allowing those interacting to focus on the conversation
3) Privacy. Not showing one's room and home does not expose one's private life in the workplace.
4) Business philosophy. The virtual office video call background in business can communicate much about the brand and corporate culture.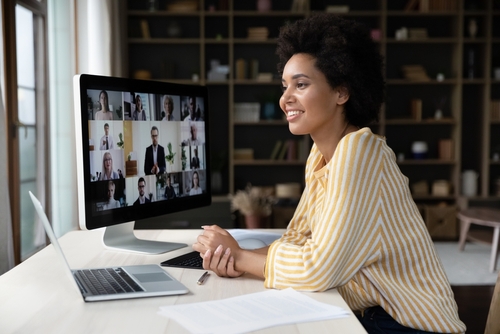 Different Types of Video Call Backgrounds
One must first consider the distinction between virtual background and a home office background. These terms are often used interchangeably, yet they constitute the two main types of video call backdrop available:
1. Virtual Background
Practical, easy to set up, and customizable. Most videoconferencing platforms have a wide choice of built-in virtual backdrops, among the best-known Zoom virtual backgrounds. These are free and are already adapted on sites such as Canva and Splash. Using them can highlight originality and creativity.
It's possible to choose from various categories like offices, workspace, meeting rooms, homes, public sites, skylines, fun, animated, etc.
2. Home office backdrop
It is a set-up of one's office. In the last two years, many have taken the opportunity to start businesses devoted to video call backdrops. Numerous video call backgrounds are available, with disparate locations like parks and beaches, different fabrics, etc.
But back to the home office, these require maintenance and adjustments, and to be used along with practical accessories such as ring lights. Those who do not have a space at home to be used entirely as an office can recreate a removable one whenever they have a video call. However, they do not allow much customization as realistic and well-maintained as they may be.
On the other hand, people who have time and resources available can create a virtual video call background office.
3. Home office space
Very personal, it is simply a corner at home devoted to a miniature replica of the workplace. There are several arrangements to put in place an ideal home office:
– Optimal lighting: the desk and pc should be in a corner where there is enough natural light in the room to keep the video quality alive and high
– Illuminate the background of the room to create a natural effect that balances the light in front of the webcam
– Include points of interest in the background, i.e., sober decorations and furniture, as long as it is not prominent such that it is distracting to the interlocutors
– Quiet environment, order, and cleanliness, and if you want to give a personal touch to the environment without impacting the professional appearance
You may also like: How to Implement Video Call Background
Most Popular Video Call Backgrounds
As we mentioned, the most popular video conferencing services offer virtual backgrounds for smart workers, from sober and professional to fun and creative. The most used are:
Plants virtual background office
A touch of greenery and nature to tedious video work calls is much appreciated. Virtual backgrounds with plants are simple and bright and positively affect the mood.
How many libraries will we see in live streaming and video calls? Probably the most popular video call background ever, liked by book lovers and users who want to convey professionalism and authority. The book is the source of all knowledge, and knowledge at work is sorely needed, so better to show it off…hopefully not just virtually!
The paintings are an alternative to books for those who want to convey a sense of culture and art. A creative set of photos and abstract artwork gives the virtual office a colorful and elegant touch.
To faithfully recreate the corporate meeting atmosphere, the virtual meeting room background is many's favorites. Indeed professional and formal, it can convey that sense of closeness and cooperation that a team needs.
An open-plan virtual office background prevents distractions during video calls. They typically have a bright, clean, minimalist configuration.
The virtual video call background offices list is undoubtedly not exhausted here, but these are the most popular options, especially in a videoconference for work and education.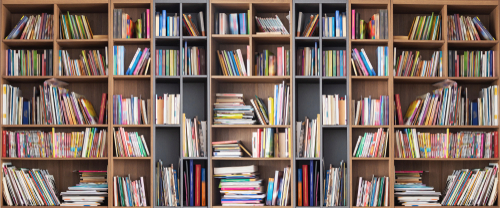 Best Video Call Background Office Apps
The following list is not a ranking, but it certainly highlights the pros and cons of the best video call background office function offered by video conferencing apps.
1. Zoom Virtual Backgrounds
Zoom's popular video calling service offers tools for using virtual backdrops. It contains up to 2 million high-resolution images in well-defined categories.
It allows setting the background for video conferencing according to your needs and scenario. A nice feature is the meeting option, where participants have the same virtual environment during a group video call. However, compared to other software, Zoom does not have advanced features.
You may also like: Best 10 Zoom Alternatives
2. ManyCam
Popular software for professional video quality in live streaming and video conferencing is ManyCam, which supports connection to many popular platforms. It easily replaces video call backgrounds and supports 3D effects.
It allows you to change the background in two ways:
– Green screen: starting from this function, change the background image to a more professional one. However, it does not have HD resolution.
– Blurred background: elementary and straightforward, saves time on choosing a virtual backdrop for the video call and makes it impossible to see the surroundings by focusing on the speaker.
3. XSplit VCam
XSplit VCam is an excellent choice for changing the video call background. Easy to use and intuitive, it offers a library of background images to customize with many effects. It has a constantly improving interface and supports smartphone use as a webcam. Alongside the background images, XSpit VCam has a blurred background to hide the surroundings.
However, the software suffers from high frame drop and may also have frequent lag if you have an erratic connection.
4. ChromaCam
This software is a Windows-based desktop app supporting many video calling platforms such as Zoom, Skype, Webex, Google Hangouts, etc. It is also available on Mac devices.
It allows background removal with a green screen function, blurred background, and adding images as video call backgrounds. These features are available in the free version. Upgrade to the premium version allows you to customize logos, use PowerPoint presentations as backgrounds, and access a wide range of video streaming effects.
ChromaCam is not easy to use for beginners. It takes quite some time to familiarize yourself with it.
5. Perfect Cam
Well known, PerfectCam is a powerful software used to improve video quality. Its popularity also stems from the fact that it is compatible with many video messaging apps.
It integrates features like face detection technology, lighting optimization, and image care effects such as makeup, teeth whitening, etc.
You can easily blur the background for video call background customization or set a virtual background for video conferencing. Like any app, it has its limitations, and many feel its features need updating, if anything, for the delays it often causes to video transmission.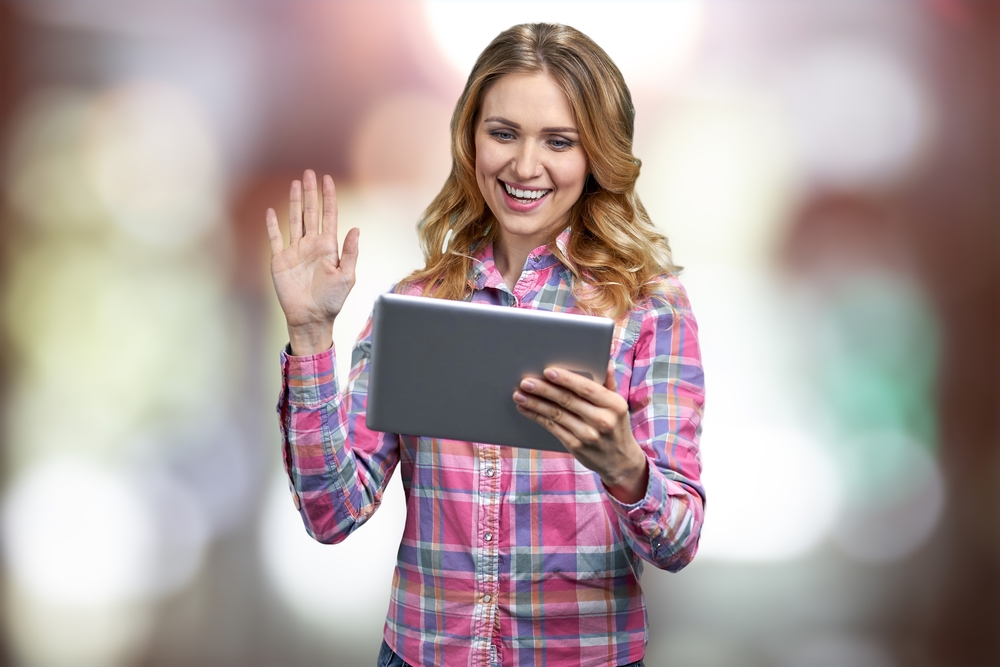 In general, the most popular video calling services allow the two main functions of a green screen- adding an image as a background for the video call- and blurred background. Google Meet, Microsoft Teams, and Skype have these functions built into the 'video options' and 'change background' menus.
You may also like: How to Build Video Call Platforms with Video API
ZEGOCLOUD video call background solutions
So far, we have learned about the video call background office integrated into the video calling services apps and the options provided by popular software to edit and improve video call and video conferencing experiences.
We also know how many businesses, companies, and organizations prefer integrating video calls into their existing platforms, relying on providers such as ZEGOCLOUD to take care of their projects based on the WebRTC standard.
With video chat and video conferencing SDK from ZEGOCLOUD, developers can embed various background segmentation features into their products for different scenarios such as online education, video conferencing, short videos, and more. 
Talk to Expert
Learn more about our solutions and get your question answered.
Talk to us
Take your apps to the next level with our voice, video and chat APIs
10,000 minutes for free
4,000+ corporate clients
3 Billion daily call minutes