There is no doubt that ChatGPT has been an amazing addition to the tech world. It has truly made people realize the potential of artificial intelligence. People have been truly mesmerized by it, with the internet full of questions like what can ChatGPT do. Stick with the article to find out more about the capabilities of ChatGPT.
10 Things You Can Do With ChatGPT
Given that ChatGPT was trained using 175 billion parameters and a 2096 token size, its true potential is hard to define in words. Apart from its knowledge being capped in late 2021, it can answer about all notable things in the world. To help answer your question, "What can I do with ChatGPT," below are 10 examples:
1. ChatGPT Helping You Being Productive
Have you got a lot of work to do but are already feeling drained? It is especially hard to cure if you are a non-caffeine person. However, with ChatGPT, you can get a quick solution anytime. Here is a similar example where a user is requesting a healthy way to get refreshed:
Question: "I have a lot of work to do and am feeling very sleepy and tired. Give me a recipe for fresh juice that can help in this scenario."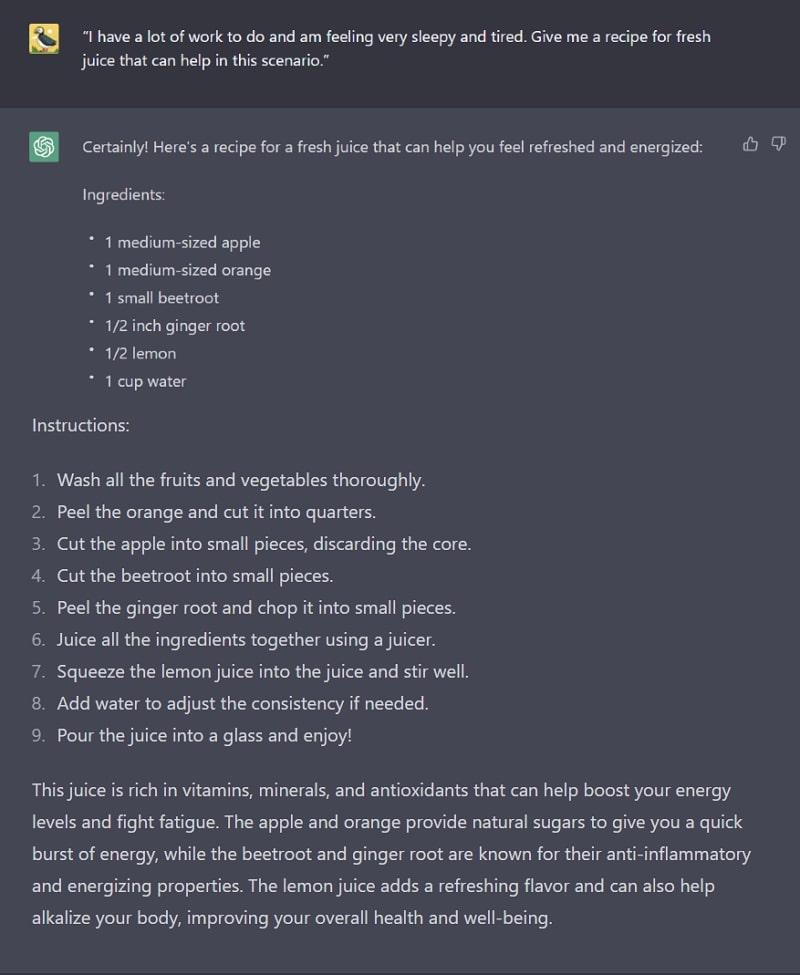 2. ChatGPT as Birthday Planner
It not only provides you with factual information but can also help you plan things. If your friend's birthday is soon or you want to celebrate your anniversary, ChatGPT can help you. Moreover, you can get different ideas to surprise your loved ones. Following is an example of a similar situation.
Question: "A friend of mine's birthday is in the next week. She is turning 27, and I want to hold a birthday party for her. Can you give me some idea about it? Remember birthday party is in an office setting, and she loves chocolate cake."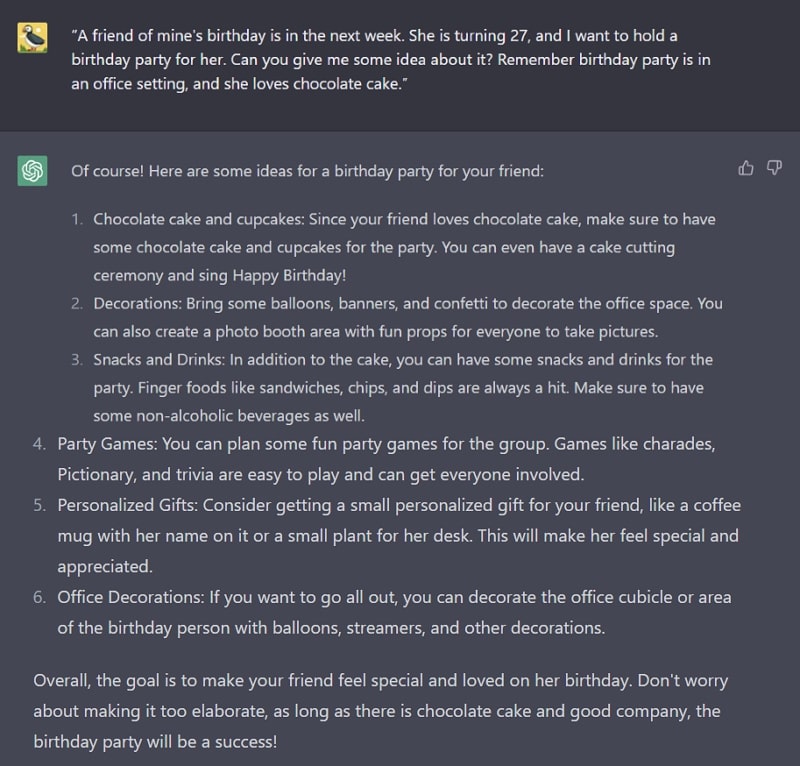 3. Using ChatGPT to Diagnose Illness
While it is not accurate, ChatGPT can help you diagnose the illness if you have gotten sick. It can give you a general overview depending on your mentioned symptoms. However, it cannot be stressed enough that information can be fully inaccurate, and you need to see a medical professional for a correct diagnosis. A simple example of this scenario is the following:
Question: "Can you tell me what is wrong with me based on these symptoms? Joint pain gets worst in the morning; it reduces with daily activities."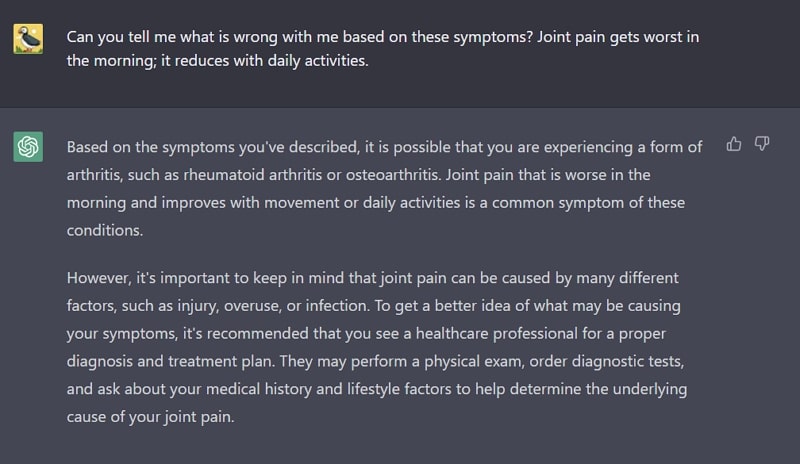 4. ChatGPT as a Translator
Language barriers are one of the difficulties faced by users when traveling abroad. Moreover, it can be hard for them to do basic things like ordering breakfast or catching a train without a translator. ChatGPT can work as your translator if you are also considering traveling to a foreign country. See the example below where a user took help from ChatGPT:
Question: "I am currently in Berlin, Germany, and want to visit the Reichstag Building. Can you translate the following for me in German? Which bus or train route should I take to reach the Reichstag Building?"

5. ChatGPT as Coding Partner
Can ChatGPT write code? It is a question that programmers have often asked. The answer is yes; ChatGPT is quite good at coding. Subsequently, It is good enough that it gave traction to the rumors that OpenAI is going to replace its coding staff with ChatGPT. As a programmer, you can ask it to write different types of code snippets. Check out the following example:
Question: "Can you write a C# code for a game of tic tac toe?"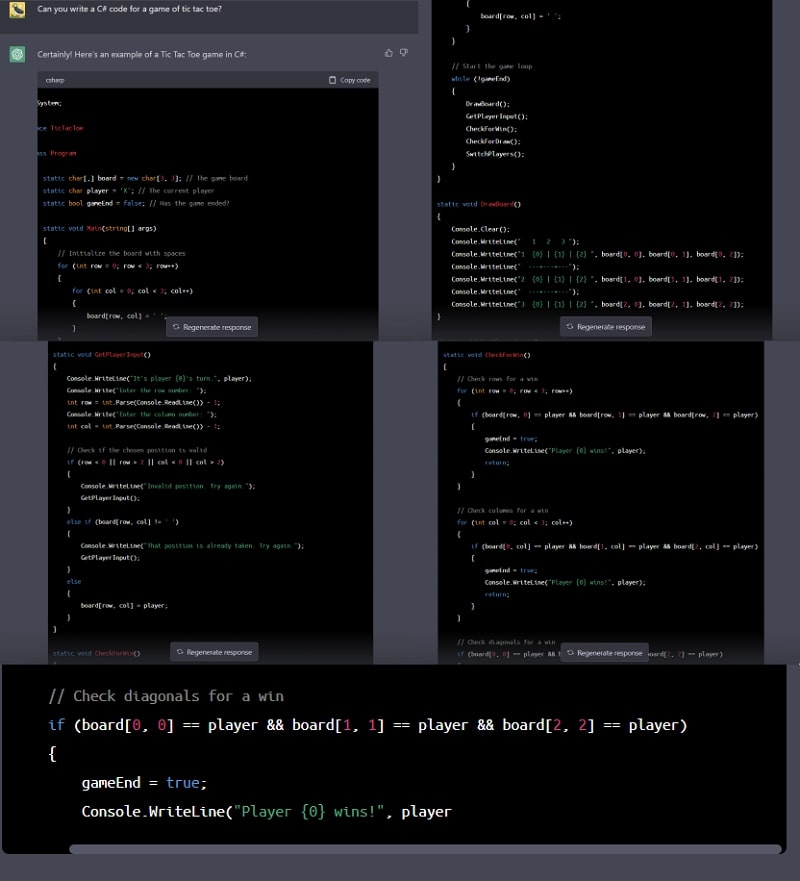 6. ChatGPT Solving Math Problems
If you love asking and solving complex and confusing math problems, you are going to love ChatGPT. This ChatGPT tool will answer even the most confusing math riddles in a matter of minutes. Furthermore, you can also ask it to generate similar questions for you to solve. Go through this example and see if you can do better:
Question: "A total of 313 cats signed up for a cat rally. Among the cats that showed up for a rally, there were 70 more white cats than black cats. In comparison, black cats make up at least a third of the total cats that showed up. The remaining cats are brown. Fifty cats from the original number didn't show up, while 40 came unannounced. Give me the number of white, black, and brown cats at the rally."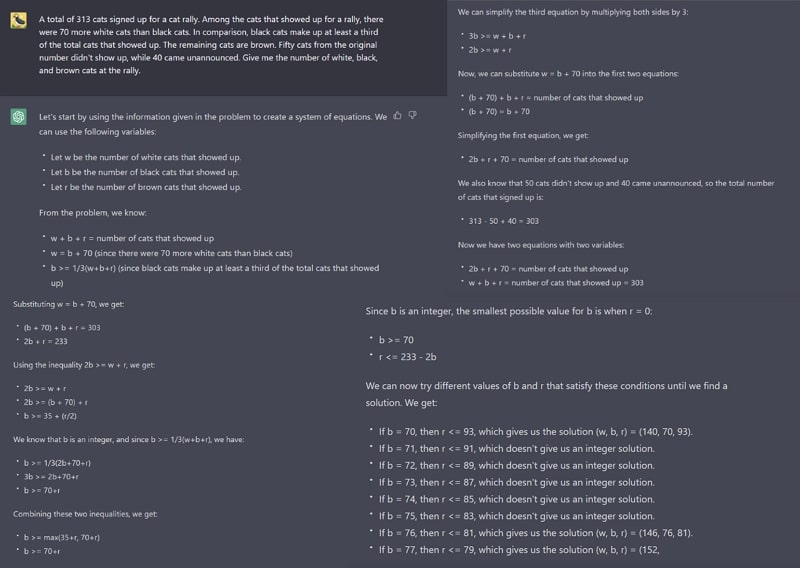 7. ChatGPT as a Music Teacher
Apart from answering all your questions, ChatGPT can also teach you a lot, like music. If you want to impress someone with their favorite song on the musical instrument you play, ChatGPT can help you. Moreover, it can provide complete details of keys, chords, etc. To better understand this function, check the example below:
Question: "I want to play the song "let me down slowly" by Alec Benjamin on piano. Can you list down the right notes for the full song?"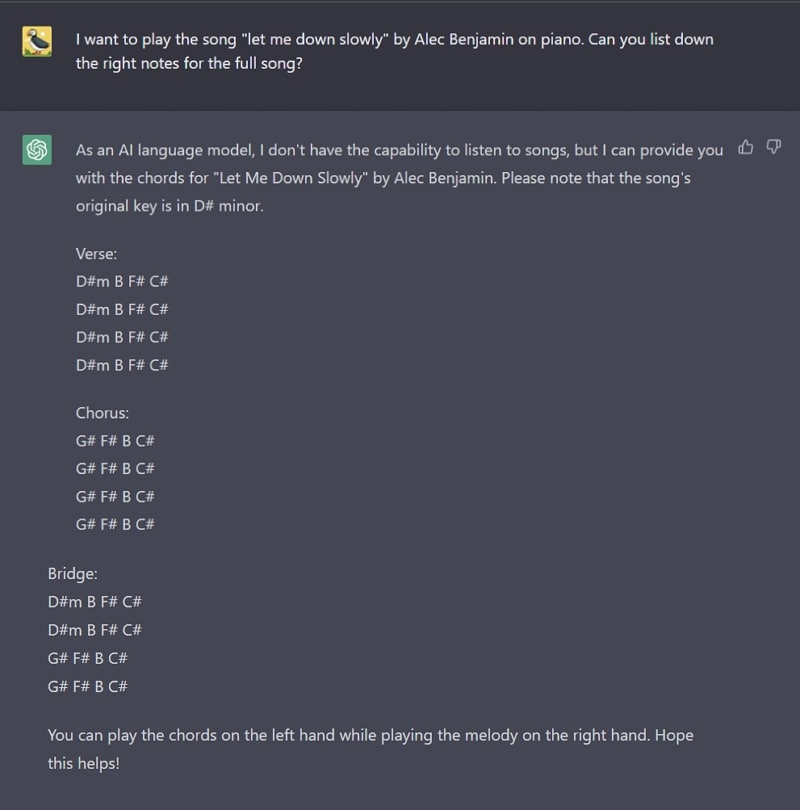 8. ChatGPT Giving Relationship Advice
Do you know ChatGPT can give you advice on your relationship? You can ask about any problem you have, and it will try to provide you with an appropriate answer. While most answers are general, you can still get the gist and apply it. Given here is an example of a person asking about a problem he is having in his relationship:
Question: "I am currently really depressed as I think my partner is cheating on me. All the tell-tale signs are there, and I am 99% sure of it. So can you guide me on how to broach the subject carefully?"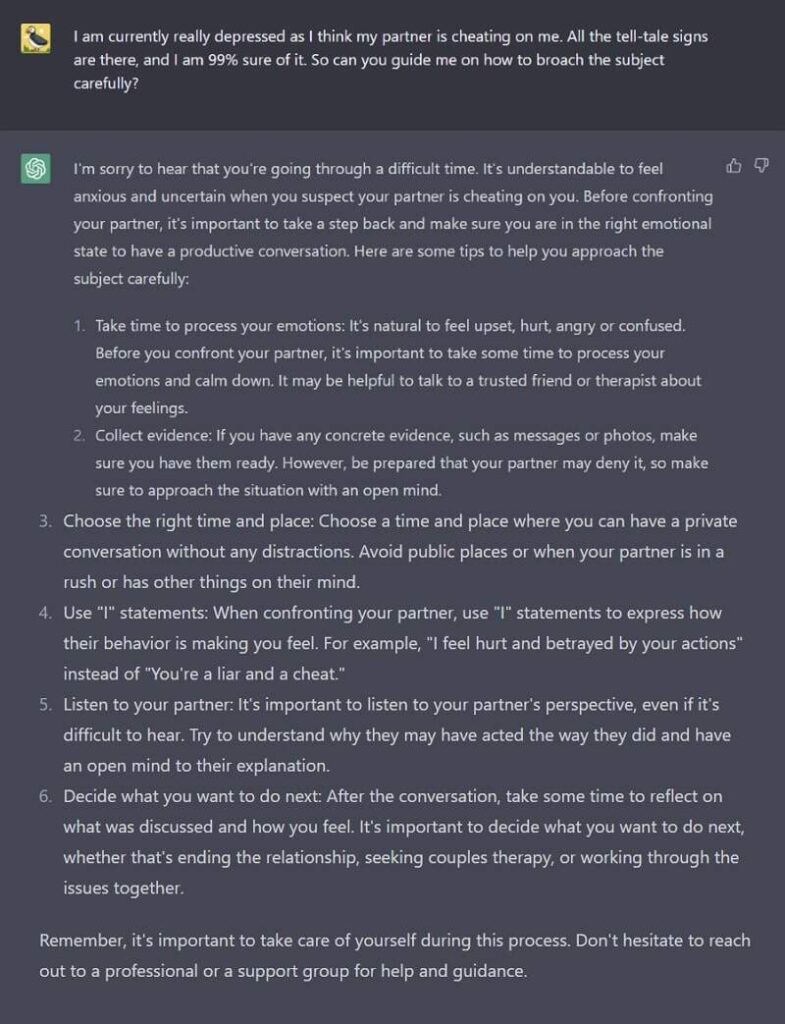 9. ChatGPT Helping You doing Work Task
Running businesses and agencies is not easy, and there are many small tasks that take up a lot of your time. In these situations, you can simply turn to ChatGPT for help. Moreover, it has the ability to do all of your menial tasks like report templates, contacts, etc. Here is an example of a user asking ChatGPT to write a contract:
Question: "Create a 6-month employment contract for a freelance content writer."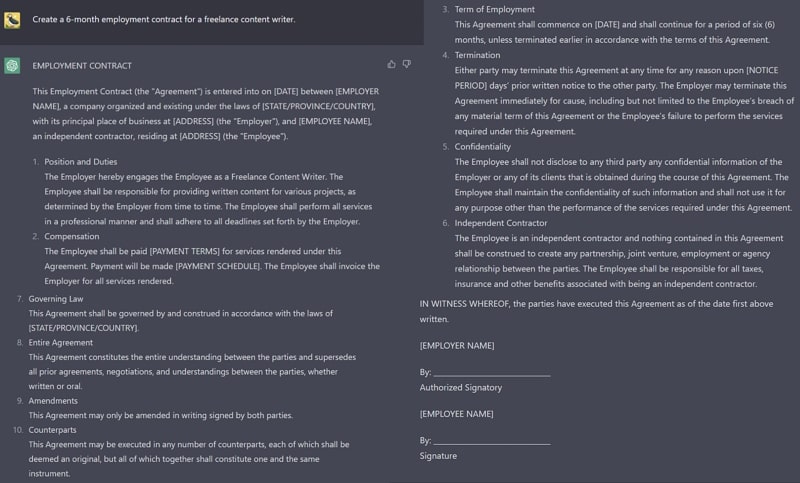 10. ChatGPT as Diet Planner
Staying healthy is a big ask these days due to the availability of fast foods. If you don't have the time to create a diet plan, ChatGPT can do it for you. Moreover, you can ask it to create diet plans specific to your requirements. It can create diet plans for weeks, months, or particular days. Get an idea of creating your diet plan by checking this example:
Question: "Create a 2000-calorie 7-day meal plan. Remember that I am vegetarian."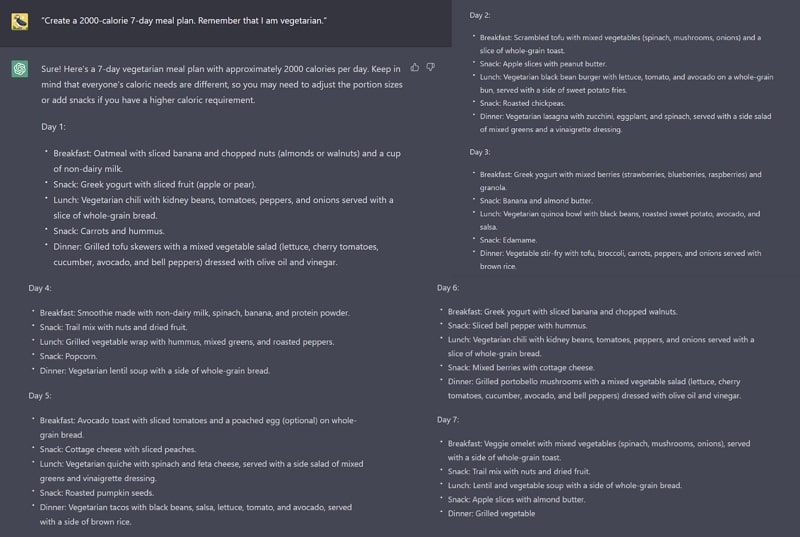 You may also like: 10 ChatGPT Alternative Lists for Your Business
Why ZEGOCLOUD Chat API to Add Chat Feature for Apps
What you can do with ChatGPT is a very broad question that will have unlimited answers. For example, if you asked what the best and most affordable way to add chatting features to your app is, it will recommend using APIs or SDKs. However, what it can't tell accurately is which API or SDK to use. That's where we help you by recommending the best option, ZEGOCLOUD In-app Chat API.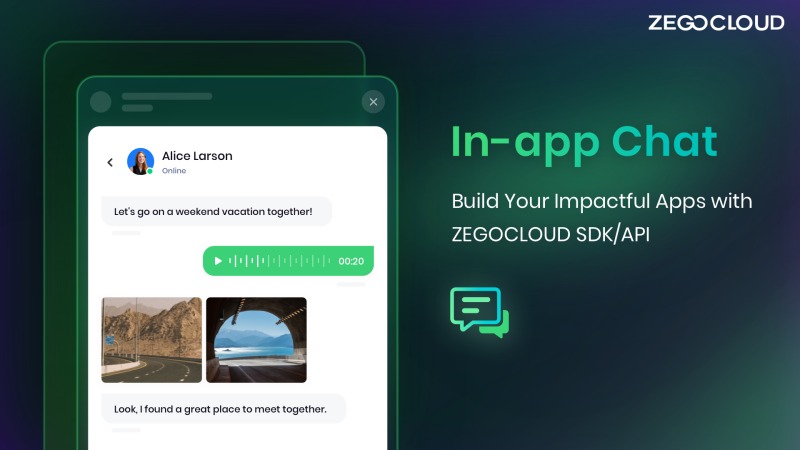 Moreover, this API is full of unique and fantastic chat features which will make your app a top-rated chatting platform. It is also highly customizable and scalable, meaning it will always be able to meet your requirements. ZEGOCLOUD Chat API is easy to integrate into your app, supporting popular platforms such as iOS, Android, and JavaScript. Furthermore, this API also offers extensive documentation and support for developers.
Prominent Key Features of ZEGOCLOUD In-app Chat API
ZEGOCLOUD In-app Chat API is an industry standard for developing or integrating chatting platforms. Subsequently, it achieves this status due to its numerous amazing and solid features, and below we have summarized some of them:
Adding chat features to your e-commerce app can enhance your business. With chat features, users will be able to talk directly with you about different items and their issues. Moreover, creating public channels will ensure you have a large community, while push notifications can help you deliver important messages to all users. All of these and many other features are part of the ZEGOCLOUD chat API.
Allowing users to create groups of selected people and chat is an essential feature of a chatting app. The ZEGOCLOUD chat API ensures users on your app get the best possible group chat features. Some of its amazing perks include unlimited file sharing, messages reaction, offline messages, etc. Subsequently, this feature is especially recommended for team chat apps.
What makes ZEGOCLOUD's In-app Chat API so successful? It is the ultra-low latency offered by it which ensures users never feel any lag or stutter in their chat. The latency of 200ms will make it feel like you are talking with people in the same room. Furthermore, this API can also enable your app to handle hundreds of millions of messages at the same time.
Your app's security and privacy policies are the first things people are going to judge when using it. With ZEGOCLOUD chat API, you will be able to provide them with a fully secure chatting platform. Moreover, this API is fully compliant with GDPR regarding data protection. For privacy, it ensures end-to-end encryption for all communications.
Conclusion
In summary, the potential of ChatGPT is limitless, as even a simple question like what ChatGPT can do is hard to answer. It is a true start of a new age in the tech world and artificial intelligence. If it makes you want to create your chatting app, ZEGOCLOUD Chat API & SDK is the way to go. With it, you create an amazing chatting app at an affordable cost.
Read more:
Talk to Expert
Learn more about our solutions and get your question answered.
Talk to us
Take your apps to the next level with our voice, video and chat APIs
10,000 minutes for free
4,000+ corporate clients
3 Billion daily call minutes