Having a great team chat app at your disposal ensures that you are able to keep an eye on your team and project. The trend of working remotely has increased rapidly after the COVID-19 pandemic. This article will provide an overview of top team chat apps to help you search for the best team chat app and guide you on how to build a team chat app.
Must-have Features of A Good Team Chat App
Before we begin the hunt for the best team chat app, the question of what makes a team chat app good requires an answer. One can argue that there are many important features a great team chat app should possess. Moreover, these features range from software compatibility to its interface to security. Some of the must-have features are given below:
Universal Search Filter: Any good team chat app should have a universal search filter that allows you to search through all chats. It can be very time-consuming and unproductive to scroll down thousands of chats to find needed info. Thus, a universal search filter will make teamwork easier.
Immaculate Organizing: All the features and functions of a great team chat app will be organized perfectly. You should be able to find all the related tools within the feature itself. Similarly, it should also separate the different types of conversations to ensure people don't need to deal with unnecessary stuff.
Collaborations: If a team chat app doesn't allow live collaboration between team members, it can't be called the best. Live collaborations are what make remote working feasible. This feature, when available, should be powerful enough to allow users to complete projects without issues.
Voice and Video Chat: Having the ability to support high-quality voice and video chat is also an indicator of a great team chat app. These chats should be supported by both individuals and groups. During the calls, users should also be able to share screens, files, and their inputs.
Security: A best team chat app is also the one with the best possible data security. It is important that all of your media on the platform is encrypted and secured. Since most team chats are about business affairs, any data leak can prove fatal for the company.
What are the Best Apps for Team Chats
There are multiple apps on the internet with support for team chat features. Most of these apps gained prominence during the COVID-19 pandemic when everyone was forced to work from home. Below we have provided an overview of the top 5 team chat apps:
The best team chat app for large organizations, Microsoft Teams is an excellent choice for Windows users. It is available as part of Office 365 Suite or as a stand-alone app. Microsoft Teams has deep integration with MS Office, allowing you to edit Word, PowerPoint, and Excel documents directly in the app. This tool offers powerful text, voice, and video chat support.
Users with small businesses or at an individual level might find it too complex to handle. Its free version also has the bare minimum number of features compared to the paid version.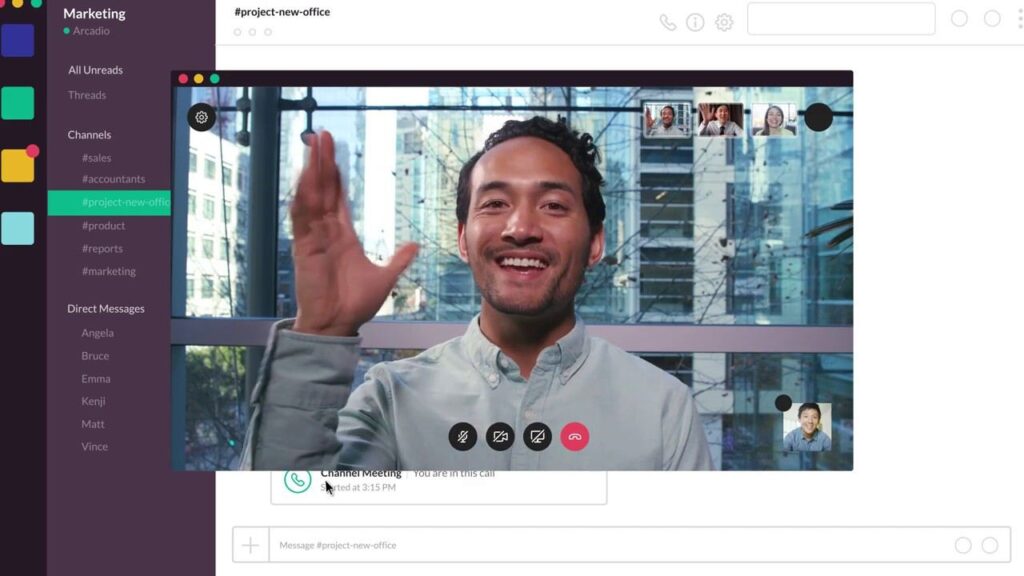 Among the most well-known team chat apps, Slack has been dominant in the market even before the pandemic. It is the first app that established instant messaging as the way to communicate between teams replacing emails. While not a proper project management tool, it can be easily integrated with most project management tools available in the market.
Slack is also available as an app for iOS and Android devices. The free version of this tool has limited features, while the paid version is more expensive than its competitors.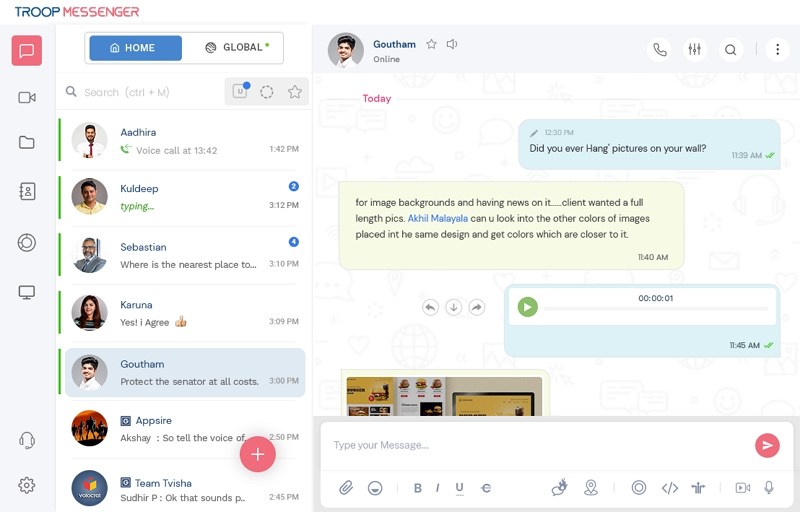 A perfect team chat app for small businesses, Troop Messenger is a chat app with a unique UI/UX interface. Its user interface resembles a typical chat messenger like WhatsApp or Facebook Messenger, making it easier to use. This tool allows users to make voice and video calls, exchange files, share screens, and create conference calls.
It strongly emphasizes data security with features like "Burnout" that remove sensitive information. While there is no free plan, it is among the cheapest team chat apps.
Designed to ensure productive work from home, Twist works as the central point for remote teams. It allows people to connect in real time to get updates, discuss ideas and share their work. To ensure that users' work productivity is perfect, it provides a powerful search tool. Through it, you can establish audio and video calls with your team members to get work reports.
Users get complete control of their notifications to ensure no pointless distractions. This team chat app is available for Mac, Windows, Linux, iOS, and Android.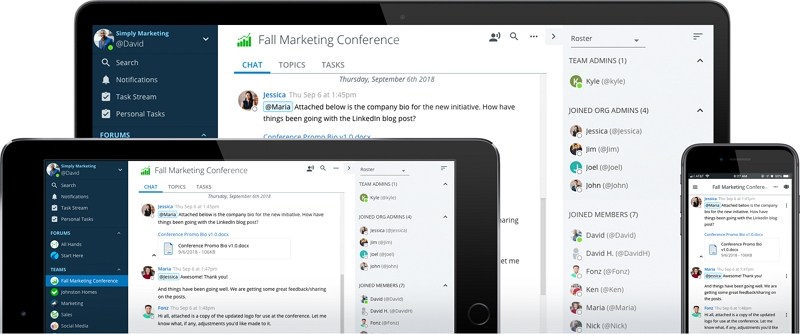 With a powerful automated response system, Ryver has gained a strong foothold among top team chat apps. This tool allows you to communicate fully with your team through only one app. It can even send emails on your behalf with automation settings. When using this tool, you can share team tasks using checklists, tags, and assignments.
It also supports a decent voice and video call feature with up to 5 users per call. You will need to buy a subscription to use this tool, as there are no free packages.
Why Choose ZEGOCLOUD API/SDK for Team Chat App
If the apps with team chats feature aren't to your liking, you can always build your own. If you think it will be a long and complex process, then don't worry, as we will introduce you to an easy way to build your team chat app with ZEGOCLOUD in-app chat API. The quickest technique of creating the best team chat for the team chats is through ZEGOCLOUD APIs & SDKs.

ZEGOCLOUD allows you to create the most secure team chat app there is with the latest encryption techniques. You will also get over 10000 free minutes monthly to stay connected with your team. It also offers over 20 pre-built UIkits to help you create your desired app quickly. The APIs can also be integrated into your platform within minutes, saving you time and money.
Major Features of ZEGOCLOUD to Keep in Mind
Multiple unique features make ZEGOCLOUD the best choice when developing a team chat app. A few of its major components are given below:
Using the video calling API/SDK of ZEGOCLOUD will allow you to make 4K live video calls with your team members. With an ultra-low latency of 300ms, all of your communications between team members will be smooth and lag-free. If you ever need to, you can create a video call with up to 10000 participants. It also allows you to record video calls for future use.
With ZEGOCLOUD Voice Call API, your team members will be able to make high-quality audio calls at 48kHz. Adding spatial audio and AI noise reduction will make the audio calls as realistic as direct conversation. You will also be able to monitor the call quality in real-time to ensure there are no issues. There are also many fun audio effects available to lighten up heavy situations.
Your team members will be able to ask quick questions and quires using the in-app chat functions of ZEGOCLOUD. It has many features like push notifications, unread message counters, and offline messages to ensure important messages are delivered. If any of your team members want, they can browse their message history effortlessly to find old info.
When using ZEGOCLUD APIs and SDKs, you can create apps for all available platforms like Windows, Mac, Linux, Android, and iOS. It provides support for over 15000 devices across all platforms. Users can even make audio calls using their smartwatches. For developers, it will provide complete support during the complete development process of the team chat platform.
Final Thoughts
The COVID-19 pandemic was a wake-up call for businesses across the globe that they should always be ready to deal with any unexpected situations. If you run a business, having the right team chat app will ensure you can work from home. Creating your own team chat app using ZEGOCLOUD APIs & SDKs will ensure that the app meets your requirements.
Read More:
Talk to Expert
Learn more about our solutions and get your question answered.
Talk to us
Take your apps to the next level with our voice, video and chat APIs
10,000 minutes for free
4,000+ corporate clients
3 Billion daily call minutes