Omegle became famous during the COVID-19 pandemic as it allowed people stuck at home to talk with each other randomly. These random chats are a fun way to pass the time by talking to people you are unlikely to see again. Due to its massive popularity, it has become overcrowded. This article will provide the answer if you want to use a less crowded random chat like Omegle.
What is Omegle?
Omegle, a platform to engage in conversation with people across the globe at random, has been around for over a decade. It only became a global phenomenon during the COVID-19 pandemic when people were stuck at home. Using this site, they were able to talk with people around the world to make lockdowns bearable. Moreover, the website has a simple interface where users can start chatting with a simple click.
Omegle allows users to start random video and text chats. Users can leave a chat if they don't like it and move on to the next. It doesn't require any registration for users to start chats. The website is also free of ads and affiliated links. Furthermore, there have been reports that Omegle uses AI algorithms to monitor the chats and keep them safe.
You may also like: How to Fix Omegle Error Connecting to Server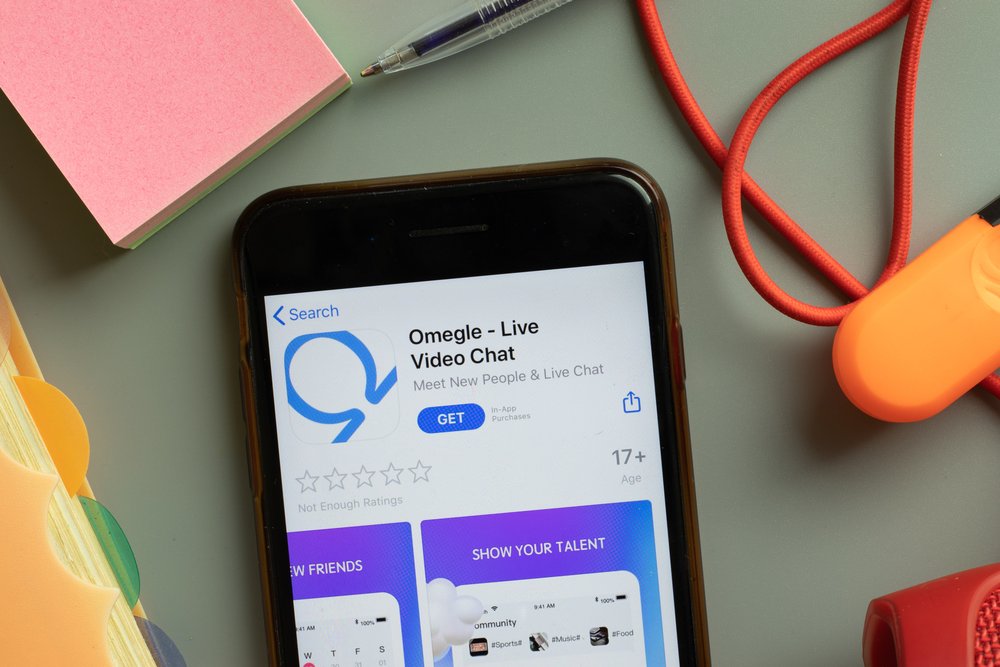 5 Popular Apps for Random Chat like Omegle
Are you looking for random chats like Omegle due to overcrowding? The good news is that there are great alternatives available online. Before finding a site like Omegle, ensures it has strict community guidelines and content moderation policies. Subsequently, below are the top 5 random chat sites like Omegle for you to try: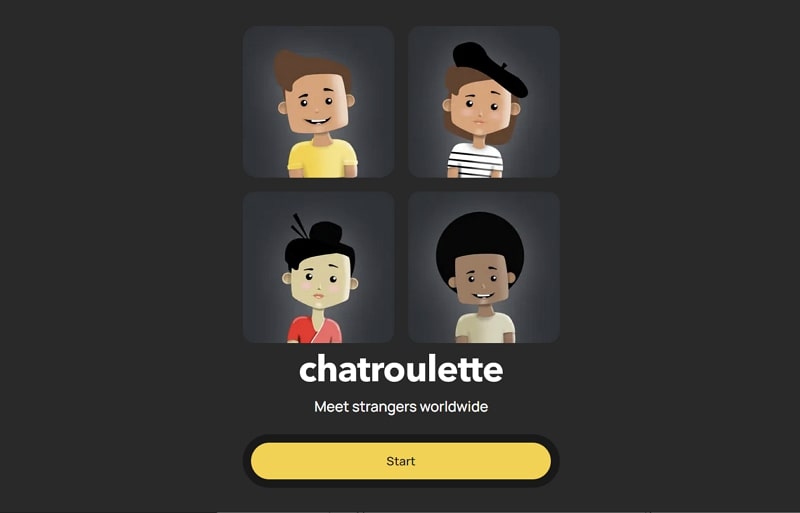 Founded by a 17-year-old student in 2009, around the same time as Omegle, Chatroulette is a popular random chat platform. It allows users to start a random video chat with just one click. The website's interface is clean and simple, with a video screen in the middle. Users can decide to leave a chat whenever they want.
Chatroulette has no mobile app but has optimization for mobile web browsers. The community guidelines and content moderation policies are extremely strict and are deployed with a mixture of moderators and AI algorithms.
Pros
It allows you to select a specific country to start random chats.
There is also a paid "Most Popular Users" slider, which allows you to talk with popular users.
Users can report inappropriate and adult content using one click from the chat screen.
Con
Although it started as a no-registration platform, users must log in before chatting.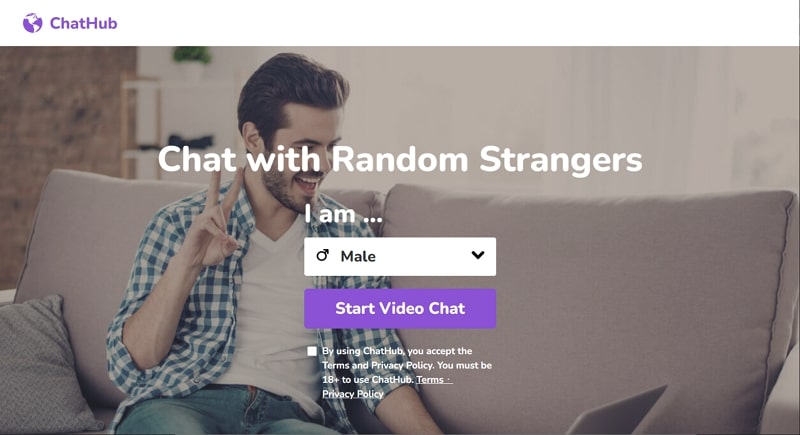 Known for being an anonymous random chat site like Omegle, ChatHub is a great alternative. To start chatting on this platform, all you need to do is select your gender and click the start button. While signup isn't required to use ChatHub, you can use many more features by signing up and buying the premium subscription.
Premium users can select a specific gender, language, and country for random chat. It also allows users to browse through chats with one click.
Pros
All the communications on ChatHub follow a peer-to-peer connection model, meaning the company doesn't collect your chat data.
It has a dedicated no multiple-match filter, ensuring you are not repeatedly connected to the same person.
Connecting and finding new random chats is considerably faster than its competitors.
Con
Most features are only available in the premium version, which is quite expensive.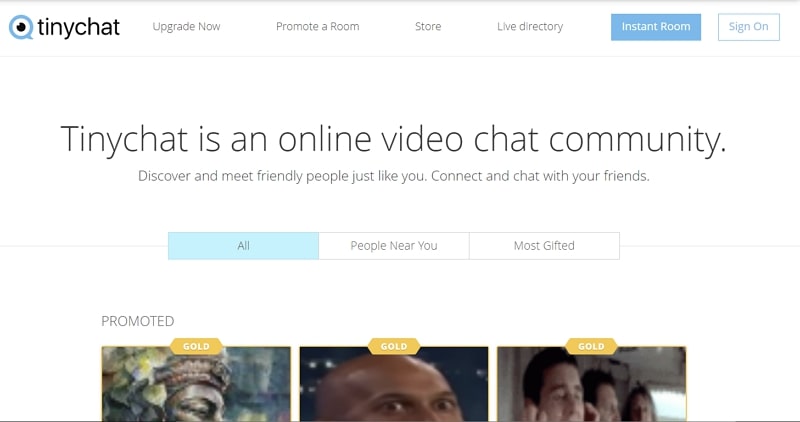 Among the most popular video chat platforms, TinyChat is a great platform for talking with strangers. Unlike Omegle, it follows a chatroom format where you can join to talk to similar people. There are numerous chatrooms available for you to join and have fun. Moreover, this platform has limited features for free users, and you will need to buy a subscription plan to use all features.
While a sign-in isn't required, you should get in as a subscriber, as there isn't much for free users. It is also available as a mobile app for Android and iOS.
Pros
This platform has multiple chat options like video, audio, and text.
It allows you to send and receive virtual gifts during chats.
Users can use multiple filters to find their desired chatting rooms.
Con
The prompt to buy the premium versions frequently pop-ups, which can ruin your chatting experience.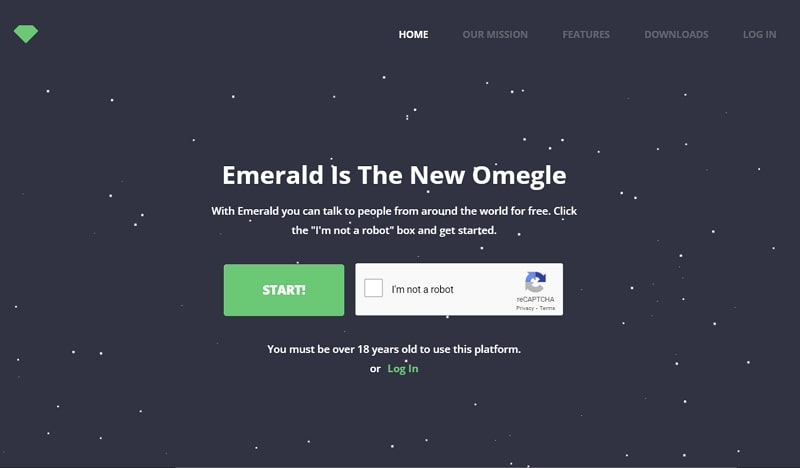 Looking for a great, random text chat like Omegle? You should try EmeraldChat, which allows you to connect with random people without registration. It allows you to start one-on-one text chats, video chats, and group text chats. The platform has strict guidelines to ensure there is no inappropriate content. You can also report inappropriate content through the "Karma" system.
This chatting platform has a premium tier called EmeraldChat Gold which allows you to specify a gender for chatting. It also removes all the ads from the platform.
Pros
It provides you with a history of users you talked to, which allows you to message them if you accidentally end the chat.
This platform has a search filter for finding and messaging a targeted user.
On this platform, you can add strangers to your friend list to talk with them again.
Con
EmarldChat doesn't have a mobile app or any optimization for mobile use.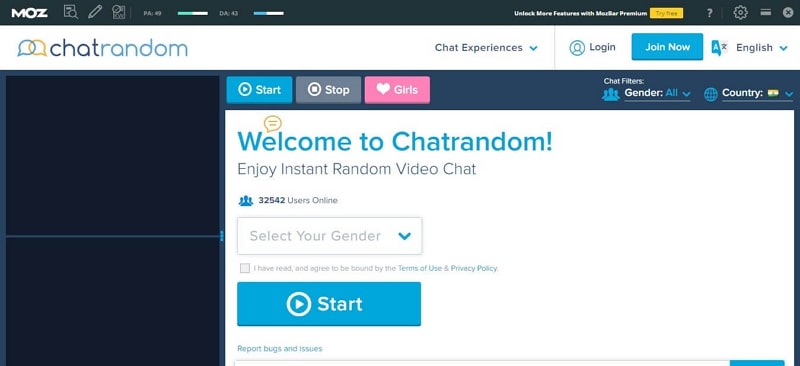 Allowing you to chat with your targeted group of people, Chatrandom is a decent choice if you are looking for random chats like Omegle. When using this platform, you can start talking with people after selecting your gender and pressing the start button. It doesn't require users to register before allowing them to access the chat features.
There is also paid membership available for users with features like gender filter, location filter, ad removal, etc. It offers weekly and monthly subscription plans.
Pros
To protect your identity, it allows you to add different masks and stickers to your face during video chats.
This platform lets you join random 1-on-1 chats, group chats, and other chatting options.
Chatrandom has a mobile app for Android and iOS platforms.
Con
When trying the random chat feature, it repeatedly connects you to the same users.
How to Build Chat App like Omegle with ZEGOCLOUD
Random chat sites like Omegle are greatly popular. If you want to build a similar app, ZEGOCLOUD APIs and SDKs are the way to go. It will allow you to build a great app with features like video, audio, text chat, and live streaming at an affordable cost. ZEGOCLOUD offers all required APIs or SDKs for developing the best live chatting app.
You will also get over 10,000 free video and voice minutes, which will further reduce the operating cost of your app. ZEGLOCLOUD has also added the latest end-to-end encryption in its APIs and SDKs to ensure your users feel safe. It will also provide a great analytic dashboard that tracks your app's latest data metrics.
Key Features of ZEGOCLOUD APIs & SDKs
Group Voice and Video Calls
Most random chats like Omegle lack the options to engage in group voice or video calls. You can capitalize on it by building a great live chat app with group voice and video calls using ZEGOCLOUD APIs/SDKs. It will allow users to start end-to-end encrypted voice and video groups and one-to-one calls. Moreover, users can also add an unlimited number of users to a group call.
Live Streaming and Virtual Gifting
To make your live chatting app more popular, you can add the feature of live streaming through ZEGOCLOUD's live streaming SDK. It will allow users to stream their favorite activity while chatting with their viewers. The feature of virtual gifts will make it easier for users to show their appreciation to their favorite streamers.
ZEGOCLOUD APIs and SDKs provide you with the features required to ensure and maintain the quality of voice and video chats in your app. You can monitor the video and voice quality in real-time to ensure it doesn't lag or stutter. It will also ensure you have everything needed to create and implement community guidelines for your app.
You can also enable the cloud recording feature in your app through ZEGOCLOUD services. This feature lets users record and play back their important one-to-one chats, group video calls, and live streams. The data stored using the cloud recording feature will also be end-to-end encrypted. Users can export these recordings to formats like MP4, FLV, M3U8, TS, etc.
Final Thoughts
Talking to strangers using a random chat like Omegle is a good way to pass the time and have fun. You might be able to meet great people and become friends with them. Using ZEGOCLOUD APIs and SDKs, you can build your live chatting app. ZEGOCLOUD will ensure that your live chatting app has the best feature and is able to dominate the market.
Read more:
Talk to Expert
Learn more about our solutions and get your question answered.
Talk to us
Take your apps to the next level with our voice, video and chat APIs
10,000 minutes for free
4,000+ corporate clients
3 Billion daily call minutes