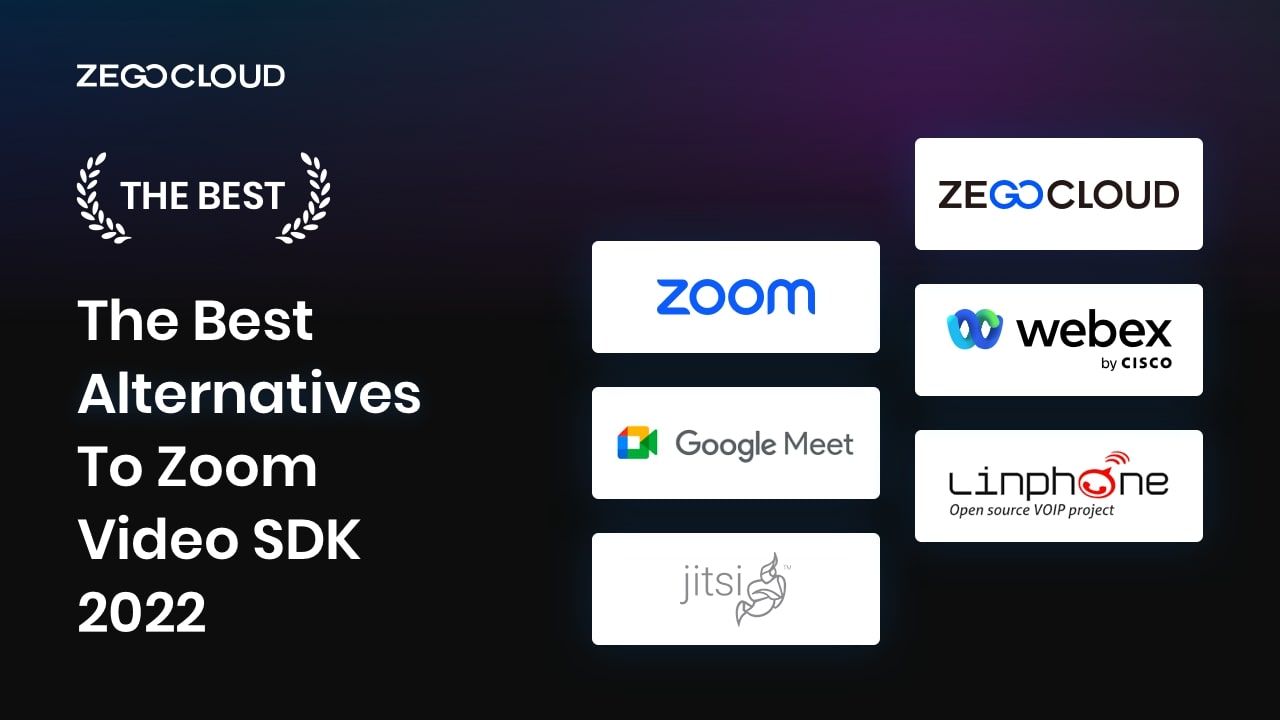 What Are The Painpoints of the Zoom Video SDK
Since the start of the global coronavirus pandemic in 2020, the video conference product Zoom has experienced unprecedented growth. In April 2020 only, the use of Zoom jumped 30-fold. As the global coronavirus pandemic has persisted ever since, people are forced to work, study and contact each other through video conferences remotely. Even when the pandemic has eased, folks have developed the habit of using video conference software for collaboration. Common video conference systems that people use include Zoom, Tencent Video conference, ZEGOCLOUD Talkline (a video conference system built with ZEGOCLOUD video sdk), Google Meet, etc.
To make more enterprises adopt the usage of Zoom video conference, the company Zoom has also released Zoom video SDK that allows developers to integrate all the Zoom video conference features into their own apps. With the Zoom video SDK, developers can access the powerful and comprehensive features of Zoom video conference, while designing the GUI and business logic of their own applications.
With the surge of Zoom usage, many users have experienced some major pain points of Zoom, which include Zoombombings, data leakage, and user privacy. These pain points have caused a lot of concerns from video conference users.
Zoombombing means the situation where uninvited users appear in an online meeting room, they might listen in silence, or they might send inappropriate information, none of which is acceptable. According to VICE, the Zoom setting automatically adds same-domain emails to the same company. For the thousands who signed up with personal email IDs, this meant their email ID and photos were shared with random strangers who used the same email provider.
How Video SDK Providers Like ZEGOCLOUD Resolve The Issues?
ZEGOCLOUD has been cautious and strict with user authentication from its startup and can eliminate the Zoombombing issue completely. ZEGOCLOUD is an RTC technology solution provider with a global presence. It provides real-time video and voice SDK for clients to build a real-time video call app of their own, and it also provides a SaaS video conference system called Talkline.
ZEGOCLOUD adopts private protocols to transmit datagrams, and it encrypts the data on transmission. Even if hackers intercept its datagrams, they won't be able to unencrypt. ZEGOCLOUD also performs very strict authentication on user identity, making sure that any user who joins ZEGOCLOUD meetings are valid and legal.
The Top 5 Best Alternatives to Zoom Video SDK
ZEGOCLOUD
The market sees ZEGOCLOUD as a cloud service provider with expertise in real-time communication, but it also provides a state-of-art video conference product Talkline. ZEGOCLOUD is renowned for voice and video quality in online conversation, and a full path of project advancements including real-time communication sdks, online collaboration features, add-on content like gaming and karaoke, and metaverse products.
ZEGOCLOUD ensures the quality of voice and video conversation by two outstanding measures,i.e., a global coverage data transmission network and a state-of-the-art terminal media engine.
The global coverage data transmission network is called MSDN, i.e., Massive Serial Data Network. It possesses more than 500 bgp nodes all over the world, and it has been serving more than 4000 clients in more than 212 countries or territories. It can help users to access the network through a nearby node and accelerate data transmission by selecting an optimal route. With the acceleration of MSDN, ZEGOCLOUD can guarantee that real-time conversation is of low-latency, smooth and stable.
ZEGOCLOUD's terminal media engine works with the MSDN to accelerate data transmission too. When the network condition is weak, the media engine is able to decrease bit-rate to consume less bandwidth; and when the network condition is recovering, the media engine can predict, and increase bit-rate to enhance video and voice quality. In addition, the media engine does a great job in acoustic noise suppression, acoustic echo cancellation, and automatic gain control.
In a video conference context, ZEGOCLOUD also allows users to share screens, share documents and interact with online whiteboards. In a ZEGOCLOUD video conference, the documents shared can be Zoomed in to maximum, and they still remain high definition quality, and fonts won't become blurring. When multiple users try to draw on the whiteboard at the same time, the ZEGOCLOUD video conference offers a mechanism to reconcile the racing conditions. Each user will feel that he is allowed to draw on his will without struggle.
Recently, ZEGOCLOUD has invested heavily in the metaverse field and launched a series of products including metaverse karaoke, metaverse avatar, and ZEGOCLOUD land, which is a demo app to demonstrate ZEGOCLOUD's technological abilities in the metaverse field. Combing all the features and SDKs together, developers are actually allowed to build a video conference in a virtual world, allowing each participant to join the conference as a self-avatar.
Google Meet
Previously known as Google Hangout, Google Meet is a video conferencing platform from the folks at Google. The app is completely free if your team already has a G Suite or Google Workspace account.
While Google Meet is mainly geared towards business users, individuals can also use this video conferencing and collaboration tool to video chat with their family. On top of that, teachers can use Meet to create a virtual classroom to conduct teaching at various scales, such as mini-class, medium-class or large class.
Google Meet is a cloud-based, and can be accessed through a web browser from anywhere all over the world. It is very easy to use, and it can be used on any device only if a web browser can run well on it. This makes it the best choice for launching a quick meeting with a first-time-contact client.
For it major features, it can support up to 100 participants per meeting with 16 meeting participants visible at a time. It can preview your screen to check your camera, mic, and who is already present before you enter the online meeting. Screen sharing is available for detailed explanations. Meeting hosts can control the meeting with settings like removing attendees, muting, etc.
For its pros, meeting participants can use its live captioning feature to take detailed meeting notes during a virtual event. It has the same security setup as any other Google app and also encrypts all data. It integrates with other Google apps like Gmail and Google Calendar for better ease of use
However, it is reported that it can crash on some Mac devices, and it is limited to 60-minute meetings. There is no private chat, and you have to message the entire group even if your message is aimed at reaching someone only.
Cisco Webex
Webex's free plan is one of the most comprehensive, allowing up to 100 participants per meeting for a maximum of 50 minutes.
The cheapest paid-for plan increases the meeting length to 24 hours, but you have to jump two more tiers before the participant allowance increases to 200. The Premium plan enables up to 100,000 participants and unlimited hosts.
It's good for collaboration, with the free tier offering screen sharing plus an interactive whiteboard and messaging feature. However, you'll still need to upgrade for recording capability and storage, dial-in access, and international call-ins.
All paid-for plans include transcriptions, file transfer, chat, "raise hand," and polling features. Live customer support is available with all but the free version. Webex is hot on security, offering firewall compatibility, SSO, and secure scheduling options.
The minimalist design can make some user controls tricky to find, and there have been complaints about the slow down, particularly in screen-share mode. It has mobile apps for both Android and Apple smartphones and integrates with Google Drive, Microsoft 365, and Salesforce.
Jitsi
Jitsi is an advanced open-source video conference project, it is free and requires no user accounts or setup. Inviting team members to a meeting is a breeze. The quality of Jitsi's audio and video is of the highest standard.
The software also offers features like YouTube playback in meetings and secure live streaming. This makes Jitsi a good option for educators who want to stream live classes or regular everyday users who want to chat with no hassles.
Considering that Jitsi is primarily web-based, it works on any device, mobile, or desktop. The app also comes with Android and iOS apps and is an easy and fun way to connect with colleagues and friends.
Despite Jitsi not being optimized for enterprise environment needs, it is perfect for small startups and friends' meetings. In addition to this, Jitsi has optimal privacy and security policies designed to protect the privacy rights of the average Internet user. Jitsi's data is strictly not for sale.
Compared to Zoom, however, Jitsi is cloud-based, while Zoom also offers desktop and mobile device clients in addition to the web-based version.
More tech-savvy users are invited to download the source code and set up their servers with their own Jitsi access control rules. This ensures that user data never leaves the owner's sphere of control.
Since it is an open-source project, it allows you to do further customized development, like what you can do with Zoom video sdk. You can incorporate the project into your own app project, and build the video conference features into app.
Linphone
Linphone markets itself as the leading Skype alternative in the market today. It comes with double, open-source, and commercial (for voice and video calls) licenses.
The software's components are utilized in many sectors, including IoT, security, home automation, telecommunications, and health.
Linphone comes packaged in native mobile apps for iOS and Android and features desktop clients for Linux, macOS, and Windows. Standout features of Linphone include VOIP-based video chats, mobile clients, and a strong Skype alternative.
Linphone's security is so advanced that major players in the security sector use it. The state-of-the-art encryption is based on SIP/TLS, advanced ciphering algorithms, end-to-end encryption for messages, and ZRTP encryption for video and voice calls.
Zoom is primarily an application for unifying cloud video conferencing, online meetings, software-defined conference rooms, and group messaging for remote users. On the other hand, Linphone is focused on providing internet phones and VoIP.
Compared to the myriad of features in Zoom, Linphone only does instant messaging in addition to VoIP but does it very well.
Conclusion
In the global pandemic context, people have developed the habit of collaborating online through a video conferencing system. Zoom has been one of the video conference systems that people use often. It also provides Zoom video SDK to developers to create their own video conference systems. However, since Zoom might not be able to resolve its major painpoints in a short period of time, and there are a few best alternatives to Zoom video SDK, like ZEGOCLOUD video SDK, which will give developers more leeways to explore the possibility of having video conferences in a virtual world.