Whiteboard apps have become a necessary part of remote working nowadays. With a whiteboard app, you can better present and explain your ideas to your superiors or team members. If you are a remote worker looking for the best whiteboard app for a smartphone, this article will help you. Here, you can read about the top 5 whiteboard apps.
What is a Whiteboard App?
A whiteboard app is a digital tool that simulates the experience of using a physical whiteboard on a computer, tablet, or smartphone. It allows users to draw, write, and annotate, often with the added benefit of real-time collaboration with others.
Whether used in a classroom setting for teaching, in a business environment for brainstorming, or for personal creativity, a whiteboard app offers flexibility and interactivity. Many whiteboard apps come with features like pre-made templates, integration with other tools, and the ability to save and share work.
The accessibility and convenience of a whiteboard app make it a valuable resource for educators, professionals, and creative individuals alike, bridging the gap between traditional whiteboarding and modern technology.
Must-have Features of Great Whiteboard App
Deciding on a suitable whiteboard app for your device requires serious thinking. It all depends on your requirements, device, and budget. However, there are some features or qualities a great whiteboard app should have, regardless of the situation. Here are the important features you need to look for when selecting a whiteboard app:
Mobile Friendly: While it is necessary for any mobile app to work correctly on mobile devices, unfortunately, most have serious performance issues. For a whiteboard app, it is essential that two people using different platforms don't feel any difference. Thus, your selected app should work as smoothly as its desktop/web app works.
Ease of Use: The whiteboard app that is best for you is the one that is easy for you and your team to use. Remote work happens across all fields, and not everyone has excellent drawing or sketching skills. Thus, the app should be able to compensate for their lack of skills by allowing them to create great content using minimum effort.
Security: Ensuring that the app you choose is highly secure and provides encryption service is essential. It is necessary to ensure there is no leaking of your business projects or confidential details. That's why you should go for a trusted app with an advanced security mechanism.
Integration with Other Services: It is highly unlikely that you will be able to complete all of your work on one whiteboard app. You will need to use other services for importing or exporting data. So, choose an app that integrates it with other services.
How Whiteboard Apps Work
Whiteboard apps have revolutionized the way we collaborate, teach, and brainstorm by providing a digital space that mimics a physical whiteboard. Here's how a whiteboard app works:
Access: Users can access a whiteboard app through web browsers or dedicated applications on computers, tablets, or smartphones.
Drawing and Writing: With various tools like pens, brushes, and text boxes, users can draw and write on the virtual whiteboard.
Collaboration: Multiple users can join the same whiteboard session, allowing real-time collaboration. Changes made by one user are instantly visible to others.
Templates and Tools: Many whiteboard apps offer pre-made templates, shapes, and tools to facilitate specific tasks like mind mapping or project planning.
Sharing and Saving: Whiteboards can be saved for future reference or shared with others through links, email, or integration with other collaboration tools.
Interactive Features: Some whiteboard apps include interactive elements like polls, timers, or embedded videos to enhance engagement.
Security: Secure login and encryption ensure that your whiteboard content remains private and accessible only to authorized users.
In essence, a whiteboard app provides a flexible and interactive platform for visual communication and collaboration, bridging physical distance and enhancing productivity.
5 Best Whiteboard Apps for You
To save you time and effort in combing the internet for whiteboard apps, we have shortlisted the 5 best apps. The shortlisting process contained an evaluation of all the above-mentioned features, along with many others. These are the 5 best whiteboard apps we have chosen for you: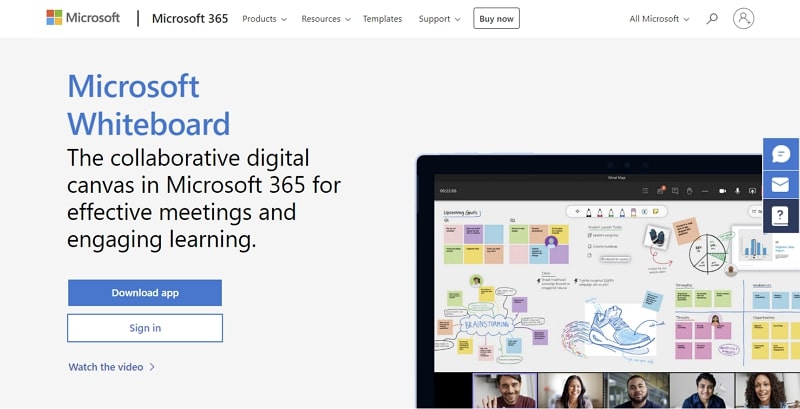 Available as a free whiteboard app if you have a Microsoft account, Microsoft Whiteboard is among the best whiteboard apps for mobile devices. As it is a product of Microsoft, it has many high-quality tools and features and comes with adequate security measures. You also get a robust set of tools for drawing and sketching. Moreover, it also offers 40+ pre-designed templates to speed up your work.
Microsoft Whiteboard app also lets you collaborate with your team members in real time. Furthermore, you can also use it as an in-built feature of the Microsoft Teams app.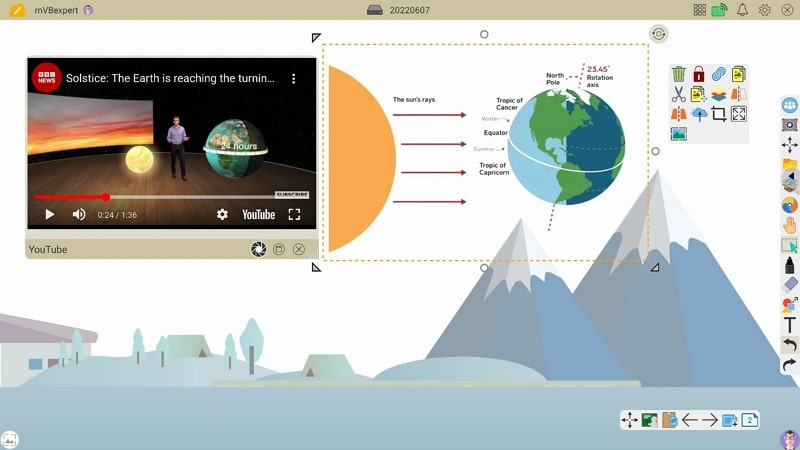 It is another excellent whiteboard app for mobile devices. myViewBoard has all the features and tools you will need to present or explain your task perfectly. This app includes drawing pens, sketching pencils, painting brushes, and other devices. Furthermore, it has unique features like a magic box that is excellent for teachers and other academic professionals.
myViewBoard also has a desktop app and is available for both Android and iOS devices. You can also use it online, though its web versions lack features in comparison to the apps.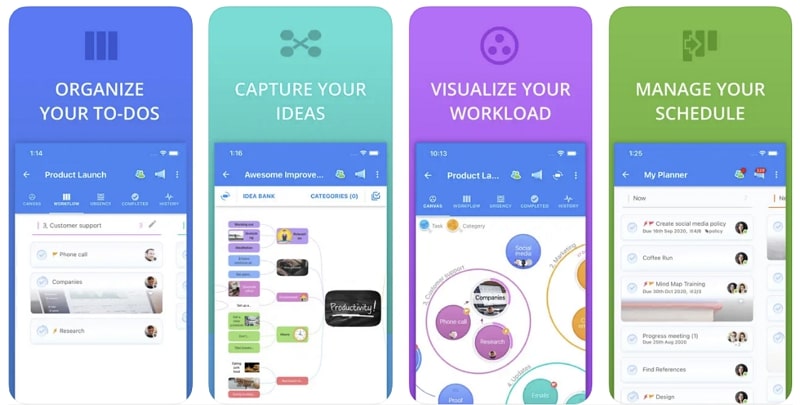 Focused on the mind-mapping technique, Ayoa is an excellent choice for using a whiteboard on a smartphone. It offers different views like a mind map, team view, canvas view, redial map, and others to ensure you can choose a desired layout. When creating mind maps, you can add images, photos, videos, documents, etc. Moreover, this whiteboard app also allows you to collaborate with your team in real time.
Other features of Ayoa include sticky notes, freehand drawings, flowcharts, and lists, among others. It also comes with a wide range of pre-built templates to ease your work burden.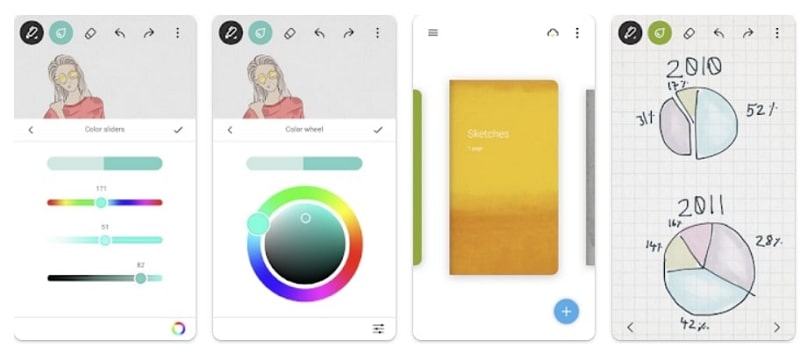 When looking for a whiteboard app for iPad, Bamboo Paper stands out the most. When using the app, it feels like you are writing in a notebook. While it is more specialized in sketching, the impressive list of drawing tools also makes it an excellent whiteboard app. Moreover, it also works as a quick note taker with the ability to take and save notes with a single tap.
Bamboo Paper also offers a versatile and broad range of colors for drawing and sketching. There are over 36 color swatches, which allows you to create your customized color palette.
Lucidspark is also a major challenger for the best whiteboard app due to its amazing collaboration features. It provides three essential features: collaborating in real-time, creating shareable links, and downloading your work. You and your team can engage during the collaboration using group chat and mentioned comments.
Moreover, it also keeps track of your work progress and history with features like redo and undo commands. Other major features include sorting, gathering, polling, sticky notes, etc.
You may also like: Best 5 Free Whiteboard Animation Software
Why ZEGOCLOUD Whiteboard SDK for Whiteboard App
Wondering about how to create a better whiteboard app than the existing ones? Contrary to popular belief, developing a top-rated whiteboard app is not very complex or expensive. There are many tools available that can shorten development time and cost. One such tool is ZEGOCLOUD Whiteboard SDK, which is perfect if you want to develop a whiteboard app for Chromebook, Android, iOS, and other platforms.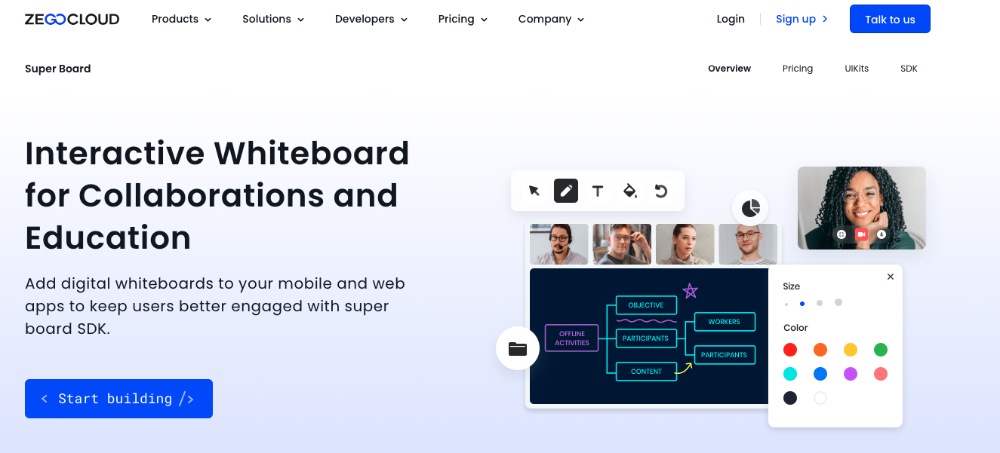 Using this SDK, you can create a whiteboard that permits real-time team collaboration in its truest sense. With the ultra-low latency of 100ms, it ensures your workflow isn't interrupted even with an unstable network. It is also straightforward to integrate with your existing apps. To help you out in the development or integration process, it offers detailed documentation, video tutorials, and 24/7 tech support.
Why Should You Choose ZEGOCLOUD Whiteboard SDK?
ZEGOCLOUD Whiteboard SDK is the best choice for creating a smart whiteboard appTop 5 Microsoft Whiteboard Alternative Lists because of its unique and extensive features. To give you an idea summarized below are some of its impressive features:
Collaborating with a group of people on a single whiteboard isn't an easy task. If there are issues with the final product or it needs revision, the best way is to revisit and improve the previous work. That's why ZEGOCLOUD Whiteboard SDK supports recording of the work session that is playable whenever a user needs it.
While you can't add much to a real whiteboard, it is an entirely different story when it comes to a virtual whiteboard. Moreover, it allows you to add anything from images to documents during collaboration or on the whiteboard. Since people use images the most, ZEGOCLOUD Whiteboard SDK provides many features for drawing, zooming in, and moving images.
With ZEGOCLOUD Whiteboard SDK, users on your whiteboard app will be able to change the background. It is an extremely helpful feature that saves time and effort as users can select pre-defined images to explain their topic. Changing the background to a relative image can also help users during collaborative sessions.
Businesses and clients are very strict about their data policies, and using a tool that isn't safe and secure can prove disastrous. That's why a tool's data protection and privacy policies are among the first things that receive scrutiny when businesses choose a whiteboard app. ZEGOCLOUD Whiteboard SDK ensures your whiteboard app has the highest security rating due to advanced encryption algorithms and GDPR compliance.
Conclusion
In conclusion, finding the right whiteboard app for your smartphone and work needs is not difficult. There are many great whiteboard apps available, both free and paid. Most of these apps are good enough to handle most work needs. However, if you aren't satisfied, you can develop the best whiteboard app using ZEGOCLOUD Whiteboard SDK.
Read more:
Talk to Expert
Learn more about our solutions and get your question answered.
Talk to us
Take your apps to the next level with our voice, video and chat APIs
10,000 minutes for free
4,000+ corporate clients
3 Billion daily call minutes