Animations are engaging, attractive, and fun to watch. Thus, animating a presentation or an explainer will increase its quality and attract more listeners. A recent study found that people could learn at least 45% more from animated explainers than from simple ones. If you want to animate your task or presentation, you will need whiteboard animation software. Stick with the article to find the 5 best whiteboard animation software.
How to Choose Whiteboard Animation Software
Choosing a suitable whiteboard animation software is difficult, especially if it is your first time interacting with animations. You do not need to be a professional video creator to find a good whiteboard animation tool to animate your tasks. Here are some factors that can help you choose the best whiteboard animation software:
User-Friendly Interface: It is the most important factor as you are unlikely to be a pro at creating animation videos. Most members of your team will have basic-level drawing skills at best, and the whiteboard animation software you choose should be perfect for them. That's why find a tool that is easy to learn and use, with a user-friendly interface.
Enhanced Features: While features are what makes software great, you need to find the right balance of them when choosing whiteboard animation software. It should not have too many unnecessary features which only end up overwhelming your team. Likewise, it should have all the features you and your team need to work smoothly.
Trial Period: You are unlikely to find completely free whiteboard animation software. Thus, if possible, try out the software before committing to a purchase. Luckily, many whiteboard animation software offers free trial periods. Choose one with a reasonable trial period to see if it is right for you.
Cost-Friendly Price: As described previously, getting whiteboard animation software will likely cost you. However, there is no need to pay extra for features you don't need. Thus, carefully decide on a budget and your needs and look for software that fits within your price range.
5 Best Whiteboard Animation Software
To help you in your search for great whiteboard animation software, we have selected the 5 best software from the numerous available on the internet. The criteria for judging this software included the above-mentioned points and some extra. Here is the list of 5 best whiteboard animation software: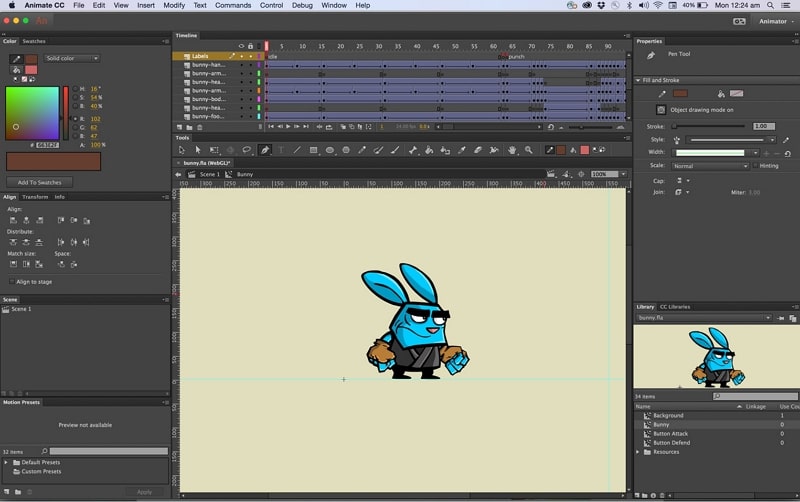 Considered to be the industry standard, Adobe Animate is an excellent choice for creating whiteboard animations. It is an Adobe product and part of the Adobe Creative Cloud. This tool has all the features you can need for creating whiteboard animations, from Action Script scripting to video and audio embedding with rich text and raster graphics.
Adobe Animate, while an excellent choice, can be on the expensive side of whiteboard animation software. Moreover, it also has a steep learning curve which can be a drawback.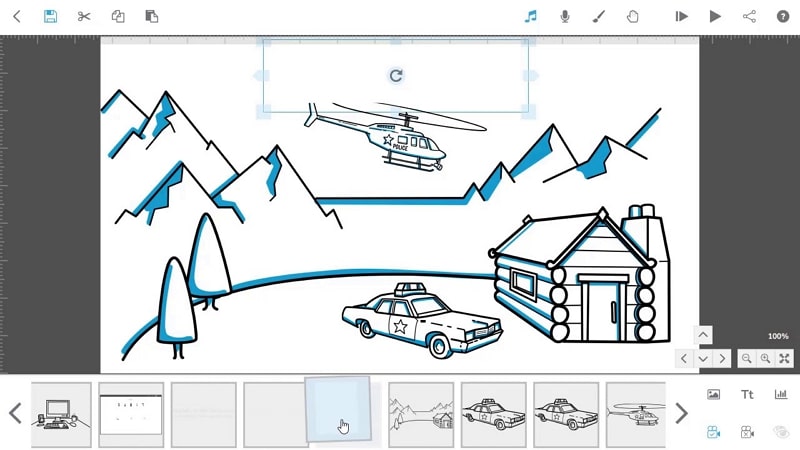 Available on both Mac and Windows, VideoScribe is another top contender for the best whiteboard animation software. Its top quality is the exceptionally well-designed user interface that makes it seems like you are working on an actual whiteboard. Furthermore, it has all the tools you need to create a perfect animation video. These tools are suitable for beginners and pros alike.
VideoScribe offers over 11000 images and GIFs to make your animation video stand out. Moreover, it also has over 190 royalty-free music and voice tracks to enhance your animation videos.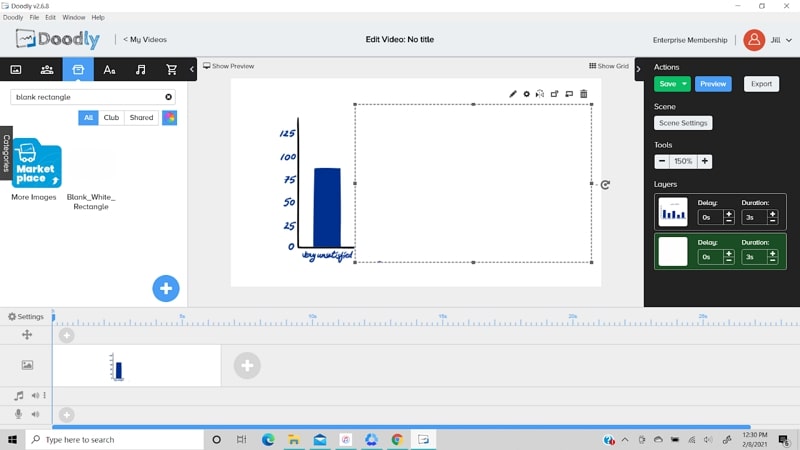 Are your drawing and animating skills zero? Don't worry, as Doodly is the perfect tool for you. To make everything easier for you, it provides a variety of pre-made characters, fonts, templates, animations, props, and backgrounds. These prove extremely helpful when creating engaging explainers and educational or marketing videos. Moreover, it comes with a text-to-speech feature, allowing users to add voiceovers to their videos.
Doodly has thousands of hand-drawn images for you to use in your whiteboard animation videos. It is available for Windows and Mac and has a low-price tag compared to its competitors.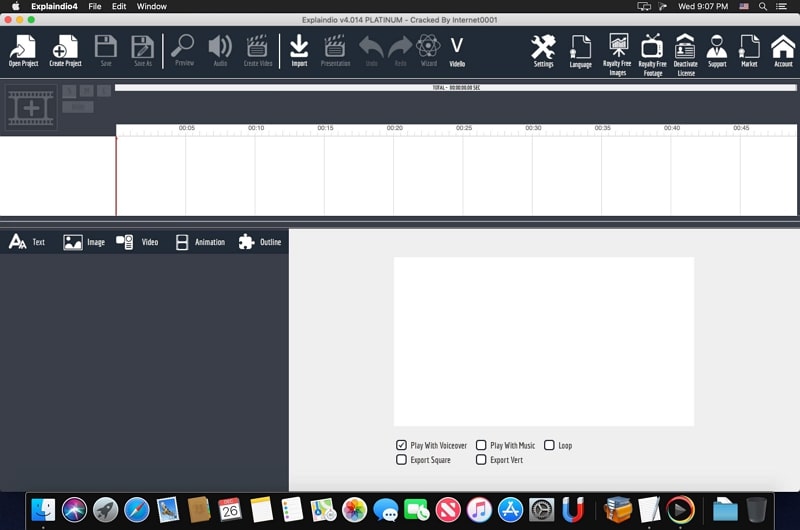 With a user-friendly and retro interface, Explaindio makes you feel like you are working on an animation movie project. It is a top-tier tool when it comes to creating explainers and 2D & 3D animation videos. With this tool, you can create a great 3D animated video in seconds without having any pro-level skills. Additionally, it also includes over 180 pre-made text animations and over 200 pre-made video animations.
Explaindio also comes with 6 in-built animated characters for you to use in your projects. However, one major drawback of this tool is the lack of a free trial.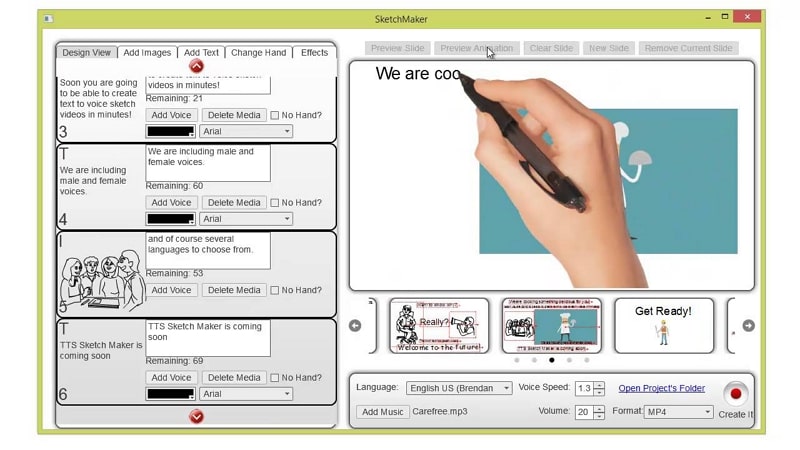 It is a dedicated text-to-speech whiteboard animation software. With TTS Sketch Maker, you can create an animated video and use over 25 pre-added voiceovers through the text-to-speech feature. Moreover, these voiceovers are available in over 16 languages. You can export your animated videos in four formats which include MP4, MKV, WMV, and AVI.
TTS Sketch Maker supports both Mac and Windows. Furthermore, it has an extensive library of images and icons for you to use. As for its user interface, while simple and basic can feel outdated to most users.
You may also like: 5 Best Online Whiteboard Lists You Will Like
Why ZEGOCLOUD SDK for Whiteboard Animation Software
Finding a great whiteboard animation software free of cost can be a hard nut to crack. However, if you can't find a great free whiteboard animation tool, why not develop one? If the cost and time behind the development process worry you, ZEGOCLOUD Whiteboard SDK has you covered. With it, you will be able to develop the best whiteboard animation software with minimum effort.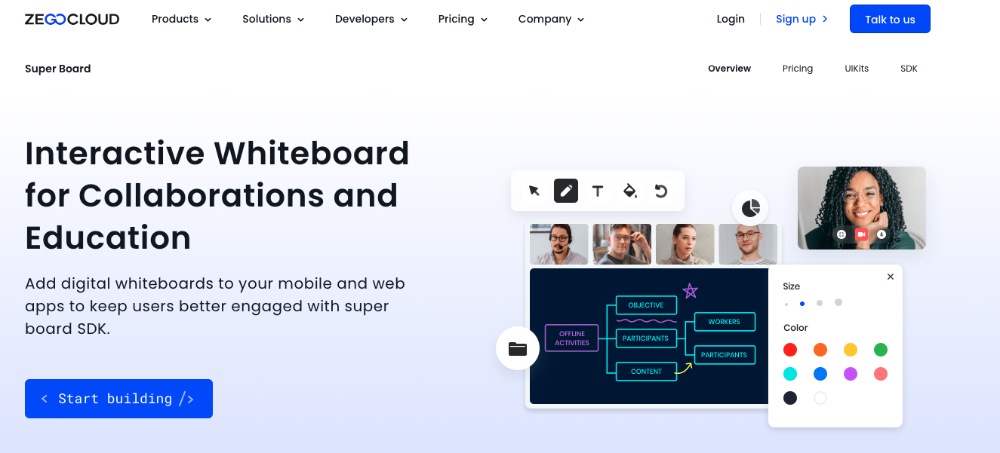 ZEGOCLOUD Whiteboard SDK is highly customizable, meaning you can perfectly mold it to suit your needs. It will provide you the complete control over the development process so that the end product is what you envisioned. To further help you out, it provides detailed documentation, tutorials, FAQs, and tech support. For data protection and privacy, this SDK uses the latest encryption algorithms.
What Makes ZEGOCLOUD Whiteboard SDK Best in the Market
You might be wondering why ZEGOCLOUD Whiteboard SDK is the best recommendation for creating whiteboard animation software. It is mainly due to the excellent features of this SDK. These are some of the amazing features you will get by using ZEGOCLOUD Whiteboard SDK:
Ease of Use
The topmost quality on which most whiteboard animation tools are evaluated is their user-friendliness. In this metric, the easier the tool is to use and understand, the better it's ranking. ZEGOCLOUD Whiteboard SDK allows you to maintain a fine balance between simplicity and attractiveness. As a result, the interface of your whiteboard animation software will be clean and simple while still being colorful and dynamic.
Cloud Integration
Whether you want to build a web-based whiteboard animation software or a platform-based one, ZEGOCLOUD Whiteboard SDK has you covered. In both cases, it allows you to develop the best possible tool and offer cloud integration. By enabling cloud integration, you allow the users on your platform to save and retrieve their work on cloud storage. It will make your whiteboard animation software popular among remote workers.
Robust Documentation
App development is not an easy process by any means. During the process, you will face many issues regarding code, integration, deployment, etc. All of these questions need satisfactory answers. It has detailed and robust documentation to ensure you face the minimum hurdles when using ZEGOCLOUD Whiteboard SDK. You also get video tutorials and 24/7 tech support to smoothen the process.
Compatibility with Other ZEGOCLOUD APIs & SDKs
If you want to create a whiteboard animation software where users can collaborate life, you will need other functionalities. Luckily, ZEGOCLOUD offers a complete suite of APIs and SDKs to ensure what you develop is the best. It offers APIs & SDKs for video and voice calling, in-app chat, live streaming, and many more. The best thing is that all of these are fully compatible with each other.
Conclusion
In conclusion, having the best whiteboard animation software at your disposal is ideal. It would allow you to create engaging and powerful explainers, presentations, and marketing content. However, if you are unable to find a suitable one, you can build your own using ZEGOCLOUD Whiteboard SDK effortlessly. It will ensure your whiteboard animation software is the best among the rest.
Talk to Expert
Learn more about our solutions and get your question answered.
Talk to us
Take your apps to the next level with our video APIs
10,000 minutes for free
4,000+ corporate clients
3 Billion daily call minutes