The worldwide telehealth industry has been gradually rising since the early 2000s. Market value in 2019 was estimated at $49.9 billion, with forecasts of $194.1 billion by 2023 rising during the epidemic.
The hard lockdowns of COVID-19 have indeed pushed the implementation of telehealth services, and given the significant telehealth benefits provided, we can now say that they are here to stay. Therefore, the telehealth sector will further develop in the following years, driven by rising telehealth service usage, changing demographics, and innovations in real-time and cloud communications technologies.
Global telehealth market growth
Telehealth growth will contribute significantly to global trade. Many investments continue improving the sector, where the United States is the world's largest telehealth market.
2020 has been a catalytic year. According to a McKinsey & Company analysis, telemedicine applications in the United States climbed from 11% in 2019 to 46% in 2020, with satisfactory experiences. Up to $250 billion in US healthcare spending might be virtualized, and Telehealth could account for up to 20% of all medical visits. Similar trends beyond the US.
The Asia-Pacific region is expected to have significant telehealth potential, driven by rising demand for remote healthcare services and the need to provide cost-effective and accessible healthcare solutions. China leads the way, resulting in regional growth with a CAGR of 21.5% between 2018 and 2023.
Europe is a hotspot for telehealth investments, representing around 12% of total assets. This is owing to the aging population's huge telehealth potential and the rising prevalence of chronic illnesses. According to P&S Intelligence, the European telehealth industry will increase at a CAGR of 21.2% by 2030.
Overall, worldwide the need for telehealth services is predicted to rise further. RTC technologies, by allowing more efficient and scalable telehealth services, will play a significant part in addressing the sector's needs.
RTC's role in the telehealth industry
The rising implementation of real-time technology solutions is the underpinning push of telemedicine services growth. As per definition, real-time communication takes place immediately and instantaneously. It involves exchanging information from the sender to the recipient over any telecommunications service with minimum delay. Phone conversations, video conferencing, instant messaging, and online gaming are all examples.
RTC constantly evolves, allowing for more interactive and immersive communication, often called real-time interaction.
Most used RTC technologies in Telehealth
Real-time messaging is the most popular RTC technology in Telehealth, allowing patients to simultaneously communicate with healthcare providers via text. A growing market and trend is remote patient monitoring, which helps healthcare practitioners to monitor patients remotely utilizing real-time data transmission equipment. According to MarketsandMarkets, by 2028, the remote patient monitoring market will develop at a CAGR of more than 19%.
Consequently, real-time diagnosis is becoming increasingly common. Healthcare practitioners can diagnose patients remotely, utilizing data immediately via RTC technology-empowered software.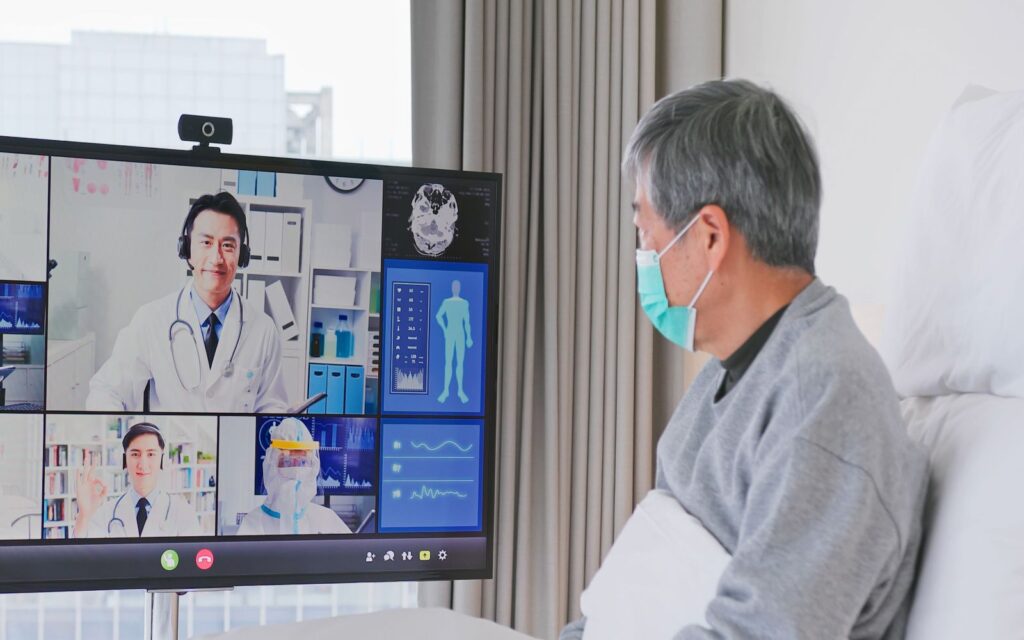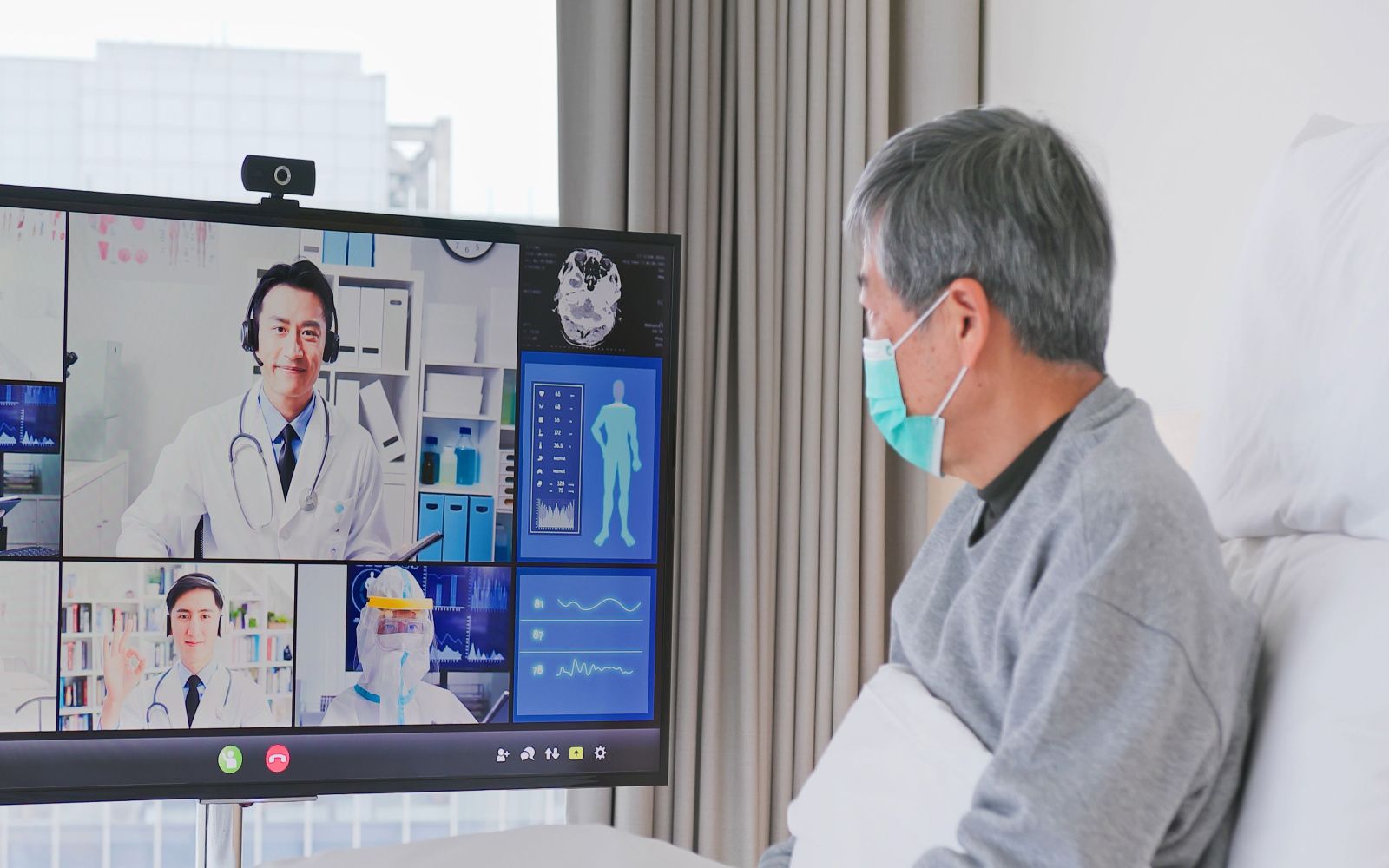 New technology applications in Telehealth
The significant digital technology advances that are being incorporated into telehealth apps and services include:
Artificial intelligence: chatbots, speech recognition, and automated health warnings are a few examples of AI applications. These features assist patients in saving time, scheduling appointments, and communicating with professionals;
Augmented, virtual, and mixed reality functionalities are often employed for accurate remote diagnosis and in the educational sector, giving medical students a refreshed and efficient experience;
Cloud technologies enable exchanging and accessing vital patient medical information from any location. They provide security and privacy by encrypting data, implementing fine-grained access restrictions, and tracking access, reducing expenses.
Store-and-forward entails gathering clinical data and electronically transmitting it to another facility for examination, posting it to a secure Web site, or using a private network;
Big Data and innovative data management technologies boost treatment quality, diagnostic accuracy, and cost-effectiveness. Access to reputable databases is critical due to the large volumes of data in medical reports, statistics, records, and other documents.
Blockchain can potentially solve the security issues around telehealth apps and facilitate integrated data sharing, ensuring immutable, traceable, and secure network transactions;
Predictive analytics is now the most researched technology in the medical ecosystem, attracting many investments. It is especially beneficial for risk estimates, geo-mapping, and simulations. Massive investments have been set up for it;
Machine learning: its use and implications are yet to unfold. However, it is already utilized to enhance the treatment of chronic diseases, streamline procedures, and manage medical data.
As you can easily guess, there are profitable prospects for developers and vendors of real-time communication systems. RTC technology has been used successfully in some telemedicine programs.
RTC and Telehealth market potential
As mentioned, the need for telehealth services is predicted to rise further owing to an aging population, increasing chronic illness incidence, and a dearth of healthcare personnel. RTC technologies, through allowing more efficient and scalable telehealth services, are anticipated to play a significant part in addressing this need.
These technologies have enormous market potential in the coming years as giant corporations like Google, Microsoft, and Amazon attempt to profit from the rising demand for telehealth services. Investments in telehealth startups and firms are on the rise. According to CB Insights, multiple telehealth businesses hit the 1B valuations in 2022.
All these translate into considerable prospects for software and app developers. Developers who can design creative and user-friendly telehealth apps that harness real-time interaction technologies like video conferencing, texting, and remote patient monitoring will likely thrive in this quickly increasing sector.
Challenges
It is important to note that there are also challenges alongside opportunities. Telehealth services deal with large amounts of data on sensitive information. Therefore, security, privacy, and app safety are of utmost importance, for which authorities set standards for protecting individuals' medical records and personal health information (PHI). Telehealth applications that collect, store, or transfer patients' protected health information (PHI) in the United States are governed by the Health Insurance Portability and Accountability Act (HIPAA) and must be HIPAA compliant.
The limitations on the legal status of telemedicine visits provide a considerable barrier. Insurers are also concerned about the misuse of telemedicine services. With the slow speed of lawmakers worldwide compared to the frantic pace of technology, addressing these challenges takes time.
Among the technical obstacles, face-to-face engagement between physicians and patients is preserved over time. It is critical to fulfill the expectations for integrated solutions and to prescribe medications accordingly. These aspects affect the ability of telemedicine services to retain patients in remote monitoring.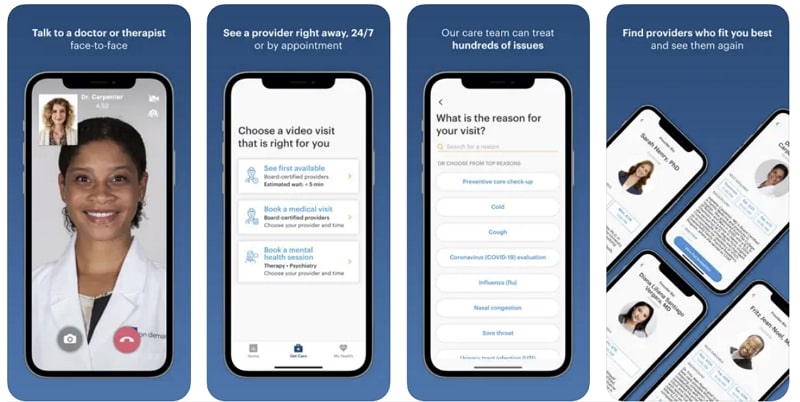 Successful examples of Telehealth apps
There are many outstanding examples of telehealth solutions in the market. Convenience and trust are the two most essential criteria for a successful digital and telemedicine solution. The experience must be accessible and effective both for healthcare providers and patients.
Let's quickly see some of the most successful telehealth apps in the US.
Doctor on Demand
DoD is a healthcare service that provides 24/7 virtual medical and mental health appointments through live video conferencing. Patients may use the app to consult with qualified physicians and therapists in real time. The service offers many plans based on the type of health concerns and offers for communities and workers.
The COVID-19 pandemic contributed to a 139% rise in virtual visits since March 2020, especially for behavioral health matters.
GoodRx
A popular smartphone app is HeyDoctor, now called GoodRx. It offers virtual consultations with qualified healthcare practitioners to treat a range of medical concerns. These range from general care and sexual health to mental health. The software has been found to increase access to care while decreasing healthcare expenses; these are a severe concern in many countries, especially for people without health insurance coverage.
To consult with a doctor, GoodRx does not require insurance. Visits tariffs range from $19 to $49 without membership), Plans for subscribers guarantee better prices and recurrent consultations.
Spruce Health
Spruce Health is a leading platform for healthcare communication. As a telehealth service, it allows virtual consultations with qualified healthcare practitioners through video, phone, or text. Spruce Health offers primary care, urgent care, mental care, and specialties like dermatology. Users can access two basic plans and a more complete option with extensive RTC features and services. Depending on the plan, different real-time technology features are available.
Being one of the top healthcare apps for communication, Spruce has a high degree of security and privacy. It supports both private and ordinary communication in a HIPAA-compliant way.
Teladoc
This telemedicine program provides mainly virtual medical appointments through live video conferencing. During the pandemic, Teladoc saw a boost in usage, with a 50% increase in virtual medical consultations in Q1 2020. These numbers remained steady these years.
In real time, patients may use the app to communicate with board-certified physicians, licensed therapists, and other healthcare professionals. The cost of a Teladoc visit varies based on the service, the health plan's design, and whether people have insurance coverage.
K-Health
Counting over 6 million users, K Health is a telehealth program employing artificial intelligence to connect users with certified healthcare practitioners via a mobile telehealth app. K Health is available to users for many medical concerns, including general care, urgent care, and pediatrics. Its services and features improve patient outcomes while keeping healthcare expenses low. Over 100 clinicians are available 24/7 for any health concern.
HealthTap
HealthTap is a telehealth app that offers video or phone consultations with qualified healthcare experts. Customers may use the HealthTap app to get help with many medical issues, but it's famous for nationwide primary care. Over 90.000 doctors are consulted via Q&A services. The software is available for any device.
Conclusion
RTC technologies are becoming increasingly important as the telehealth industry grows in the following years, thanks to innovative advances. These technologies are expected to play a crucial role in telemedicine, enabling more personalized and efficient interactions between patients and healthcare providers as AI-powered chatbots, natural language processing, and speech recognition improve.
The competition between RTC solutions providers and vendors is fierce since they partially determine the success of telehealth applications and services. Choosing an excellent vendor is, therefore, critical.
ZEGOCLOUD is the world's top provider of Real-Time Interaction technology, enabling organizations and developers to get real-time audio and video communication capabilities by integrating a single SDK. ZEGOCLOUD has long served clients in the healthcare sector in compliance with HIPAA and significant safety and quality regulations.
Talk to Expert
Learn more about our solutions and get your question answered.
Talk to us
Take your apps to the next level with our voice, video and chat APIs
10,000 minutes for free
4,000+ corporate clients
3 Billion daily call minutes