Currently, small-scale businesses and organizations use Google Voice, a simple telephone service with unlimited text messaging and call-forwarding features. However, it lacks advanced call management tools and needs to connect well with other platforms outside Google. Let's discuss the 10 best Google Voice alternative lists that offer better call management, productivity, and budget-friendly prices, such as ZEGOCLOUD.
What are the Limitations of Google Voice?
When you think of using Google Voice for business, there are certain areas where it may not be the most suitable option. However, from limited integration with non-Google apps to costly plans and user restrictions on Google Workspace, these factors may affect your decision-making process.
Furthermore, we will have a detailed look into these factors before heading to the Google Voice alternative free.
1. Limited Integration with Non-Google Apps
However, considering the limitations of Google Voice, one drawback is that it only works best with other Google apps like Gmail, Google Calendar, and Google Drive. Furthermore, it needs to integrate better with apps outside the Google ecosystem, requiring an upgrade to Google Workspace for access to other platforms.
2. Costly Plans for Business Owners
A significant limitation of Google Voice is its pricing for business owners. While the personal use plan is free, the paid plans can be expensive, starting at USD10 monthly. Additionally, Google Workspace access adds an extra USD6 per month.
3. User Limitations on Google Workspace
Google Voice has a limit of 10 users, even for the paid starter plan. To have unlimited users, businesses need to pay USD20 per month. Moreover, tracking individual user metrics requires an additional USD30 per month per user, including data analytics. So, using free alternatives to Google Voice is the best choice here.
4. Limited Team Collaboration Features
Collaboration could be smoother in Google Voice. The free plan lacks shared access and doesn't support texting users on different apps. Moreover, adding mentions or comments to individual messages is not possible, and the free version lacks ring groups.
5. Absence of Toll-Free Numbers
One of the other limitations of Google Voice is the need for toll-free numbers or vanity numbers. So this poses challenges for businesses aiming to expand into different markets, as some callers might have to pay for their calls.
6. Texting Restrictions
Google Voice has limitations on texting, which may be better for marketing and customer service. You can deliver messages exceeding 160 characters as multiple messages. The service only allows sending messages to up to five recipients. Additionally, sending multiple messages quickly or including URLs can lead to marking them as spam.
10 Alternatives to Google Voice
Looking for a Google Voice alternative that offers reliable communication solutions for both local and international calls? Let's explore some top-notch tools that can serve all your required needs. While Google Voice provides free calls within the US and Canada, it does have certain limitations, making these alternatives worth considering for your business needs.
ZEGOCLOUD offers real-time voice communication with outstanding audio quality. It uses advanced audio processing technologies to ensure clear audio. These include acoustic echo cancellation, automatic noise suppression, and automatic gain control to remove distracting echoes and background noises. Moreover, this best free Google Voice alternative extensive network covers more than 212 countries and regions.
Even in weak network conditions with up to 70% packet loss, ZEGOCLOUD maintains stable and smooth real-time communication. This happens through sophisticated quality-of-service strategies like adaptive jitter buffering and forward error correction. Furthermore, with an ultra-low latency of 300ms globally, long-distance and international calls feel like speaking face-to-face, creating a great audio experience.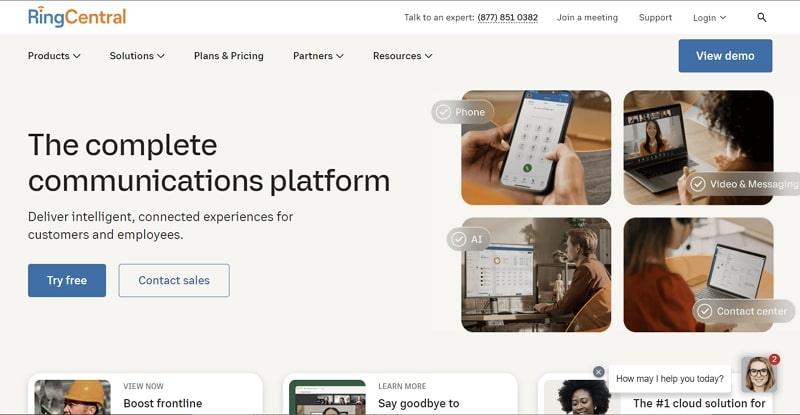 RingCentral is a leading VoIP phone system suitable for businesses of all sizes. Its standout feature is its ability to consolidate key conversations into one platform, ensuring smooth business workflow. However, RingCentral enhances productivity and collaboration with integration capabilities for apps like Microsoft, Google, and Salesforce.
Additionally, the service supports scalability, enabling you to easily add new devices, lines, offices, and remote teams as your business grows. Subscription plans for RingCentral start at USD20 per user per month, and the platform also offers a free trial, so you can try before you commit.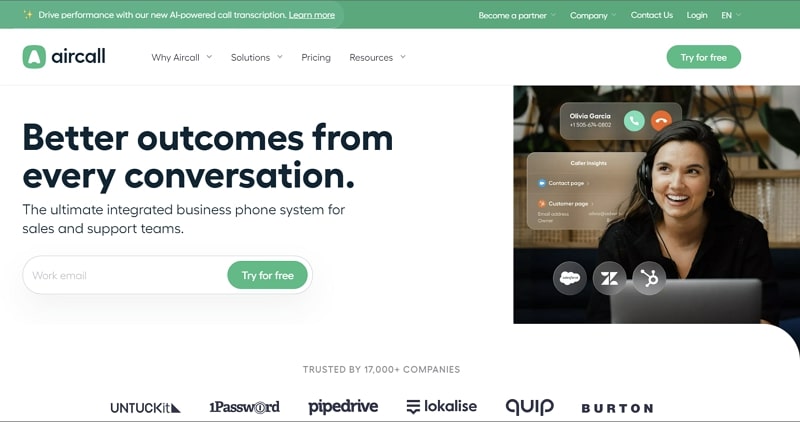 This is a fantastic Google Voice alternative for sales and support teams. This cloud-based solution offers the advantage of unlimited outbound calls. This can be beneficial for closing deals quickly and efficiently. Aircall provides features like Power Dialer, click-to-dial, and real-time coaching, allowing teams to improve performance and customer interactions.
Moreover, Aircall integrates with other cloud tools such as Salesforce, HubSpot, and Zendesk, making it a versatile choice for businesses. Its pricing starts at USD30 per user per month, and there's a free trial option for those who want to test it out.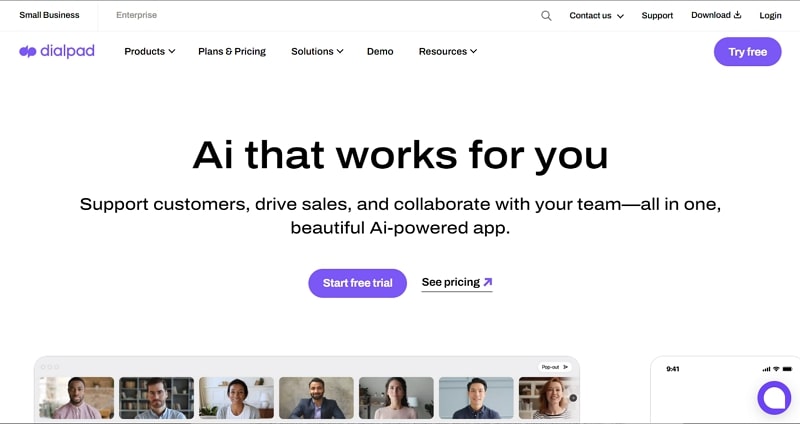 Dialpad stands out as an excellent Google Voice alternative due to its advanced AI technology integration. The platform's Dialpad AI solution utilizes natural language processing (NLP) and built-in speech recognition to provide real-time meeting transcriptions and detect customer sentiment during conversations.
Additionally, Dialpad offers unlimited video meetings in its entry-level plan. This makes it suitable for businesses that require frequent virtual gatherings. However, it's important to note that Dialpad's video meetings support a maximum of 10 participants.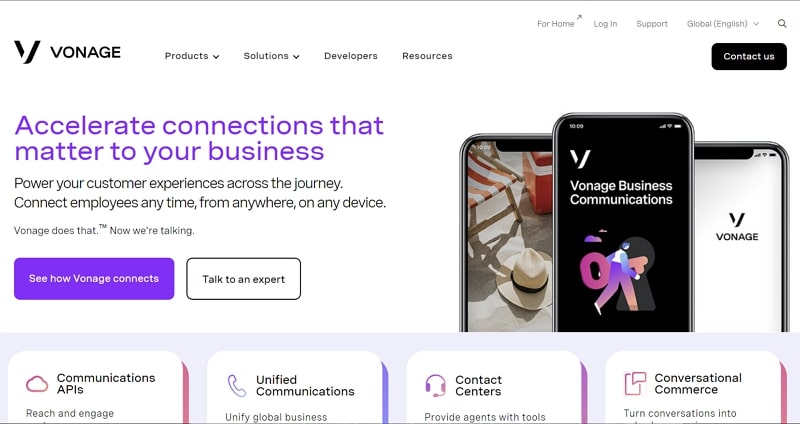 Vonage is a customizable option for businesses seeking an alternative to Google Voice. This platform has a wide array of features, including over 50 voice and unified communications (UC) features. Moreover, Vonage allows businesses to create tailored plans that meet their specific communication needs. This versatility is particularly advantageous for budget-conscious users who require basic calling services.
Furthermore, Vonage divides these features into 43 included features along with 18 paid add-ons. These include AI capabilities, marketing tools, and productivity solutions. However, it's essential to consider that Vonage's business call recording service is available as an add-on feature priced at USD49.99, whereas most other VoIP providers include this feature in their base plans.
For small businesses offering comprehensive home service plans, Ooma stands out as an excellent choice. The Ooma Telo device, an analog telephone adapter, allows users to connect the Ooma phone system to existing landline phones, offering free nationwide calling capabilities. Furthermore, it provides various plans, including a pay-as-you-go option and bundled minute plans for savings on long-distance calling.
For instance, businesses interested in international calling can choose from a 200 or 500-minute international plan, starting at USD4.99 – USD5.99 monthly. Or they can opt for the unlimited 60 or 70-country world plan priced at USD17.99 and USD25.99 per month, respectively.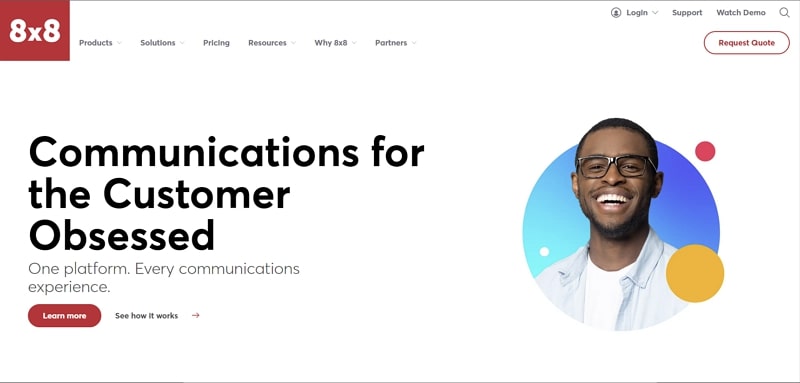 8×8 is an ideal option for businesses aiming to build an international presence. With unlimited voice calling to 14 or 48 countries and international numbers, 8×8 offers a strong international calling feature set. Even for users who do not require unlimited global calling, 8×8's rates are competitive, starting at just two cents per minute. The platform offers PSTN services in 55+ countries.
Moreover, phone number support in over 100 countries makes this app a viable choice for businesses with a global reach. In addition to its international calling capabilities, 8×8 provides a complete UC solution that includes voice, video, and chat features.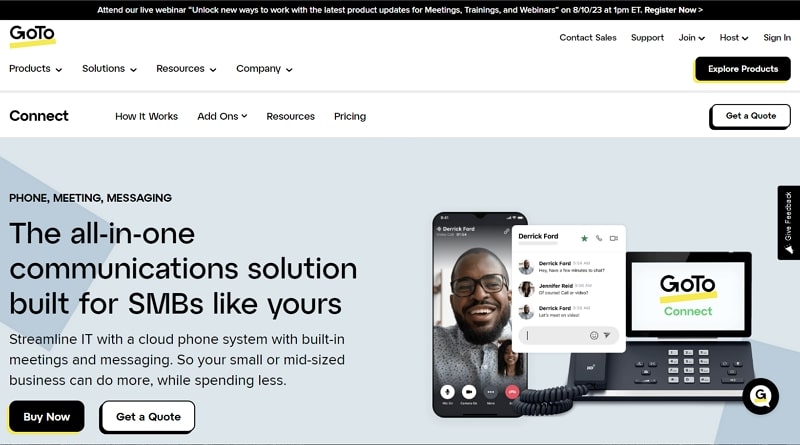 As the top-rated free Google Voice alternative, GoTo Connect is an excellent choice for businesses with remote and hybrid work arrangements. The platform offers fully integrated calls and video meetings, making it easy for teams to communicate and collaborate effectively. One of the standout features of GoTo Connect is its extensive compatibility with IP phones.
This allows businesses to choose from various cordless and conference-ready phones from trusted brands like Cisco, Polycom, Plantronics, and Yealink. Additionally, it offers strong international calling capabilities with free international calling to over 50 countries. Furthermore, users also receive 1,000 toll-free minutes, which they can use across multiple accounts.
This free alternative to Google Voice offers a practical solution for individuals and businesses looking to keep their numbers private while maintaining a separate line for business communications. With its Pro plan, Sideline provides organized contacts, separate work numbers, and robust texting features to help businesses thrive. Users can stay in touch with customers on the go and manage conversations efficiently with automated responses.
You can also utilize Sideline's texting feature for marketing campaigns and promotions, enhancing customer engagement. Additionally, the platform offers text reminders, notes, text templates, automatic replies, web texting, and spam protection to streamline communication further.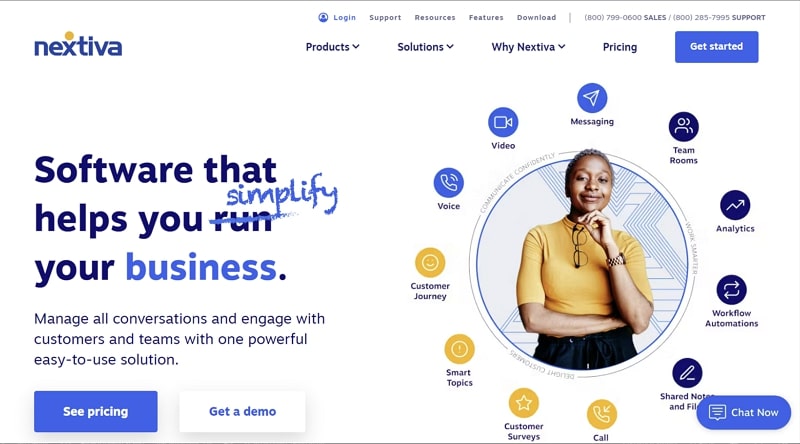 Nextiva offers a range of communication solutions tailored for remote teams, including a modern business phone service. With Nextiva, users can instantly call, chat, video call, or share screens with others, making it easy to connect and collaborate. In addition, the platform provides mobile and desktop apps, ensuring all communication tools are readily accessible from a single location.
Nextiva allows users to make unlimited HD voice calls using their business number, ensuring clear and reliable voice communication. Moreover, the platform also offers various features, such as a local number, toll-free number, customized caller ID for your number, and call routing. However, this enables businesses to tailor their communication setup to their unique needs.
Choose the Right VoIP Solution with ZEGOCLOUD
Combining a wide range of features and capabilities, ZEGOCLOUD emerges as the perfect VoIP solution as a Google Voice alternative. Whether you want to make 1-on-1 voice calls, start group calls with multiple users, or invite others to join a call, ZEGOCLOUD has got you covered.
With this Google Voice alternative, you can expect a high-fidelity audio experience with its 48kHz audio sampling, ensuring top-notch audio quality. Moreover, the platform boasts an ultra-low latency of 300ms, guaranteeing smooth, uninterrupted video and audio calls.
This tool's capabilities extend to accommodating up to 10,000 video participants in an audio call and supporting 15,000+ end-user device models across all major OS platforms. So, if you're looking for a reliable and feature-rich VoIP solution, ZEGOCLOUD is the way to go.
Read more:
Talk to Expert
Learn more about our solutions and get your question answered.
Talk to us
Take your apps to the next level with our voice, video and chat APIs
10,000 minutes for free
4,000+ corporate clients
3 Billion daily call minutes