Looking for noise suppression software? In today's fast-paced and interconnected world, noise pollution has become an increasingly prevalent issue that affects our daily lives. Finding a quiet place for a voice or video call can be difficult due to various noises, such as outside traffic, coworkers in an office, or chatters in a busy coffee shop.
Technological advancements have given rise to a wide range of noise canceling software solutions that aim to alleviate these auditory disturbances. From professional audio editing tools to user-friendly apps, the market is flooded with options designed to enhance our listening experiences and restore a sense of calm amidst the chaos.
This article will explore some of the best noise suppression software available today, delving into their features, effectiveness, and user-friendliness.
10 Noise Suppression Apps for Desktop & iOS & Android Users
If you're looking for noise canceling software for your Windows or Mac computer, you'll be pleased to know that many high-quality options are available. In this article, we'll review the best ones.
Krisp
Krisp is a highly efficient AI-powered tool that reduces external noise in real-time. It is user-friendly and compatible with various conferencing, streaming, voice chat, and recording apps that support audio device changes. Krisp uses machine learning to recognize the speaker's voice in the microphone and removes any sounds in the background that are not the speaker's voice. Additionally, it provides a two-way noise suppression by eliminating noise from your surroundings, allowing your caller to hear you more clearly.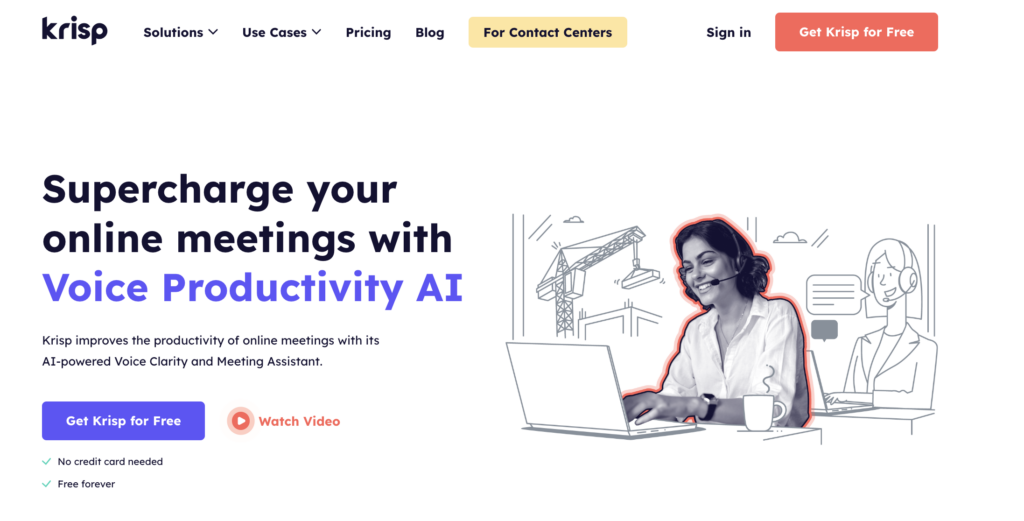 It works with over 800 apps, including Google Meet, Zoom, Skype, WebEx, and Microsoft Teams. It can be used with any headset, microphone, or speaker, making it simple to set up. Additionally, Krisp allows you to record and share meeting audio for video conferencing. The software ensures that all audio processing is done locally, so there is no server storage of voice and audio data.
It is available for Windows and Mac.
Pricing
Krisp is an ideal solution for both individuals and small teams. Depending on the account type, you can avail of a free plan to test a specific number of noise cancellation minutes daily. You can upgrade to the Pro plan for $ 8$ per month if you require unlimited usage.
SoliCall
SoliCall is an innovative noise suppression software that enhances the quality of phone calls. It employs profile-based and reference-based noise reduction technologies to eliminate unwanted sounds and background noise. Profile-based noise reduction targets only the speaker's voice, while reference-based noise reduction eliminates background noise and nearby conversations. Both sides of a phone call undergo noise reduction and echo cancellation.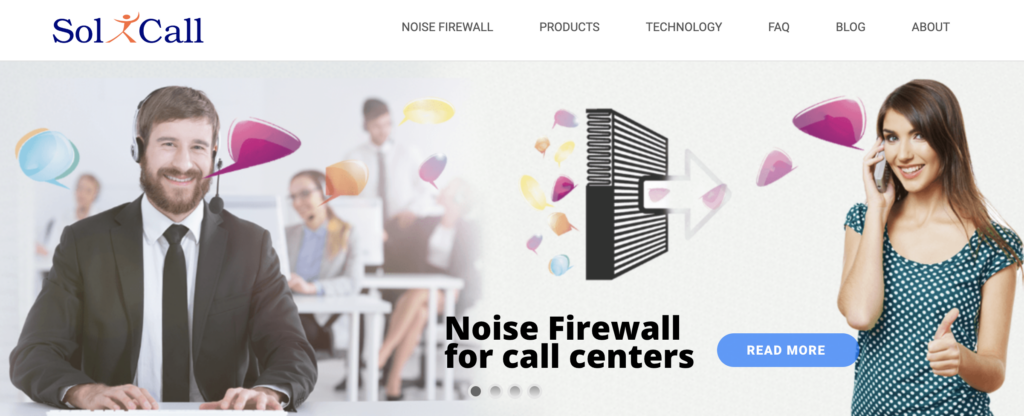 SoliCall is compatible with multiple devices and platforms, and it supports all audio formats and commercial phones. The software does not require a connection to the cloud for enhanced security and privacy.
Pricing
It is ideal for both individuals and call centers. SoliCall offers a 3-day free trial period to see how it can improve the quality of your phone calls.
NoiseGator
This is a lightweight noise-canceling software that is compatible with VOIPs like Skype. NoiseGator effectively filters out background noise during voice recording and video calls.
The software operates on a gate principle that routes audio input to the audio output and filters out sounds below a certain decibel level in real time. It is a small and efficient application that significantly enhances your calling experience by reducing background noise.
NoiseGator is simple yet ingenious noise suppression software for Windows and MacOS. For Windows users, we recommend using the VB-CABLE driver along with NoiseGator. You can customize the app's settings to adjust the audio threshold, attack time, and release time. NoiseGator is perfect for those who prefer more configuration options but may not be ideal for those seeking a quick solution. To run NoiseGator, Windows users need Java 7 or a higher version.
Pricing
NoiseGator is open-source and completely free to use.
Audacity
Audacity is a versatile tool available for Windows and macOS. It can record and edit audio and apply effects like noise suppression for anyone who wants to edit and improve their audio files.
While the user interface may seem outdated and cumbersome to some, finding the essential editing tools in the main menu bar is effortless. On the website, you can find plenty of documentation and tutorials to get familiar with the software. To remove background noise from your recordings, select the audio section containing only the noise you want to remove and head to Effect> Noise Reduction to open the Noise Reduction effect dialog box.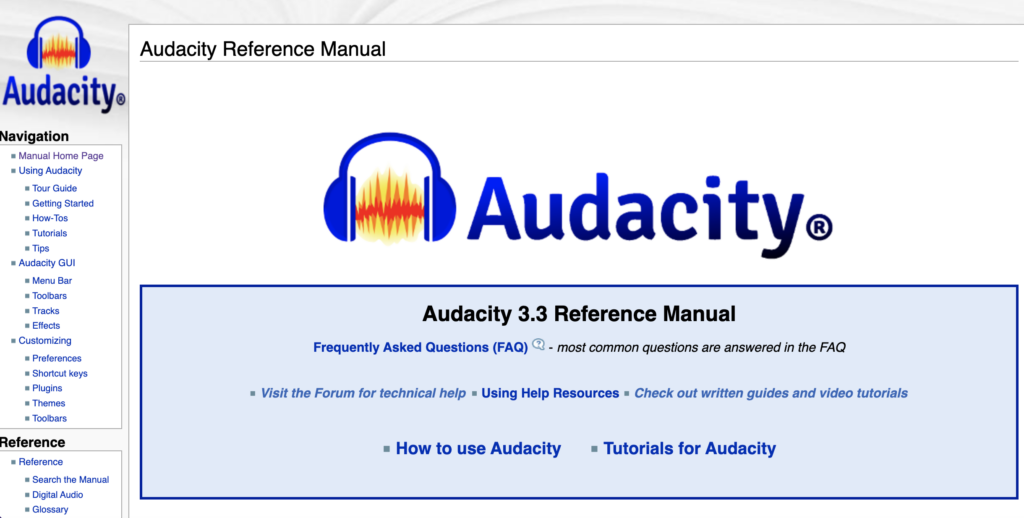 However, this tool has some drawbacks. Sometimes it may fail to start up or crash while using it. The Noise Reduction Effect can improve the quality of your audio, but it may not eliminate all background noise. The level of noise reduction depends on the type of noise and the quality of your recording.
Pricing
Audacity is a free software that requires no additional financial investment.
LALAL.AI Voice Cleaner
LALAL.AI, a top vocals and music source separation services company, has introduced a Voice Cleaner. This tool uses AI-powered noise cancellation technology to eliminate unwanted noise from audio or video files. It can improve call recordings, enhance vocal recordings, and remove background music. Its advanced algorithm can eliminate unwanted sounds and provide clear and crisp voice quality. The tool is accessible on both desktop and mobile devices.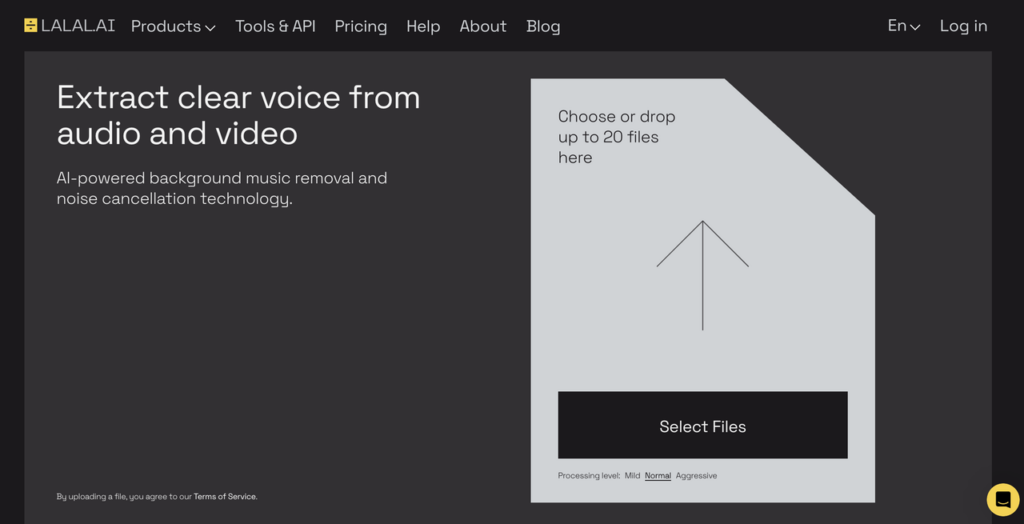 The LALAL.AI Voice Cleaner supports audio and video formats, including MP3, OGG, WAV, FLAC, AVI, MP4, MKV, AIFF, and AAC. Hence, converting files into different formats is unnecessary, as LALAL.AI's Voice Cleaner can do it all without any added complexity.
Pricing
LALAL.AI is suitable both for individual and professional use. It offers a free trial, after which you can upgrade to three different plans starting from a 15$ one-time fee.
IZOTOPE RX 10
This is a famous noise suppression software available that is known for its ability to eliminate unwanted sounds from audio recordings effectively. Users appreciate its ability to transform noisy recordings into clear and seamless ones. This software has a broad following, ranging from beginners to industry veterans.
IZOTOPE RX10 is an exceptional audio repair tool that offers a range of features to enhance your recordings. One of these features is Dialogue Contour, which allows you to refine spoken dialogue by improving intonation.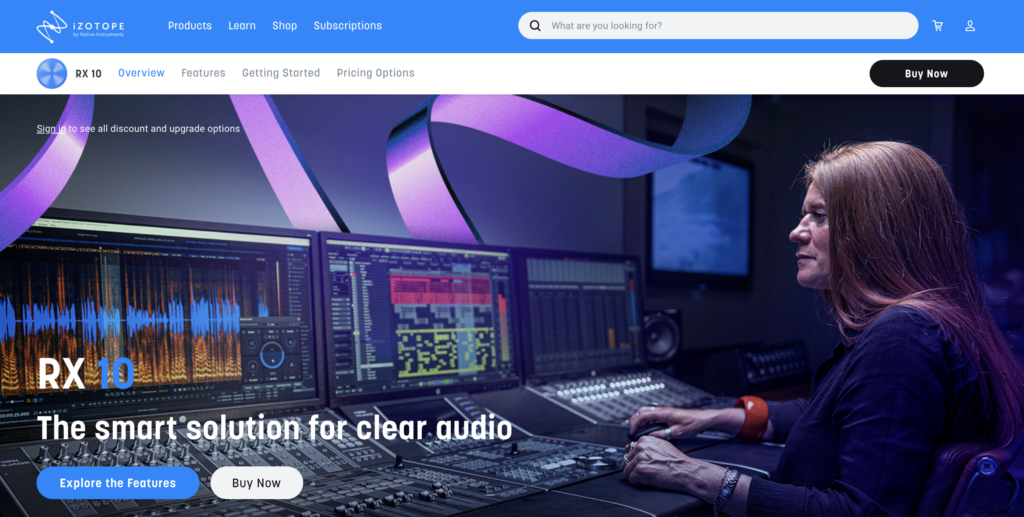 The Dialogue De-reverb uses a new machine learning-based algorithm to remove any reverberant signal content from the spoken dialogue. With Dialogue Isolate, you can eliminate background noise and allow your dialogue to be heard more clearly. The Breath Control module identifies and removes any unwanted noises caused by breaths picked up by the microphone during recording. The De-bleed feature ensures your audio entertainment stays within your headphones. These are just a few of the impressive capabilities of this software.
Available for Windows and Mac.
Pricing
Being a top-notch noise-reduction tool kit makes it pricier compared to other options. After a 10-day trial you can choose from three different packages starting from 129$.
OCENAUDIO
This is excellent noise-canceling software for a podcaster, spoken word artist, or anyone who creates audio content from home.
Ocenaudio is a user-friendly tool that allows for easy recording and editing. It stands out from other applications as it does not freeze or crash when handling large files. For instance, its advanced memory management module ensures that copying, cutting, saving, or pasting audio files only takes up a little of your system's memory. It's possible to update window type or size, dynamic range displays, and frequency bands in real-time. And if you need to make complex edits, the multi-selection functionality lets you edit multiple portions of audio files simultaneously.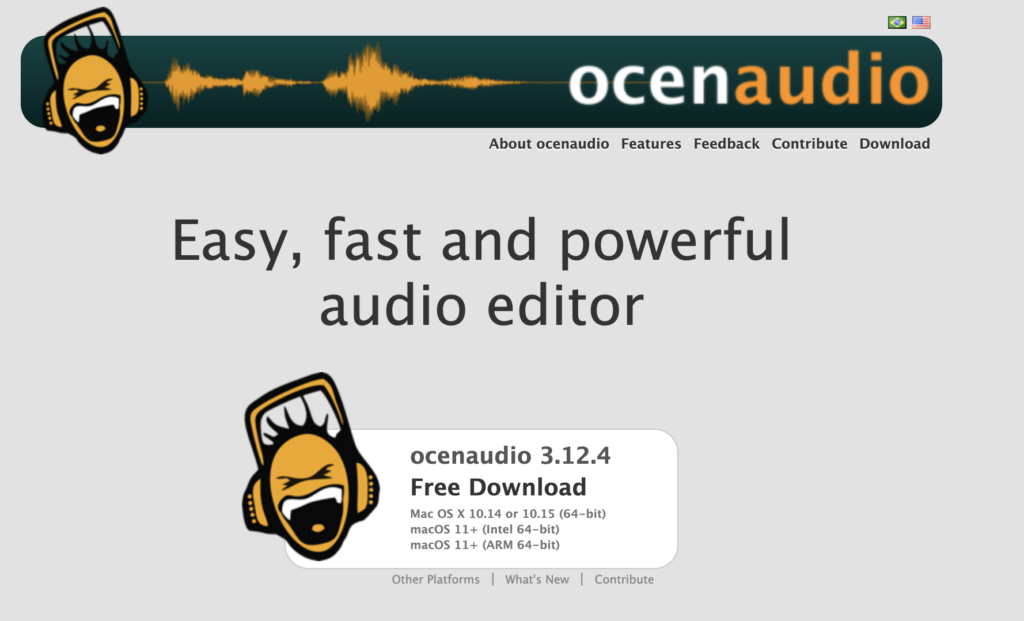 Its interface is intuitive, with a slight learning curve. All open files are conveniently listed on the left side of the screen, and their waveforms are easily accessible with a simple click.
One drawback is that it is not open source, meaning fewer people can modify the code to enhance its capabilities. Additionally, it does not support effect stacks at this time.
Pricing
OCENAUDIO is free and works on Mac, Linux, and Windows.
Noise blocker
Noise Blocker by Closed Loop Labs is a unique noise-canceling app for Windows that helps keep your audio clear during calls or streaming. This tool lets you pre-record the sounds you want to block off during upcoming calls or streaming. It works like a library that you create and use to keep your audio free from unwanted noise. You only need to record examples of the noise you want to block, and the application will do the rest.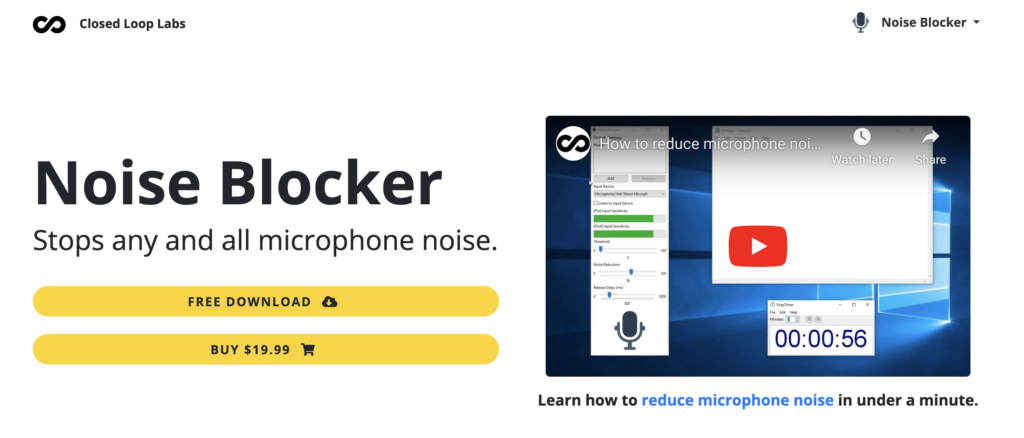 This app is perfect for conference calls, eliminating background noise without constantly muting and unmuting. It's also popular among gamers who want to silence the sounds of typing and clicking. However, it's important to note that it only removes noise on the user's end and doesn't eliminate any background noise while you're speaking.
Noise Blocker is compatible with all conferencing apps, including Skype, Slack, and Google Hangouts.
Pricing
Noise Blocker can be purchased for a one-time fee of $19.99. Alternatively, there is a free version of the software for up to one hour daily.
ACCUSONUS ERA BUNDLE
This excellent noise-reduction tool works efficiently on both Windows and Mac. It offers a variety of noise reduction plugins that allow you to surgically remove unwanted audio imperfections from your recording.
ACCUSONUS plug-ins can be used for any type of vocal recording, including those used in music production, as well as for podcasts, voiceovers, film and TV sound, radio production, and more.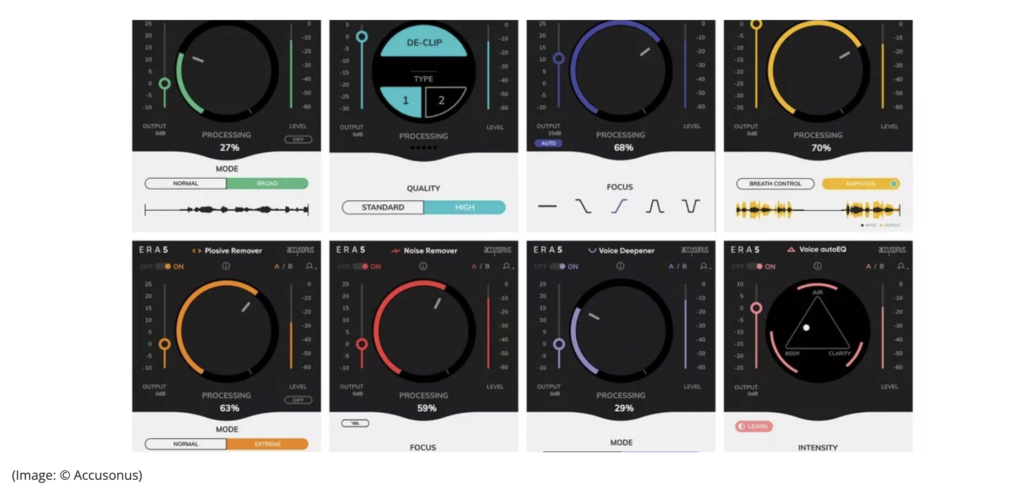 Some notable features include Noise Remover, a plugin that can quickly rid your audio of unwanted background noise from air conditioners, fans, refrigerators, and clocks. The Reverb Remover plugin restores clarity from the excess echo caused by room acoustics plagues. Inconsistencies in vocal recording due to speaker or microphone movement can be easily fixed with the Voice Leveler plugin's simple knob adjustment. It's possible to even effectively remove sibilant consonants from dialogues or audio recordings with the De-esser plugin.
Pricing
There are two bundles available for audio repair. The first bundle is lower-priced and contains the core "simpler" one-knob versions of the plugs for $9.99/month prepaid annually. The second bundle is the Pro bundle, which costs $24.99/month prepaid annually, $39/month with no commitment, or can be purchased outright for $999.
PinPoint by Bose Labs
PinPoint is a noise filter that eliminates background noise from both ends of a conference call. Bose continuously trains PinPoint to enhance advanced AI using deep neural networks. The app is compatible with any conferencing app and can be used with or without headphones.
Bose is renowned for their high-end noise suppression headphones, and they have developed a new tool that utilizes this exceptional noise-cancellation technology. If you're interested, you can test a demo version of the app. PinPoint is in a closed beta phase, but you can join the waitlist.
Pricing
As the app is still in beta, pricing details are unavailable.
Conclusion
Whether you're a content creator seeking crystal-clear audio recordings or simply someone looking to create a serene environment for work or relaxation, these software solutions are poised to revolutionize your auditory landscape. Beyond this list of popular noise suppression software, many tools are specifically designed for particular uses and all devices.
Generally, when using audio/video conferencing software, you might not need to set up a separate app for reducing noise. These services already have noise reduction features built-in for virtual meetings, such as Zoom and Microsoft Teams.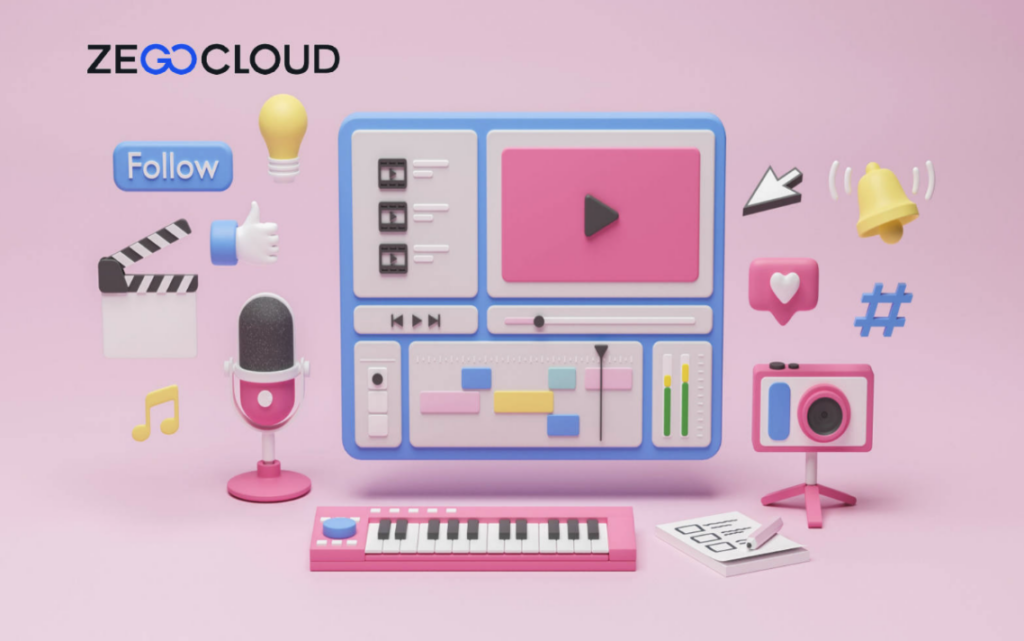 Integrating an AI-Noise suppression technology into software or app is an ideal solution for many businesses looking for an improved auditory experience. That's why they rely on ZEGOCLOUD, which utilizes both traditional ANS and AI-based ANS algorithms to effectively manage steady-state and transient noises in various real-time communication scenarios like voice and video calls, live-streaming, and online classrooms.
To learn more, visit zegocloud.com.
Talk to Expert
Learn more about our solutions and get your question answered.
Talk to us
Take your apps to the next level with our voice, video and chat APIs
10,000 minutes for free
4,000+ corporate clients
3 Billion daily call minutes