With advancements in technology, business workflows in this digital world are also innovating at a rapid pace. This is because the underlying systems are now backed with dedicated product management tools that help increase workflow efficiency. So, if you also want a recommendation of the best product management software, this article will illustrate 10 popular options to assist your needs.
Best 10 Product Management Tools
Project management tools are applications designed to help teams and individuals plan, organize, and execute projects efficiently. Apparently, the internet has several product manager tools available, making it challenging to choose the right option for your organization. Here you'll find the 10 best options to get started with: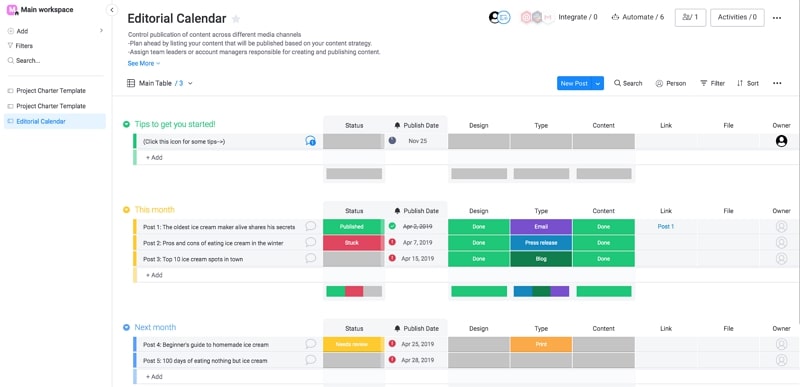 Streamline business workflows and enhance overall productivity through Monday.com. This product management software is a flexible platform where you can initiate your project, from devising strategies to launching to managing the entire project. Apparently, you design custom roadmaps and Gannt charts to preview the current workflows of existing projects.
The features backlog function enables managers to assign tasks, report statuses, and post updates within the project being in the pipeline. Meanwhile, through the roadmap facility, create Kanban boards to easily track working progress on current projects.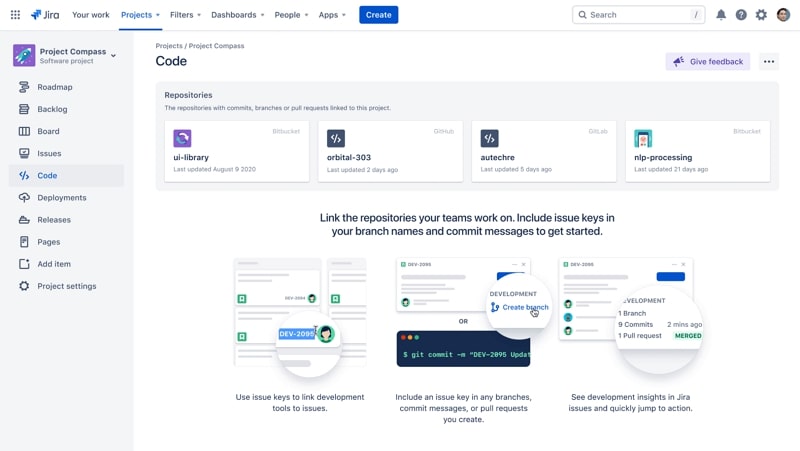 Jira is amongst the best product management software for all agile teams in the software development industry. Thus, if you're a project manager, you can plan, track, release, report, and automate entire business workflows from a single solution. With the kanban-styled boards, divide the projects into different stages and see who is working on which stage of the project.
Interestingly, the workflows are easily customizable, which allows mapping to any work style. You can also extend the capabilities of the Jira software by integrating 3000+ apps.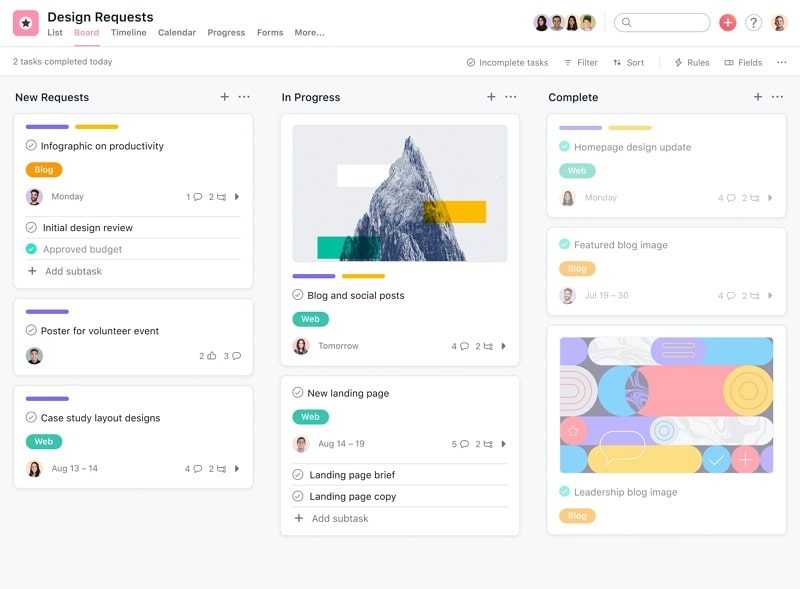 With Asana, keep your business workflow in check. After all, this product information management software allows you to see plans, check work progress, and ensure discussions in one place. So, you can use timelines to divide projects through dependencies and start dates. In addition, create interactive forms to start projects at a quick pace.
In general, you can get real-time insights and project updates within minutes through the available dashboards. Moreover, there exist about 50+ templates that you can use to fine-tune your overall project workflows.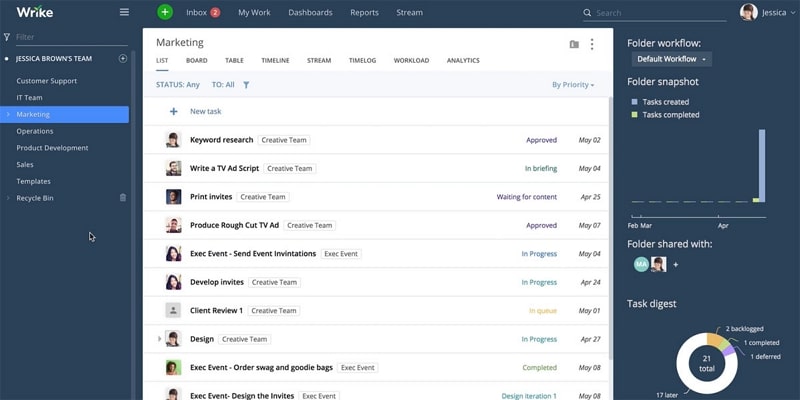 Take in-house project management to the next level by using Wrike product information management software. In general, there's the availability of intuitive Gantt charts and Kanban boards that allows managers to track the project insights from start to end. Meanwhile, dashboards allow for a clear and thorough analysis of assigned tasks.
The real-time commenting option allows for collaboration within the teams, and the presence of a mobile app makes communication easier. With 400+ app integrations, make your work environment more functional.

Streamline your complex remote workflows by using Trello product data management software. This is basically a productivity-enhancing tool that features a unique Kanban board-style theme. Ideally, these boards keep the tasks organized. The boards are subdivided into lists and cards, ensuring transparency of who works on which project.
Additionally, Trello allows you to power up your teams by plugging and integrating their favorite tools from the Trello plugins. The solutions exist for all categories, including project management, meetings, onboarding, task management, brainstorming, and resource hub.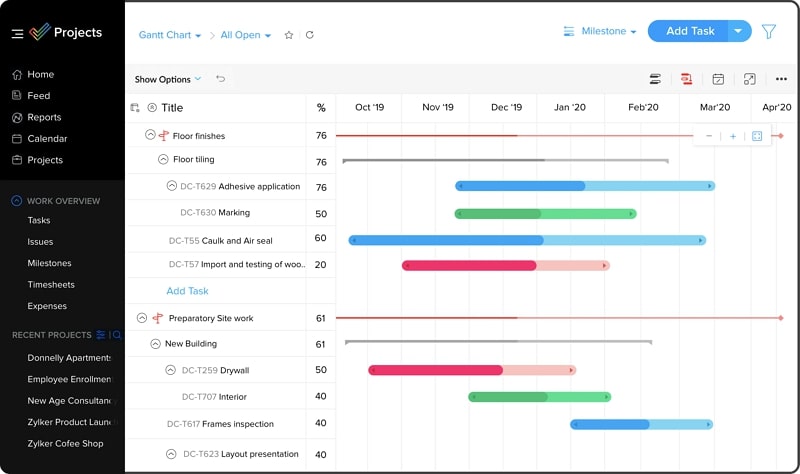 Zoho is amongst the best online product management software that enables businesses and organizations to optimize their workflows. Apparently, this platform comes with feature apps, including CRM, Mail, Books, Desk, People, SalesIQ, Forms, Thrive, and more. Moreover, solutions exist for all industries, sales, marketing, customer support, legal, IT, etc.
In an ideal scenario, using Zoho is extremely simple and convenient for all members of an organization. Ultimately, the collaboration standards remain optimal and steadfast.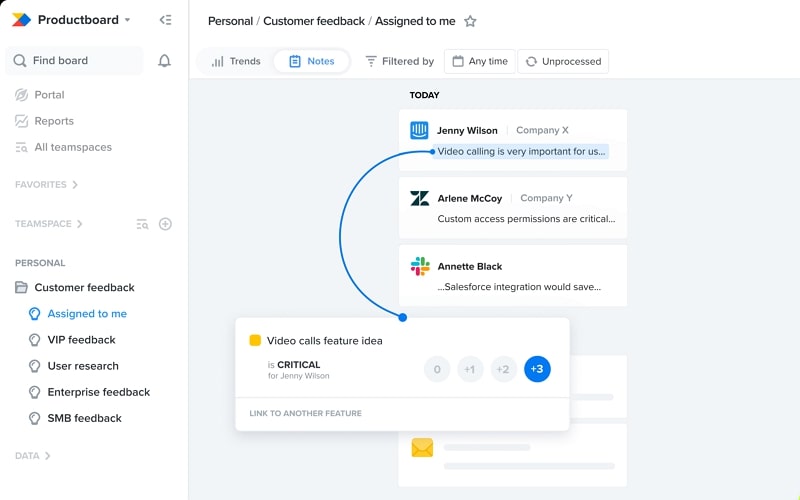 Unite your entire team under a single platform and increase collaboration in a result-oriented way with Productboard. This product information management software is rated amongst the top product management tools that help increase productivity with better output. The availability of product roadmap within customizable templates can help devise project plans and allow progress tracking.
Generally, you can also integrate development tools into your project workflows that keep everything connected. The entire data remains in sync, which keeps everything transparent in front of managers. Thus, it will save them essential time.
ClickUp is your trusted solution to enhance collaboration and productivity within businesses. After all, this platform brings everything to one place with the availability of tasks, whiteboards, dashboards, chat, goals, and docs. In fact, you can also plan, track, and manage your projects with the presence of Kanban boards, lists, and boxes.
Meanwhile, ClickUp also enhances collaboration within the team through real-time chat support. Moreover, as a manager, this product manager tool offers 20+ real-time views that you can adapt according to your needs.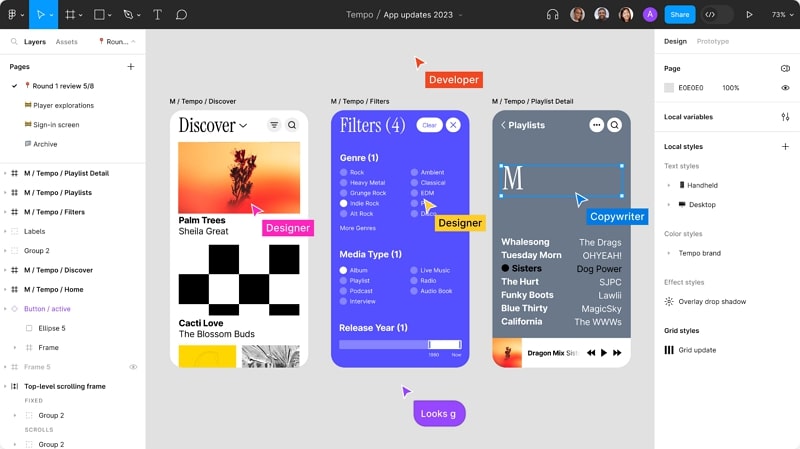 Make your in-house designing processes more structured, standardized, and optimal by using Figma, a trusted option within visual product manager tools. In general, Figma allows team collaboration on artwork relating to UI/UX prototypes. The entire collaboration is in a real-time scenario; thus, both the design and developer teams remain on the same page.
Moreover, the created prototypes allow the quick iteration of states and flows. Ideally, dev mode also helps bring clarity into designs and provides developers with the tools to translate designs into code.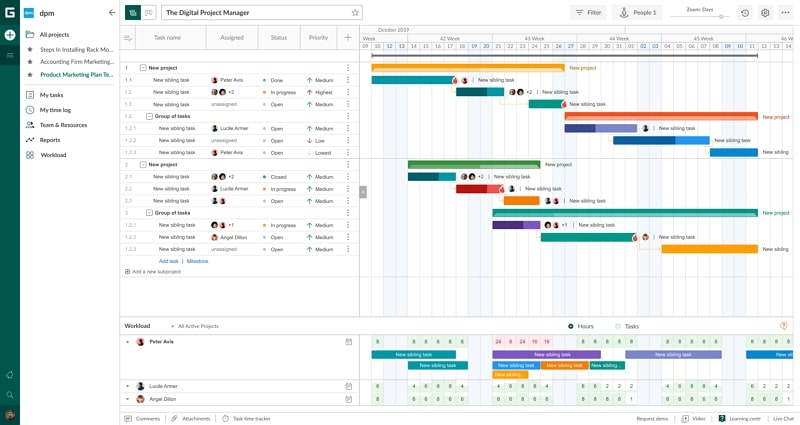 With GanttPro, leverage the power of Gantt charts to systemize complex workflows in your organization. After all, this product information management software allows you to manage your teams and keep track of the projects in the form of Gantt charts. Apparently, you can assign roles and tasks, track progress, and add attachments and comments in a single click.
Budget tracking is also an option to track cost per hour for a specific resource or task management. In other possibilities, GanttPro offers notifications, task relations, time logs, exports, and board view.
How to Make Product Management Software More Collaborative
Project management software is a collaboration tool that enhances productivity, streamlines workflows, and optimizes work efficiency. Therefore, it's an essential tool for use cases in various industries. Meanwhile, if you have product management software and want to make it more interactive and collaborative, ZEGOCLOUD can help you.
After all, ZEGOCLOUD offers a real-time communication (RTC) service, which can make a product management app more collaborative. Generally, ZEGOCLOUD allows integrating APIs for video calls, audio calls, in-app chat, live streaming, dashboard analytics, recordings, chat rooms, whiteboards, etc. The APIs get featured in 20+ built-in UIKits and 50+ components, allowing complete customization and maximum flexibility.
Meanwhile, communication is supported by group chats, conferences, file sharing, screen sharing, call monitoring, virtual background, AI avatars, and more. Ideally, ZEGOCLOUD comes with cross-platform support, allowing multiple programming frameworks, including iOS, Android, Java, Flutter, React Native, and more.
Conclusion
Project management has a lot of importance when dealing with, managing, and overviewing projects within an organization. Thus, project managers have to face many difficulties managing entire teams and staff.
Not until there exists a product information management software integrated within the workflows. Therefore, you discovered 10 popular product manager tools in this article, alongside ZEGOCLOUD API/SDK, that make product management applications more collaborative.
Read more:
Talk to Expert
Learn more about our solutions and get your question answered.
Talk to us
Take your apps to the next level with our voice, video and chat APIs
10,000 minutes for free
4,000+ corporate clients
3 Billion daily call minutes