Software development is the backbone of all the major digital services we use today. Henceforth, assisting software developers in their development tasks is essential for businesses and the community. Meanwhile, a developer blog exists to help developers build mobile and web applications. This article discusses the 10 best blogs to get started with software development.
Top 10 Worthy-reading Developer Blogs to Read
As a developer, when you search the internet for a good developer tech blog, you'll find a range of blog options in your desired category within different authors. Subsequently, it may become difficult for you to read the right option without wasting time. In contrast, you'll find 10 best practices in website development blog shared here: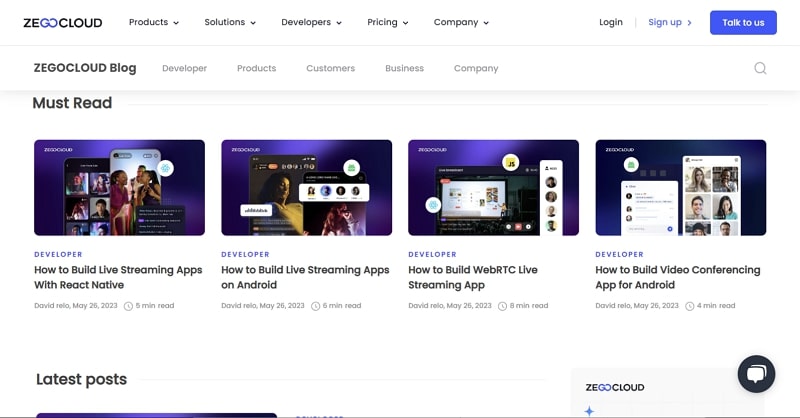 Acting as an excellent assistance for all developers around the globe, ZEGOCLOUD offers the best developer blogs with respect to creating applications from API/SDKs. Thus, by reading blog content, developers can learn to build different applications without requiring coding techniques whilst utilizing advanced technologies.
Moreover, the average reading time for all the blogs ranges from 4 to 6 minutes. Subsequently, all the blogs come with detailed content giving clear insights into the topic. With available infographics within the content, it becomes easier for the readers to absorb the content. Furthermore, the provided code snippets make integrating and building applications easier for developers.
Interested Topics Discussed in ZEGOCLOUD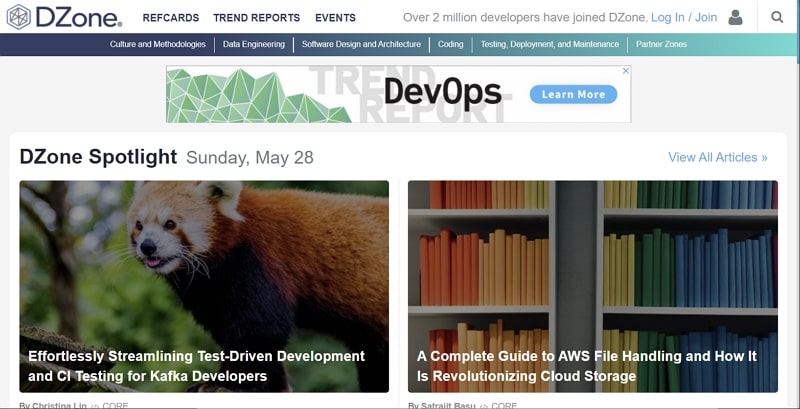 If you're looking for solutions to pursue software development tasks or want to learn development techniques, the DZone developer blog is ideal for your reading list. With the latest technology trends and valuable insights on software development, DZone covers a broad spectrum of technology's best practices. Apparently, the CEO Rick Ross founded Javalobby in 1997, which evolved into DZone in 2005.
Meanwhile, almost 15 to 20 blogs get posted on a daily basis. Besides, if you're a tech enthusiast who loves reading and learning about technology, this blog is the perfect assistance. Moreover, all the blogs get posted in proper sequence, making it easier for readers to navigate categories.
Interested Topics Discussed in DZone
Culture and Methodologies
Data Engineering
Software Design and Architecture
Coding
Testing, Deployment, and Maintenance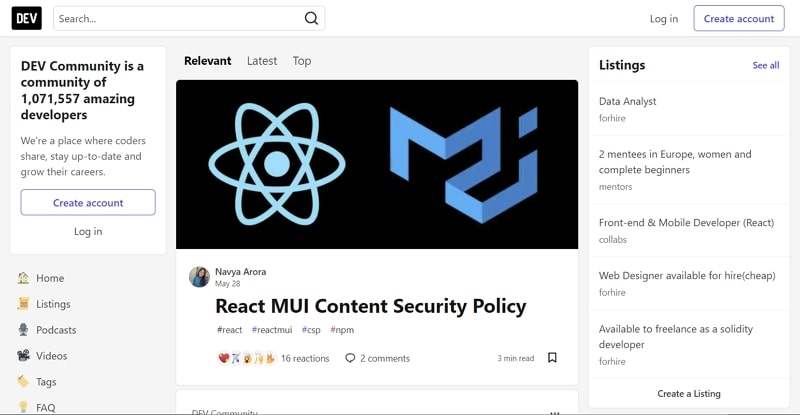 Similar to its name, DEV Community is a personal development blog where developers around the world exist. The fact is that the software industry thrives in collaboration and collective learning. Thus, you'll find blogs in different niches of software development practices and coding techniques that come within different programming frameworks.
In fact, this blogging platform is being managed by Ben Halpern (Co-CEO), Jess Lee (COO), and Peter Frank (Co-CEO), who are software developers themselves. Moreover, the website is very active, and the posted blogs are like software documentation with relevant source code screenshots.
Interested Topics Discussed in DEV Community
JavaScript
DevOps
Python
AWS
Android
Testing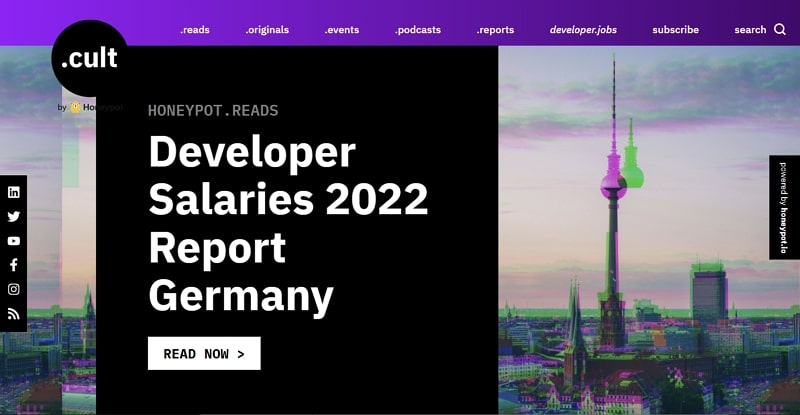 To pursue software development as a professional career, you need good guidance with proper knowledge. Generally, Honeypot possesses software development blogs that help enhance your learning capabilities with necessary tech insights. Hence, if you're a new user, you'll get valuable insights on pursuing development in a suitable programming framework as a beginner.
Furthermore, the availability of detailed articles provides valuable knowledge of the latest technological trends. The website is fully intuitive with extensive user experience. Secondly, all the posted blogs require a minimum of 5 to 10 minutes to read.
Interested Topics Discussed in Honeypot
Coding
Programming
Tech Industry
Learn Programming
Creative Coding
Plutora is a dev specialist blogging website that aims to deliver the right knowledge while delivering the software. Hence, this includes gaining tips, techniques, and trends within the software project management and lifecycle. Moreover, the posted blogs are relevant to the software industry, with news on the latest developments.
After all, this web development blog website was founded by IT executives Sean Hamawi and Dalibor. The blogs are posted properly with clear titles and relevant pictures. Moreover, the blogs get posted twice to thrice times a week. In general, the average reading time of the blogs is about 5 minutes.
Interested Topics Discussed in Plutora
Agile Release Management
IT Governance
Business Intelligence
Test Management
Digital Transformation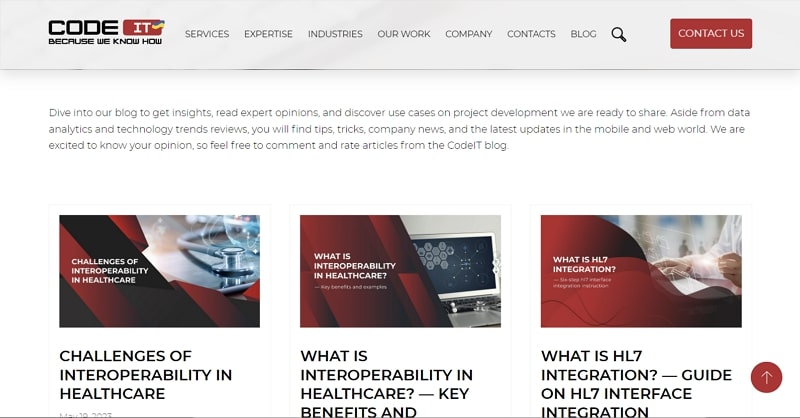 Development becomes easier by following CodeIT software development blogs. After all, this blogging platform basically focuses on mobile and web development niches. The blogs are posted systematically while providing a complete overview of the topic with content navigations. Moreover, reading and absorbing content becomes simplified with the available images in the text.
Ideally, every posted blog has availability of FAQs at the end. This provides the reader with more insights into the topic and trends. Moreover, the website is fully active because every new blog is posted with a 4 to 6 days gap.
Interested Topics Discussed in CodeIT
Web Development
Mobile App Development
Machine Learning
Data Analytics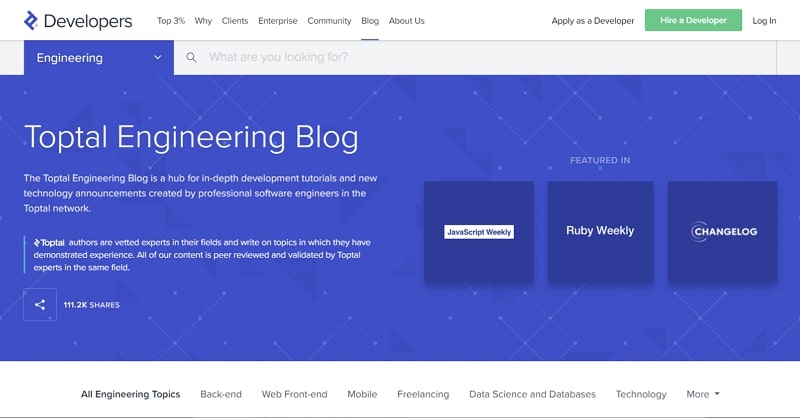 For all technology enthusiasts, Toptal is an ideal developer blog website. Meanwhile, the posted blogs contain information about software development practices, programming frameworks, APIs, and more. The CEO of this best practices in website development blog, Taso Du Val, manages the core team of employees, which also contains developers.
Moreover, the best thing is that the blogs exist within categories, which makes it easier for the readers to read specific niche tech articles. In contrast, the blogs are written well-detailed with useful infographics. Overall, the average reading time is 4 to 7 minutes.
Interested Topics Discussed in Toptal
Back-end
Web Front-end
Mobile
Data Science and Databases
Technology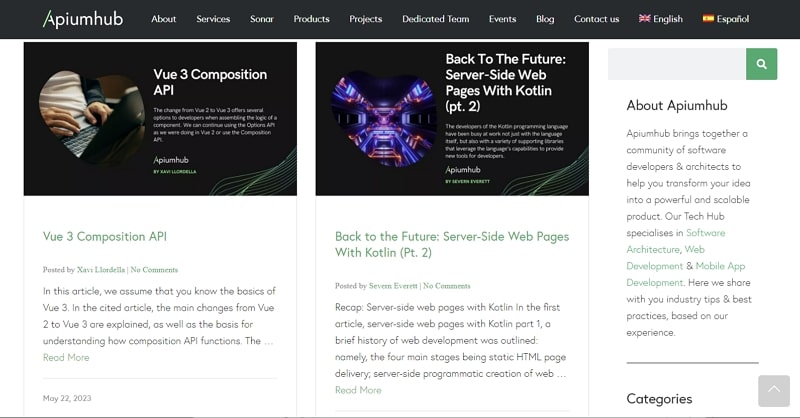 If you're a software developer, a tech enthusiast, or a beginner looking to indulge in development practices, the Apiumhub tech blog website offers complete solutions with the available blogs. Apparently, the posted blogs fall into mobile and web development areas alongside providing software architecture practices. The posted blogs are not only detailed with clear topic overviews, but they also offer images and code snippets.
All the blogs get posted in a good layout, giving clear insight into the topic, image, and the author's name. The blogs end with the proper conclusion to give the reader a precise overview of the overall blog content. Moreover, around 5 or 6 blogs are posted weekly.
Interested Topics Discussed in Apiumhub
Agile Web and App Development
Data Science
DevOps
QA
User Experience Design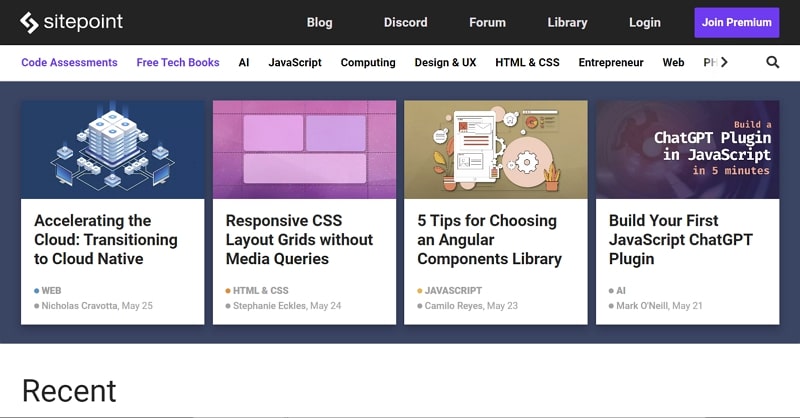 SitePoint is a well-known website containing best practices in website development blogs. The posted blogs fall into various content topics while giving readers a detailed overview of current events happening in the software and technological ecosystem. Meanwhile, as a tech lover, you'll always enjoy reading their blogs that have detailed, well-explained content alongside necessary infographics.
Furthermore, 5 articles get posted weekly, which means the website is active when it comes to posting content. With the categories, navigating and reading your desired blog content is possible.
Interested Topics Discussed in SitePoint
AI
JavaScript
HTML & CSS
Web
Programming
Python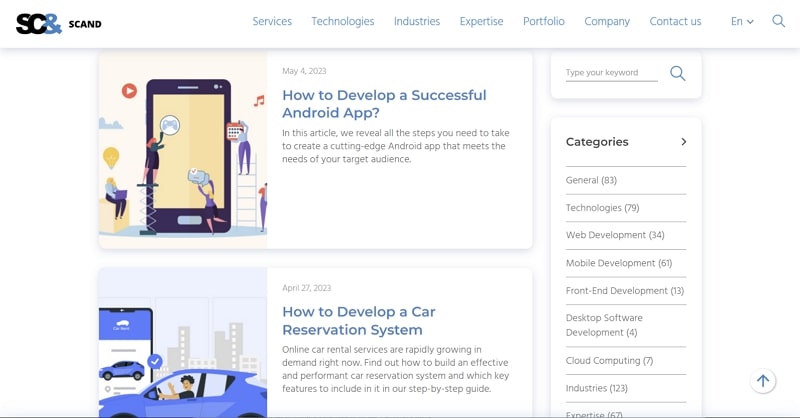 Reading tech blogs is a great way to stay updated with all the technological and software advancements. Similarly, SCAND comes with all the blogging content that you need to enhance your software tech knowledge. Multiple blogs are in different tech niches, and the content possesses detailed information to give the reader a thorough insight.
In addition, web development blogs have helpful infographics that will make the reader quickly understand the content. The availability of blogs is in different categories; thus, search your desired article list through keyword search.
Interested Topics Discussed in the SCAND
Web Development
Technologies
Cloud Computing
DevOps
Front-End Development
Conclusion
To sum up, the internet has several software development blogs that can assist developers and tech enthusiasts in enhancing their knowledge and learning capabilities. Meanwhile, finding the right blogging website is undoubtedly a difficult task. This article provided a list of websites containing Android developer blogs, web development blogs, personal development blogs, and more.
Talk to Expert
Learn more about our solutions and get your question answered.
Talk to us
Take your apps to the next level with our voice, video and chat APIs
10,000 minutes for free
4,000+ corporate clients
3 Billion daily call minutes