Nowadays, ChatGPT is extremely popular and is being used across the globe for almost everything. The ChatGPT examples show that people are using it for a wide range of topics. Subsequently, these topics range from asking simple questions to writing complex programming codes. If you are also hooked on ChatGPT, find out the best ChatGPT examples by reading this article.
10 Best Examples of ChatGPT to Look at
Searching for ChatGPT examples on the internet will reveal numerous questions and queries people have asked from the platform. While this AI-powered chatbot is popular with students, writers, and coders, it is being used in all fields. To begin with, below are 10 best ChatGPT examples that are clear indicators of ChatGPT's excellence:
1. ChatGPT as A Coder
If you heard the talk in the street about ChatGPT replacing the programmers, it is not without its merit. ChatGPT has shown its remarkable programming capabilities on many occasions. Recently a report claimed that ChatGPT passed an interview for a coding job worth $180K annually. Moreover, below is a ChatGPT code example of asking it to write a code for identifying even, odd, and prime numbers:
Question: "Write a python program that determines a numerical input to be either an even, odd, or prime number."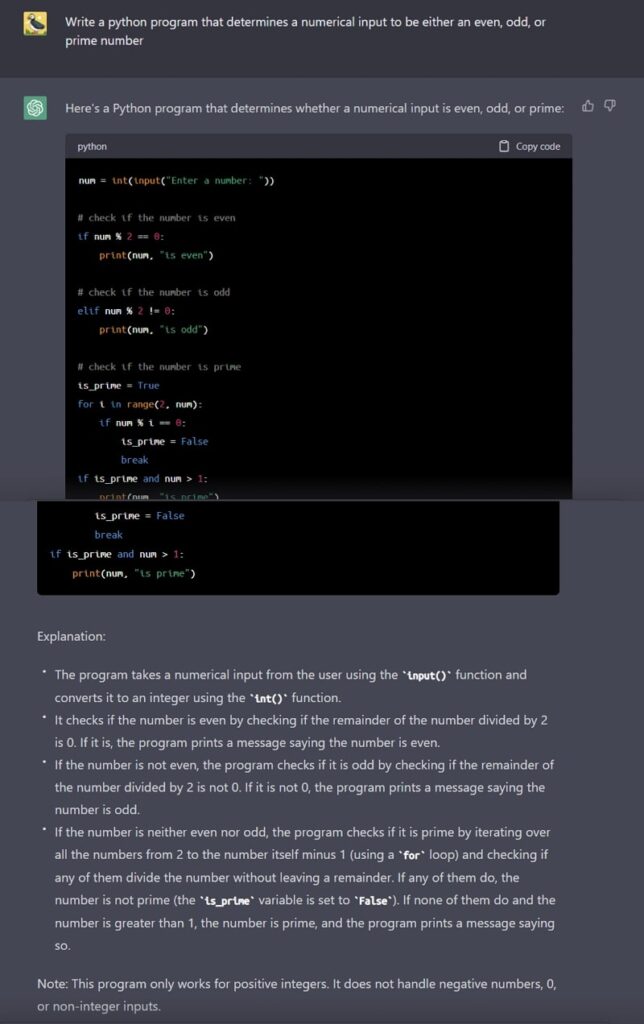 2. ChatGPT as A Chef
Do you love cooking? If yes, you no longer need to look for food websites to find your favorite recipe. ChatGPT will explain any recipe you need in detail. Moreover, it is also possible to tell it the ingredients you have and ask it to suggest a suitable dish for you. Following is an example of asking ChatGPT to teach you how to make the same Ratatouille as made in the movie "Ratatouille:"
Question: "How to make Ratatouille as good as made by Remy in the movie Ratatouille."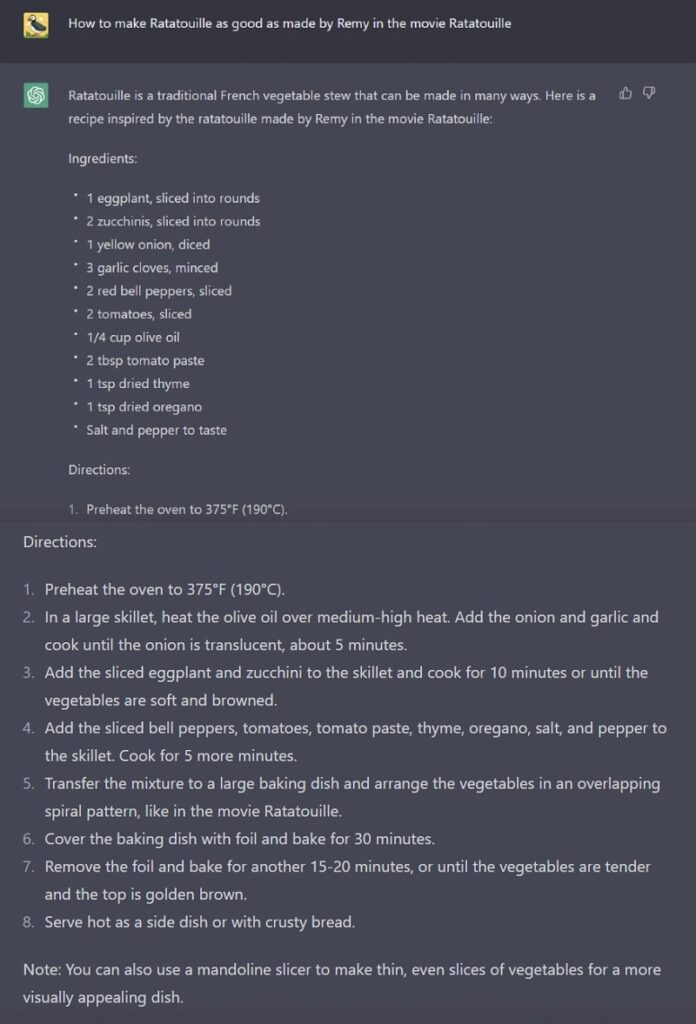 3. ChatGPT as A Comedian
While claiming not to have a sense of humor due to being a language model, ChatGPT can still write many good one-liner jokes. Subsequently, you can use these jokes in professional settings to lighten up the situation. However, remember, it can't respond to inappropriate requests, so you won't hear any adult or double-meaning jokes from it. A ChatGPT funny example is given below for reference:
Question: "Tell me the funniest jokes you know."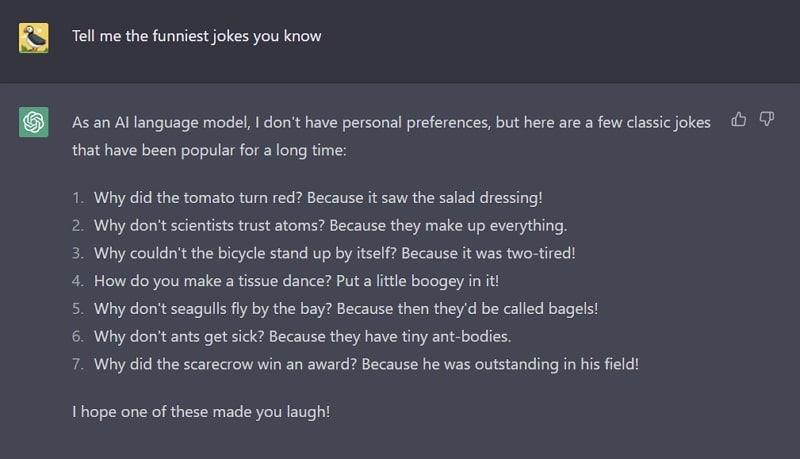 4. ChatGPT on Twitter
Twitter is among the widely used platforms and has recently been the second most popular hot topic after ChatGPT. The reason for it is the acquisition of Twitter by the world's currently richest man, Elon Musk. Furthermore, due to being a hot topic, many queries on ChatGPT were unsurprisingly connected to Twitter. Here is a ChatGPT Twitter example where a program is enquiring about a job interview on Twitter:
Question: "Elon Musk has recently fired a lot of employees from Twitter. I am a programmer looking for a job. If there is a form post of a senior data engineer on Twitter and I want to apply, what kind of coding contribution can they expect me?"
5. ChatGPT as A Poet
You might not have thought it that way, but being a language mode, ChatGPT is quite proficient in the field of poetry. Many people like the poetry ChatGPT has written for them in a few moments. So, if you are thinking of impressing someone through the use of poetry, ChatGPT is all yours to use. Subsequently, to give you a taste of ChatGPT's poetry progress, here is a small poem about the sunset in the Arctic:
Question: "Write a two-stanza poem about sunset in the Arctic."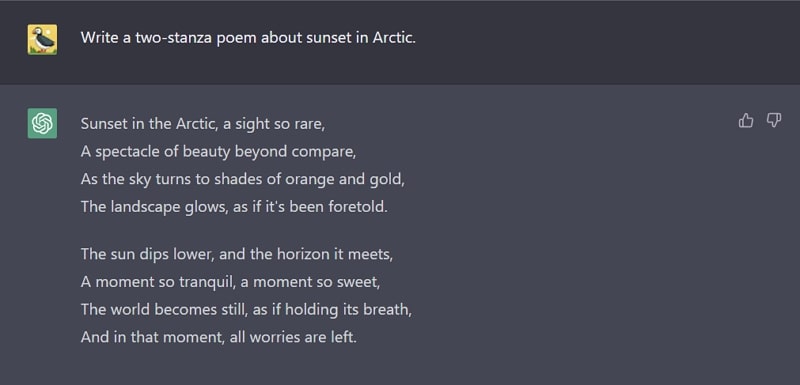 6. ChatGPT as A Storyteller
Want to read the stories you heard or read in your childhood? ChatGPT is a treasure trove of all such stories. All you have to do is ask; it will tell you your desired story. People have found it to be a soothing and relaxing experience. Check out this ChatGPT example of a reader asking for the famous Ali Baba and Forty Thieves story:
Question: "Tell me the story of Ali baba and 40 thieves."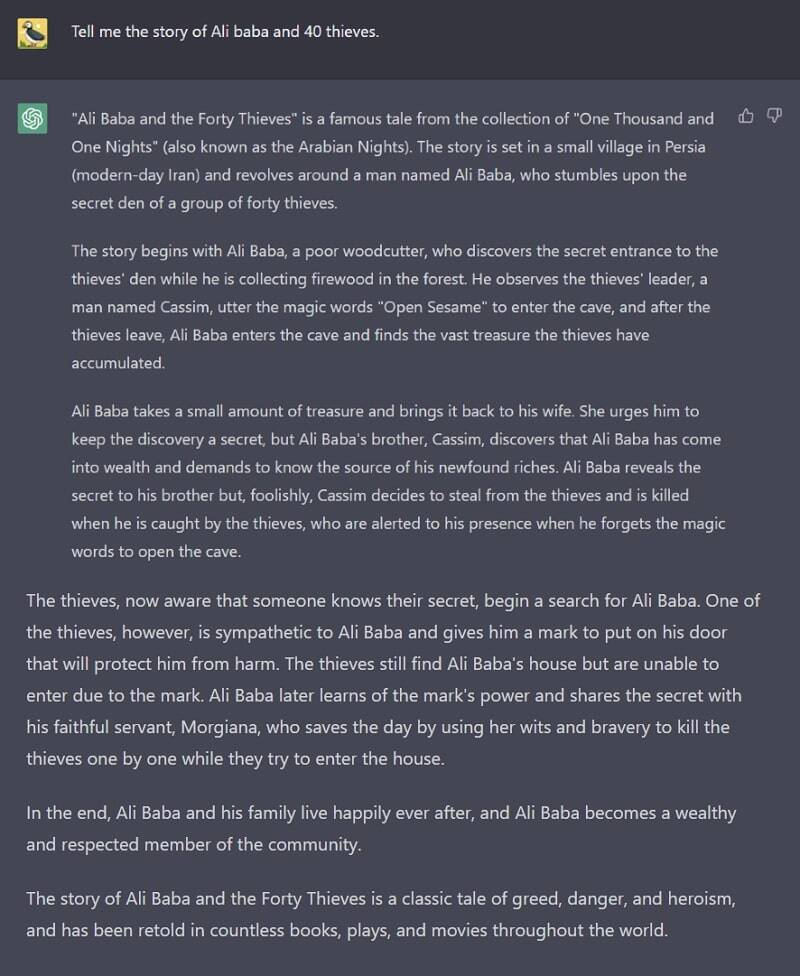 7. ChatGPT Helping Students
Nowadays, students get the most help from the internet regarding their course material, assignments, exams, etc. Before, they had to search the internet for the desired information; now, they can ask ChatGPT. While ChatGPT is not a replacement for the detailed self-research, it does make the process easier. Here is a literature student asking a question about a play:
Question: "Write a 100 words summary about the symbolism used in the 1931 play Mourning Becomes Electra by Eugene O'Neill."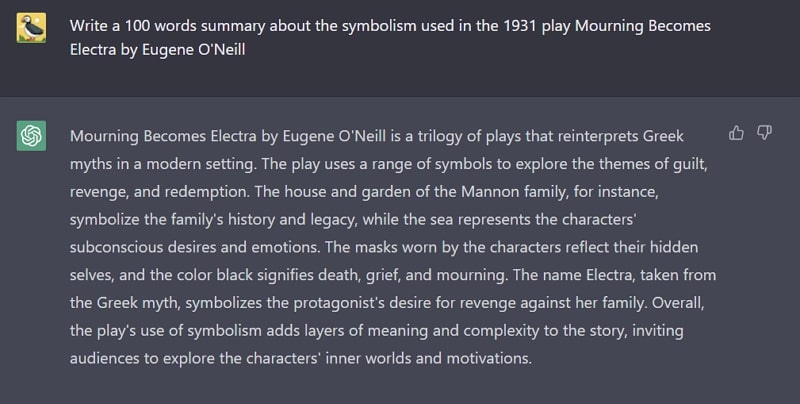 8. ChatGPT on Reddit
Reddit is a platform people use to ask and share different questions and views regarding everything in the world. As expected, ChatGPT fever also took over Reddit in its grip. The users on Reddit extensively tested the new chatbot with numerous questions and scenarios. Below is a ChatGPT Reddit example of users playing the Rock, Paper, and Scissors game with the AI bot.
Question: "Let's play rock paper scissors."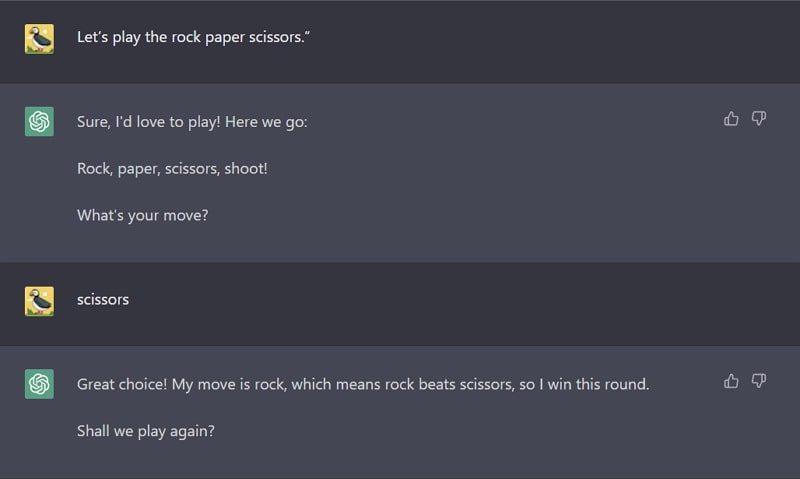 9. ChatGPT as An Emergency Therapist
Perhaps the best ChatGPT examples you will see on the internet are about ChatGPT trying to cheer up people feeling down. While it does not answer questions that might be insensitive, it can still help a bit in cheering up users. Although it usually provides general responses, that can still be enough in this fast world. You can see the ChatGPT attempt to cheer up a depressed user below:
Question: "I suffer from MDD, and I am currently in a seriously low mood right now. Can you cheer me up?"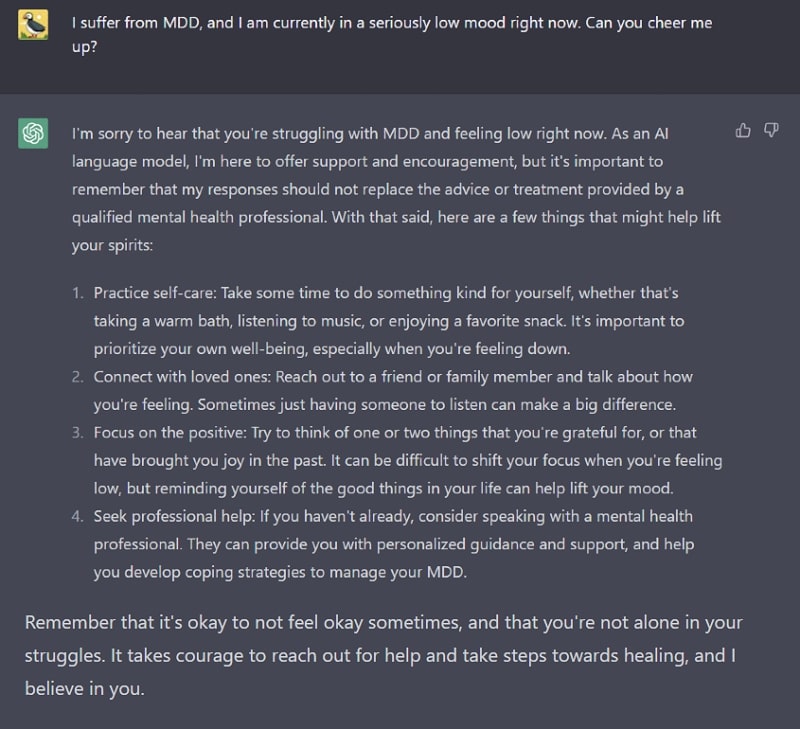 10. ChatGPT being A Fun Bot
Using ChatGPT is not restricted to asking serious questions or always looking for accurate knowledge. It can also be a fun bot to chat with. You can argue with it on different topics, ask it about fun scenarios, play games, etc. For example, the following is an example of a user asking ChatGPT to read the thirsty crow story as Jar Jar Binks from Star Wars:
Question: "Can you read me the thirsty crow story as Jar Jar Binks from Star Wars."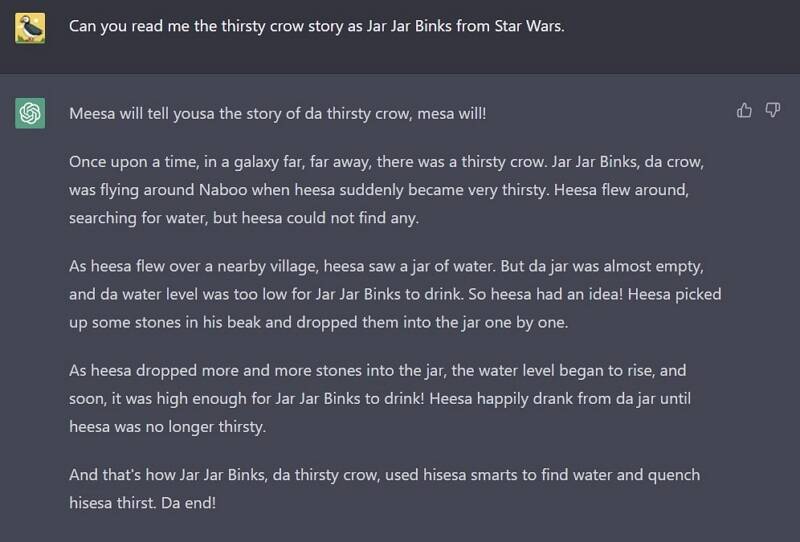 Why ZEGOCLOUD Chat API to Add Chat Feature for Apps
These ChatGPT examples have shown how powerful a simple chatting feature could get. While video and voice calls are getting popular, there is still nothing as good as interactive text chat. ZEGOCLOUD In-app Chat API allows you to add powerful chatting features to your existing apps. Furthermore, it allows you to create a world-class chatting app at an affordable cost.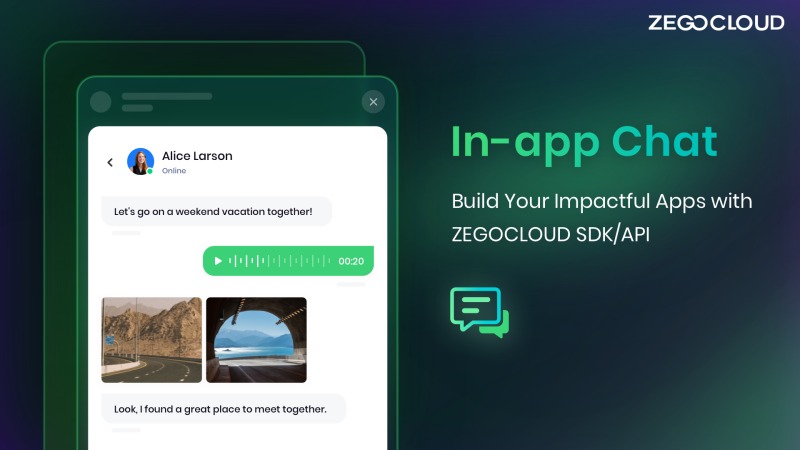 This chat API enables your chatting apps to become highly reliable with a 99.99% success rate while simultaneously delivering hundreds of millions of messages. The ultra-low latency offered by ZEGOCLOUD chat API helps it achieve this milestone. Subsequently, you can use this API to add chatting features in numerous apps like social media, telehealth, gaming, team chat, live-streaming, and much more.
Features of ZEGOCLOUD Chat API
ZEGOCLOUD In-app Chat API offers many more exciting and amazing features. Explained below are some of the key features offered by the best chat API:
Adding chatting capabilities through ZEGOCLOUD In-app Chat API can help expand your business if you are a business owner or vendor. It will allow you to stay in touch with your customers through chat in real time. The real-time interaction technology in its chat API will always satisfy your customers.
MMO games are the most played games around the world, and one thing that is highly important in such games is their chatting features. Through the chat, users can communicate and cooperate with each other while gaming. ZEGOCLOUD In-app Chat API allows you to add powerful gaming chat features like one-on-one chats, public channels, group chats, message reactions, etc.
With ZEGOCLOUD In-app Chat API, you can build a chatting app for all major platforms. Whether you want to build an app for desktops, laptops, tablets, or smartphones, it got you covered. Overall, it supports over 15000 devices to provide an optimized chatting experience. The in-app chat API is also fully compatible with other ZEGOCLOUD APIs for video, audio, and live streaming.
Users on a chatting platform built using ZEGOCLOUD In-app Chat API will have many options to customize and manage their profiles. They can customize their username, statuses, avatars, privacy settings, and many other things. If they want to add someone to a private group chat, they can create and share a group invite link.
Conclusion
In summary, it can be safely said that ChatGPT has revolutionized chatting capabilities in general and chatbots in particular. Following the ChatGPT example, Microsoft and Google also intend to release their AI chatbots. It means chatting platforms will be the main focus in the market for a while. Moreover, if you also want to create a chatting application, ZEGOCLOUD In-app Chat API will be the best choice due to its impressive features.
Read more:
Talk to Expert
Learn more about our solutions and get your question answered.
Talk to us
Take your apps to the next level with our voice, video and chat APIs
10,000 minutes for free
4,000+ corporate clients
3 Billion daily call minutes