ChatGPT is an AI-powered language model chatbot developed and released by OpenAI on November 30, 2022. The model develops on GPT-3.5 and can have long conversations with humans on a broad range of topics. You have to log in to use its services. If your meet ChatGPT login not working issue, just read the article to resolve it.
Possible Reasons Why ChatGPT Can't log in
Since you need a browser and the internet to use ChatGPT, multiple reasons can lead to ChatGPT not logging in. These reasons range from unstable internet to server issues and conflicts in your browser's settings. To help you identify why your ChatGPT can't log in, summarized below are a few of the most likely reasons:
ChatGPT Server Issues: Ever since its release, it has been widely used. It has led to numerous server crashes since its release. While ChatGPT is continuously scaling, it is still not enough.
Unstable Network: ChatGPT requires a strong and stable internet connection to work properly. If your internet is slow or unstable, it could lead to the failure of your ChatGPT login attempts. It can also happen if your network provider has blocked ChatGPT for some reason.
Security Settings: The security settings of your browser and device can also cause the ChatGPT login error. The ChatGPT website can block your access if it finds your IP address suspicious. Similarly, the place you work or study can also block you from accessing ChatGPT on their premise.
Wrong Login Credentials: If you are not able to log into ChatGPT, it can be due to wrong login credentials. You might be entering the incorrect password or email ID.
How to Fix ChatGPT Login Error in 10 Ways
Most of the issues that lead to ChatGPT login not working errors are easily resolve-able. There are many solutions to this problem, and the majority can be performed even if you are a basic-level computer user. We have explained the 10 most comprehensive solutions below, which will resolve most of the issues behind ChatGPT not logging in:
1. Check ChatGPT Server Status
As discussed before, ChatGPT has a very heavy user load, and its server crashes a lot. It also requires frequent maintenance to correct its database as an evolving language model. That's why if you can't log in to ChatGPT, you should check its server status first to check whether it is working.
There is no need to worry if you don't know how to check a website's server status, as OpenAI provides a dedicated link. Follow the process given below to check the ChatGPT server status:
Instruction: Open the web browser on your computer and go to "https://status.openai.com/" to check if the ChatGPT server is down.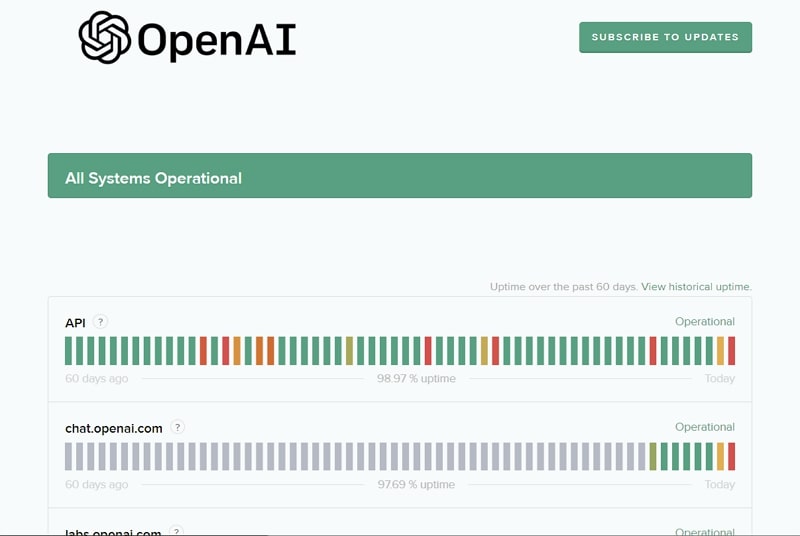 2. Open ChatGPT in Incognito Mode
Using the Incognito mode on your computer's web browser can also help you in ChatGPT can't log in. The Incognito mode in a browser allows you to traverse the internet without leaving any traces behind. Since passwords and other login credentials aren't saved in Incognito mode, it can help you log into ChatGPT. Use the following steps to use Incognito mode on your computer's browser.
Step 1: Launch the web browser, for example, Google Chrome, on your computer and click the "Three Dots" icon from the right corner. Next, select the option of "New Incognito Window" to open Incognito Mode.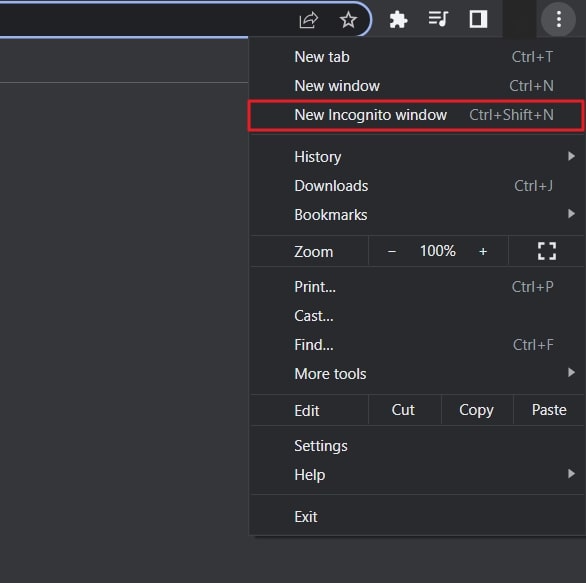 Step 2: You can also use "Ctrl + Shift + N" on Windows or "Command + Shift + N" on Mac to launch Incognito mode in Google Chrome. Once there, visit the ChatGPT site, and log in.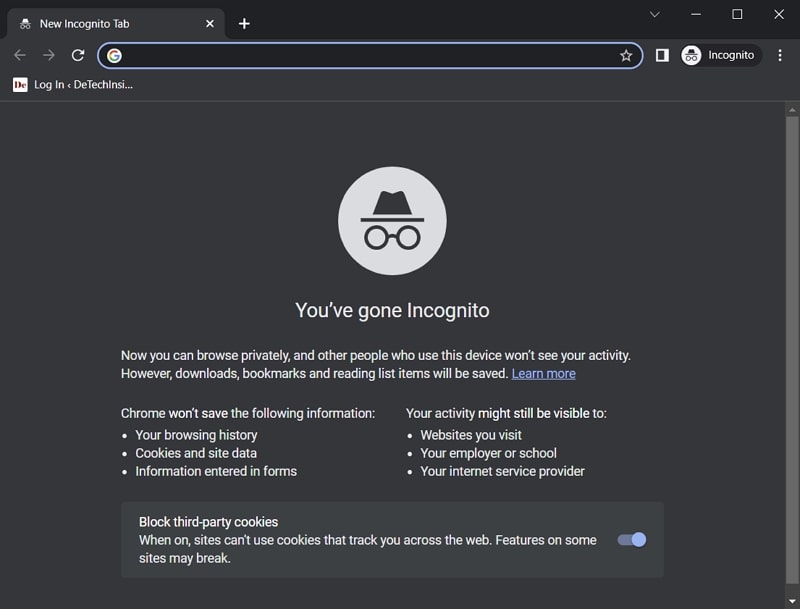 3. Disable the Browser Extensions
While helpful, browser extensions in your computer's web browser cause many browser issues. They often end up in conflicts with different websites and make them inaccessible. If your ChatGPT login is not working, disabling or removing browser extensions can be helpful. Given below are the steps to disable the browser extensions in Google Chrome:
Step 1: After opening Google Chrome, click the "Extensions" icon on the upper right corner and select "Manage Extensions." It will lead you to the Chrome Extensions.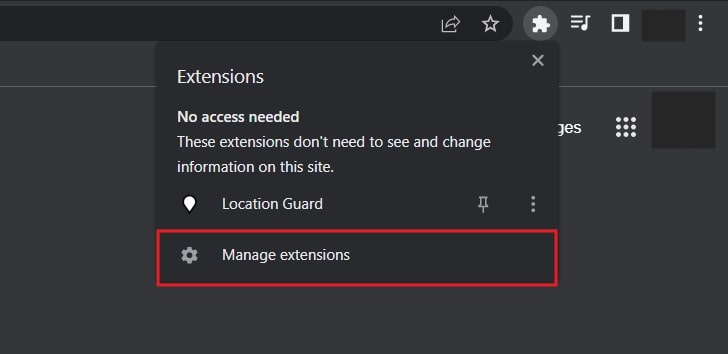 Step 2: Here, use the toggle button in front of each extension to disable it. If there are any extensions you don't need, click "Remove" to uninstall them.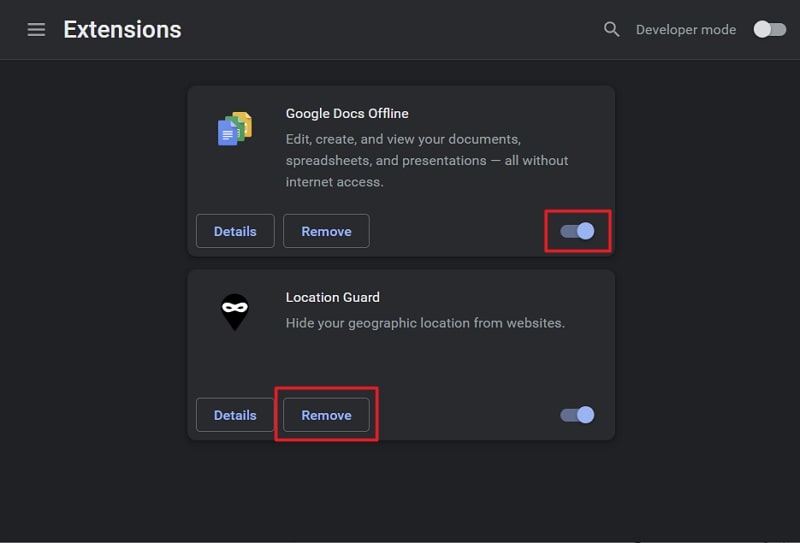 4. Clear The Browser's Cache and Cookies Data
If none of the above-given solutions has worked so far, try clearing the browser's browsing data to resolve the ChatGPT not logging in issue. The accumulation of cookies and other data in your browser creates issues in frequently visited websites. It also slows down your browser by taking up a lot of working space. These are the steps you need to perform to clear Google Chrome's cache and other browsing data:
Step 1: On your Google Chrome, click the three dots icon from the top right corner to open the Chrome menu. Now. Tap "History" to open your browsing history.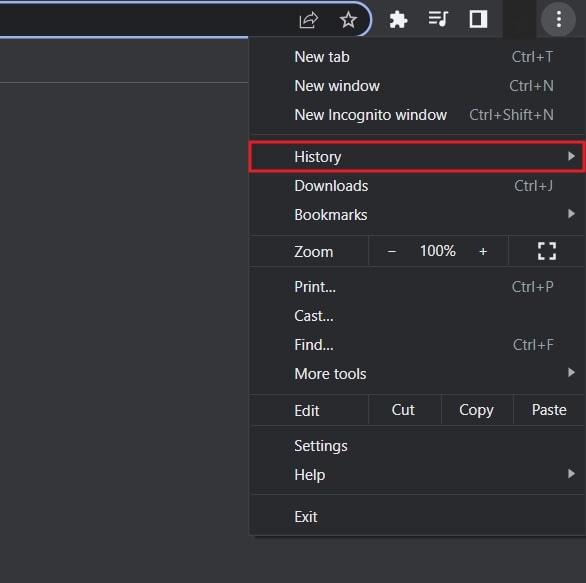 Step 2: Here, click "Clear Browsing Data" and select "Browsing History," "Cookies and Other Site Data," and "Cached images and files." Afterward, press "Clear data" to clean up your browser's browsing data.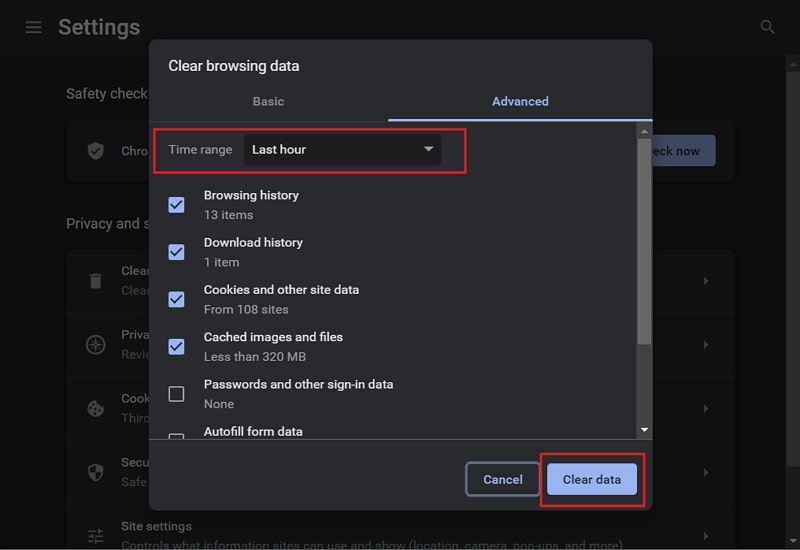 5. Restart Your Device
The glitches and bugs or conflicting computer processors can also be why you can't log in to ChatGPT. Restarting your device and logging in again in this scenario should resolve the issue. Rebooting your system will lead to the reset of all processes and will flush out all bugs and glitches. Here is how you can safely reboot your system:
For Windows: Click the "Start" button and tap the "Power" icon. Here select "Restart" to reboot your computer.

For Mac: To reboot your Mac, click the Apple logo from the top left corner and press "Restart."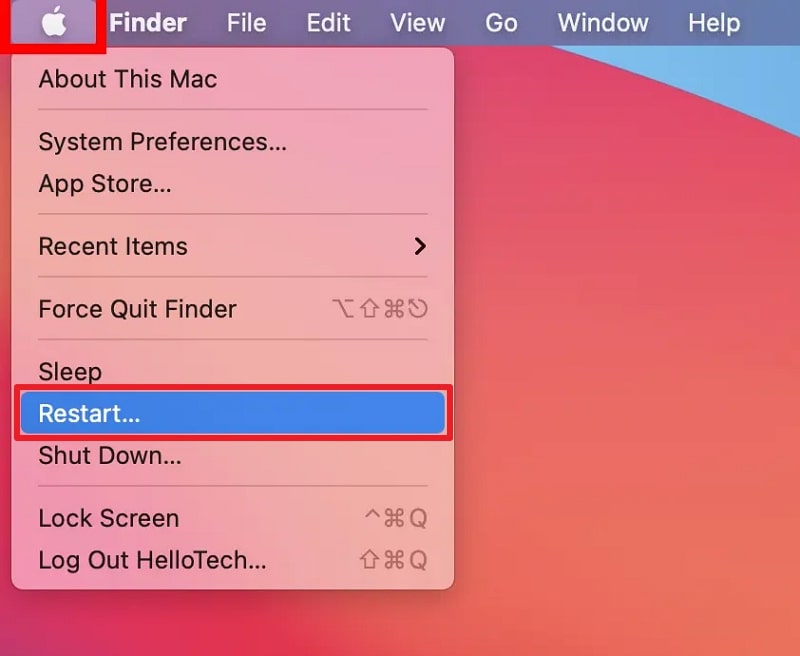 Other 5 Quick Tips to Fix the ChatGPT Login Error
Check Your Login Credentials: Ensure that you're entering the correct username and password. If you're unsure, use the 'forgot password' option to reset your password.
Check Your Internet Connection: A slow or unstable internet connection can cause login issues. Try reconnecting to your internet, switching to a different network, or restarting your router.
Disable Your VPN: If you're using a VPN, it might interfere with the ChatGPT service. Try disabling your VPN and then attempt to log in again.
Subscribe to ChatGPT Plus: Subscribing to ChatGPT Plus can provide priority access, especially during times of high server load.
Switch to a ChatGPT Alternative: If you're facing issues with 'ChatGPT Login Not Working', consider exploring ChatGPT alternatives. AI platforms like Bing Chat and ChatSonic offer similar functionalities.
Why ZEGOCLOUD Chat API to Add Chat for Chat Apps
Want to add a similar chatbot to your app or website? The best way to do so is by using the amazing in-app chat API of ZEGOCLOUD. It is the most comprehensive chat API in the market and is used widely by developers. You can use this API to create chat features for social, gaming, telehealth, live streaming, and e-marketing apps.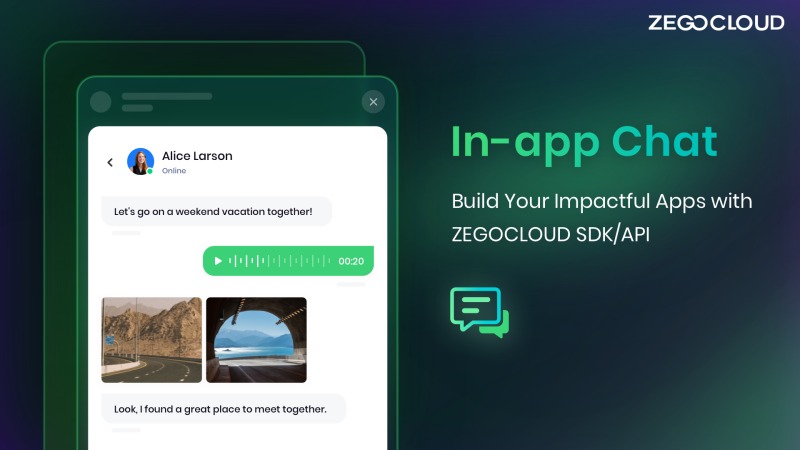 Regarding data protection and management, ZEGOCLOUD's in-app chat API fully complies with HIPPA and GDPR. You also get AES-256 level end-to-end encryption for all communications. The less than 200ms latency ensures users can interact in real-time without lags or stutters. It also enables a chatting platform to handle hundreds of millions of messages simultaneously without any issues.
Key Features of ZEGOCLOUD In-app Chat API
ZEGOCLOUD APIs and SDKs are known for their excellent and detailed features. The in-app chat API also contains many unique and amazing features, a few of whom are mentioned below:
Nowadays, no chat is complete without GIFs, stickers, emojis, and reactions. The ZEGOCLOUD in-app chat API contains all these and many more media attachments. It means users will not get bored and will enjoy talking to their friends. If they want to share other files, ZEGOCLOUD got them covered with support for unlimited sharing of videos, photos, audio, documents, etc.
No gaming or social media chat room is complete with a public channel where all users can banter with each other. The chatting platform built using ZEGOCLOUD in-app chat API will be able to handle up to 10 million users in a single public channel. It also provides a detailed and easy-to-use management tab for moderators handling these public channels.
It can be hard for users to keep track of new messages on a chatting platform if they have joined multiple channels and groups. ZEGOCLOUD in-app chat API provides a counter to keep track of unread messages. It will allow users to quickly find the latest messages instead of going through chats. The message history is also provided to ensure you don't lose important messages.
If the server admins want to deliver important messages to the users, they can use push notifications. It will ensure that the message delivers to all users, including the ones who are offline. ZEGOCLOUD in-app chat API also provides a read receipt feature for messages. This feature lets admins know how many users have read essential announcements.
Final Words
The ChatGPT login not working is not a serious issue. It can be easily resolved with any of the fixes given in this article. If you also want to add top-tier chat capabilities to your website or app, ZEGOCLOUD in-app chat API is the way to go. It allows you to build the best chatting applications like Omegle with minimum cost and time.
FAQ about ChatGPT Login Not Working
Q1: Why is ChatGPT not working anymore?
A1: There could be several reasons why ChatGPT isn't working. It could be due to server issues, a slow or unstable internet connection, incorrect login credentials, or accumulated browsing data in your browser. Try checking your login credentials, your internet connection, and the status of the ChatGPT server.
Q2: Is ChatGPT not accepting new users?
ChatGPT generally accepts new users, but there might be times when the server is at capacity and cannot handle more users. If this is the case, you may need to wait and try again later.
Q3: Why is ChatGPT not working on Chrome?
If ChatGPT isn't working on Chrome, it could be due to accumulated browsing data like cache and cookies. Try clearing your browser's cache and cookies. If that doesn't work, try using a different browser or opening a private browsing (incognito) session.
Q4: Why does ChatGPT keep loading after login?
If ChatGPT keeps loading after login, it could be due to server issues or a slow internet connection. Check the status of the ChatGPT server and your internet connection. If the problem persists, try logging in at a different time.
Talk to Expert
Learn more about our solutions and get your question answered.
Talk to us
Take your apps to the next level with our voice, video and chat APIs
10,000 minutes for free
4,000+ corporate clients
3 Billion daily call minutes