There are numerous video calling services nowadays, which make video communication easy, immediate, and inexpensive. In this article, we look together at the best services for making video calls on Android devices that make calls with iPhone devices possible.
How to Make Video Calls on Android
First, we can say that there are three ways in general to make video calls from Android:
– Built-in functionality: today, all smartphones alongside voice calls have built-in video calling apps. You can start a video call by simply tapping the video icon under the names in the contact list; it can have costs that vary depending on the phone operator, that's why it is not the most used option;
– Google Meet: this android video calling service is pre-installed on devices, iPhones, and any device can download it from the Google play store; it's straightforward and intuitive; click the video icon next to the contact to start the video call.
– Free android video calling apps available on the market; they are numerous and have various features.
You may also like: How to Build An Android Video Call App In 10 Minutes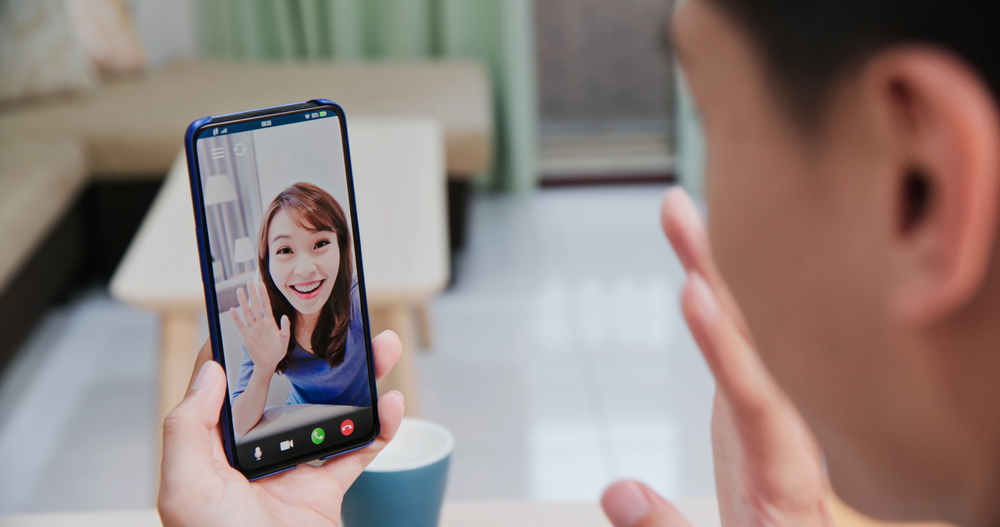 Best Apps for Android Video Calls
Let's find out which of these apps is the most commonly used.
1. Google Duo
Let's start with the Internet giant's free video calling app, Google Duo. Many experts consider it the best app for video calls on Android and the counterpart of the popular Facetime app on iPhone.
Google Duo offers a high-quality video and audio experience with impressive data and resource savings. Features include:
chat with video messages and emoji, stickers, doodles
group calls for up to 32 participants
Knock knock feature allows you to see the caller live before answering
live screen capture
Also available on the Google play store for iPhone, iPad, and any device.
2. Google Hangouts
Another excellent app for video calling on Android by Google is Hangouts. It is a multifunction app that allows you to make free domestic and international calls, share photos, videos, emojis, video conferencing, share locations, and much more. Also useful for work, it has all the essential features for instant communication:
Synchronizes calendar and contacts
HD group conference
chrome-extension available
smart mute
built-in screen sharing.
Use shortcuts and commands to improve efficiency.
Integration with other Google apps.
Limit bandwidth so the other person does not have difficulty during video chat.
Status, photos, emojis, stickers, and GIFs.
Send messages to friends, even if they are offline.
Multilingual video chat app for Android, iPhone, and other devices.
An awe-inspiring service, even with the free option.
3. Whatsapp
We had a chance to introduce Whatsapp by talking about the best video calling services available today. Probably the most reliable and widely used messaging app, Whatsapp allows free video calls from Android to iPhone.
Group video calls are possible with decent video quality, but not to the exceptional levels of Google Duo and FaceTime. Features include:
group chat for up to 250 people
broadcast messages to as many contacts as you want at once
personalized chat background, emoji, and stickers
file sharing for sizes up to 100 MB
shortcuts for particular chats
low data consumption video chat
multitasking during a video call
backups of WhatsApp conversations
You may also like: How to Create a Group Chat on WhatsApp
4. Facebook Messenger
Still, in the realm of popular VoIP and instant messaging applications, Facebook Messenger offers exciting features for android video calling.
It has the advantage of synchronizing all Facebook contacts with whom it is possible to engage in video chat. The video call quality is similar to Whatsapp's, thus not exceptionally high. Among the main features, Messenger has:
group video calls
chat with emoji and voice messages and file transfer
capture moments with a Messenger camera, and add filters or stickers to share or insert stories
play games
Share location, change chat themes, or apply dark mode to the entire app
to make and receive payments. (Feature limited to the United States)
Also available on iPhone/iPad devices and the web.
You may also like: How to Make Facebook Avatar
Famous for maximum security and data privacy, Telegram is a messaging app that allows you to initiate video calls on Android and from Android to iPhones in private chats since it's available for all devices and operating systems, as well as on browsers.
Group video calls and in groups are possible. The video quality is excellent compared to Whatsapp and Messenger, although not at Google Duo and FaceTime levels.
6. Viber
Viber is Also prized for its first-class privacy and security features that enable a better communication and data-sharing experience. Excellent quick messaging app useful for Android video calls, but that works on all phones and devices. Its features include:
HD video and voice calls, including international
automatic synchronization across multiple devices
group chat, with quick switching between chat rooms
lock contacts
stickers, stickers, and emojis on any image
integration with Facebook, Twitter, and more
7. Signal
Who doesn't recognize the Signal interface at first glance? Famous for its ease and speed, it is a popular messaging and video calling app for Android that is also available for iOS devices and browsers.
It offers a secure connection with international SMS, voice, and video calls free of charge. Multiple accounts can be managed on one phone, and its most valued feature is privacy:
strong end-to-end encryption
lock screen PIN
hide messages from being displayed on the lock screen
self-destruct messages
block contacts and groups
Signal chat options include funny stickers and themes, image sharing and editing, message backup, and restore.
8. Tango
Another option for video calling on Android is Tango. Perhaps less well known, but it has over 400 million users, not only android users but also iPhone and even Windows phones. It allows high-quality video calls and live streaming; the chat room function is also for random conversations with strangers.
Its features are pervasive; in fact, you can:
Share songs via Spotify.
Add filters and effects during video chat.
Find friends nearby,
and capture and share real-time photos and videos with friends.
Chat or make voice calls, and send personalized animations.
playing games during video chat
make or follow live streamings
All this is enjoyable for free.
9. IMO
IMO is another excellent solution and the newest app for video calls on Android and iOS, completely free.
It allows you to create unlimited high-quality video, voice, and text messages. The app also works incredibly well on 3G and 2G networks and is very easy to use. Among its features it has:
group video chat
photo, video, and other media file sharing
contact blocking
groups for chatting, with a wide range of emoticons and stickers
access multiple chat clients at the same time
multilingual support.
10. Skype
The historic Skype is also an excellent app for video calls between Android and iPhone. Known for its home screen and call jingle, it is simple and clean, and you can access your list of contacts and recent conversations, make VoIP (over the internet) calls, chat, video call, and send files or text messages. With Skype, you do not need a phone number, which is necessary for Whatsapp, Messenger, and Google Duo. Also available for Windows and on the browser.
Android Video calls technology enablers: Video Call APIs and SDKs
All these video call services and apps need to keep pace with the continuous improvement of Android device performance and network quality. This also applies to those who prefer to opt for built-in solutions to integrate video call functionality through projects based on the WebRTC standard. The easiest and fastest way is using a video call API and SDKs.
They provide capabilities such as call invitation, voice, and video calls, offline push function, call UI and interaction, and much more.
Providers such as ZEGOCLOUD guarantee an excellent Android video call app solution.
To learn more about it, check out our tutorials and try our website's demo app for building an Android video call app.
Let our experts guide you on the best video call technologies available.
Talk to Expert
Learn more about our solutions and get your question answered.
Talk to us
Take your apps to the next level with our voice, video and chat APIs
10,000 minutes for free
4,000+ corporate clients
3 Billion daily call minutes