Audio recording is a process where audio gets captured and stored in order to be used for different purposes. Think of music productions where different music tracks are recorded and edited. Similarly, in podcasts, important interviews and discussions audio gets recorded. Do you want good yet reliable audio recorder software? This article lists the top 10 recorders for mobile and web and introduces ZEGOCLOUD SDK for audio recording software.
How to Choose the Best Audio Recording Software
Well, choosing the right audio recording software is an extremely tough ask. First, it's challenging to decide which option to choose, and after that, think about what makes any audio recorder a suitable choice. The solutions shared here will surely help you out in making an appropriate decision:
Good Algorithms and Technology Used
The entire audio recording depends on the algorithms and technologies used to design the particular audio recorder software. This is why it is important to always look for updated apps because they are updated using the latest trends and algorithms.
Any good yet reliable audio recording app would have noise reduction technology embedded in it. After all, with the noise reduction feature, you can eliminate background noises.
Good audio recording software always provides one-stop editing facilities with options like trim, merge, and crop.
Obviously, the majority would trust an application if it possesses more than a million downloads, alongside good user feedback.
Best Audio Recording Software for Mobile & Web
When you proceed to find the best audio recording software, you'll only get confused by looking at the variety of options available. Henceforth, it becomes challenging to make the right yet commanding decision. Making things easier for you, here you're going to find the 10 most popular free audio recording software:

Taking audio recording to the next level, Voice Recorder & Voice Memos is a feature-rich tool that allows you to record your all-important audio in extremely high quality. So, you can record your audio with customizable bit rate and sample rate, echo cancellation, noise suppression, and automatic gain control. You can edit the audio duration according to your needs with the trim and cut option.
Meanwhile, this audio recorder software will automatically pause the recording facility whenever a call occurs. The supported file formats range from .mp3, .wav, .m4a, and many more. Furthermore, you can play your recorded audio at different speeds.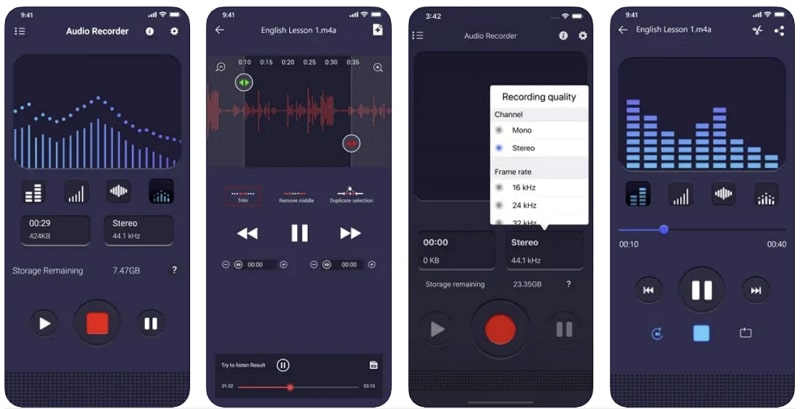 Now record your audio in top-notch quality with Voice Recorder: Audio Editor. With its highly engaging GUI, this best audio recording software is straightforward to use that comes with easy tool navigations for instantly starting your audio recording. Moreover, you can save all the recordings on the internal storage of your mobile; thus, there isn't any time limit as long as there is enough space in your memory.
The supported file formats include M4A, WAV, and AIFF; therefore, you can choose the most suitable format for your video. The recording continues in the background even if the mobile display is off.
Voice Recorder & Memos Pro is a perfect app for recording your music, memos, talks, and songs while fulfilling all other recording needs. The best part is this free audio recording software records your voice in different modes. This includes mix recording mode (mix recordings in chosen audios), preset time recording mode (preset start and ending audio time), and voice-activated recording mode (pauses recording when voice is low).
Moreover, with the available editing facility, you can crop audio, insert audio, adjust pitch, merge audio, reduce noise, adjust volume, add markers, and perform other customizations.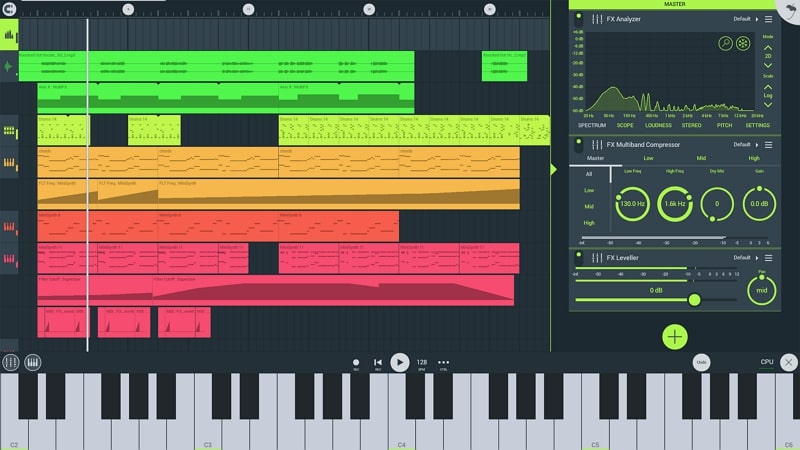 Make your audio recording of multi-track music simple and convenient with FL Studio Mobile. This audio recording software incorporates everything that a good music tool needs. For example, you can use sliced-loop beats, drum kits, synthesizers, samplers, drum kits, pianos, and much more to create and record stunning music sound effortlessly.
Moreover, you can execute your audio recording with internal and external sources. The supported file formats include FLAC, MP3, WAV, MIDI, and AAC*. You can also share the songs with other mobile devices using WiFi or Cloud features as needed.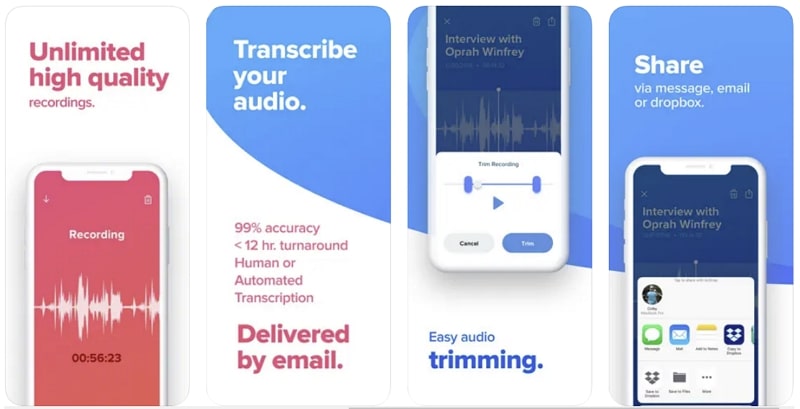 Look into Rev Audio & Voice Recorder, a powerful, efficient, and reliable audio tool that ideally fulfills your audio recording needs smartly and effectively. This audio recorder software is optimized for a robust yet functional system that guarantees top-quality audio recording with zero distortion and unnecessary noise. Ideally, this audio recorder can also provide transcription services with its text-to-speech option.
If you want to share the recording with your loved ones or friends, consider sharing it as a text message, email, or other connected app. The downloads of this audio recorder are more than 100,000, which means it's definitely a trusted option in terms of security and quality.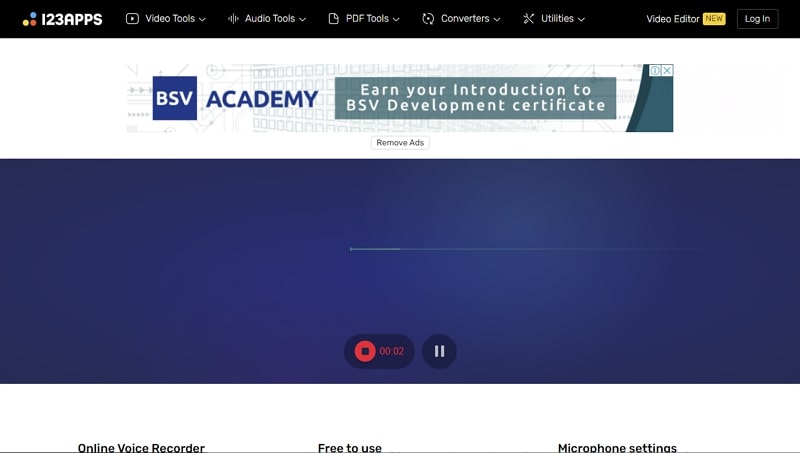 Press the "Red" button, and there you go; your audio recording starts in a matter of seconds. With 123APPS – Online Voice Recorder, your A to Z audio recording experience is completely revolutionized. After all, this application is easy to use with its simple layout and can offer top-notch audio recording that comes with adjustable microphone settings. Also, you can change sound volume, pitch, and speed as needed.
After you finish your recording, crop the unwanted recording part through the cropping facility. With the availability of auto silence trimming, the silent fragments are automatically detected and removed from the recording.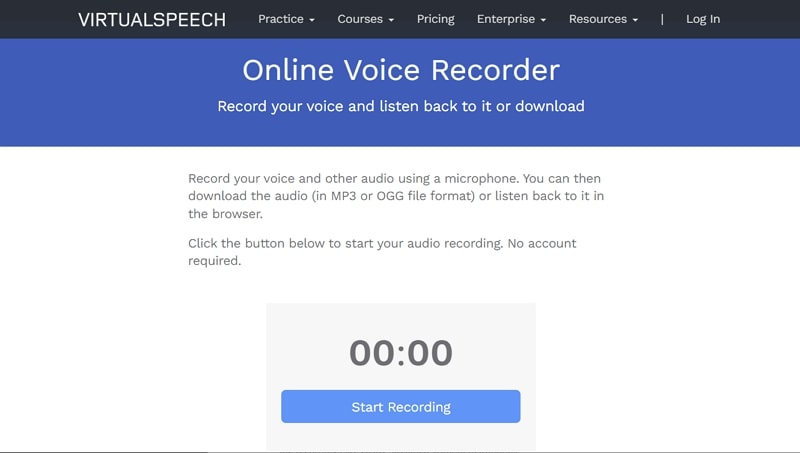 Now record your all-important voiceovers, podcasts, interviews, and much more with VIRTUALSPEECH, the best audio recording software on the internet. Unlike others, this voice recorder is free and does not require downloading external sources like Adobe Flash. Apart from that, the recording procedure is pretty simple and convenient, with outstanding sound support.
You can easily access the VIRTUALSPEECH on your latest web browser, while you can download the recordings in OGG or MP3 file formats. In addition, this application leverages strong SSL security, which means your data is safe while guaranteeing your privacy.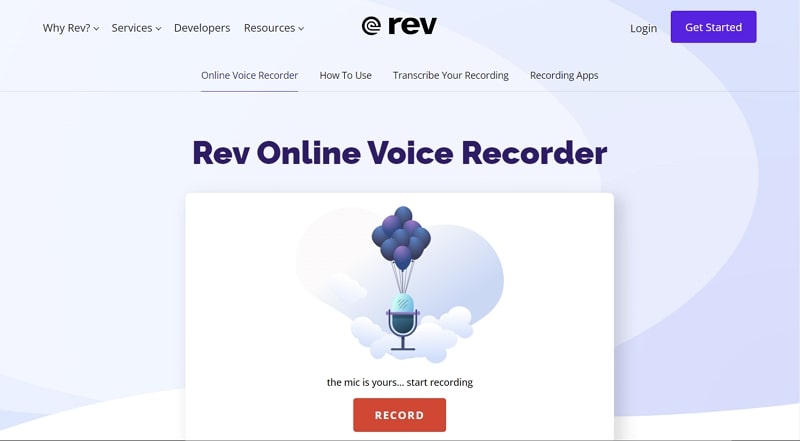 Audio voice recording is now easier, simpler, and faster with Rev Online Voice Recorder, your trusted online audio recording software. Moreover, this online application leverages an extraordinary audio recording facility backed with amazing sound support and no interruptions. Of course, your privacy is securely intact because of the encrypted connection, and your recordings aren't uploaded to the servers.
The best thing is you could also transcribe your audio by recording it to the text version. The transcription options include human transcription and speech recognition. The supported file format is MP3 which means the recordings are easily streamed without disruptions.
You can professionally record your audio for free and share them instantly with your friends using Veed.io. This online audio recording software helps you record important audio, such as voice notes, memos, or feedback, within a 1080p high-resolution recording facility. With a few clicks, you could also transcribe your audio into text format and wait for the transcript that the tool generates.
By clicking the "Clean Audio" button from the sidebar, you can remove the annoying background noise from your recording. This is beneficial when you're in a noisy place with many crowds. Moreover, you can also edit your recordings with the available editor.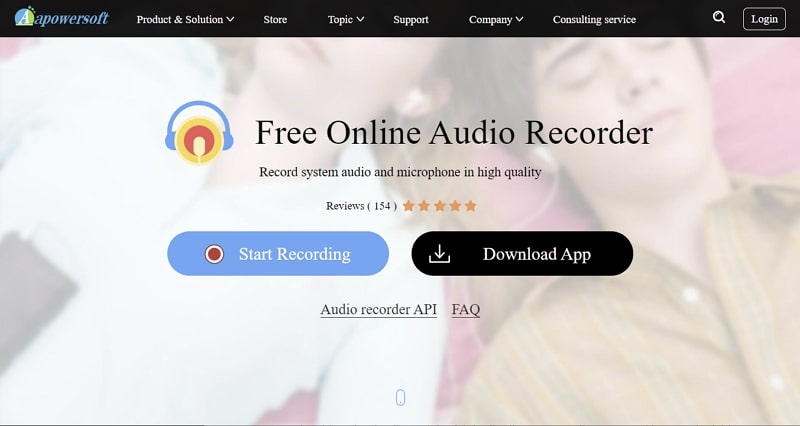 Take your online audio recordings to the next level with Apowersoft, which has HTML5 technology that provides a stunning audio recording facility and excellent microphone support. Using this online audio recorder software is extremely straightforward because you just need to click the "Start Recording" button, and your recording will begin for an unlimited time.
When you download the recording, it will always maintain its quality because the tool will never compress it. All the recordings data is stored on the user's local disk rather than servers, so there is no need to worry about data breaches.
You may also like: 10 Best Free Video Recording Software
How to Build Your Own Audio Recording Software
In this modern world where online talk shows, podcasts, and interviews are common, thus the need for audio recording software is also increasing. Meanwhile, you can design and build your audio recording app without complexities, but it may cost you a lot of valuable resources. The most suitable option is to utilize the ZEGOCLOUD Cloud Recording API, which simply brings optimized solutions.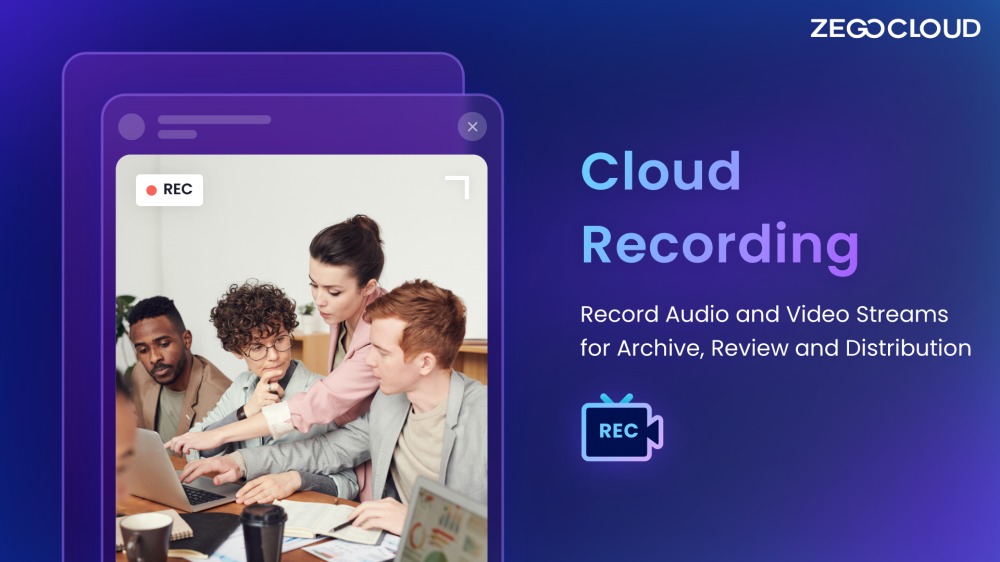 ZEGOCLOUD Cloud Recording is an API/SDK service that makes the development process much easier for developers while allowing them to integrate audio recording into existing applications. After all, it does not require any coding implementation that saves time and money for businesses.
Features that make ZEGOCLOUD Cloud Recording API a Trusted Choice
ZEGOCLOUD Cloud Recording is the trusted choice for both audio and video call to integrate modern yet functional and fully operational audio recording facilities into applications. Let's dig in more to discover some extra advantages.
One-Stop-Recording-Solution: With ZEGOCLOUD Cloud Recording, you can access single-stream recording, mixed-stream recording, and multi-sector recording all in one place.
Maximum Uptime Ratio: You won't witness any delay or disruption in your audio recording because ZEGOCLOUD Cloud Recording comes with 99.99% all-year availability.
Technical Support: If you're facing any problem or issue within your ZEGOCLOUD Cloud Recording service, the online technical staff can help you 24/7.
Ease of Use: With a colorful layout, simple tool navigations, and other rich features, ZEGOCLOUD Cloud Recording is a very easy-to-use API/SDK.
Summary
By using your microphone and recording your voice, you can also do wonders in this modem world of technology. Meanwhile, by following this article, you may have already discovered the 10 best free audio recording software to start your journey. However, if you need to custom-build your audio recording app, ZEGOCLOUD Cloud Recording is your perfect helping hand.
Read more:
Talk to Expert
Learn more about our solutions and get your question answered.
Talk to us
Take your apps to the next level with our voice, video and chat APIs
10,000 minutes for free
4,000+ corporate clients
3 Billion daily call minutes