In this age of technology, the accessibility of mobile phones has significantly increased, making video recording easier and more convenient. We all know how important video recording is; since it allows us to record crucial gameplay battles, important meetings, conferences, events, or anything on mobile. This article lists the best video recording mobile apps for you.
How to Choose the Best Video Recording App
With a plethora of video recording apps available in the market, it can be a daunting task to select the best one. This guide offers straightforward steps and factors to consider when choosing the best video recording app for your needs.
1. Video Quality: This is one of the essential factors in choosing any video recording app. After all, no one would want to compromise on the quality of the video. So, a good video recording app would support HD quality display with up to 1080p resolutions and a frame rate of 60 or 120 FPS.
2. Professional Editing Facilities: A good video recording app will always possess dedicated video editing support with all facilities. This means you don't need to visit separate platforms to trim, merge, rotate, or crop your recorded video when everything is available in a single place.
3. Ratings and Reviews: While searching different video recording apps, you will always like to explore and download the options with good user ratings and reviews. This develops the self-trust in a particular application while assuming it won't disappoint at all.
4. Facecam Recording: Screen recording in this modern era is incomplete without the presence of a facecam. After all, it extends the overall screen recording experience by witnessing your gestures, emotions, and actions during essential stages. Thus, an excellent screen recorder must have this feature embedded.
5. Price: While many apps are free, they might come with limitations or watermarks. It's essential to consider your budget and see if investing in a pro version is worth it.
Best Video Recording Mobile Apps for iPhone & Android
You may have noticed tons of options appear in front of you when you search the video recorder app for mobile. Making the right decision while choosing the best video recorder app is challenging for a user. In this part of the article, you will find the list of the 10 most suitable options.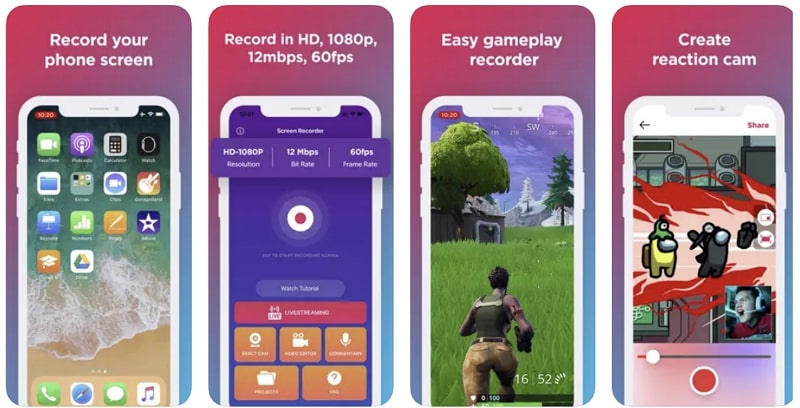 Recording your favorite or essential moment on mobile is now possible with Screen Recorder – Xrecorder, your trusted video recording app. This platform supports video recording in an HD quality display that ranges up to 1080p resolution with a maximum framerate of 120 FPS. Interestingly, you can also turn on your facecam while screen-recording any video, which allows you to record your emotions and gestures.
The sound quality is impressive so you won't face any unwanted background noise. Moreover, it allows you to take a screenshot of your favorite moment in the video and share it with friends.
2. Record it!: Screen Recorder (Android | iOS)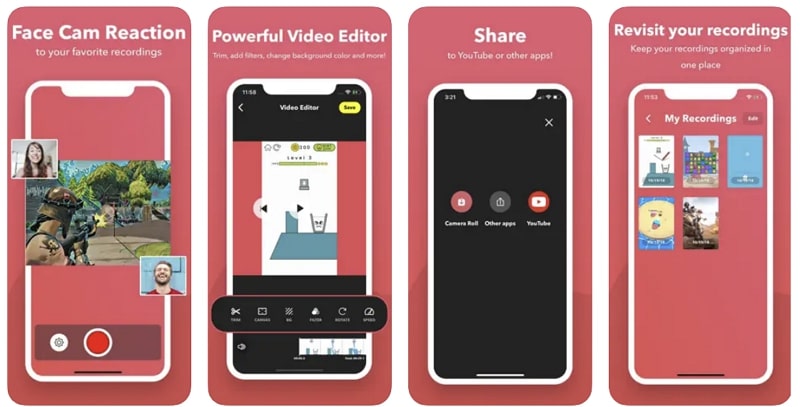 With just a button press, record your all-important gameplays, game walkthroughs, and other game training videos with Record it!:: Screen Recorder. After all, this video recorder app provides a high-quality video recording service and offers unique features like applying video filters or changing background colors. What's more? You can also apply necessary modifications to your recorded video with respect to trimming, rotation, and speed adjustments.
To make your video more entertaining, applying facecam reactions is the best way to add engagement. Also, personalize these reactions in specific sizes, positions, and shapes.
3. Screen Recorder – V Recorder (Android | iOS)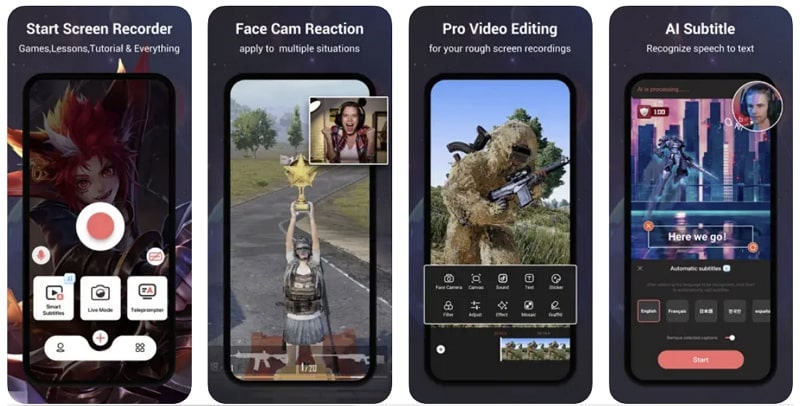 Meet the stunning video recording mobile app currently available, Screen Recorder – V Recorder is not just a video recorder but also a powerful video editor. You heard it right, as you can effectively record your gameplays, movies, video calls, and conferences while editing them using transition, text, filter, and music. Interestingly, this video recorder also incorporates the facility of floating teleprompters and AI automatic subtitles.
The video quality is extraordinary, and that comes with excellent audio support. With the availability of a simple interface, you won't face problems operating the application.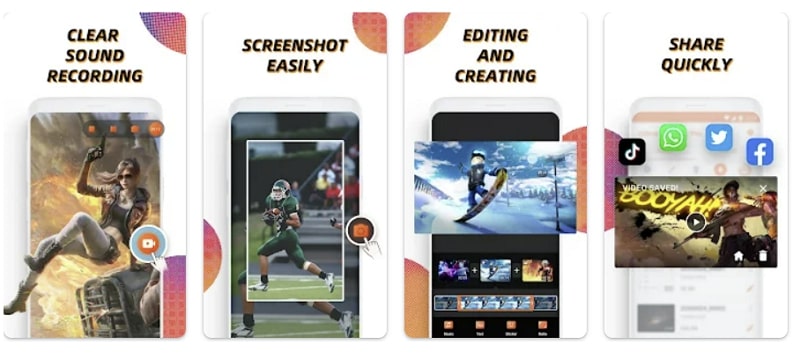 Take screen recording to the next level; meet Screen Recorder – Vidma Record that is unique in its kind. All thanks to its HD-quality video recording, extraordinary sound support, and zero interruptions. You can also edit your recorded videos by trimming, cropping, or rotating them. Moreover, adjusting the speed and adding relevant music effects is also possible with this tool.
Your data privacy is securely intact because all your files are stored on your account, and only you can access them. If you're a gamer and want to record your gameplay with facial expressions, turn on the facecam.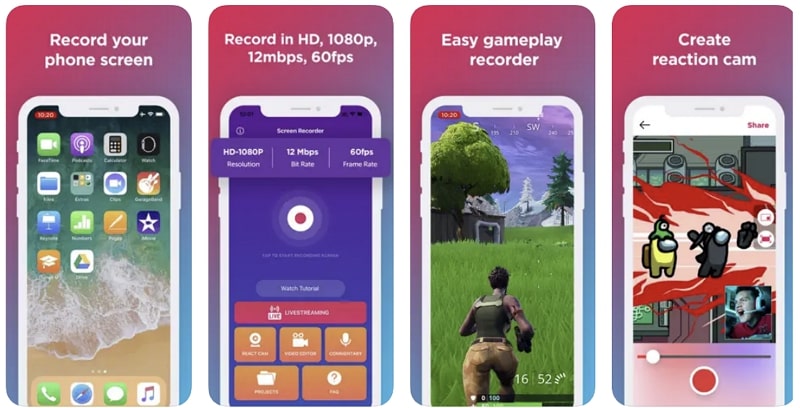 Are you a gaming enthusiast who loves recording exciting gameplay battles and storylines to amaze your friends? Screen Recorder- Record Game is what you need; since it leverages support for recording HD quality videos on 1080p, 12 Mbps, and 60 FPS display. The best thing is you can also add a reaction facecam to your videos for enjoyment purposes with this personalized video recording mobile app.
Apply trims, filters, or necessary music items with the available customizations. To visualize your video better, make sure to add text in more than 300 font styles.
With Screen Recorder – AZ Recorder, you can quickly and simply record everything on your mobile. This best video recording app is straightforward with its engaging and user-friendly interface. This means you can conveniently operate the screen recording facility while leveraging a fully immersive experience with high-quality video, GIF support, and creative drawing on the recording screen.
Not to forget, you can also live stream your video recording on platforms like Facebook and YouTube. Lastly, you can edit your recorded video by trimming, merging, rotating, or cropping it.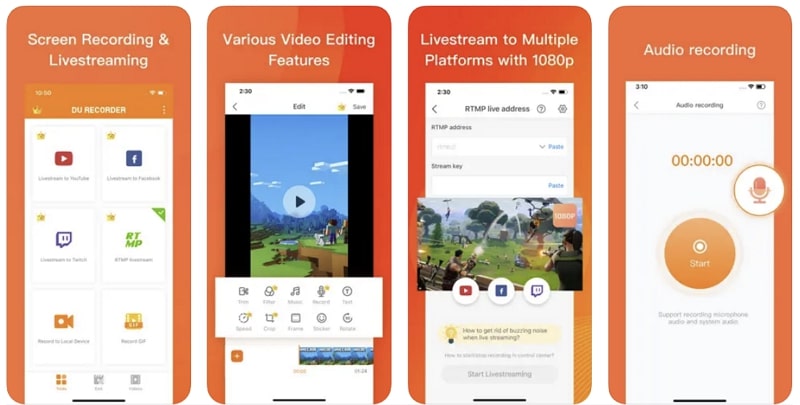 Finding a good and reliable video recorder may seem challenging, but not until you have DU Recorder – Screen Recorder installed on your mobile phone. After all, with DU Recorder, you can record your videos on an HD resolution display supported with excellent audio quality and smooth video coverage. Meanwhile, you can also livestream your screenplay on platforms like Twitch, YouTube, and Facebook.
Use the facecam, stickers, custom titles, blend music, or convert video to GIFs features for fun purposes. To adjust intervals, trim the unwanted parts for best results with this video recording app.

With over 100M downloads on the Google Play Store, Mobizen Screen Recorder is one of the best video recording mobile apps available in the market. With a single instruction, you can start video recording within seconds, and you will not face any unnecessary lag or disruption. Moreover, you can select the video settings such as 1440p resolution, 60 FPS framerate, and 24 Mbps quality.
The platform lets you start broadcasting by recording your video with a facecam. Once the video recording is complete, edit it from provided adjustments and export it with a customized watermark.
With Screen Recorder – XRec Lite, extend your screen recording experience to the next level. After all, the platform provides screen recording support in an HD quality display backed with up to 1080p resolutions alongside a 120 FPS. Using the available brush tool, you can draw and write anything on the screen being recorded.
Moreover, with the countdown feature of this personalized video recording mobile app, you can get the screen ready for recording precisely. Furthermore, with the available snapshot feature, take a hassle-free screenshot and share it with anyone.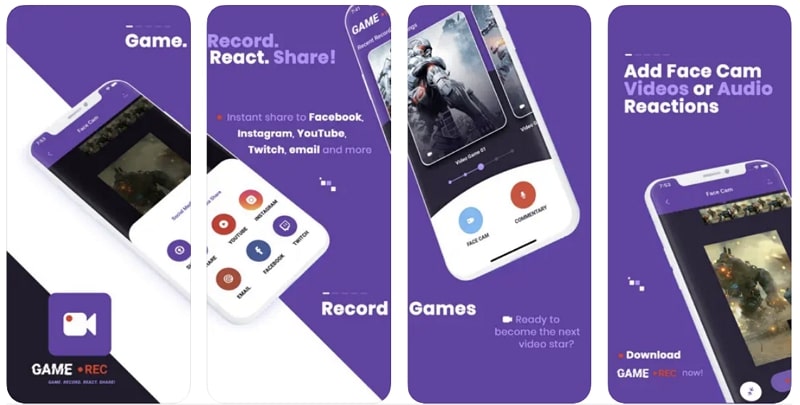 As a gamer, you need to record your games to show your skills, strength, and power in the gaming community. Thus, you need the best video recording app for this purpose, and Game Rec Games Screen Recorder is the perfect solution. After all, this tool provides valuable video quality support with adjustment features like trimming, rotating, setting speed, or even cropping.
You only need to press a button, and the video recording will start immediately. With facecam recording, you can view your funny gestures and actions during gaming. At last, instantly share the recorded video to your social media accounts as required.
How to Build Your Own Video Recording Mobile Apps
Building your video recording app isn't a complex task, considering the resources and information available on the internet. However, designing such an application with modern features may cost you a reasonable amount of time and money. Meanwhile, ZEGOCLOUD Cloud Recording can eliminate such issues because it's an affordable and valuable option for building personalized video recording mobile apps.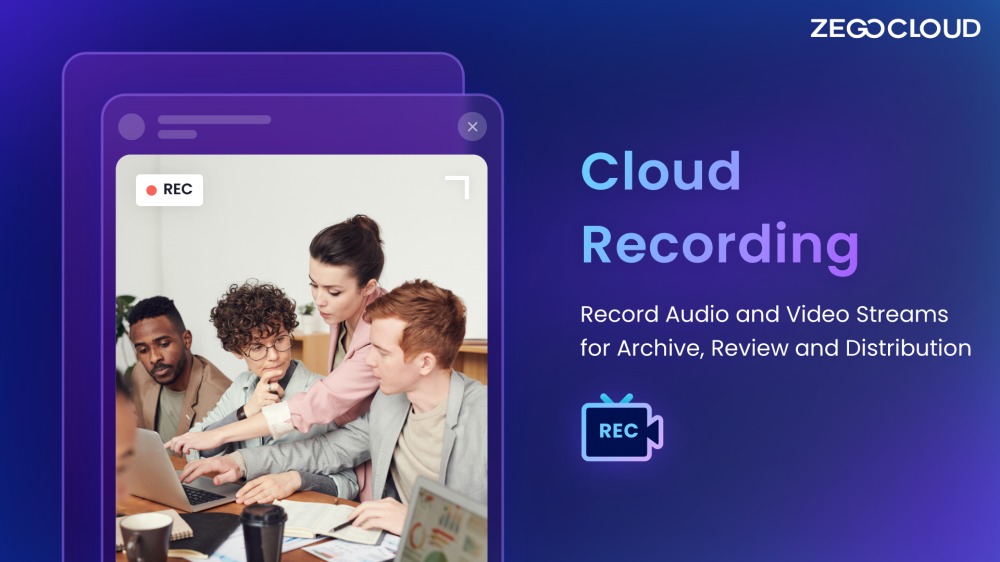 ZEGOCLOUD is a Cloud Recording API/SDK that helps developers make video recording mobile apps quickly without coding from scratch. Thus, ZEGOCLOUD's video recording facility can effortlessly be integrated into existing applications to make them more functional.
Key Features of ZEGOCLOUDs Cloud Recording API/SDK
We already know that ZEGOCLOUD Cloud Recording is the industry-leading API/SDK service that integrates video recording functions within different applications. Let's find other aspects which make it a more appealing choice:
Diverse Recording Options: With ZEGOCLOUD Cloud Recording, you have to option to enjoy video recording as a single-steam recording (single user), mixed-steam recording (mixed video streams), and multi-sector recording (whiteboard, audio, and video).
Cloud Storage: ZEGOCLOUD Cloud Recording provides best-in-class cloud storage options on platforms like Qiniu Cloud, Alibaba Cloud, Tencent Cloud, Alibaba Cloud VOD, and AWS S3 to store recorded videos.
Recording Screenshots: You can always take screenshots of essential screenplays, e.g., PowerPoint presentations, gameplays, and other important content, with ZEGOCLOUD Cloud Recording.
Wide Compatibility: Moreover, ZEGOCLOUD Cloud Recording supports video recording in multiple file formats, including M3U8, MP4, TS, or FLV.
Summary
Video recording of important screenplays allows you to record and save them for different purposes. Subsequently, by following this article, you have discovered the 10 best video recording mobile apps you could use per your needs. On the other hand, if you need to build your video recording app, ZEGOCLOUD Cloud Recording is the ultimate answer.
Read more:
Talk to Expert
Learn more about our solutions and get your question answered.
Talk to us
Take your apps to the next level with our voice, video and chat APIs
10,000 minutes for free
4,000+ corporate clients
3 Billion daily call minutes