As the world progresses through digital games, online shows, virtual meetings, and other internet utilities, the need for video recording is gradually rising. This means you need good and reliable free video recording software that fulfills your needs and is compatible with macOS and Windows. This article will illustrate the 10 best options to choose from and introduce ZEGOCLOUD SDK for video recording software.
How to Choose the Best Free Video Recording Software
While surfing the internet, you will encounter some of the best free video recording software. That's where the question comes to mind, how to choose the best recording app. Well, here are some factors that can help you in your decision:
Ease of Use: It's essential to check the GUI of the provided screen recording software. The easier, more attractive, and more colorful the GUI is, the easier it will be to understand and operate.
Good User Feedback: Obviously, you would not want to download an application that has overall bad user feedback and ratings. Thus, checking user feedback is a good strategy for the right decision.
Pricing: Pricing is definitely a crucial factor because the more affordable and price-friendly a particular tool is, the more accessible it will be for the majority.
Editing Options: Every good video recording software must have editing support where users can efficiently edit their recorded videos with zero hassles.
Best Video Recording Software for All Devices
The importance of video recorder software in this modern tech world is on the next level. However, as a user, you may get confused while choosing the most suitable option for yourself, considering the internet is submerged with multiple video recorders. Here, you're going to find the 10 best free video recording software to make things easier:

Record your screen professionally with Aiseesoft Screen Recorder, your trusted solution for recording important games, webinars, presentations, movies, and more. Interestingly, this video recorder software leverages the latest Blue-light" real-time HD video encoding technology, which ensures crystal-clear video quality with outstanding sound support. The video can be saved in file formats like TS, WMV, AVI, GIF, MP4, MOV, etc.
Moreover, you can also record your screenplays by turning on your microphone and adding oral presentations to the video. With the availability of GPU acceleration tech, you won't face certain lags during important gameplay moments.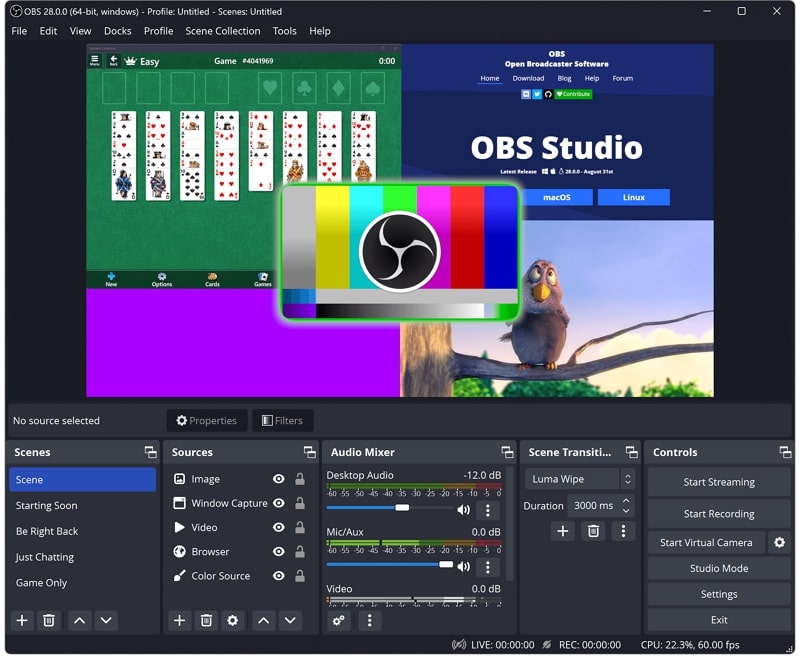 Meet OBS Studio, the free, open-source video recording software that has the ability to solve all your video recording needs smartly and effectively. The best thing about this tool is it allows you to record your crucial screen moments and, in fact, live stream them as needed. Moreover, you can create scenes using different sources like capture cards, text, images, webcams, etc.
With the help of custom transitions, you can effortlessly manage multiple scenes at once. Thanks to the simple configuration with modular 'Dock' UI, you can add new sources, adjust properties, or adjust the layout.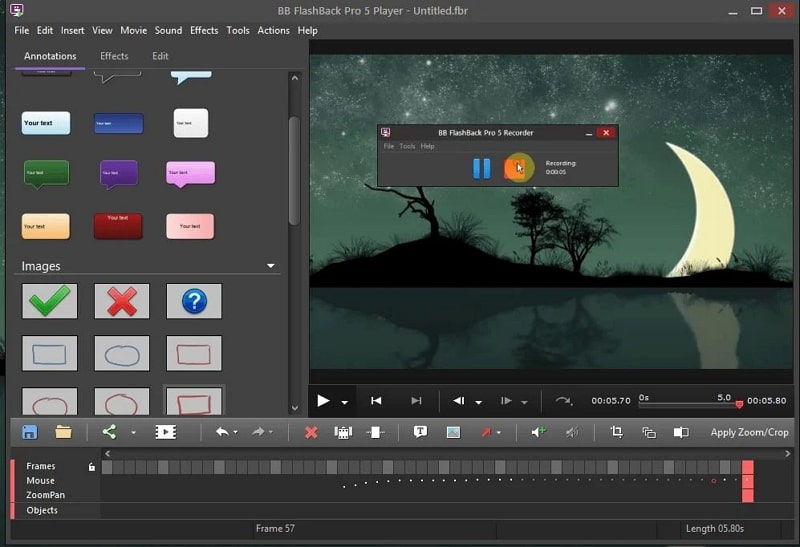 Recording a screenplay has never been easier and more convenient, but you can overcome all the hidden challenges with Flashback Express. This screen recorder is straightforward to operate, thanks to its interactive user interface that makes tool navigation very simple. Apart from that, the screen recorder has no restrictions allowing you to record anything for any duration. Yes, you can also use a webcam to capture your reactions.
Furthermore, the videos are recorded in HD with smooth and interruption-less performance. Unlike others, you will not get a watermark on your video when you export.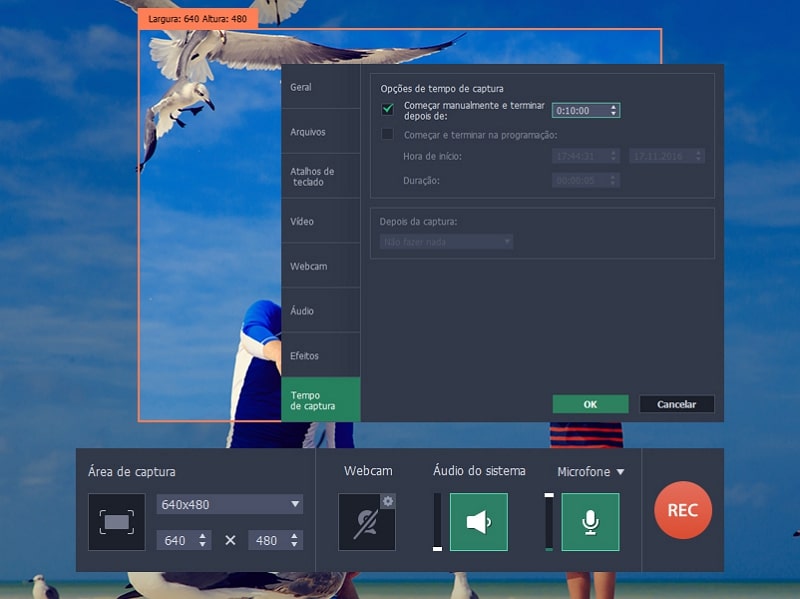 Taking the video recording services to a new height, meet Movavi Screen Recorder, which will instantly begin capturing your screen with a single click. You can innovate your entire video recording process by using this video recording software for free. After all, the recorder allows you to utilize features like screencasts, webcam, audio recording from computer and microphone, creative drawing, schedule recording, and more.
This screen recorder is currently being used in more than 170 countries with 140,000+ new customers each month, which determines the credibility of service quality. Meanwhile, the software is updated every 3 months for improvements.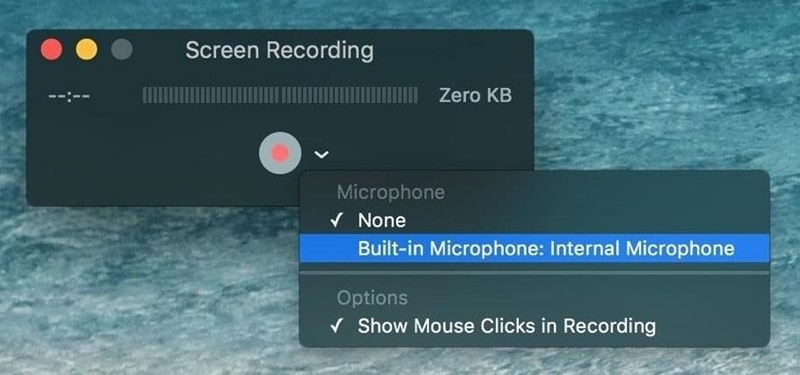 Used as a default video player on macOS, QuickTime also allows you to record your screen in a much-advanced way. Consequently, this video recording software free provides outstanding video quality support alongside stunning sound and audio recording facilities. Meanwhile, you don't need to use any other platform to edit your videos; you can rotate, trim, cut, or copy and paste your video content using this tool.
Moreover, you can save your file in different supported formats like AVI Motion, H.264, and MPEG-4. To make your video more special and exciting, make sure to apply annotations and music.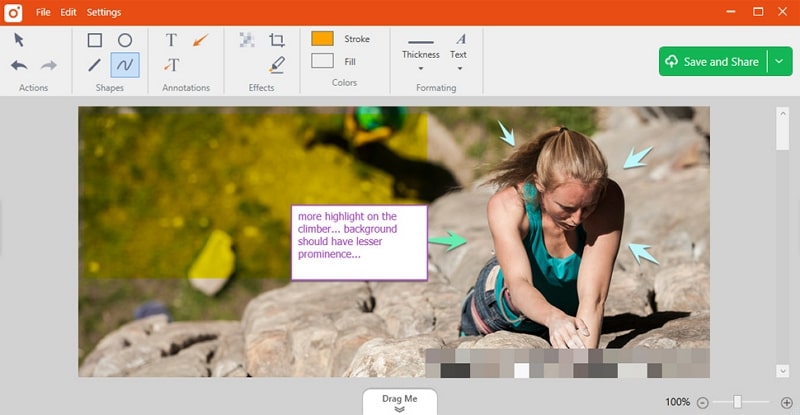 Looking for the fastest yet reliable way to record your all-important videos, digital conferences, online meetings, or even battle gameplays? TinyTake is what you need in this regard. This free video recording software offers a screen recording facility with a maximum duration of 120 minutes. Not to forget, you can also annotate your video in the desired settings.
Capturing a quick screenshot is also possible, and you can modify it using the provided annotation tool set. Moreover, you can save the captured files, copy them to a clipboard, send them to the printer, or even attach them as an e-mail.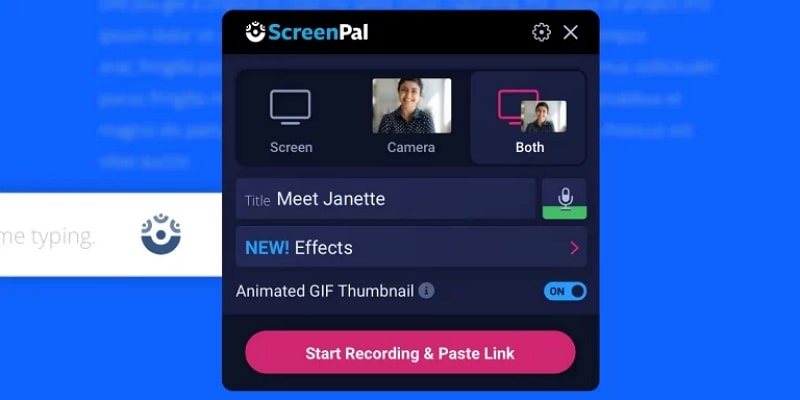 ScreenPal is a screencasting and video editing software and a perfect video recording tool. This best video recording software is fast and provides high-quality video recording, allowing personalized narration to edit internal audio support. In addition, there is a dedicated editing facility that allows you to modify your recorded videos with specialized effects, animations, captions, and much more.
The option also includes recording and sharing video messages for better collaboration with teammates. Thus, you can get feedback and share knowledge or information with friends. To enhance your video engagement, add stock media to it by exploring the dedicated stock library.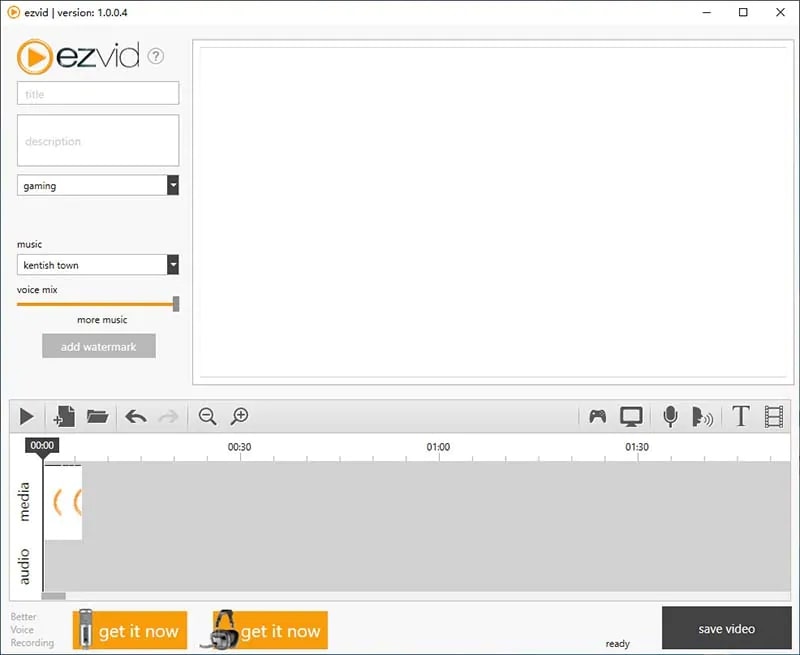 Record your all-important screenplays with zero hassles, all thanks to the Ezvid video recording software. This tool makes screen recording simple and easy because of its cutting-edge features, including screen drawing, voice recording, speed control, voice synthesis, facecam, and more. Don't worry. Ezvid is super-fast since it's backed by the support of the latest C++ binaries, video cards, and multi-core CPUs.
Simply push-click on a button, and your video recording will start in a matter of seconds. Henceforth, you don't need to keep the recording of your important gameplays, tv series, or meetings on a waiting period.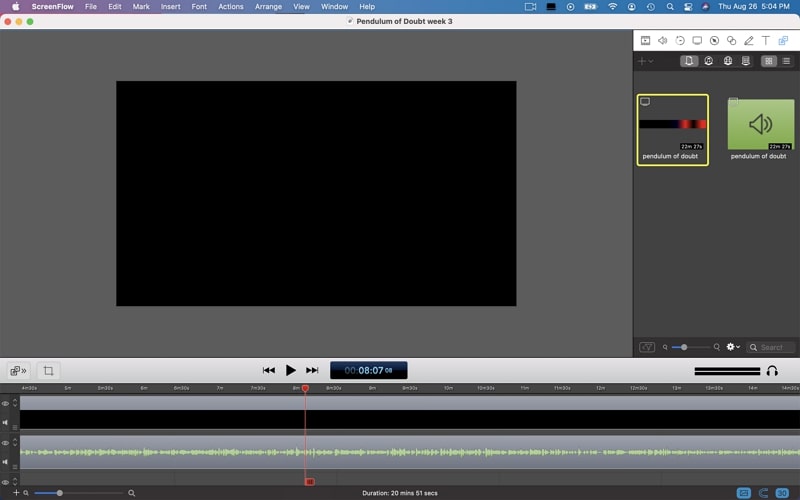 Video recording is now easier, smarter, and more convenient with the ScreenFlow video recording tool that offers stunning video quality with excellent audio and lag-free operations. The good thing is, with the help of its stock media library, you can also add audio, clips, and images to your recorded videos. With the display of a highly intuitive UI, it will take you minutes to record and organize your final video completely.
Moreover, you have the option to embed freehand annotations, transitions, text animations, and even audio into your video with this best video recording software. In fact, you can also design animated GIFs and APNG features.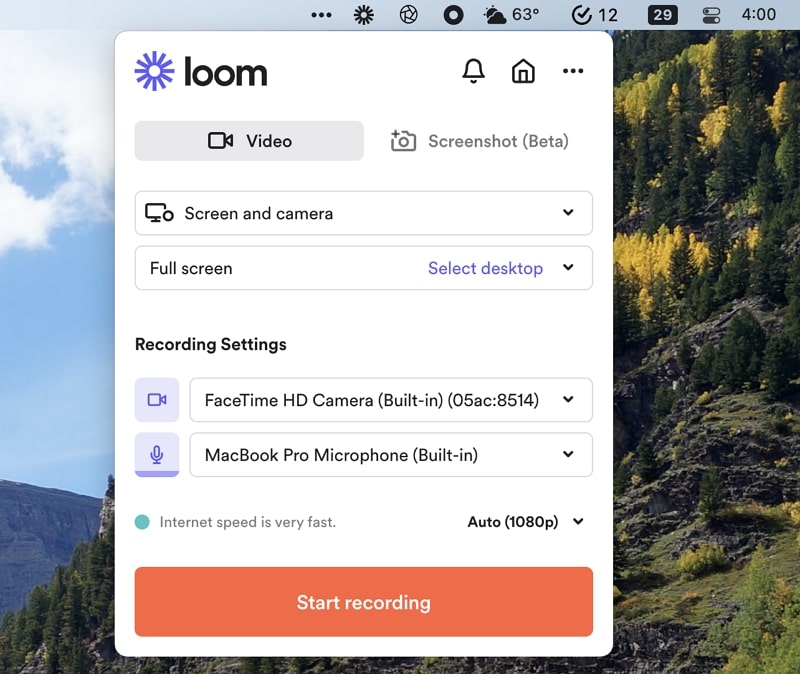 Known as one of the best video recording software' currently available, Loom makes video recording extremely smart and effortless. Apparently, you have the authority to record your screen, as well as simultaneously use a webcam facility. So if you want to make tutorials or demos, this tool is a great facility. After recording your video, share it instantly with anyone using the provided link from the clipboard.
No need to visit other tools to edit your video because Loom offers a specialized editing option where you can trim, remove or add video content as required. Viewers can also leave emoji reactions after sharing the video with them.
How to Build Your Own Video Recording Software
Video recording software is among the most demanded tools in the current scenario. Nevertheless, to build such applications, you need to spend a lot of money, which even consumes valuable time. The best option is to opt for the ZEGOCLOUD Cloud Recording facility to build perfect video recording software.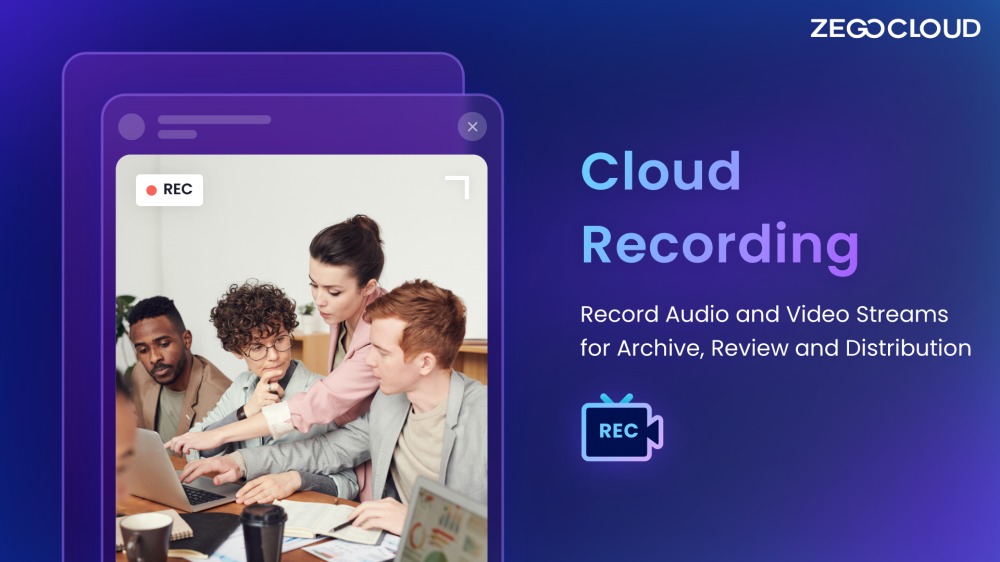 Basically, ZEGOCLOUD Cloud Recording is an API that equips unique functionality for integrating ready-made video recording facilities in existing applications or software. Therefore, by using this facility, developers don't need to code from scratch and ultimately build modern yet fully functional video recorders in a quick time.
Unique Features of ZEGOCLOUD's Cloud Recording API
We've already discovered the role of ZEGOCLOUD Cloud Recording in the development of video recording software tools. Let's proceed further to locate more of its specialties:
End-to-End Security: With ZEGOCLOUD Cloud Recording, you don't need to worry about your data privacy because the platform possesses AES encryption and unique token authentication.
Maximum Reliability: With the presence of global clusters, all the recordings are uploaded and frequently backed. Thus, preventing the issues of data loss.
Adjustable Layouts: It depends on whether you want to use a predefined layout or adjust settings to set your layout as required.
Take Screenshots: For content moderation purposes, you can take screenshots of your recorded videos.
Conclusion
With the continuous advancements in the world of the internet and technology, video recording is fast becoming an important utility on both Windows and Mac operating systems. Users can utilize multiple free video recording software for their respective tasks, but the best ones for this purpose are discussed in this article. Consequently, if you're looking to develop your video recorder, ZEGOCLOUD Cloud Recording is the way forward.
Read more:
Talk to Expert
Learn more about our solutions and get your question answered.
Talk to us
Take your apps to the next level with our voice, video and chat APIs
10,000 minutes for free
4,000+ corporate clients
3 Billion daily call minutes