Runbo is a Smart Walkie Talkie Brand. To Create a Visual Walkie-Talkie Communication System, it partnered with ZEGOCLOUD.
With the development of modern communication technology, the transmission of information has become unprecedentedly convenient and fast. As a two-way mobile communication tool, the walkie-talkie can realize communication without networking support. This is especially suitable for some scenes needing frequent communication, e.g., hotels and property management centers.
Runbo Visual Walkie Talkies use cases
Runbo is a leading brand in China's 3-proof walkie-talkie sector. Unlike conventional products, Runbo walkie-talkies have display screens supporting multi-touch and 5-megapixel cameras. They support automatic focus, with photo shooting and video call capabilities.
For this reason, Runbo walkie-talkies are widely used in many industry scenarios.
Property Management
The complex structures of modern communities, such as high-rise and reinforced concrete structures, cause blind spots in communication. These increase the difficulty in the daily management of property management companies. Runbo visual walkie-talkies can realize daily patrol, real-time monitoring, emergency alarm, and intelligent management of communities. This enables the safe and efficient operation of property management companies in communities.
Emergency Rescue
In the event of natural disasters and work safety accidents, emergency rescue always affects the hearts of many people. However, the complexity of rescue scenes often leads to weak signals and even signal interrupts. By excellent communication quality, Runbo visual walkie-talkies can help the emergency rescue department respond rapidly.
Railway Communication
Railway workers must carry out the maintenance, inspection, and repair of railways all year round. After the train speed is boosted, construction personnel's danger level at work also increases. Runbo visual walkie-talkies meet the communication requirements of station maintenance and construction personnel.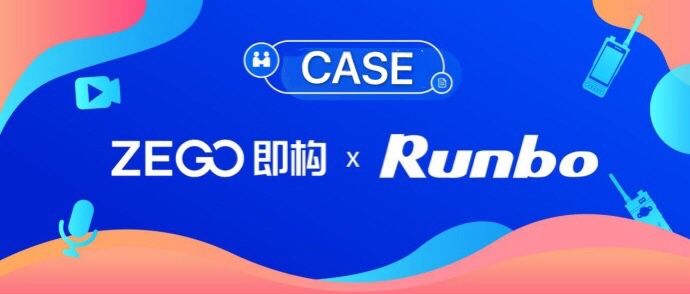 ZEGOCLOUD's Audio and Video solutions for Runbo
Runbo walkie-talkies gain remote audio and video interaction capability by integrating ZEGOCLOUD audio SDK and video SDK. Besides, they're more advantageous regarding picture and tone color, availability in weak networks, and multi-user double-talk interaction effects.
ZEGOCLOUD's audio and video SDK supports ultra-high-definition sound and pictures, i.e., 44.1kHz timbre and 4K high-definition display. Besides, the user can adjust the image and tone based on factual scenarios and network environment to balance the picture, resonance, and cost.
Property management centers, hotels, patrol inspectors, and cleaners can transmit high-definition pictures of site conditions and damaged facilities to the central console. Consequently, the latter can dispatch personnel to conduct maintenance and repair without checking the condition on the spot.
High Availability in Weak Network
The call quality of ZEGOCLOUD's audio and video SDK is excellent in weak networks. When the packet loss rate is 70%, it can maintain fluent audio/video calls of 15 frames per second. When it is 80%, it can support eloquent audio calls. When it is 90%, the dropped-call rate will not exceed 30%.
In emergency rescue scenarios, poor network signals are widespread. However, ZEGOCLOUD's audio and video SDK, relying on its excellent adaptive ability to weak networks, can provide clear and fluent low-latency audio/video call capabilities, providing a more reliable communication scheme for fast response.
Excellent Multi-user Interactive and Double-talk Effect
Based on the self-developed audio and video engine, ZEGOCLOUD's SDK is much better than competitive products in voice pre-processing, such as echo cancellation. It has excellent multi-user interactive and double-talk effects. More specifically, it can support up to 10 users to speak together and clearly hear each other.
In practical application, customers can build a non-interfering and two-way interactive communication scheduling system through Runbo walkie-talkies to achieve scheduling in an orderly manner.
ZEGOCLOUD's IoT Solution
Walkie-talkies have developed significant functions thanks to audio and video techniques. ZEGOCLOUD has been committed to promoting the application of audio and video techniques in all walks of life. Against the Internet of Everything background, ZEGOCLOUD's IoT solution helps more hardware, such as big screens for education, smart glasses, medical instruments, and claw machines, gain audio and video interaction capabilities.
Big Screens for Education
ZEGOCLOUD supports all teaching hardware used in double-teacher type classes, e.g., omnidirectional picking microphones, 4K UHD cameras, touch-sensitive recording devices, and interactive intelligent tablets, enabling the share of high-quality teaching content of first-class cities with the schools in backward areas and accordingly alleviating the uneven distribution of educational resources.
Smart Glasses
ZEGOCLOUD combines real-time audio and video techniques with smart glasses so that the maintenance personnel and law enforcement officers on the spot can interact with the experts and reporters at a distance. Smart glasses can be used in such scenarios as intelligent patrol & inspection and visual law enforcement.
Medical Instruments
Relying on ZEGOCLOUD's low-latency audio and video interaction techniques, ZEGOCLOUD's SDK can be applied to medical instruments such as laryngoscopes to realize visualized operations of medical devices so that medical workers could operate tools in a more reliable, efficient and convenient method.
Claw Machines
ZEGOCLOUD combines real-time audio and video techniques with offline claw machines to provide an integrated claw machine solution. When ensuring a low-latency online doll-catching experience, ZEGOCLOUD provides rental and maintenance services for offline claw machines, helping customers reduce their offline operating costs.
Runbo walkie-talkies adopt an Ip67 dustproof, waterproof, and shockproof design, so they're adaptable to extremely severe conditions. Thanks to ZEGOCLOUD's audio and video techniques, Runbo walkie-talkies realize the synchronous transmission of sound and pictures, making users feel personally on the scene. With the upgrading and popularization of intelligent hardware, ZEGOCLOUD will provide audio and video interaction capabilities for more terminal devices, achieving more efficient connections between people, between people and things, and people and the world.
You may also like:
Talk to Expert
Learn more about our solutions and get your question answered.
Talk to us
Take your apps to the next level with our voice, video and chat APIs
10,000 minutes for free
4,000+ corporate clients
3 Billion daily call minutes