Regarding the realm of mobile app development, React Native has risen as a highly desired framework. With its seamless combination of performance, effectiveness, and cross-platform adaptability, React Native has fundamentally transformed the strategies businesses employ for app development. This guide delves into the domain of React Native app development companies. Moreover, it offers a comprehensive list of the top 10 React Native app development companies in 2023.
10 Best React Native App Development Companies
React Native has established itself as a go-to framework for creating React Native applications that seamlessly run across multiple platforms. Besides, the demand for top-tier React Native app development services is robust, and businesses are actively seeking proficient partners.
Furthermore, we have meticulously analyzed and assessed numerous companies in the industry. The result is the following curated list of companies that have consistently demonstrated their prowess in creating exceptional React Native applications.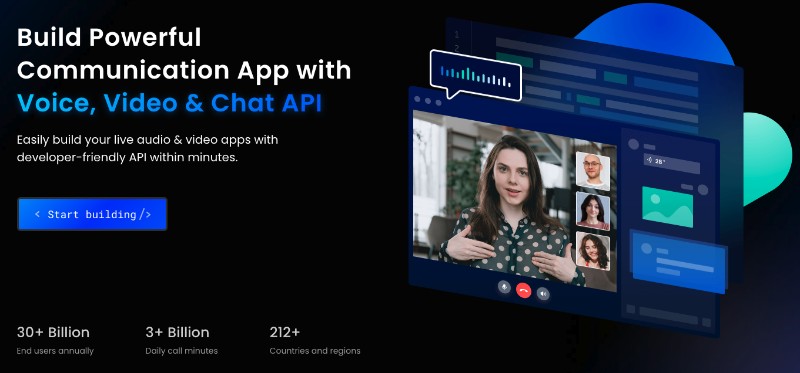 At the forefront of our list stands ZEGOCLOUD, which has established itself as a dominant React Native development company. Above all, it is a visionary company that has redefined the field of mobile app development. Employing React Native allows you to build mobile applications ranging from chatting apps to live-streaming solutions. Moreover, ZEGOCLOUD provides APIs & SDKs for all services, including video call, audio call, in-app chat, cloud recording, etc.
In addition, it offers over 20 pre-built UIKits that allow you to create a React Native app in the shortest time possible. Many pre-built UI components are available that can shorten the app development by a considerable margin without affecting its quality. Besides, ZEGOCLOUD is also extremely business-friendly, as it lets you create a live demo of your React Native app at a very low cost.
Core Services: WebRTC, UDP, API, SDK, PaaS, SaaS, RTC, In-App Chat, Voice Call, Video Call, Live Streaming, and AI Avatar
Company Size: 501 – 1,000
Location: Singapore
Rating: 4.95/5
Email: Use the Contact Us page on the Website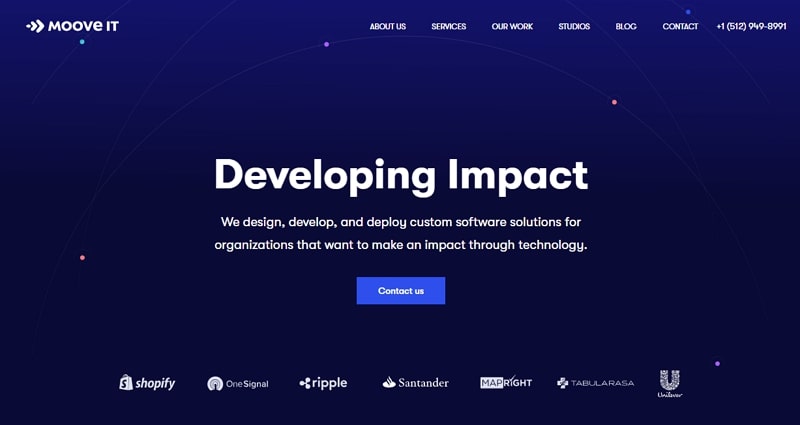 A prominent React Native app development company, Moove It, specializes in building React Native apps. Founded in 2006, it offers web and mobile development and various other services. Offering a high-quality development process, the company claims to provide code reviews and continuous work evaluation. Besides, it uses Agile methodology in its development process, allowing for flexibility and adaptability in project management.
Moreover, Moove It has a team of experienced developers who are skilled in React Native, enabling them to deliver efficient and scalable mobile applications. With a focus on client satisfaction, the company ensures open communication channels and regular updates throughout the development cycle.
Core Services: Software Development, Product Development, Machine Learning Consulting, DevOps, SRE & Cloud
Company Size: 50 – 249
Location: Austin, Texas, USA
Rating: 4.8 out of 5 from 23 reviews on Clutch.co
Email: hello@moove-it.com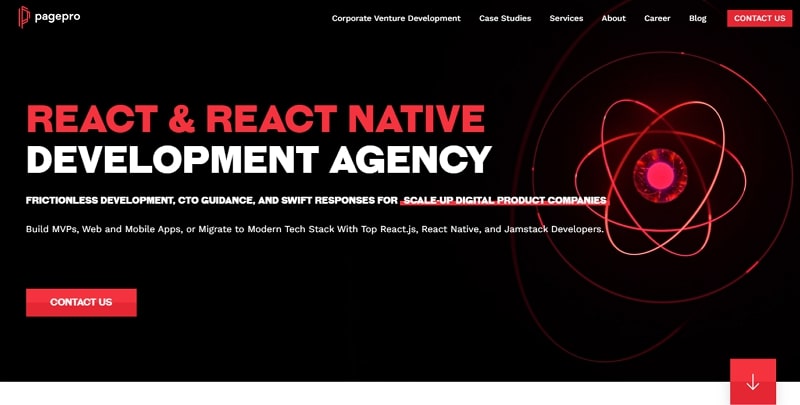 Pagepro specializes in harnessing the capabilities of React.js and React Native to elevate your project quality and efficiency. After all, their team leverages these powerful technologies built upon the industry's finest and most proven libraries. Moreover, this not only guarantees top-notch performance but also facilitates effortless maintenance, leading to substantial cost savings for your business.
Furthermore, it empowers your venture with the vanguard of digital innovation. This React Native app development company capitalizes on the latest technological trends. By adopting these innovations, they ensure your applications are not only present but also future-proof. Besides, this provides seamless integration with your existing systems to maximize operational efficiency.
Core Services: Web and Mobile App Development, Frontend Development, Corporate Venture Development, PWA Development
Company Size: 10 – 49
Location: Białystok, Poland
Rating: 4.9 out of 5 from 23 reviews on Clutch.co
Email: hello@pagepro.co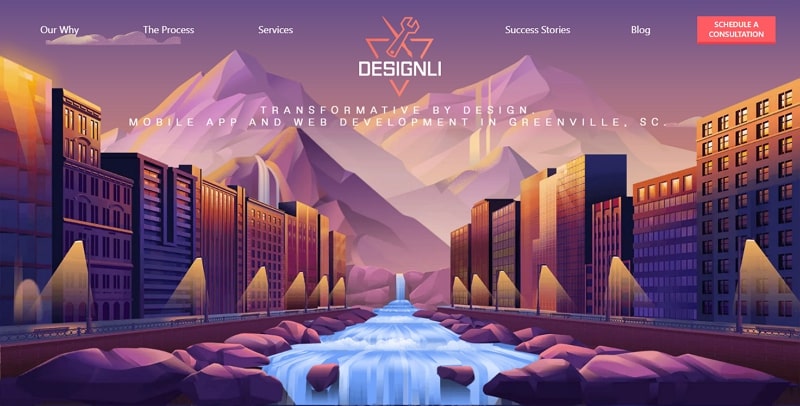 In the realm of React Native development services, the quality you achieve can be the differentiator that sets you apart. The selection of an appropriate partner can significantly ease your journey to success. Moreover, this is precisely where Desgnli's role comes into play. Designli stands as a distinguished software firm renowned for its consultative approach.
In addition, creating an application is a venture that requires substantial investments in terms of both time and resources. However, meticulous planning can significantly mitigate these demands. Ranging from the initial stages of conceptualization to the arduous development phases, having the right collaborator by your side can steer you towards your objectives with greater ease.
Core Services: UI/UX Design, Web and Mobile App Development, Web Development, On-demand Product Teams
Company Size: 10 – 49
Location: Greenville, SC, USA
Rating: 5 out of 5 from 52 reviews on Clutch.co
Email: hello@designli.co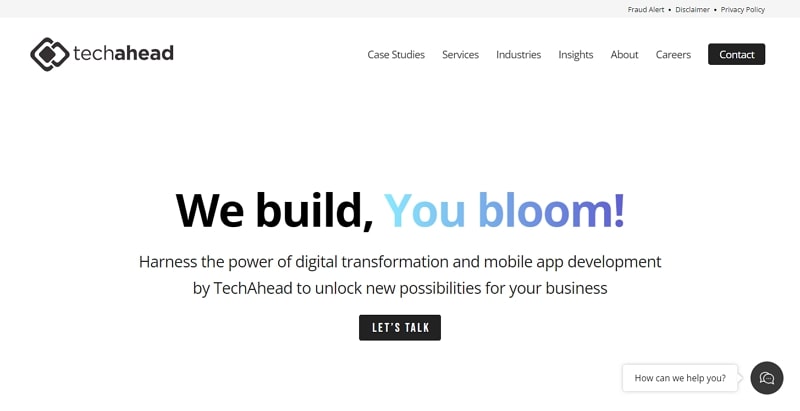 Promising to not just build solutions but cultivate partnerships, TechAhead is where innovation meets transformation. After all, their mission is to help you unleash the full potential of digital revolution and React Native app development services. With TechAhead by your side, the possibilities for your business are boundless. At TechAhead, They are dedicated to maximizing your digital impact. Additionally, their award-winning services encompass every aspect of digital transformation.
Bringing ideas to life through branding, the UX & UI design prowess creates intuitive and visually appealing interfaces. Rigorous user research and testing ensure that every design decision is backed by data. Above all, it optimizes conversion rates and elevates user experiences, setting you apart in the digital landscape.
Core Services: Mobile App Development, Web App Development, Internet of Things (IoT), Staff Augmentation, Digital Product Engineering, App Maintenance
Company Size: 50 – 249
Location: Santa Monica, CA
Rating: 4.8 out of 5 from 82 reviews on Clutch.co
Email: sales@techaheadcorp.com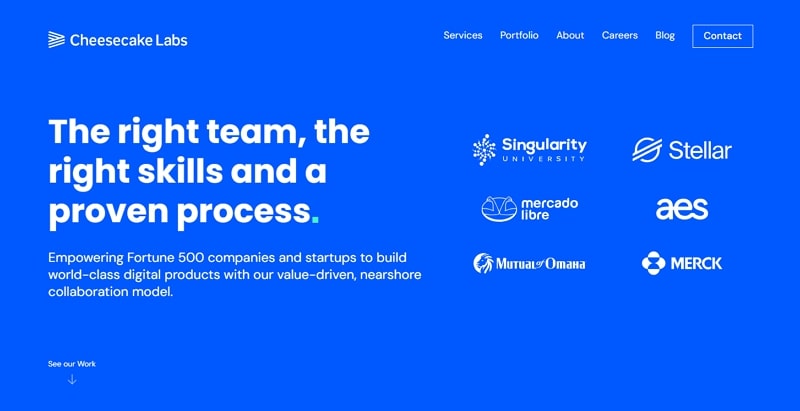 Cheesecake Labs possesses the optimal blend of the right team, the right skills, and a proven process to drive success. Their mission revolves around empowering both Fortune 500 companies and startups. In addition, their aim is to propel them to craft world-class digital products through our value-centric, nearshore collaboration model. Moreover, they adopt a customer-centric design approach coupled with unparalleled software development to create marvels of technology.
In addition, its comprehensive suite of services functions as a catalyst for your strategic endeavors, furnishing scalable digital solutions. Whether you're embarking on the creation of a digital product from the ground up, seeking to modernize an existing one, or enhancing it with new features, it has got you covered.
Core Services: UI/UX Design, Mobile and Web App Development, Strategy and Product Definition, Next-Generation Technologies
Company Size: 50 – 249
Location: San Francisco, CA, USA
Rating: 4.9 out of 5 from 49 reviews on Clutch.co
Email: info@cheesecakelabs.com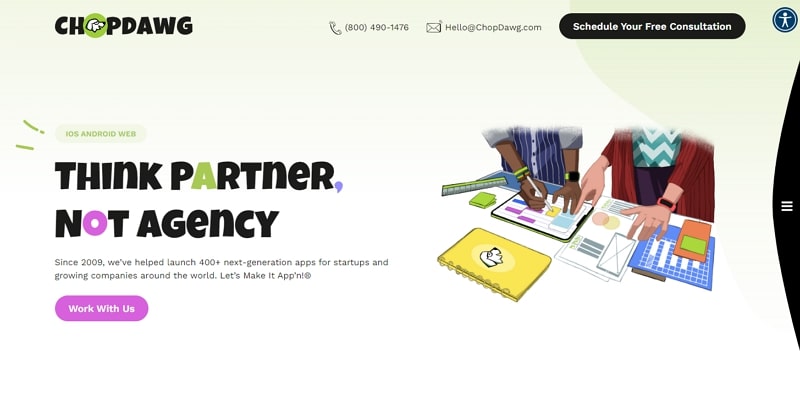 Established in 2009, ChopDawg.com has been pivotal in launching over 400 cutting-edge applications for startups and progressive enterprises worldwide. Furthermore, the team comprises seasoned professionals committed to delivering ingenious solutions and unparalleled services to our esteemed clients. Above all, they firmly grasp the significance of forging robust partnerships and are strong proponents of closely collaborating with our clients as a dependable partner, transcending the role of a conventional agency.
In addition, this React Native development services provider company specializes in crafting responsive web applications, seamlessly functional websites, and optimizing the user experience on both iOS and Android platforms. Moreover, its approach involves working closely with you to discern the optimal features that will captivate your future user base while adhering to budgetary constraints.
Core Services: Web & Mobile Apps, Strategy & Prototyping, UI/UX Design, AI & Chatbots,
Company Size: 10 – 49
Location: Philadelphia, PA
Rating: 4.9 out of 5 from 69 reviews on Clutch.co
Email: hello@ChopDawg.com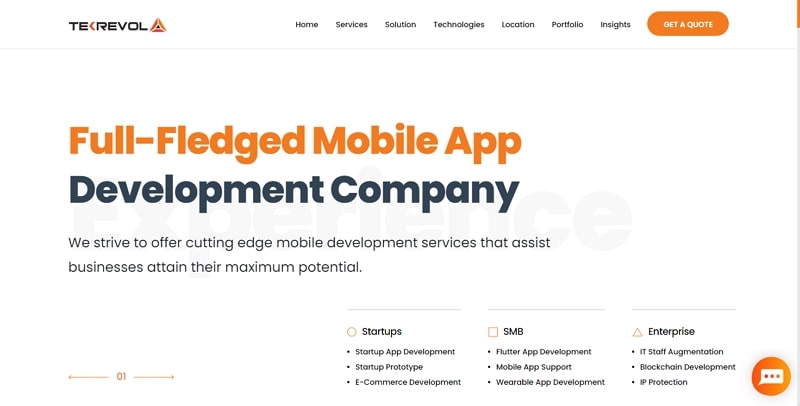 TekRevol is committed to providing state-of-the-art React Native development services that empower businesses to achieve their maximum potential. Leveraging a global presence, we consistently evolve and design digital solutions for enterprises across the globe. Above all, with a forward-thinking outlook, the company is prepared for the future, embracing emerging technologies from AI to wearable devices.
Moreover, this equips it not only to improve lives but also to redefine industry standards. Using agile methodologies, TekRevol engineers create feature-rich, intuitive mobile apps that deeply resonate with end users. Its services are distinguished by a user-centric, quality-oriented, and future-oriented approach. Besides, these very attributes have been instrumental in earning it prestigious awards and recognition.
Core Services: Mobile App Development, Web Development, Custom Software Development, Game Development
Company Size: 250 – 999
Location: Houston, TX, USA
Rating: 4.8 out of 5 from 67 reviews on Clutch.co
Email: info@tekrevol.com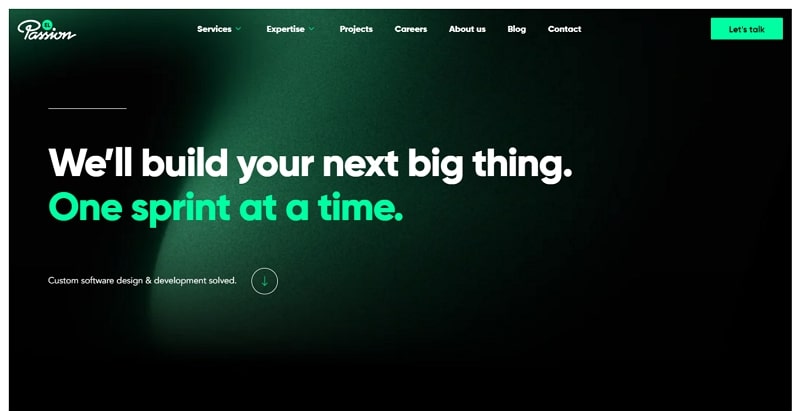 With the motto of "Crafting Your Vision: One Sprint at a Time," El Passion stands ready to actualize your next major innovation incrementally and swiftly. As an agile agency specializing in product design and development, they embrace the principles of agility. Moreover, their expertise becomes your advantage as they construct and expand your digital product, aligning it precisely with your business requirements and users' expectations.
Above all, compelling, intuitive, and inclusive user experience and user interface designs are fortified by thorough research and analysis. Furthermore, comprehensive full-stack web development is shepherded by elite technical and business professionals, spanning the entire project lifecycle.
Core Services: Product Design, Mobile Development, Web Development, Webflow Development, Agile Project Management, DevOps
Company Size: 50 – 249
Location: Warszawa, Poland
Rating: 4.8 out of 5 from 53 reviews on Clutch.co
Email: hello@elpassion.com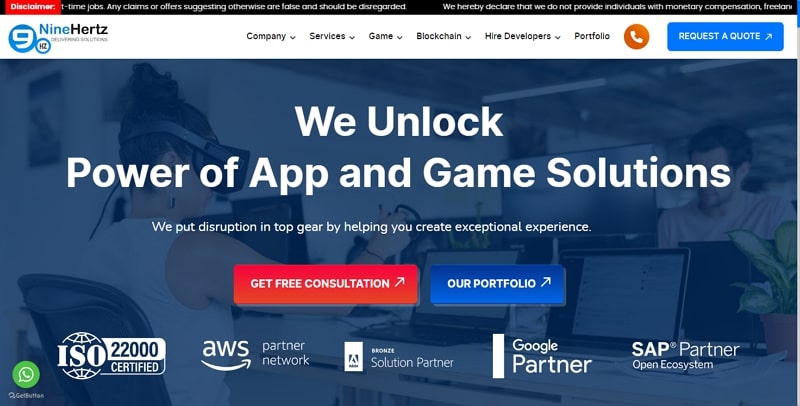 The NineHertz offers an unwavering dedication to React Native app development that is fueled by inspiration and passion. Moreover, they are committed to providing tailored mobile application solutions that not only meet business objectives but also elevate brand visibility. With their expertise, they empower businesses to engage their target audience effectively, resulting in substantial revenue growth.
Furthermore. the company's philosophy revolves around embracing the latest technological trends in every project. Having amassed extensive experience across diverse industries, they excel at crafting cutting-edge custom applications. Besides, these solutions are designed not only to streamline repetitive tasks but also to amplify overall business productivity.
Core Services: iOS Development, Android Development, React Native Development, Flutter Development, Machine Learning Development, AR Development, VR Development
Company Size: 50 – 249
Location: Cincinnati, OH, USA
Rating: 4.8 out of 5 from 110 reviews on Clutch.co
Email: sales@theninehertz.com
Conclusion
To summarize, React Native continues to excel as a prominent framework, empowering businesses to create effective mobile applications. In addition, this article delved into the foremost 10 React Native app development companies, garnering attention in 2023 due to their exceptional services, inventive approaches, and unwavering track records of success.
Moreover, these companies' dedication to remaining current with the latest trends, implementing optimal methodologies, and embracing emerging technologies differentiates them in a competitive market.
Read more:
Talk to Expert
Learn more about our solutions and get your question answered.
Talk to us
Take your apps to the next level with our voice, video and chat APIs
10,000 minutes for free
4,000+ corporate clients
3 Billion daily call minutes