Booming market
As per the karaoke market research analysis, the expected CAGR of 2.41% is to reach USD 6,127.8 Million during the forecast period from 2022 to 2030.
Karaoke is becoming a famous form of entertainment in which a singer with the help of a karaoke machine performs the prerecorded music using a microphone.
The karaoke industry is growing like anything. The popular musical lyrics are shown on a video screen and images, with changing colors, and recognizable symbols guide the avid singer during the performance.
Extensive mass entertainment
Music is a great source of relaxation and enjoyment. People have been performing the art of music from the earliest times.
If someone is interested in discovering the best platforms to relax and enjoy, then karaoke is the best application.
Karaoke is a kind of interactive entertainment, generally available at clubs and bars, where people sing along with music recorded through a microphone.
Three ways to boost DAUs
In a market brimming with prospects, how should we drum up more daily active users (DAUs) for our apps?
The key is to mobilize people. In other words, we need to connect users and make content more interactive. That's exactly what top apps such as Facebook and TikTok are doing to keep their DAUs at a high level.
How do we connect users of karaoke apps and boost user engagement?
Traditional karaoke apps only support singing, recording, uploading, and sharing. Users are connected only through likes and comments. And the content refers only to songs. When users have no time or lose interest in these apps, such fragile connection falls apart.
Now let me introduce three new karaoke modes that can help you boost DAUs.
Solo
Users can live stream their solos. The audience can make their comments in real time, which helps motivate the singer.This mode is achievable, and the only technical challenge is to ensure that accompaniment and voice are simultaneously transmitted to the audience.
ZEGOCLOUD provides a complete stream mixing solution to solve this problem. In this solution, the voice and accompaniment are mixed to form a single stream, which is then pushed to the audience. Therefore, the voice and accompaniment are heard by the audience synchronously.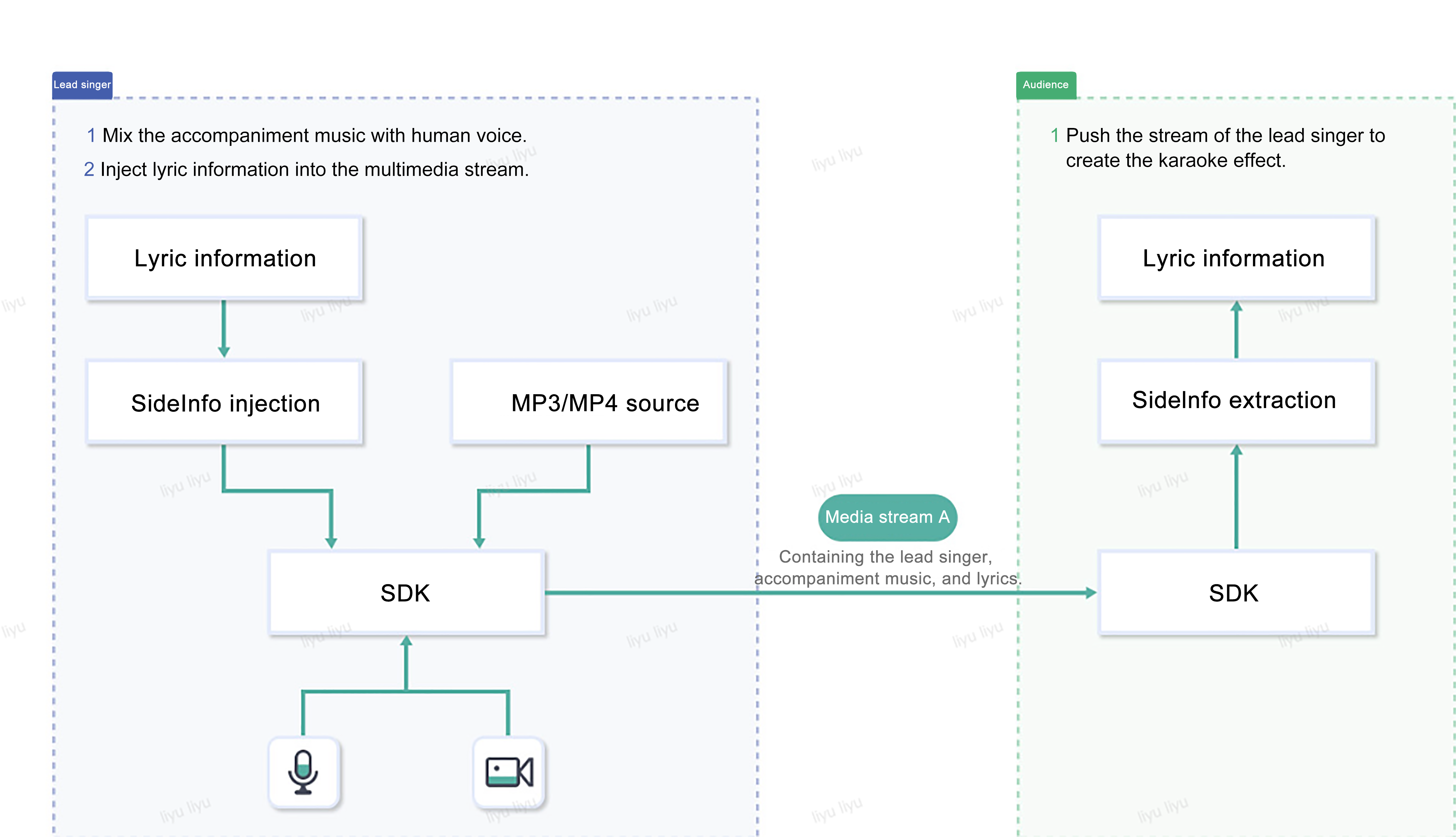 Singing game
Each round of the game contains 10-12 songs. The host first plays a snatch of each song (3s or so), and then participants race to preempt the mic and sing the remaining part of that song.
By adding fun to solos, this mode enhances the connection among users and thereby keeps them engaged with the app.
The technical difficulty of this mode lies in how to ensure the consistency of "preemption", which can be achieved through business background control.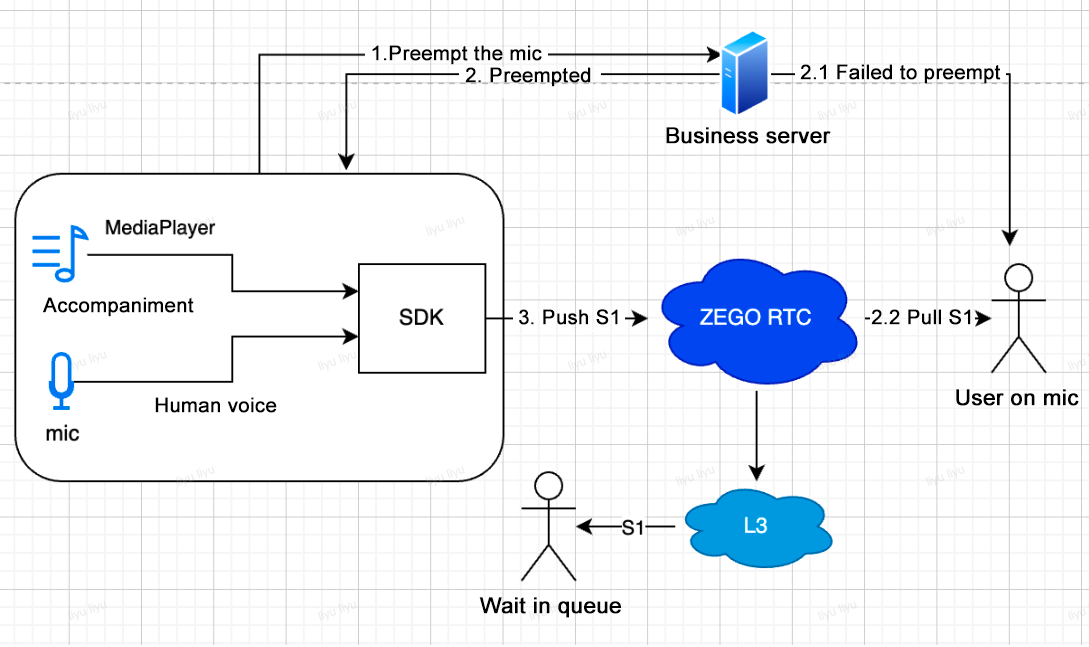 Real-time chorus
As the most popular karaoke mode nowadays, real-time chorus enhances the connection among users and between users and content.
This mode endows karaoke apps with a social function, and makes chorus a social topic. Real-time chorus allows users to quickly connect with others and expand their social networks, thus building up user stickiness to the app.
However, this mode has a high technical threshold. You might think that it just uses the same technology as voice calling. But if accompaniment is added, the technical difficulty will increase exponentially.
For a voice call, a latency of less than 500 ms will basically not compromise the user experience. But for chorus, a latency of over 100 ms will pack a real punch, because accompaniment serves as a reference point.
The 100 ms threshold has been the stumbling block to the development of karaoke apps. No longer. Today, the karaoke chorus solution proposed by ZEGOCLOUD realizes a latency of as low as 70 ms, making real-time chorus possible.

Sign up with ZEGOCLOUD. Get details about the solution. Get 10,000 minutes free every month.
Talk to Expert
Learn more about our solutions and get your question answered.
Talk to us
Take your apps to the next level with our video APIs
10,000 minutes for free
4,000+ corporate clients
3 Billion daily call minutes