Are you considering building dating websites and apps like Tinder? With the online dating industry on the rise, creating your own dating app could be a lucrative business venture. However, it's important to understand the costs, features, and development process before diving in. In this guide, we'll explore the steps for how to create a dating app with ZEGOCLOUD.
Why are Dating Apps So Popular?
Dating apps have become incredibly popular in recent years and for a good reason. Here are a few reasons why:
Convenience: Dating apps are accessible to anyone with a smartphone, making it easy for people to connect with others regardless of their location or social circles.
Control: Users have the ability to filter through profiles and choose who they want to talk to, giving them a sense of empowerment in the dating process.
Increasing acceptance: As more people turn to online dating to find meaningful connections, the stigma surrounding it has diminished. This has made dating apps a more acceptable and mainstream way to meet potential partners.
Variety: Dating apps offer a wide variety of potential matches, making it easier for users to find someone who fits their preferences.
How Much Does It Cost to Develop a Dating App?
Developing your own dating apps is a lucrative way to enter the expanding online dating industry. Nonetheless, it is crucial to comprehend the associated expenses before proceeding. The app's features, design, and development team are all factors that can influence the cost of developing a dating app.
The cost of hiring a development team to create a dating app can range from $25,000 to $100,000 or more. This includes the cost of hiring designers, developers, and project managers. Additional costs may include server costs, app store fees, and ongoing maintenance costs.
One way to reduce costs is to use pre-built solutions or templates. This can help streamline the development process and reduce costs. However, it's important to ensure that the template or solution is customizable and can be tailored to your specific needs.

The Key Features of Dating Apps
To create a successful dating app, including certain key features users look for is important. Here are some of the most important features of dating apps:
1. User profiles
User profiles are a crucial aspect of any dating app. They should be easy to create and update and should include information such as age, location, interests, and photos.
2. Swiping mechanism
Swiping is a popular feature that allows users to browse through potential matches quickly. Users can swipe left to reject a match or swipe right to show interest.
3. Matching algorithm
A good matching algorithm is essential for any dating app. It should consider user preferences and behavior to suggest the most relevant matches.
4. Messaging
A messaging system is necessary to allow users to communicate with their matches. The messaging system should be easy to use and should offer features such as read receipts and the ability to send photos and videos.
5. Geolocation
Geolocation is a useful feature that allows users to find matches near their location. This is especially important for users who are looking for local matches.
6. Push notifications
Push notifications are a great way to keep users engaged with the app. They can be used to alert users to new matches, messages, and other important events.
7. Privacy and security features
Privacy and security are important concerns for users of dating apps. Features such as two-factor authentication, profile verification, and the ability to block and report users can help ensure the safety of users.
8. Premium features
Many dating apps offer premium features such as the ability to see who has liked your profile, undo swipes, and boost your profile to get more matches. These features can generate revenue for the app and provide a better user experience.
3 of the Most Popular Dating Apps
Meeting potential partners through online dating has become ubiquitous in today's society. The digital world is teeming with dating apps that cater to distinct audiences and offer many features. Let's take a look at the 3 best dating apps for Android, iOS, and Web.
Launched in 2012, Tinder is one of the most well-known dating apps. The location-based app allows users to swipe left or right on potential matches. When both users swipe right on Tinder, they match and gain access to messaging within the app. Its popularity among younger generations can be attributed to its user-friendly interface and ease of use.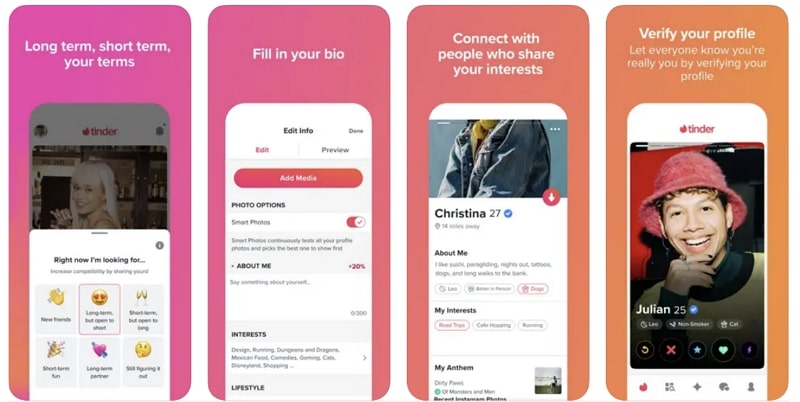 Bumble was launched in 2014 and has quickly become a popular dating app. Like Tinder, it's a location-based app with a unique feature that puts women in control. In heterosexual matches, only women can initiate conversations with their matches. This has made Bumble a popular option for women who want to feel more in control of their dating experience.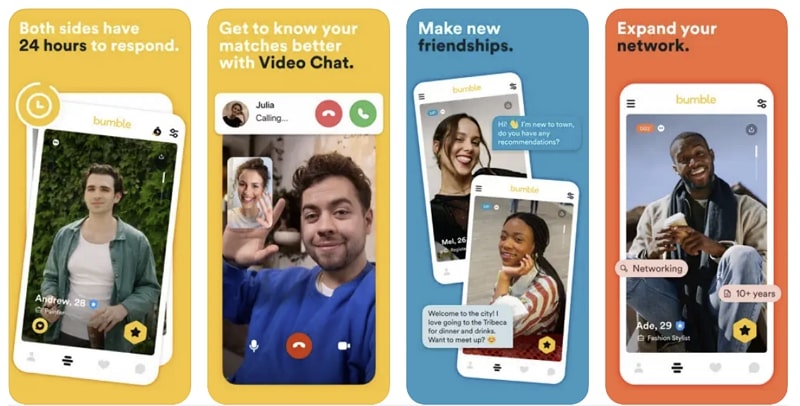 Hinge is a dating app that prioritizes the creation of meaningful relationships. It diverges from Tinder and Bumble's swipe-based model and allows users to like particular elements of a potential match's profile, initiating a conversation based on those common interests. Hinge is highly sought after by individuals seeking something beyond just casual hookups.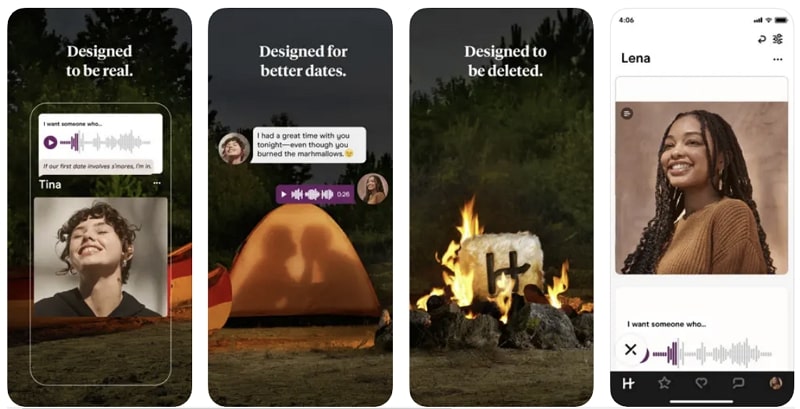 How to Make a Dating App Like Tinder
How to build a dating app like Tinder? Dating apps have become extremely popular, and Tinder has emerged as a leading player in the online dating industry. If you're interested in creating a chatting dating app like Tinder, one important aspect is ensuring that it has a robust and reliable SDK system. ZEGOCLOUD is a great option for integrating messaging functionality into your app.
Building In-App Chat for Your Dating App
To foster faster chat functionality integration into apps, ZEGOCLOUD offers a top-notch in-app chat SDK to handle all your text and multimedia messaging needs for dating app development. Just follow the steps below to get started with the integration of ZEGOCLOUD's In-app Chat SDK into your dating apps:
1. Sign up for a ZEGOCLOUD developer account: The first step is to sign up for a ZEGOCLOUD developer account. This will give you access to the ZEGOCLOUD dashboard and allow you to create a new project and access the In-app Chat SDK.
2. Create a new project and choose In-app Chat SDK: Once you've signed up for a ZEGOCLOUD developer account, you must create a new project. Within the ZEGOCLOUD dashboard, you can create a new project by clicking on the "New Project" button. From there, select "In-app Chat SDK" as your project type.
3. Integrate SDK: After you've created your project and selected the In-app Chat SDK, you can begin integrating the SDK into your dating app. The ZEGOCLOUD In-app Chat SDK provides detailed documentation and sample code to help you get started. This documentation includes information on initializing the SDK, setting up user authentication, and sending and receiving messages.
Building Video and Voice Chat for Your Dating App
Modern dating apps now offer exciting video and voice chat functionality, enhancing the overall user experience. ZEGOCLOUD offers a 100% customized video call API and voice chat API to integrate this feature into your app.
Simply follow these steps to add video and voice chat to your dating app. Assuming you have already set up your ZEGOCLOUD developer account, integrating video and voice chat features is as simple as following the same video call SDK integration steps.
1. Choose Video and Voice as a project use case
2. Integrate SDK
Once you've set up your project and chosen the Video and Voice SDK, integrating it into your dating app is the next step. ZEGOCLOUD's Express Video SDK offers comprehensive documentation and sample code to streamline the process.
Conclusion
Creating a dating app like Tinder requires a thoughtful approach to balancing cost and features. With careful planning, a reliable development team, and the right technology tools like ZEGOCLOUD In-app Chat SDK and video chat SDK, you can create a successful dating app that offers a great user experience and fosters meaningful connections. Sign up to get started!
FAQ
Q1: How can I ensure the safety of users on my dating app?
Safety is paramount in a dating app. Implement user verification methods like email, phone, or social media verification. Incorporate reporting and blocking mechanisms, use SSL encryption for data security, and provide safety tips to educate users about online dating risks.
Q2: How can I monetize my dating app?
Monetization options include subscription plans for premium features, offering in-app purchases like virtual gifts, displaying ads, and providing a freemium model where basic features are free, but users can upgrade for enhanced experiences.
Q3: How do I attract users to my dating app?
Develop a strong marketing strategy, utilize social media for promotion, collaborate with influencers or bloggers, optimize your app's visibility on app stores through ASO (App Store Optimization), offer limited-time promotions, and use targeted advertising to reach your desired audience.
Read more:
Talk to Expert
Learn more about our solutions and get your question answered.
Talk to us
Take your apps to the next level with our voice, video and chat APIs
10,000 minutes for free
4,000+ corporate clients
3 Billion daily call minutes