The rise of machines has made life much easier, with most daily tasks requiring little to no physical effort. On the other hand, the fast-food popularity and ready availability are causing people to become overweight. While the best solution is to join a gym, most people can't find enough time. Thus, this article will list the best fitness app to stay healthy at home.
What Features Should a Fitness App Have?
When deciding on a fitness app, especially a workout app for women, you should look carefully at the app's features. While what matters the most is your needs, there are some features that the best fitness apps should have. That's why we have explained some of the must-have features of a great fitness app below:
Activity Tracking: Any fitness app you choose should be able to track your daily workout routines and activities accurately. It should be able to record things like steps taken, distance traveled, approximate calories burned, etc.
Personalized Workouts: It is important that the app you choose allows you to create personalized workouts that suit your needs. This feature should allow users to select their workout duration, exercise type, and difficulty level.
Nutrition Tracking: Your selected best fitness app should be able to create and track a diet plan for you. The plan should be customizable and scalable according to your needs. Moreover, the app should be able to determine and record your food intake, water consumption, and calorie intake.
Personalized Coaching: A good fitness app should also offer personalized coaching to its users. This feature should include access to professional trainers who can provide personalized workout and nutrition advice.
Progress Tracking: The app should allow users to track their progress over time, including weight loss, muscle gain, and fitness level improvement. Moreover, this feature will help users stay motivated and on track toward their goals.
Are Fitness Apps Safe?
Answering the question are fitness apps safe can be difficult due to many factors influencing the answer. As far as privacy and data security go, fitness apps are like other apps. Some of these provide high security with encryption and data protection rules, while others are rather ambiguous. That's why you should always carefully check the terms and conditions and the permissions the app is demanding.
The other safety-related issue concerns the app's content. Many apps in the market contain bogus plans and exercises in their diet and fitness plans. Other risks associated with fitness apps include inaccurate tracking data, unrealistic workout goals, and unhealthy diet plans. Thus, always be extra careful when choosing a fit app to get into shape.
10 Best Free Fitness and Workout Apps
A simple search on the internet will take you to hundreds of online fitness apps. However, most of these contain wrong information and harmful diets and exercises. To help you choose the right app, we have listed the 10 best paid and free fitness apps for iOS and Android below: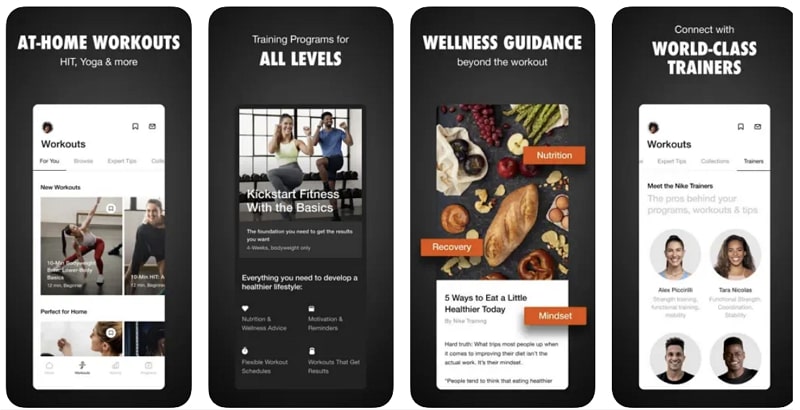 Developed by Nike, the world-famous shoe brand, Nike Training Club: Fitness is a popular app among professional and regular users. It offers a variety of workout plans designed by professional trainers and athletes. This app provides personalized training plans based on your fitness level, goals, and preferences. Moreover, it provides many low to high-intensity homework plans to keep you fit.
Nike Training Club also provides specifically designed workouts for athletes. These workouts include HIT training, strength training, cardio, yoga, and more. All of these features make it the best free fitness app you'll ever find.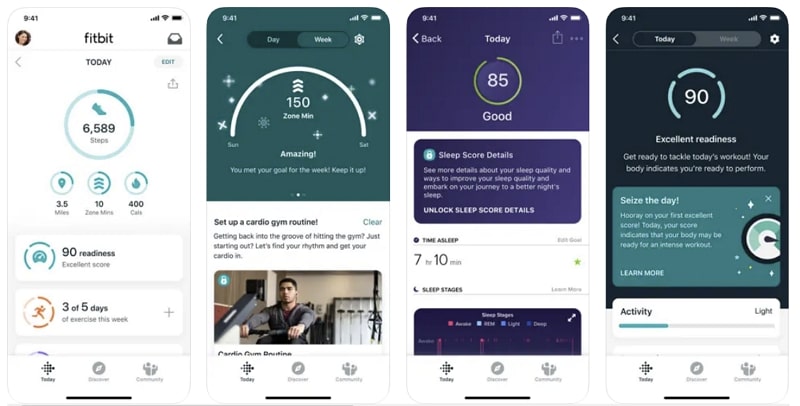 Do you have a Fitbit smartwatch? In this case, the best exercise app for you is Fitbit. It allows you to maintain fitness, create diet plans, monitor sleep, and manage stress. Moreover, this app provides personalized workout plans and audio and video coaching to help you stay motivated and on track.
It provides audio and video coaching and allows you to track your progress. You can also set goals and monitor your achievements. Additionally, this app follows the freemium model, which includes a great premium plan with a 90 day trial period.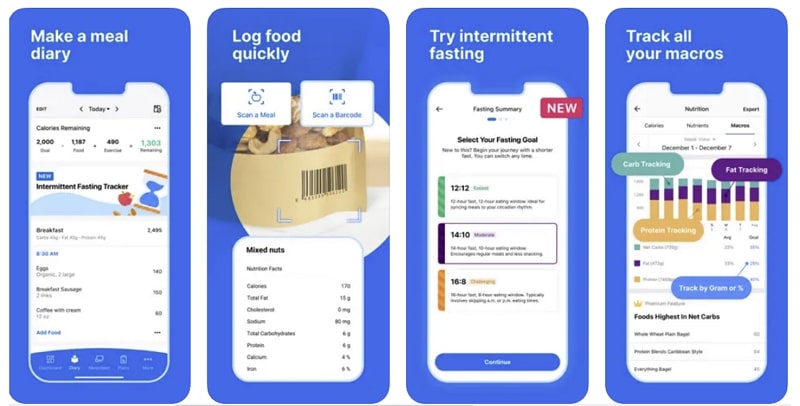 Considered by many to be the best fit app, MyFitnessPal is a great choice due to its large food activity database. This app lets you create a food diary and log your meals and snacks. You can also scan the barcodes of packaged foods to input their nutritional information quickly. Moreover, it also calculates the daily calories and compares them to your recommended intake.
Furthermore, this app also lets you track your water intake, exercise, and weight. You can enter the amount of water you drink daily, log your workouts, and record your weight to monitor your progress.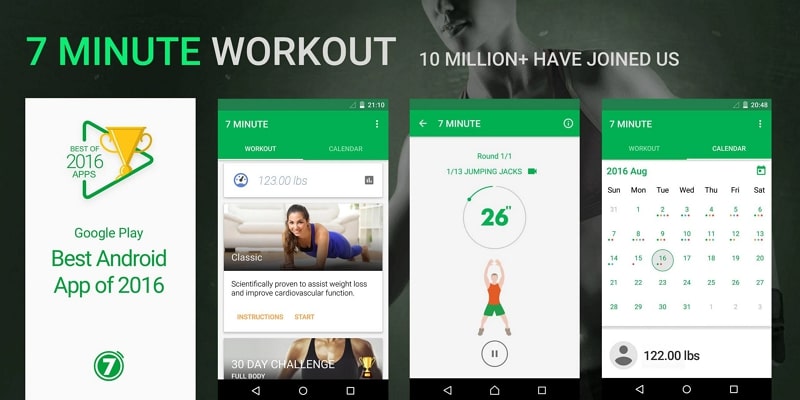 7 Minute Workout is a simple and effective best free fitness app that provides quick and efficient workouts. It is best for people with limited exercise time or who want to supplement their routine with a quick workout. The free workout app includes a wide range of exercises targeting different body parts. Moreover, each workout is 7 minutes long and consists of 12 exercises.
This app also provides audio and visual instructions for each exercise so that you can follow along easily. The exercises included in this app have high intensity and use your body weight as resistance, meaning you don't need gym equipment to use them.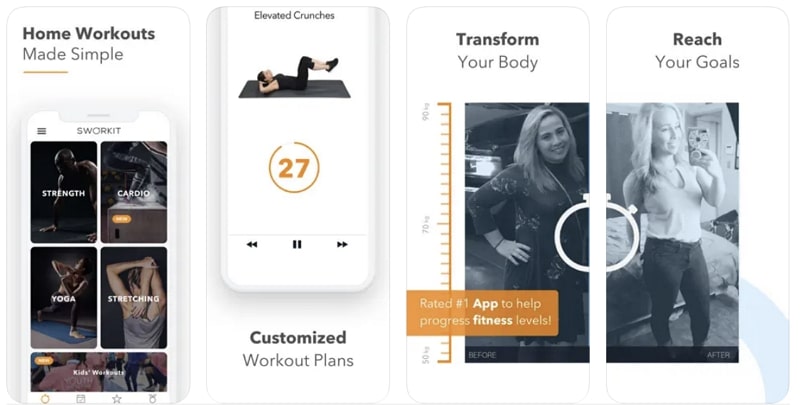 Sworkit is a mobile fitness app iPhone and Android users can use if they have just started fitness training. It has customizable workout routines where users can select the type of workout they want. They can also easily customize the length and difficulty of their selected workout.
It also offers a variety of exercises for each workout type, along with clear and concise instructions. Users can follow along with the video demonstrations of the exercises to ensure they are doing them correctly. The app also includes a timer to keep track of the workout and the breaks between exercises.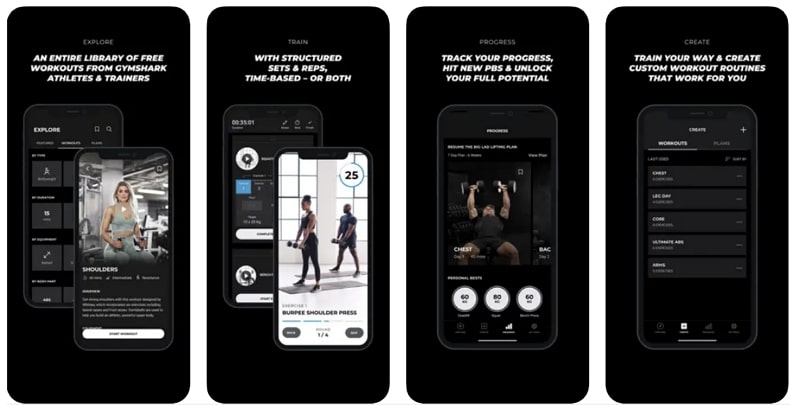 Among the best free fitness apps, Gymshark Training is a top-class app with amazing features. To start using this app, you will need to set up a profile with your personal and fitness details. Once you have created the profile, the best app for exercise will create a fitness plan according to your needs. The plan will include workouts, exercises, and meal plans to keep you in optimal shape.
Moreover, this exercise app provides feedback and encouragement to keep users motivated and on track. Additionally, it also includes a nutrition section to facilitate healthy eating habits. You can input your dietary preferences, and the app will generate healthy meal plans.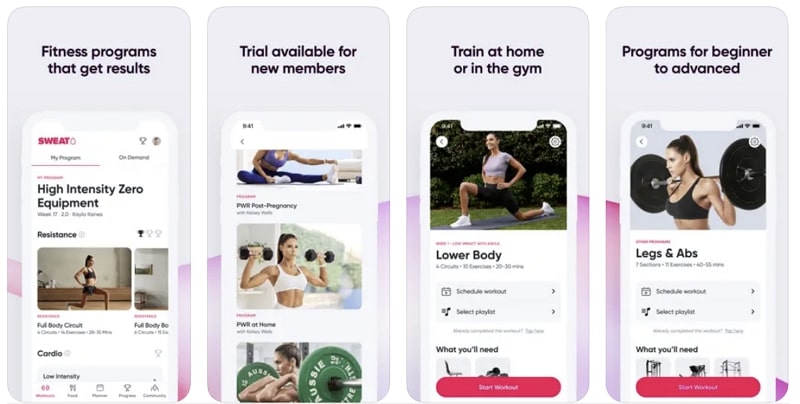 Aimed solely at women, Sweat is another excellent fitness app with numerous features. In this best gym workout app, users can access many training styles and choose the one that suits them best. These styles include HIIT, Yoga, Barre, Pilates, Cardio, and many more. The workout programs come with detailed instructions and video demonstrations, making them easy for users to follow.
The app also features progress-tracking tools that help users keep track of their fitness journey. Moreover, users can track their weight, body measurements, and workout progress and receive regular reminders and motivational messages to keep them on track.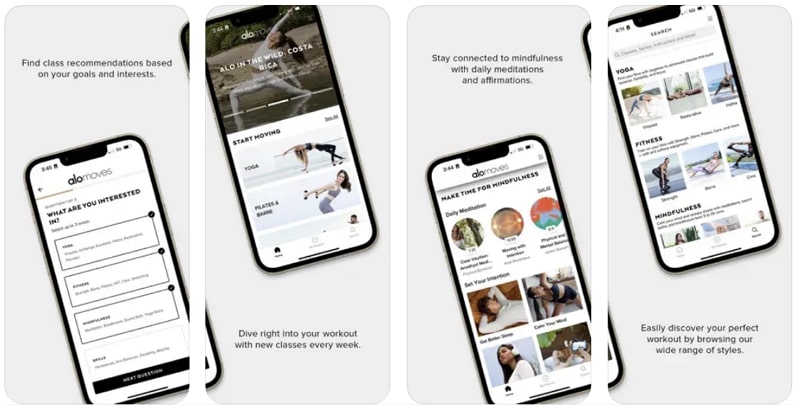 Available only for iOS users, Alo Moves is a great fitness app for iPhone and iPad devices. It provides video-based workouts that are taught by expert instructors who guide users through each session. Users can choose from various yoga classes, including vinyasa, power, restorative, and more. Moreover, the app also offers fitness classes, such as HIIT, barre, and Pilates.
This best home workout app allows users to select their preferred workout type, duration, and instructor and filter classes by difficulty level, focus, and equipment. Furthermore, this app offers live and pre-recorded classes, allowing users to work out conveniently.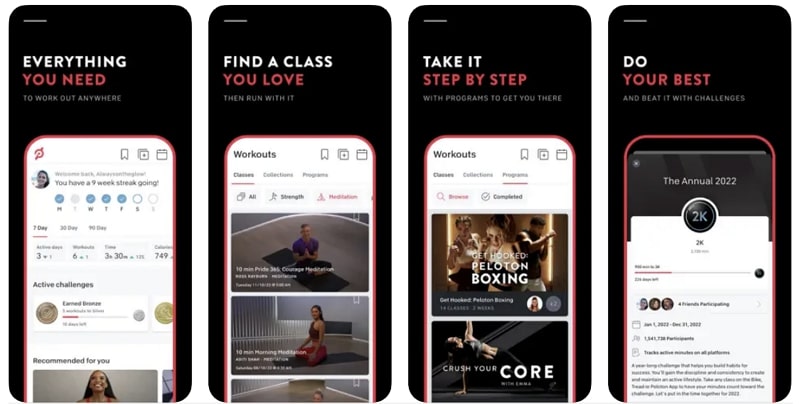 Peloton can be my fitness app as it helps people stay fit and healthy by providing virtual workout classes. Using this app, you can take classes and train in yoga, meditation, HIIT, and many other exercises. Moreover, you can connect with trainers through the smartphone or tablet app and receive exercise guidance. It also has a vast music library to keep you upbeat during work.
The app also offers personalized recommendations based on your fitness goals and preferences. It requires you to buy a subscription plan to access its full range of features. However, if you want to try out the feature, it offers a 30-day trial period.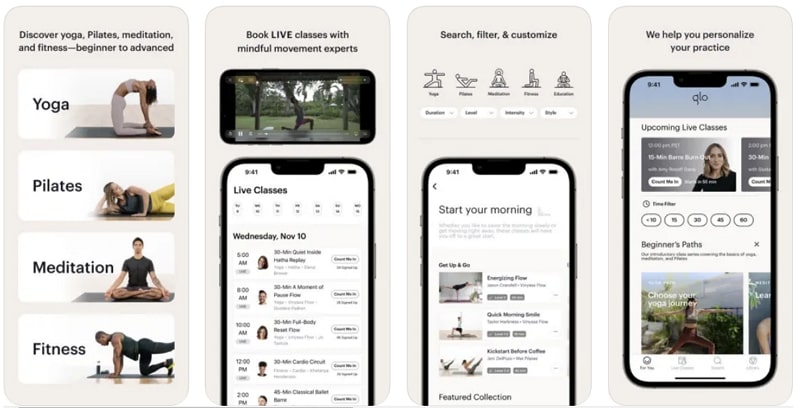 Focused on yoga and meditation, Glo is the go-to app if you are looking for a fitness app to find inner peace along with physical fitness. It allows you to choose from various instructors and styles of yoga, including Vinyasa, Hatha, and Yin. This app creates all wellness and workout plans based on your fitness and health information.
Glo uses an algorithm to suggest classes based on your fitness level, goals, and preferences. Additionally, this app allows you to join your favorite instructor's live stream for yoga and meditation.
Get ZEGOCLOUD API for Fitness Apps
If you want to build your own fitness app, you will need a great set of APIs to create the best possible fitness app. That's where ZEGOCLOUD comes, which offers you APIs with a wide range of features. You can use these APIs to add features like live exercise sessions, personal trainers, and group training. All of this is possible due to the ultra-low latency of ZEGOCLOUD APIs.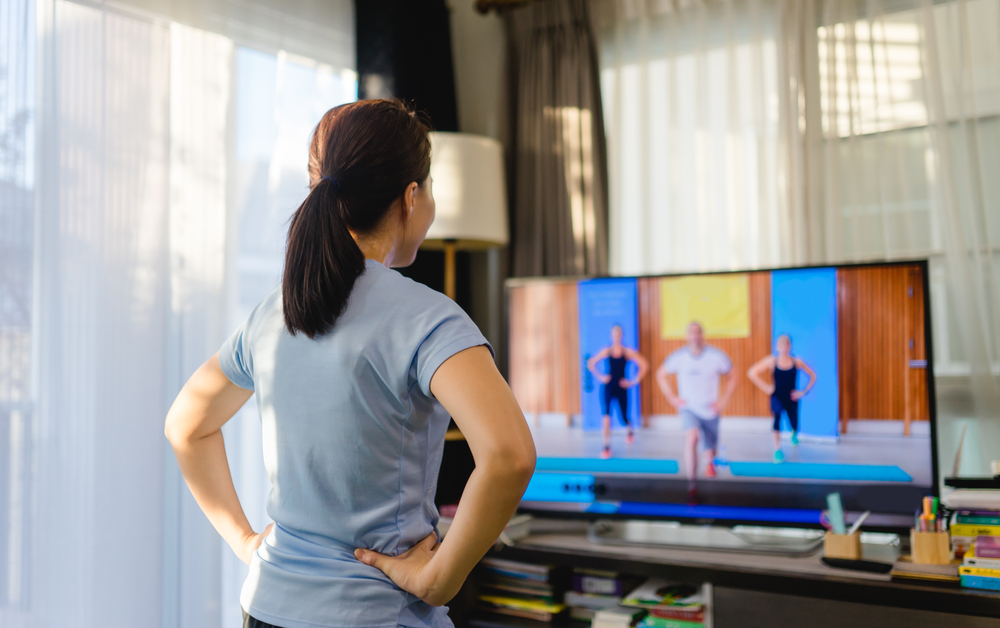 When using ZEGOCLOUD APIs to create the best fitness app, you get 10000 minutes free for the first 30 days. It means not only do you get the best APIs, but you also get them at an affordable cost. The ZEGOCLOUD APIs also come with detailed documentation and video tutorials. There is also robust and readily available tech support to solve all your queries.
Main Features of ZEGOCLOUD APIs for Fitness Apps
The key features of any product description define its higher functionality which is why it is important to know the premium features of this tool. Look below to find some of the key features of ZEGOCLOUD APIs:
High-Quality Video and Audio: With the ZEGOCLOUD Video Call API, you get 4K quality video call at an ultra-low latency of 300ms. It also enhances the low-resolution video calls to high resolution for a better user experience. As for the audio quality, it provides crystal clear with up to 48KHz quality.
Multi-Party Video Conferencing: When building a fitness app, what you need most is group video calls where everybody can join. The ZEGOCLOUD Video Call API allows you to add up to 10000 members into a single video conference. Moreover, it also supports co-hosting features for group video calls.
Recording and Playback: If you have missed a live exercise session, there is no need to worry. With ZEGOCLOUD APIs, you can enable the recording and playback features, which will be vital to your app's success. It would help you expand globally by solving different time zone issues.
Security: The ZEGOCLOUD APIs use military-grade data security to ensure your app's users don't have to worry about their data. It uses highly advanced end-to-end encryption algorithms and complies with laws like GDPR and HIPPA.
Conclusion
To sum the conversation up, there are plenty of fitness apps out there. This article reviewed 10 paid and free best fitness apps to help you choose the right one. If you have a fitness app of your own, you can take your app to the next level with the right API. When looking for outstanding and feature-rich APIs, ZEGOCLOUD APIs are the best choice.
Talk to Expert
Learn more about our solutions and get your question answered.
Talk to us
Take your apps to the next level with our voice, video and chat APIs
10,000 minutes for free
4,000+ corporate clients
3 Billion daily call minutes