Discover the top 10 coding platforms that are changing the game for engineers! These platforms are the go-to solutions for streamlining coding processes and bringing your engineering projects to life. Whether you're a seasoned veteran or just starting out, these coding platforms can help you work smarter, not harder.
What is a Coding Platform?
A coding platform is a software application or a website that provides an environment for individuals to write, test and debug codes. These platforms are used by developers of all skill levels, from beginners to experts.
Coding platforms offer a range of tools, such as code editors, integrated development environments (IDEs), and version control systems. These tools make it easier for developers to write and maintain their code and collaborate with others. Code editors highlight syntax and provide auto-completion. On the other hand, version control systems allow multiple developers to work on the same codebase without overwriting each other's changes.
Additionally, many coding platforms offer resources such as tutorials, forums, and documentation. These help developers learn new skills and troubleshoot issues. These resources can be particularly valuable for beginners who may be just learning to code.
You may also like: Top 5 Things about React Native Developer
Must-have feature of a Good Coding Platform
A good coding platform should have the following must-have features:
Ease of use: The platform should be intuitive and easy to use, with a user-friendly interface that allows developers to quickly and easily write and test their code.
Collaboration: The platform should support collaboration between developers, allowing them to work together on projects in real time.
Version control: The platform should offer version control tools that allow developers to easily manage and track changes to their code.
Integration with other tools: The platform should be able to integrate with other tools commonly used by developers, such as IDEs, project management tools, and testing frameworks.
Security: The platform should have robust security features to protect developers' code and data from unauthorized access and ensure the privacy of their work.
Performance: The platform should offer high performance and reliability, with minimal downtime or latency, to ensure developers can work efficiently without interruptions.
How to Choose a Good Coding Platform
Choosing a good coding platform depends on your specific needs and preferences. Here are some factors to consider:
Features: Look for a platform with the needed features, such as version control, collaboration tools, debugging, and testing capabilities.
User interface: The platform should have an intuitive and user-friendly interface you feel comfortable working with.
Community support: Check if the platform has an active community of users who can help you with any issues or questions you have.
Compatibility: Ensure the platform is compatible with your programming languages and tools.
Security: The platform should have robust security measures in place to protect your code and data.
Price: Consider the platform's cost, including any fees for premium features or support.
Reputation: Research the platform's reputation and read reviews from other users to ensure it is reliable and trustworthy.
10 Best Coding Platforms for Code Learning
Choosing the right coding platform ensures a smooth and effective learning experience for aspiring programmers. For instance, platforms can cater to your specific needs and help you take your coding skills to the next level.
Here are the top 10 best coding platforms to learn to code:
1. Codecademy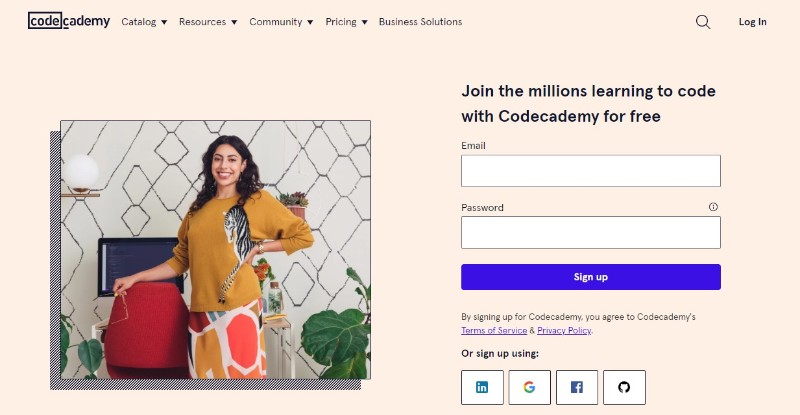 Codecademy is a comprehensive coding platform that offers interactive coding lessons in various programming languages. It's a great choice for those looking to learn to code.
With its easy-to-use interface and engaging lessons, Codecademy is a top choice for teaching coding to beginners. It features hands-on coding exercises, interactive quizzes, and projects to help you practice your skills. Furthermore, it provides a supportive environment for coding education.
2. Udemy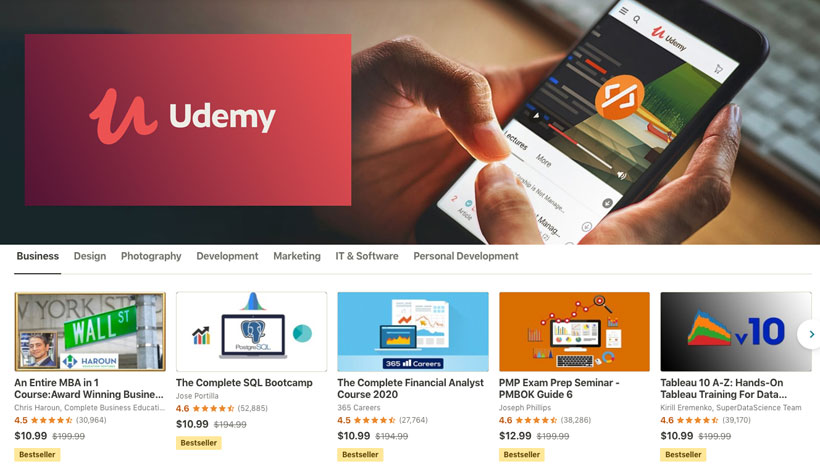 Udemy has established itself as a go-to online platform for coding education, offering various courses on multiple topics. Udemy's extensive library of coding courses caters to your needs and skill level.
The classes are led by instructors who use video tutorials, practical exercises, and real-world projects to enhance the learning experience. So, if you're looking to hone your coding skills, Udemy is a fantastic choice.
3. Coursera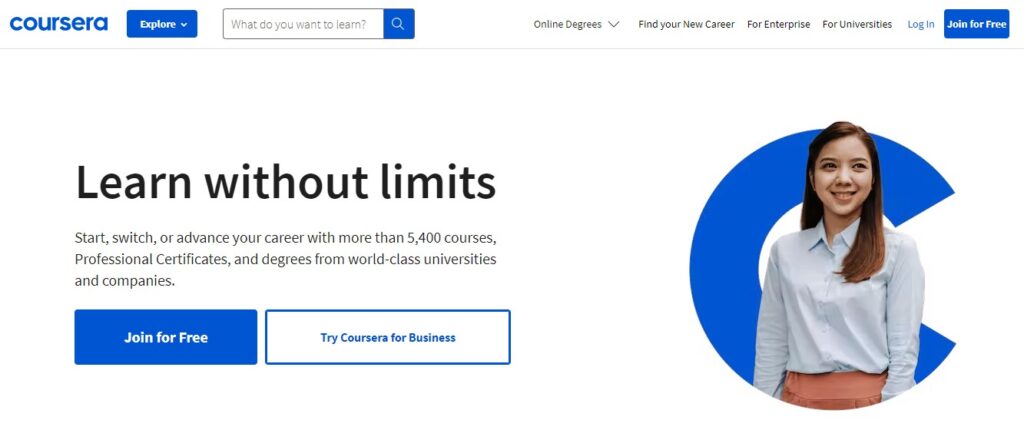 Coursera is a premier online educational coding platform, offering coding courses from reputable universities and institutions. This makes it a prime destination for those seeking to advance their coding knowledge.
Coursera's coding courses are designed to be interactive, offering hands-on coding exercises and real-life projects. This innovative approach makes the learning journey both enjoyable and impactful. That's why Coursera is a top choice for anyone looking to master coding skills.
4. FreeCodeCamp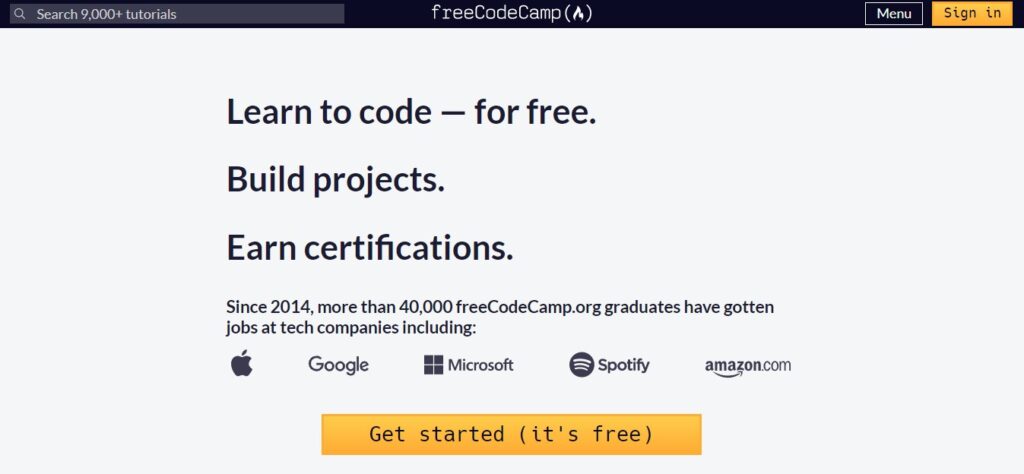 FreeCodeCamp, a non-profit coding platform to teach code, provides a complete curriculum of coding lessons, projects, and certification programs. With an emphasis on hands-on coding and practical, real-world projects, it offers a valuable learning experience.
The platform's unique approach combines in-depth instruction with tangible coding projects, ensuring that students gain practical experience and build their coding skills meaningfully. Whether you're a beginner or an advanced coder, FreeCodeCamp is a fantastic resource for anyone looking to teach themselves coding.
5. Treehouse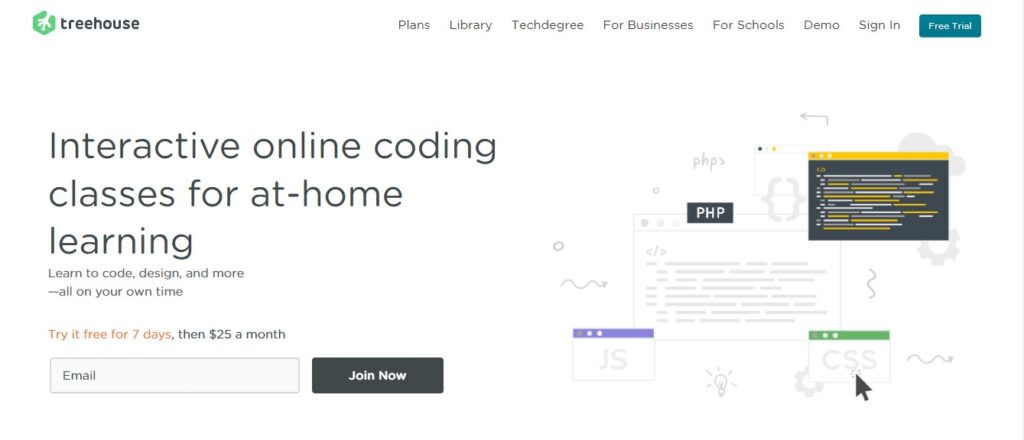 Treehouse is a one-stop shop for coding education, offering video tutorials, interactive coding exercises, and real-life projects. The platform's unique approach to education combines visual instruction with hands-on coding exercises. Treehouse stands out as a top choice for its interactive and effective approach.
Treehouse's mission is to make the tech industry more accessible to individuals from underrepresented backgrounds. With various learning paths available, Treehouse prepares individuals for job readiness in the tech industry. The Techdegree program caters to both seasoned professionals and beginners, providing comprehensive preparation for tech job applications. Participants can build a strong portfolio through project work while benefiting from exceptional peer and staff support.
6. GitHub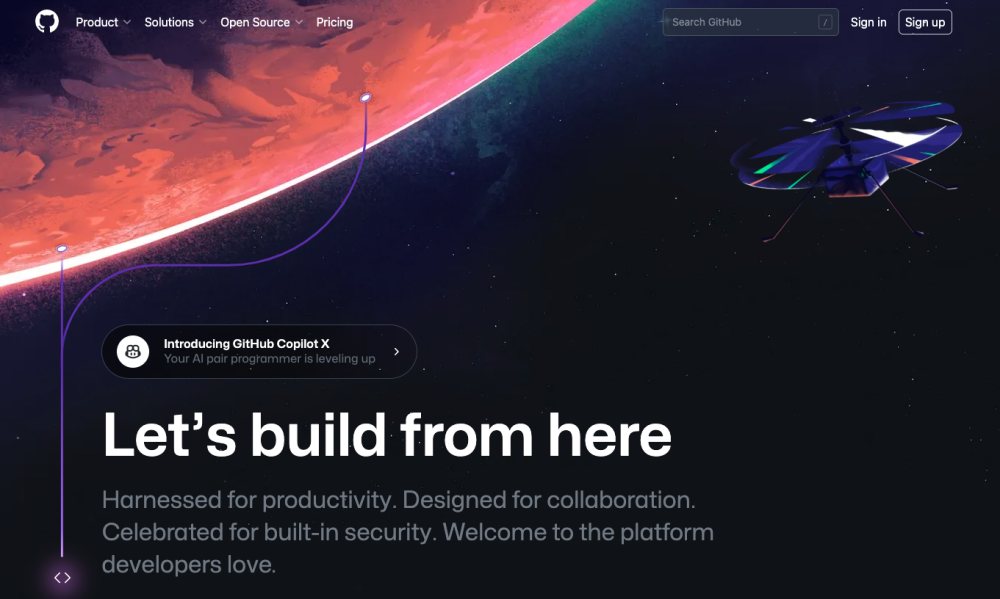 GitHub is a popular and complete coding platform developers use worldwide. It is used by over 94 million developers, including exciting startups and 90% of Fortune 100 enterprise companies. It is a web-based platform that provides various tools for version control, collaboration, and project management. With GitHub, developers can easily share their code with others, contribute to open-source projects, and collaborate with other developers.
It offers automated workflows, out-of-the-box CI/CD, built-in AI, supercharged collaboration tools, and embedded security throughout the developer workflow to ensure secure software development. Guthub is, therefore, a platform where people from anywhere can create anything they want. It is the go-to place for software development.
7. Visual Studio Code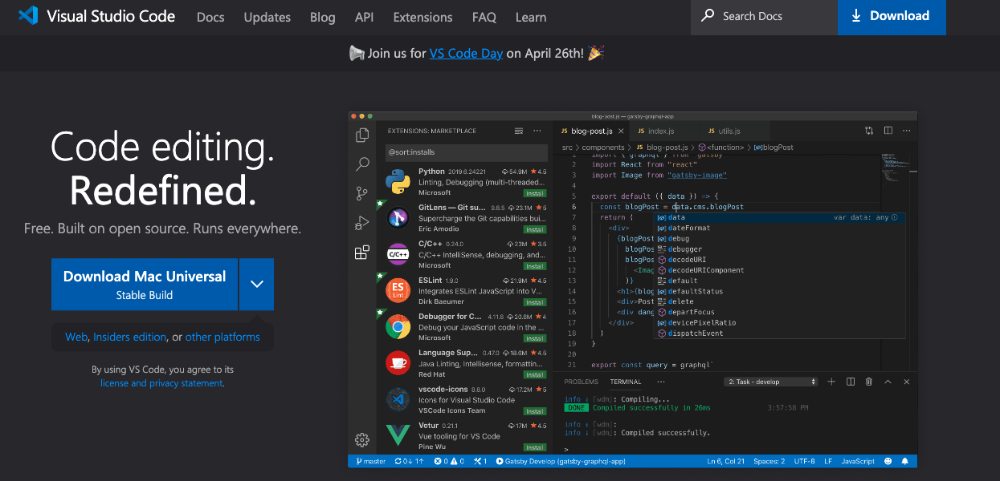 Visual Studio Code is a lightweight, cross-platform code editor that is widely used by developers. It supports a wide range of programming languages and can be customized with extensions to meet the needs of individual developers.
This platform assists businesses in creating and fixing web applications that run on Windows, Linux, and macOS. It offers many features, including syntax highlighting, navigation and refactoring of code, text wrap, snippets, Emmet abbreviations, and a command-line interface (CLI).
8. GitLab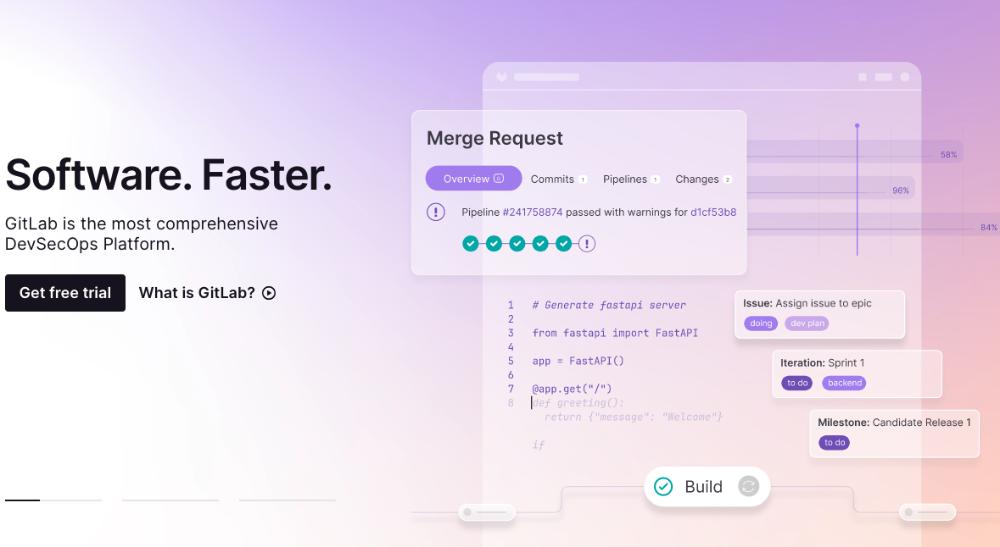 GitLab is a web-based platform that provides various tools for version control, project management, and collaboration. It helps development, security, and operations teams create better software faster. The offered features include code reviews, issue tracking, and continuous integration and deployment. GitLab is also open-source, meaning developers can customize it to meet their specific needs.
Instead of using separate tools and scripts, teams can use GitLab to quickly and continuously manage code creation, delivery, and management. GitLab supports teams throughout the entire DevSecOps lifecycle, from software development to security and deployment.
9. CodePen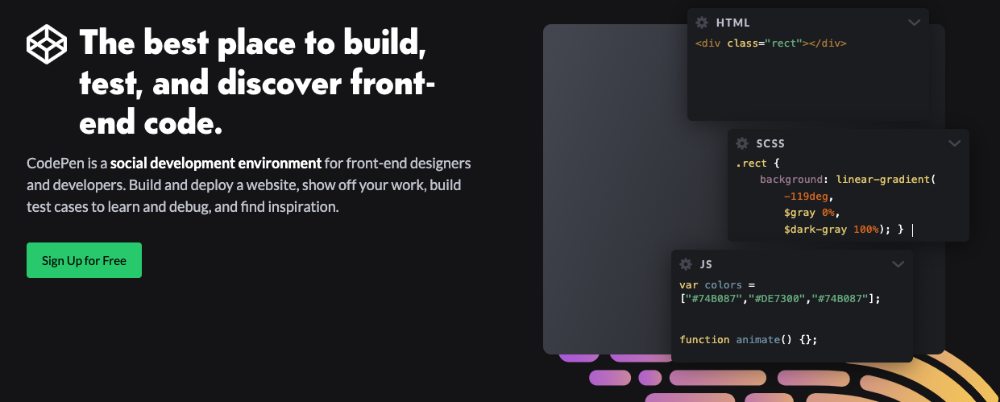 CodePen is an online code editor explicitly designed for front-end developers and designers. It offers both free and premium social development environments. With CodePen, users can create and publish their websites, learn new code, and discover new lines of code from over 1.8 million developers and designers.
The front-end code editor is fully integrated, making it easy for users of different skill levels to build and deploy their HTML, JavaScript, and CSS code for various projects. Additionally, the online tool allows users to isolate different test cases to learn and debug code. CodePen also has an integrated development environment (IDE) that enables users to create, test, and discover front-end code for any project.
10. Repl.it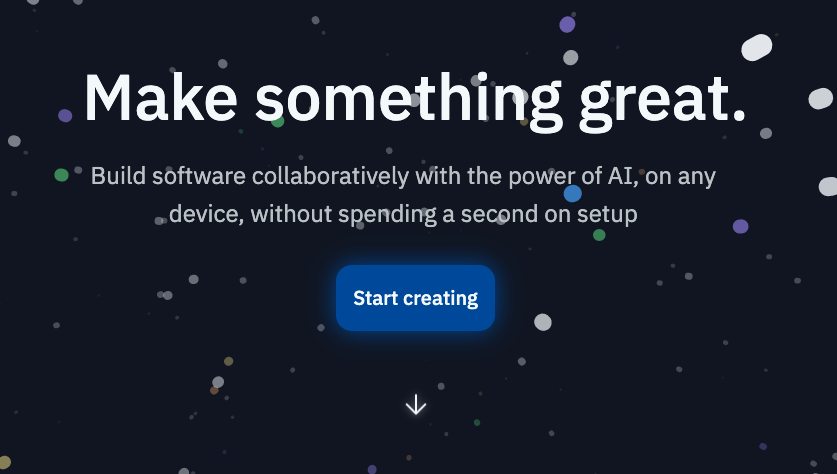 Repl.it is an easy-to-use cloud-based platform accessible from anywhere with an internet connection. It's perfect for beginners learning to code and allows for remote collaboration and working on projects on the go. It is also a great platform for teaching programming and offers a range of tools for educators and students.
The platform supports multiple programming languages and frameworks like Python, JavaScript, and Ruby. This allows developers to work on different projects all in one place. The platform also has an interactive shell, which lets you test and run code in real-time, making it easier to catch errors. Additionally, Repl.it provides collaboration tools, like live sharing and real-time collaboration, that make it simple to work on projects with others.
Best Platform for Engineers to Develop Apps – ZEGOCLOUD
ZEGOCLOUD is a leading video and voice communication API designed specifically for engineers and developers. With its robust set of features and easy-to-use interface, ZEGOCLOUD provides an effective and efficient solution for adding real-time communication to your applications. It even provides low-code UIKits allowing developers to build their apps in 10 minutes.
Here are some features of ZEGOCLOUD that make them the best in the business of video and voice APIs:
Real-time Communication: With ZEGOCLOUD's real-time video and voice communication, you can ensure seamless communication for your team, regardless of location. ZEGOCLOUD provides a reliable and seamless communication experience in the same room or globally.
Scalable Infrastructure: ZEGOCLOUD's scalable infrastructure ensures that you can accommodate any number of users and ensure high performance for all participants. With the ability to scale up or down as needed, ZEGOCLOUD provides a flexible solution for your communication needs.
High-Quality Audio and Video: ZEGOCLOUD provides crystal-clear audio and high-definition video, allowing you to communicate effectively and efficiently. Whether you are working with a remote team or communicating with clients, ZEGOCLOUD provides a high-quality experience that will keep your team and clients engaged and informed.
Cross-Platform Compatibility: ZEGOCLOUD's API is compatible with various platforms, including Web, iOS, and Android, making it easy to integrate with your existing infrastructure. If you're building a web application, mobile app, or any other platform, ZEGOCLOUD provides a seamless solution for your communication needs.
Easy Integration: Whether you are building with a small team or a large development organization, ZEGOCLOUD provides a straightforward solution that will save you time and resources. ZEGOCLOUD's API is designed for easy integration, so you can quickly and easily add live video chat and voice chat communication to your applications.
Robust Security Measures: ZEGOCLOUD is built with robust security measures to protect your data and ensure secure communication. With SSL encryption and other security measures in place, you can ensure that your data and communication are protected.
Conclusion
The 10 coding platforms mentioned in this article offer a range of options for teaching coding and coding education. Whether you're a beginner or an advanced coder, these platforms can help you achieve your goals and improve your coding skills. Choose the one that fits your needs, and start your coding education today!
You may also like:
Best 10 Developer Blog & Tech Blog Examples
Swift vs. Objective-C: How to Choose for iOS App Development?
Talk to Expert
Learn more about our solutions and get your question answered.
Talk to us
Take your apps to the next level with our voice, video and chat APIs
10,000 minutes for free
4,000+ corporate clients
3 Billion daily call minutes