Online astrology has gained momentum in recent years as this ancient culture embraces technological shifts that make it available on everyone's smartphone. The astrology app is an excellent resource for people willing to incorporate planetary movement-based forecasts into daily life. This article features a list of popular online astrology apps highlighting their primary information and features.
10 Best Horoscope Apps for Accurate Reading
There are numerous excellent astrology apps and horoscope apps available today that can help you delve deeper into the mysteries of the universe. Here we will introduce the top 10 astrology apps and horoscope apps that will make your celestial journey even more exciting.
1. The Daily Horoscope
The DailyHoroscope app provides a simple, hassle-free way to access daily horoscope readings. It's handy for beginners who know their zodiac sign based on their birth date, plus the Chinese and Druid sign horoscopes. In addition to daily readings, the app also offers weekly, monthly, and yearly forecasts for those seeking more generalized predictions. It also provides compatibility predictions. Compared to other apps, however, it is less accurate for whole natal chart calculations.
The app is easy to navigate and free to download and use on iOS and Android. Nevertheless, to enjoy more advanced features and an ad-free experience, users may opt for the Insider, Initiated, or Zealot tiers, which cost $3.99 and $9.99, respectively.
2. Horoscope Signs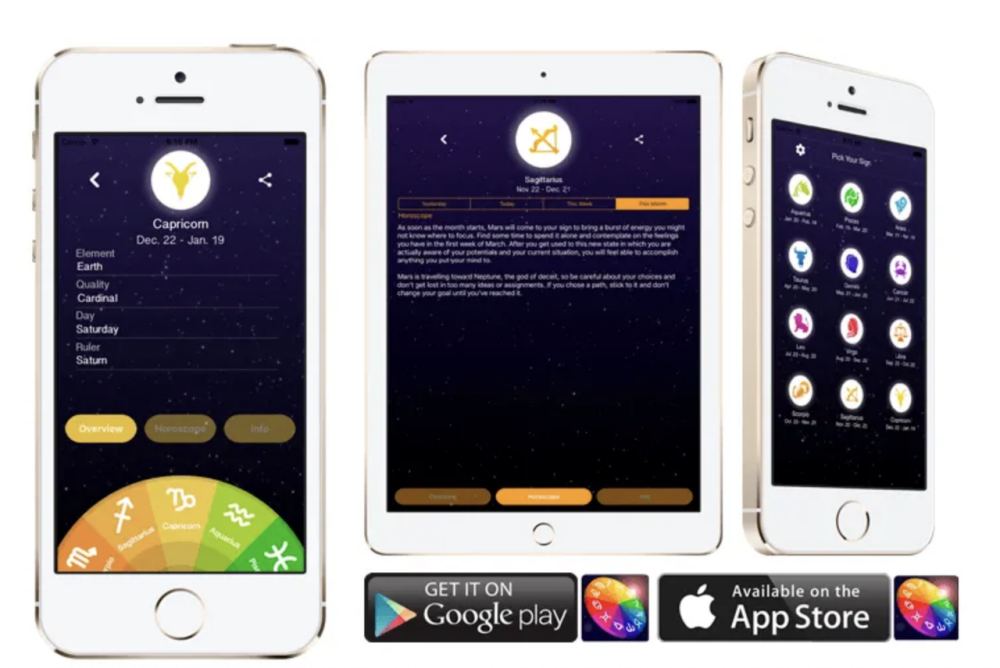 Horoscope Signs is another popular and easy-to-use daily horoscope service and app that corresponds with the well-known Zodiac Signs website. The app has an attractive design and provides comprehensive information about each sign's traits and how different signs relate to love, attraction, money, and relationships.
This software is easy to use by just tapping any sign for an overview, daily, weekly, and monthly horoscopes. It provides basic sign information, such as likes and dislikes, strengths and weaknesses, and personality qualities.
Available for iOS and Android, it is entirely free with no add-ons. However, users need to access the Zodiac Signs website for additional information. Here people find tarot readings, love compatibility information, birth charts, planetary information, and much more.
3. Nebula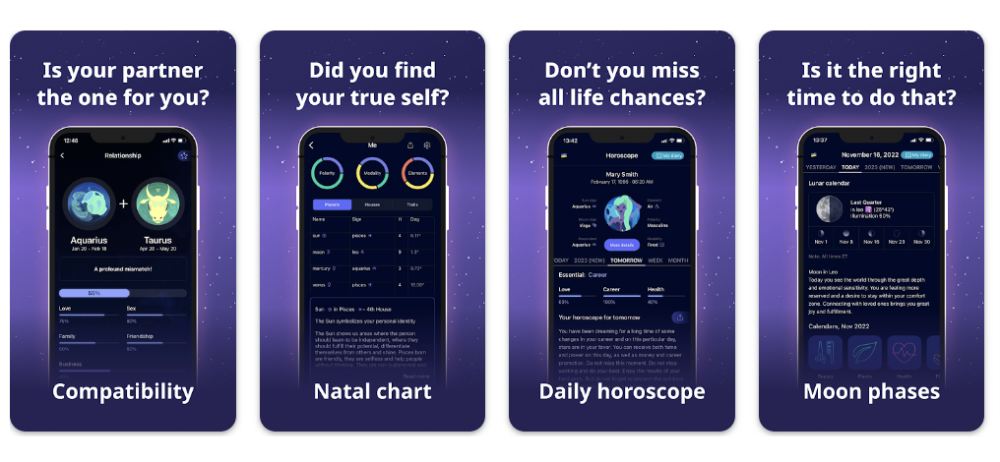 Nebula is an innovative platform for psychic and astrology enthusiasts. Its unique approach to divination readings includes daily astrological events, a lunar calendar, and a schedule for minor tasks like finding the ideal time to get a haircut.
Regarding social relationships and romantic partners, Nebula can help identify the most "toxic match" and even give astrological insights into why certain people may irritate you. Additionally, the app offers palm readings from authentic astrologers. However, these services and the app's Premium edition ($29.99) may cost significantly.
Users can access free weekly and yearly horoscopes. It is free to download on iOS and Android devices, but the paid subscription is where gradual knowledge is obtained. Nebula offers a weekly membership for $8/$10 with a free 3-day trial period, a 6-month subscription for $50, and an annual subscription for $120.
4. The Pattern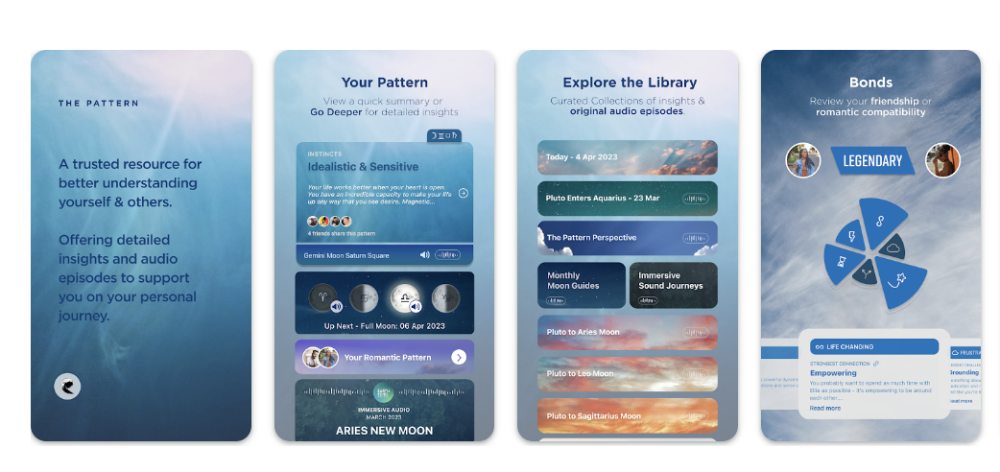 The Pattern focuses on the relationships between people and how they are connected. You can add other app users by inviting them or searching for their usernames. If they are not on the platform, you can make a personalized profile using their birth date and time.
This app promises to help connect people in a deeper and more meaningful way, as it provides compatibility readings and insight for friendships and romantic relationships. The Patterns also deliver global projections and overarching behavior cycles people may be experiencing in life, job, and family concerns.
The app is available for free download on iOS and Android devices. Nevertheless, users must pay a subscription fee or additional costs for more detailed information.
5. The Nomad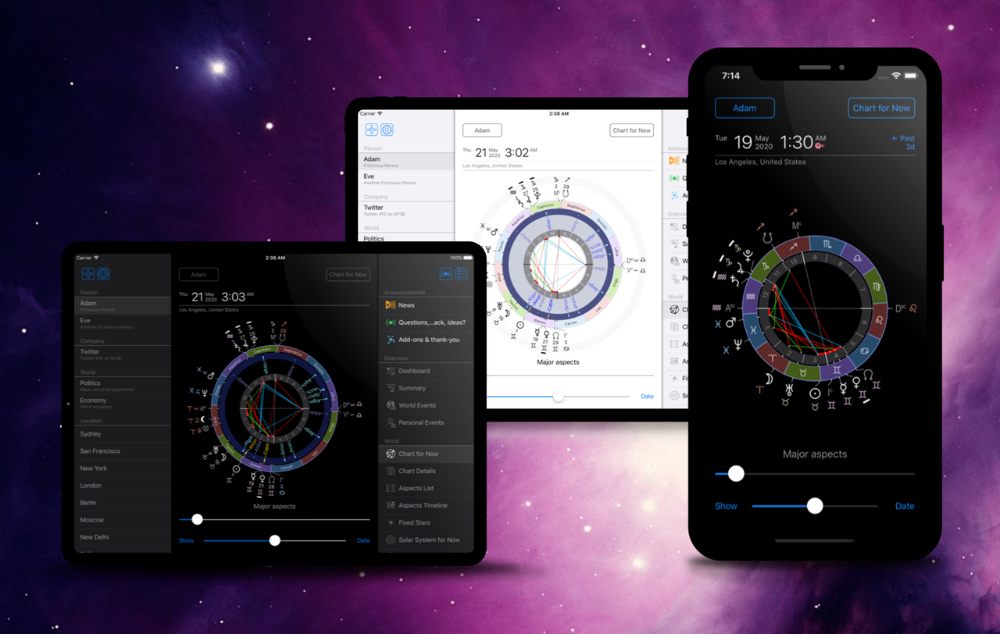 Time Nomad is an astrology app recommended for those who deeply understand the subject and are looking for a more technical approach. While it offers limited information on planetary locations and movements, it provides essential data for users to draw personal conclusions.
Therefore, this app is a learning space with much useful information for more advanced astrology students. Weekly astrology classes and extensive explanations of astrological ideas are available, so Time Nomad labels itself as "your virtual astrology teacher" on the Apple App Store. Unfortunately, it's available only for iOS devices. The advanced content features also apply to the interface, which might be confusing and hard to decipher for many.
Overall, it's an excellent option with lots of data on planetary movements to create readings for people, companies, world trends, and locations.
6. Time Passage
Another option for those more interested in the mechanics of astrology and planetary motions is Time Passage. Less complicated than the previously introduced one, Time Passages is also the ideal app for learners, especially beginners.
In the 'Learn' app section, users can learn about astrological jargon and how horoscopes are calculated with access to many resources and glossary explanations. It also describes planet positions and their effects on people's lives and assesses relationships.
Time Passages offers a free version with horoscopes, prophecies, and additional services like chart creation for only 99 cents. Upgrade to the Pro edition for $29.99 and get access to infinite birth charts, a compatibility meter, interpretations of extra-planetary positions, and more.
7. Co-Star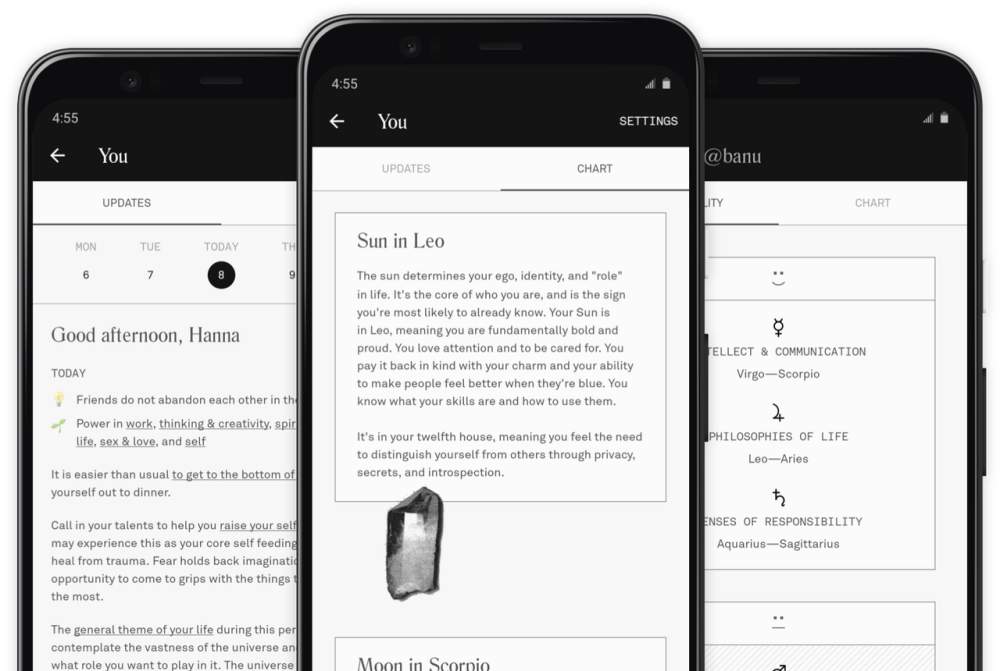 Co-Star is a well-known astrological app with a clean, minimalistic appearance.
The app has been downloaded over 20 million times, with 25% of girls aged 18 to 25 in the United States having downloaded it. Users appreciate this tool's well-designed interface and in-depth analysis of their natal chart.
This software has some interesting social features that allow users to add friends and compare charts with their contacts. The analysis provided by the software can be brief or more detailed, depending on the user's preference.
Co-Star is free to download and use for iOS and Android devices. If someone is interested, there are a few in-app purchases, including a $4.99 advanced connections chart.
8. Sanctuary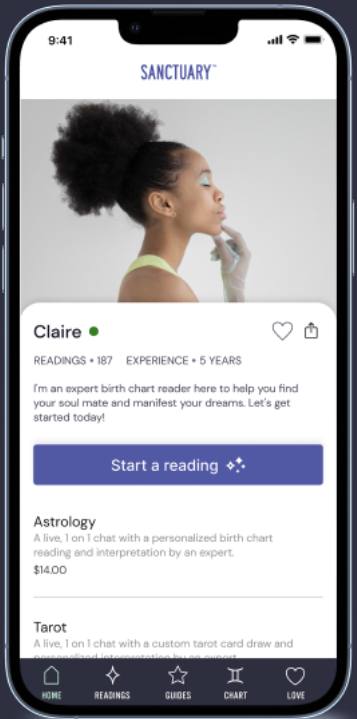 For people seeking personalized insights and answers to questions that traditional horoscopes can't provide, Sanctuary is the perfect app. Users can connect with astrology experts for a fee based on the video call duration and the required service. People can chat with an astrologer for a ten-minute consultation for $49.99. Additionally, Sanctuary offers tarot readings and several introductory readings for a small fee of $4.99 if someone is looking for something less in-depth but still personal.
There are also free astrology guides and free daily and monthly horoscopes. Some really appreciated features are the interactive birth charts and the unique chat-based layout. Sanctuary download is free and available for iOS and Android.
9. Chaturanga Astrology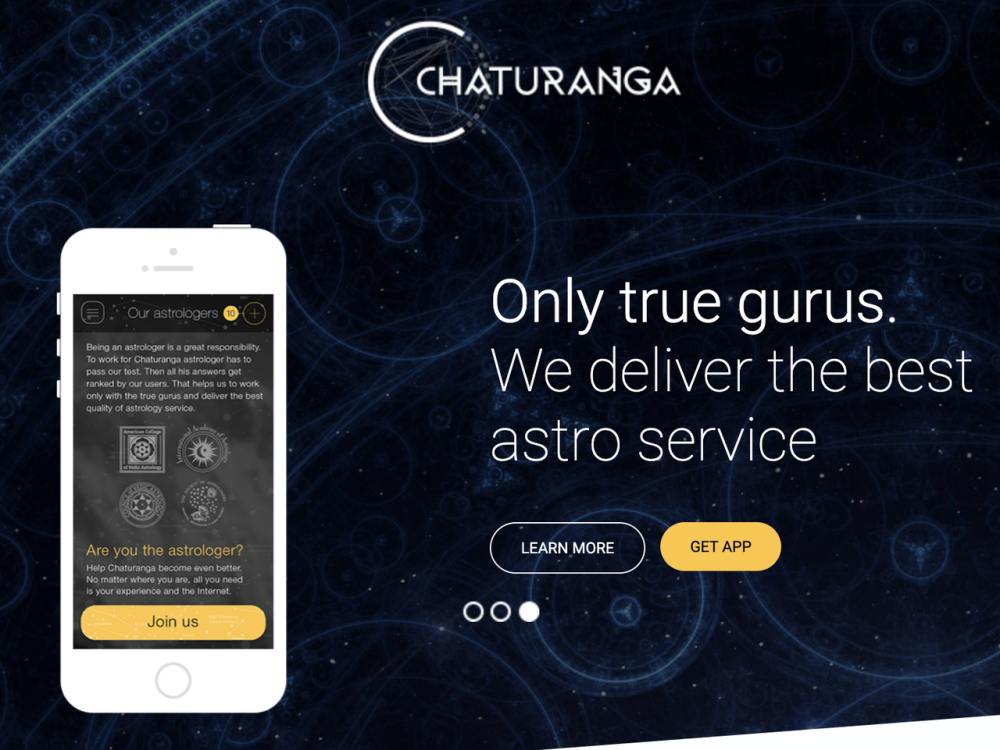 Another option for those who want to pose specific questions and get quick answers from an astrologist is Chaturanga Astrology. It goes beyond common Western astrological themes since this app is based on the Vedic zodiac system.
Users may start by simply inputting their birth information and asking any questions. One question is for free, after which they need to pay this service up to 5$ a question. The platform allows users to select an astrologer based on their expertise. Additionally, it offers discounts for purchasing multiple consultations. Chaturanga Astrology is, according to many, like a portable astrologer and therapist.
Available for free on Playstore and Apple Store.
10. Astrology Zone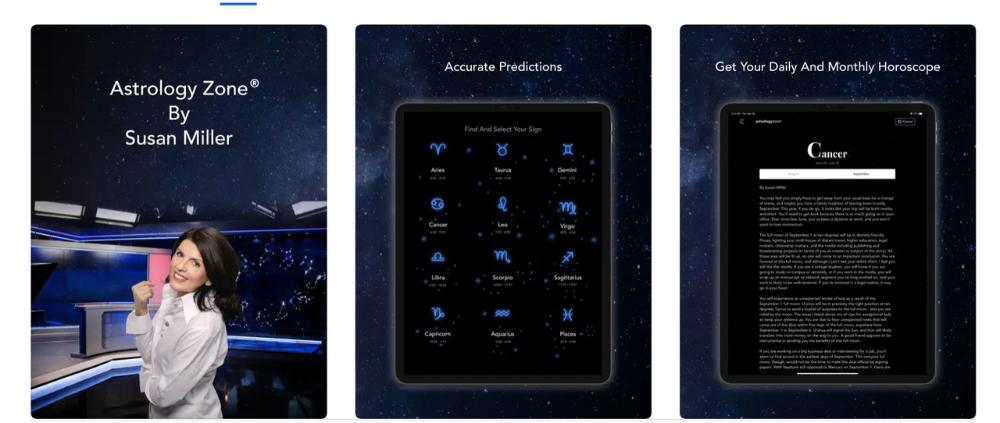 Astrology Zone is an app created by the prominent Western astrologer Susan Miller. Based on their sign, it contains in-depth information on what people may expect on any given day, with weekly and monthly overall readings.
The app is accessible for free, but when users upgrade to the premium edition, they gain access to more of Miller's content that explains what horoscope implies based on the planets or aspects involved. The premium version starts from 5$ dollars a month.
Some users have expressed dissatisfaction with this app because they can not view their complete birth chart, the advertisements can be bothersome, and the monthly horoscopes are occasionally delayed.
The app is available for iOS and Android devices.
Conclusion
Thanks to online astrology apps, we can better understand ourselves and our place in the universe by personalizing readings and getting daily updates on our smartphones. Some of these apps also foster a sense of community by connecting users with people who have similar interests through social features. Indeed, an online astrology app can significantly benefit from including real-time communication-based functions such as live streaming, private group chats, webinars, voice chat rooms, matchmaking, and user-generated content.
One must rely on a top-notch and knowledgeable RTC provider – ZEGOCLOUD, which ensures successful online astrology with effective real-time communication. ZEGOCLOUD Solutions provides all the components required for a comprehensive online astrology platform. Offering SDKs, APIs, and UIKits, ZEGOCLOUD's all-inclusive solution integrates chat, call, and live features seamlessly, reducing customer R&D costs and time to market.
Read more:
Talk to Expert
Learn more about our solutions and get your question answered.
Talk to us
Take your apps to the next level with our voice, video and chat APIs
10,000 minutes for free
4,000+ corporate clients
3 Billion daily call minutes