Websites are one of the most important platforms on which your business should have its online presence in the current era of AI technology. Meanwhile, this is because the digital world has huge potential, which can help you grow your business to incredible heights. Therefore, in this article, we will discuss some web app development services and you can choose the best web application development company for your business.
How to Choose a Web Application Development Company
Choosing the right web app development company is crucial to ensure your project is completed on time according to your desires. Consequently, we have listed some points for you below that you should consider before hiring a company:
Research and Shortlist: Before hiring any company or buying any product, it is essential that you do your market research. Moreover, this will help you to identify and shortlist the most suitable companies for your project, which can help you make your dreams come true.
Review Companies Portfolios: Look at the company's portfolio to understand what kind of work they have done before and their expertise. Besides, doing this can help you to identify the niche-specific company for your needs.
Communication Skills: Communication skills are crucial for businesses and individuals to master. In addition, always ensure that the person you are collaborating with has effective communication skills, which is the key to a successful partnership.
Team Management: Secondly, many companies follow different team management systems, due to which it is necessary for businesses and clients to inquire about the operations team. Besides, knowing the operations team will help both parties to work on the project productively.
Interviews: Conduct some brief interviews with the companies who you want to hire. Moreover, understand their working environments and conduct some tests to validate their skills.
9 Best Web App Development Companies & Services
Moreover, selecting the best web app development company can be a tricky process due to several different reasons. Therefore, we have listed some of the top companies for you with their unique selling points. Meanwhile, you can take a look at these companies and choose the right one that fits well with your vision and requirements.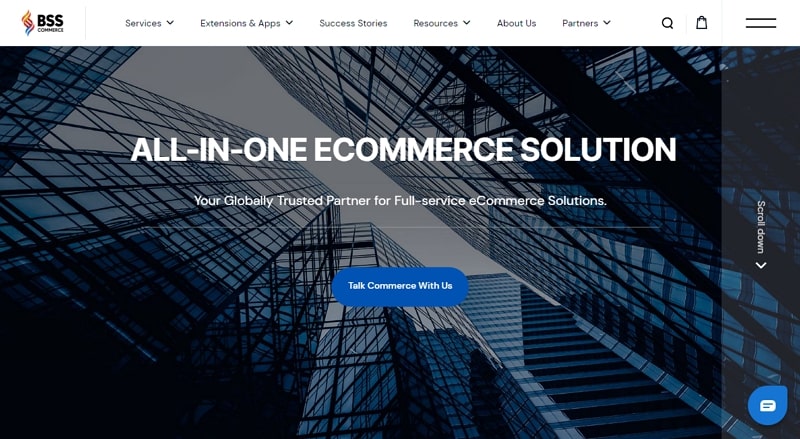 BSS Commerce is a one-stop solution-based IT company that is being operated in both Vietnam and Singapore. Moreover, this company provides many services like strategy consultancy, web app development services, etc. More than 1400+ projects have been successfully delivered globally with 100,000+ happy customers. Besides, some extensions and apps that are very helpful for different businesses are also provided by this company.
Services Offered by BSS Commerce
Shopify Plus Development
Site Audit
Platform Migration
Speed Optimization
Module Installation
Clutch Rating: 5/5 from 4 Reviews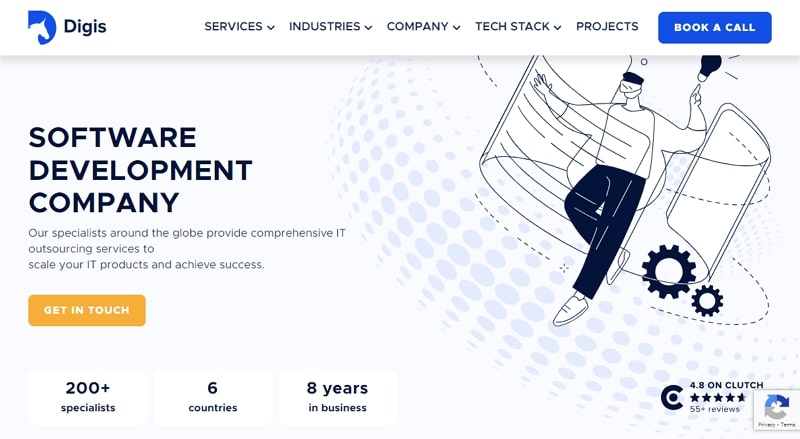 Digis is an international software development company that has redefined online success with exceptional services. It has over 300+ successful projects and over 55+ positive reviews on Clutch. In addition, this company focuses on different industries, including e-commerce and automotive. Moreover, it has more than 140+ web development experts, which helps them to deliver the best results to their clients.
Services Offered by Digis
UI/UX Designing
Web Development
Mobile Development
Staff Augmentation
IT Consultancy
Clutch Rating: 4.8/5 from 60 Reviews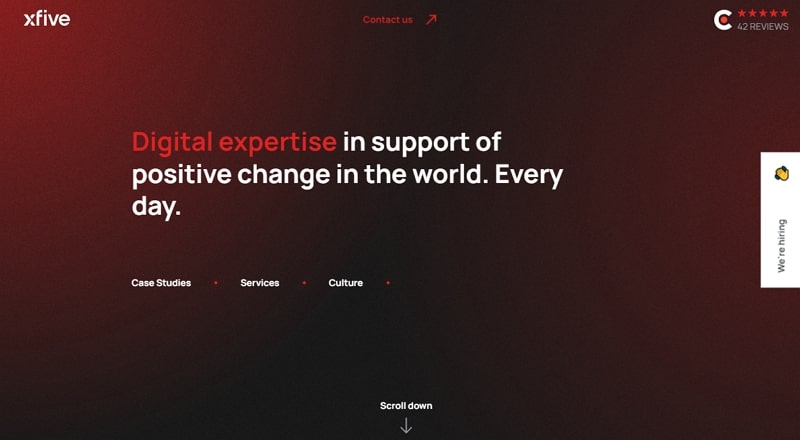 If you are looking for a web app development company that has been in business for a long time and has the highest rating, xfive can be a good choice. In addition, this company has been in operation since 2005 and is providing multiple services with several technologies like Python and React.js. Besides, its offices are well-established in Poland, Australia, and the USA.
Services Offered by xfive
Websites and Web Apps Development
Development of Digital Products
Business Strategy Development
UX/UI Designing
Branding Services
Clutch Rating: 4.9/5 from 42 Reviews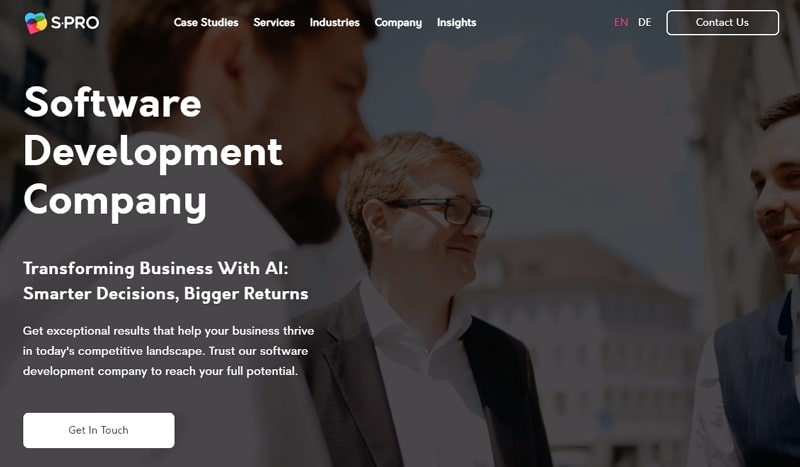 Many companies are adopting AI technology to enhance their operations and improve their services to grow their potential client's businesses more effectively. Similarly, S.PRO is one of those companies that have adopted AI technology to enhance outcomes with the help of multiple AI algorithms. Besides, this web app development services company has worked in various industries, including digital banking, crypto, AI/ML solutions, and others.
Services Offered by S.PRO
AI Development
Blockchain Development
Web and Mobile Development
Digital Strategy Building
Cloud Engineering
Clutch Rating: 4.9/5 from 45 Reviews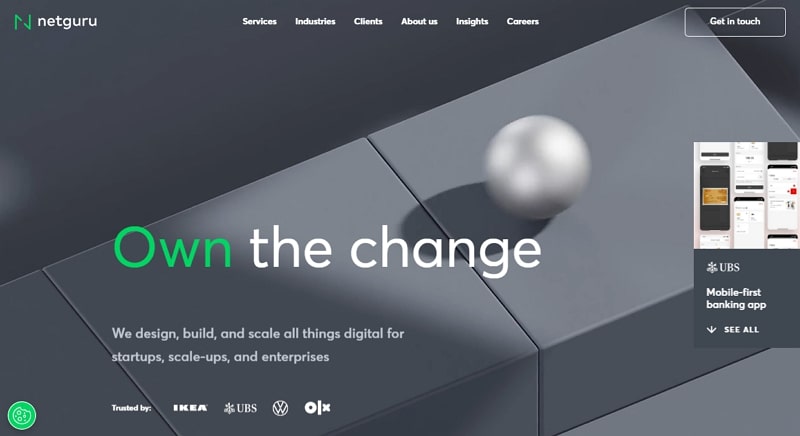 Netguru is a digital consultancy company that is in Europe. This custom web application development services company provides AI-driven solutions to various businesses so they can expand in multiple ways. Furthermore, it has successfully delivered over 1000+ projects in its 15 years of service with an amazing success ratio. Besides this, some major industries in which this company works are finance, healthcare, education, and a few more.
Services Offered by Netguru
Product Design
UX Writing
Web Development
Mobile Development
User Interface Design
Clutch Rating: 4.8/5 from 51 Reviews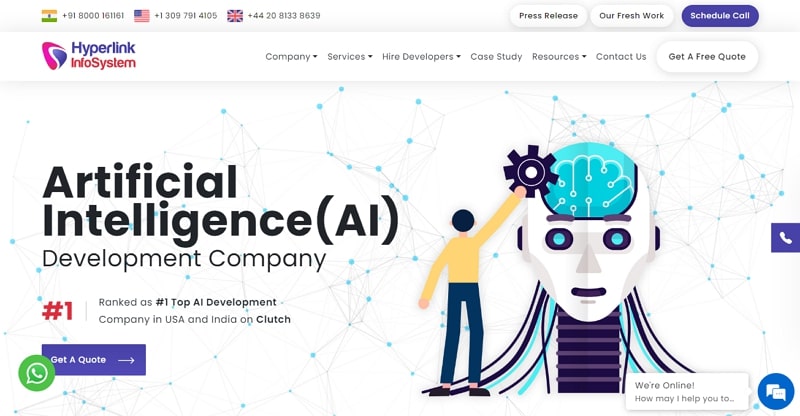 One of the most popular IT services providing companies that are well-known worldwide is Hyperlink Infosystem. Moreover, this company is ISO certified and has a huge team of over 1000+ developers and designers. It offers many services like web application development services and more. In addition, this company follows a 7-step process that helps to improve the client experience and deliver the best results on time.
Services Offered by Hyperlink Infosystem
Game Development
Ecommerce Development
Web and CMS Development
AI and ML Services
IoT Apps
Clutch Rating: 4.9/5 from 138 Reviews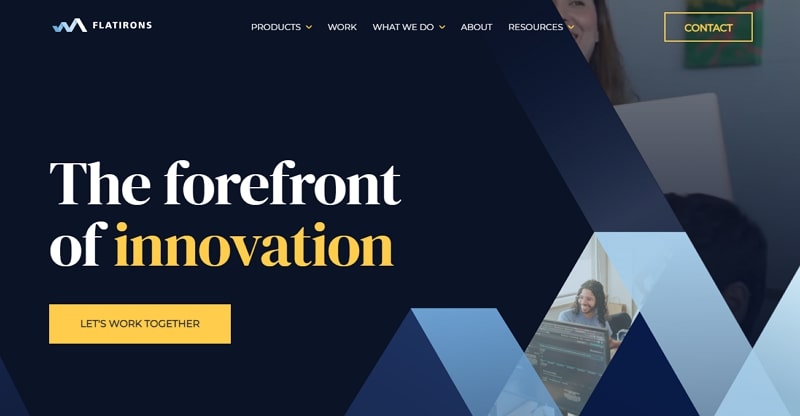 Flatirons is a successful web app development company that is user-centric and ensures that its clients get the best service experience. As a result, this company has crafted several fantastic software for multiple businesses, which have positively impacted their customers. Furthermore, industries like healthcare, real estate, and more are being looked after by this company with its creative team, which has a firm grip on technologies like React Native, NodeJS, etc.
Services Offered by Flatirons
Research and Validation
User Interface Design
Web Development
Mobile Development
Software Support
Clutch Rating: 5/5 from 23 Reviews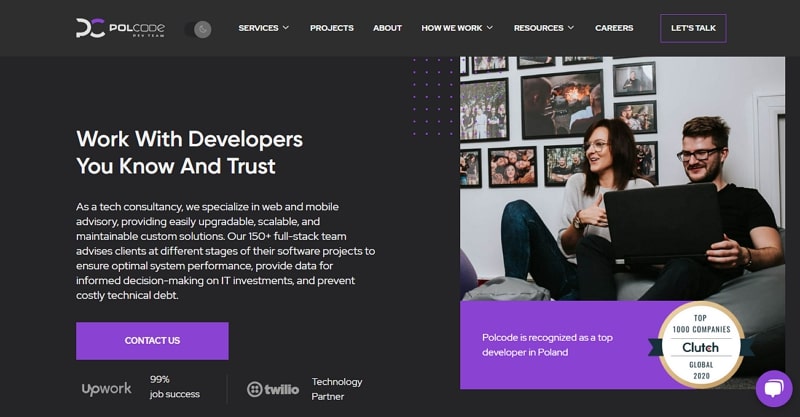 Polcode is a web app development service provider company that has been operating for the past 17 years in the market from Poland. In addition, more than 1400 projects are completed by this company with the help of their large team that has around 150+ members. Furthermore, this team of experts has worked in multiple niches, like retail, e-commerce, finance, and so on, due to which they have very strong professional experience.
Services Offered by Polcode
Web Development Services
Product Designing
Mobile Development Services
Software Audit
Backend Development Services
Clutch Rating: 4.9/5 from 25 Reviews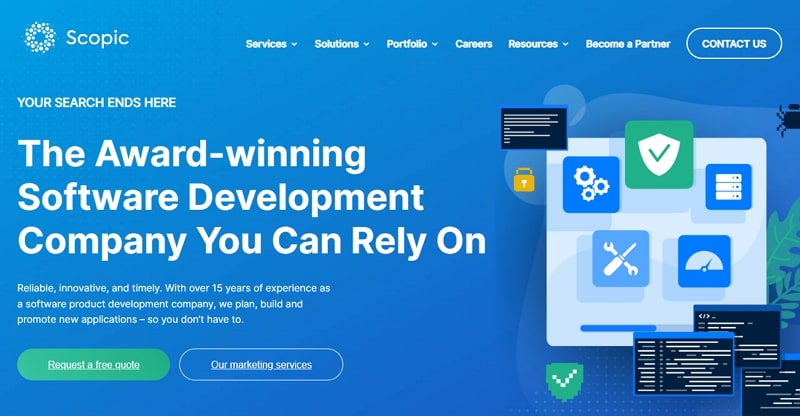 If you are looking for a custom web application development company, you can get help from Scopic. This company has a solid portfolio and offers several IT services that are helping businesses worldwide to achieve their full potential. Moreover, it follows an 8-step approach to ensure clients get the best services the most efficiently. As a result, this company has received certifications and partnership opportunities from different companies, including Google and Clutch.
Services Offered by Scopic
Desktop Development
Web Development
Content Marketing
Google Ads
IT Services
Clutch Rating: 4.9/5 from 59 Reviews
Grow Sales with ZEGOCLOUD for Web Application Development Company
We can say that these web app development companies can help you a lot to grow your business. However, getting services from these companies can be costly in the beginning for startups who don't have many funds at the start. Therefore, at this point, we recommend getting help from ZEGOCLOUD, which can save you a lot of time and other resources.
ZEGOCLOUD is an API/SDK provider that is very helpful in various IT services, including web app development services. Moreover, many users worldwide are using its developer-friendly API/SDK to build some amazing video call platforms and voice-calling platforms. In addition, you can also use the customizable SDKs that are provided by this platform to build a fantastic UI/UX for a better user experience.
Features Offered by ZEGOCLOUD
Voice Call
Video Call
In-App Chat
AI Effects
Call Recording
Virtual Avatar
Live Streaming Kit
With helpful and prebuilt APIs and low-code UIKits from ZEGOCLOUD, you can quickly develop professional chatting or voice-calling platforms for various scenarios. Furthermore, with the help of this SDK provider, you can also build a live chat system for your website, which can engage your prospects in a good way.
Talk to Expert
Learn more about our solutions and get your question answered.
Talk to us
Take your apps to the next level with our voice, video and chat APIs
10,000 minutes for free
4,000+ corporate clients
3 Billion daily call minutes