In this digital age, particularly in the post-COVID era, virtual hangouts have become normal among many people. Hence, digital meetings are now not only limited to video calls, but users can also extend it for entertainment purposes by watching movies together online with friends. In this article, you will find the list of the top 10 ways to watch movies and shows together.
Top 10 Ways to Watch Movies Together with Friends
While many people don't have time to meet and enjoy in outdoors these days, there is still room for hangouts in virtual settings. Moreover, scheduling together watch parties with friends is the best way to proceed. This way, friends can collaborate and enjoy watching movies together online. Here you will find 10 popular apps: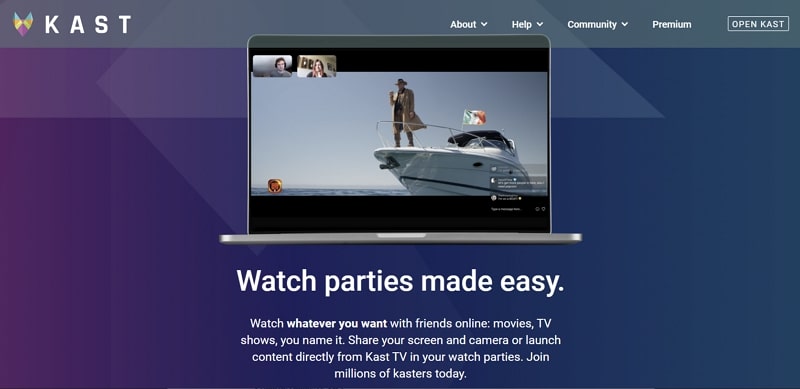 Kast is amongst the best app to watch movies together with friends and families across the globe. After all, Kast allows people to schedule real-time virtual hangouts from entertainment perspectives. Thus, a special movie watch party can be created that allows up to 100 participants. Meanwhile, up to 20 people can share their screens to display the best movie on audience demand.
Key Features
No Ads
Cloud Infrastructure
HD Quality
Comment Animated GIFs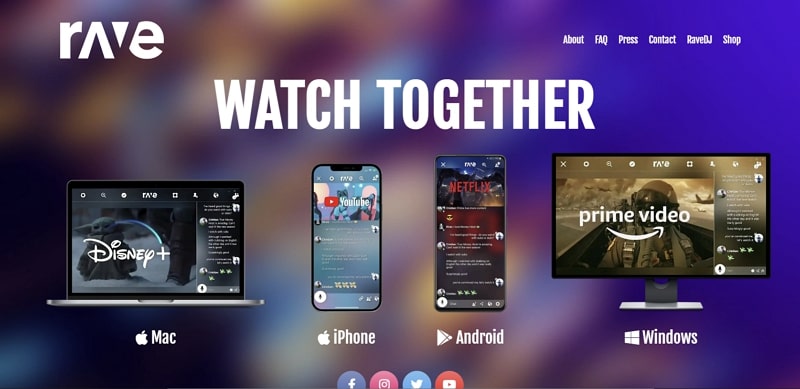 Organizing digital watch parties is now easier, more convenient, and more special, with Rave watching movies together online. So, if you and your friends are fans of Netflix, Disney+, Prime Video, and HBO Max, Rave is a trusted solution to host a virtual cinematic setup. Moreover, this platform allows participants to connect via voice chat or text messages during the movie session. Concurrently, users can watch movies from any device.
Key Features
Listen to Music
Share Videos on Google Drive
Instant Speaker System
Create Music Mashups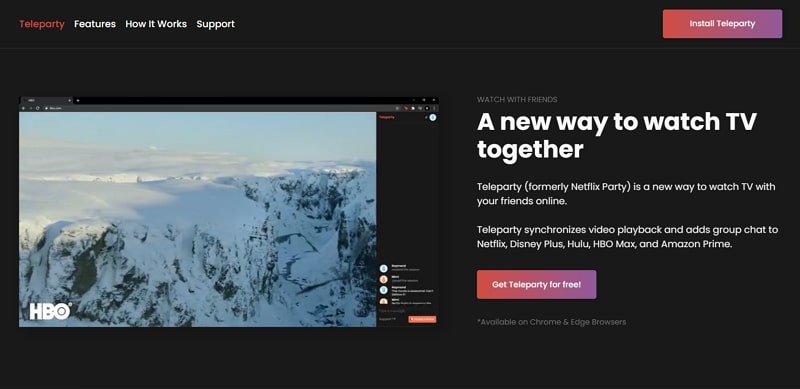 Experience an all-new way to watch your favorite movies together with friends using Teleparty watch movies together online app. Subsequently, with this platform, users can effectively collaborate on movies as it synchronizes video playback to different streaming platforms like Netflix, Hulu, HBO Max, and more. Moreover, watch parties can be created within seconds that come with HD-quality videos.
Key Features
Fast Buffering
Themed Icons
Nicknames
Fun User Icon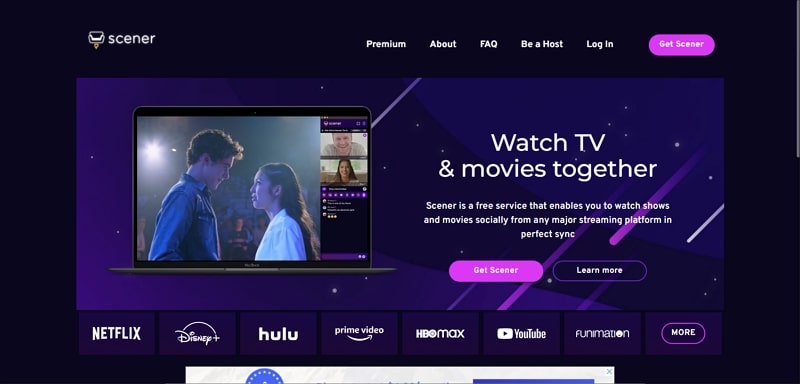 Scener is a free Chrome extension that you can add to your browser and enjoy the breathtaking experience of watching online movies together with friends. Consequently, Scener can ideally sync with people worldwide to establish meaningful connections with respect to watchful entertainment. On the other hand, users can host watch parties through private or public channels.
Key Features
Webcam Support
Text Comments
No Ads
Audio Chat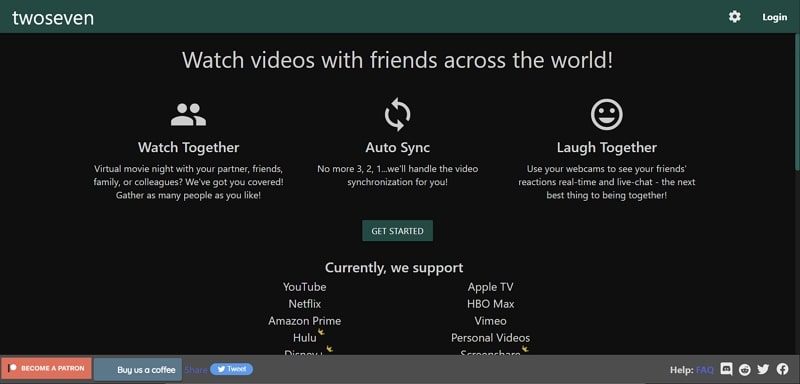 Connect with your friends and spread entertainment across the globe with the Twoseven app to watch movies together. Henceforth, while using Twoseven, you can create your weekend nights more exciting and memorable by organizing watch parties on top-rated movies. Moreover, the best thing is participants can also use a webcam during virtual movie sessions.
Key Features
Auto Sync
Reactions and Emojis
Live Text Messaging
High Video Quality
Don't have time to schedule a movie with your friends, since everyone is busy? With StreamParty, establish meaningful virtual connections to fulfill your entertainment needs from home's comfort and at the desired time. After all, this platform allows you to sync with friends and create virtual watch parties for high-rated movies. Furthermore, the best part is users can choose time as per their availability and enjoy movies with everyone.
Key Features
Video Chat
Text Chat
Automatic Syncing
50 People Private Parties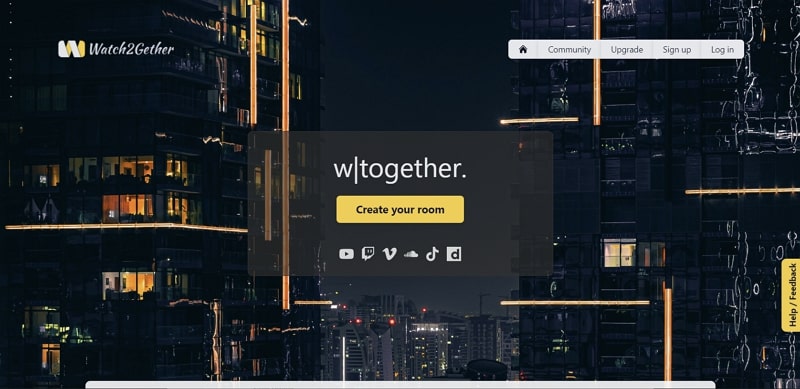 Stream your favorite movie on Netflix, Disney, Vimeo, and Amazon with Watch2Gether, which can be your trusted watch movies together online platform. Meanwhile, this platform ideally synchronizes with people worldwide, and it supports both video and audio solutions. Thus, users can organize entertainment, watchful parties, and enjoy content from popular video streaming services while sitting anywhere in the world.
Key Features
Webcam Availability
Organize Content
Chat Rooms
Synchronized Player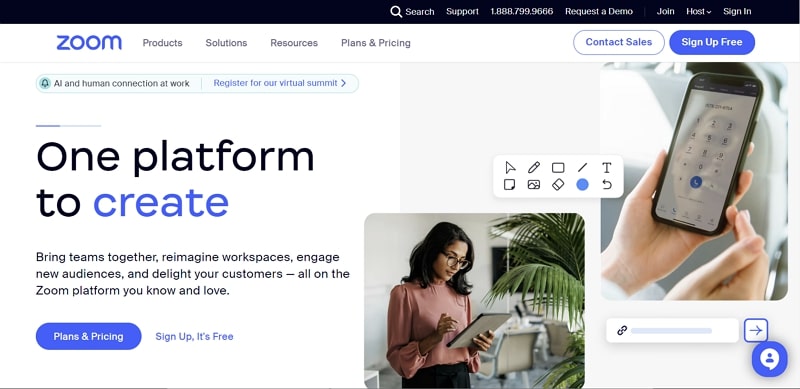 Zoom is a popular video conferencing platform that allows users to collaborate across borders through virtual hangouts. Similarly, this platform is also a perfect app for watching movies together. After all, Zoom enables users to create private meetings where they can add friends and share screens to host a watch party for movies. Meanwhile, on a free subscription, Zoom only allows 40 minutes of the meeting.
Key Features
Online Whiteboard
VoIP Phone System
Conversation Intelligence
Calendar and Email System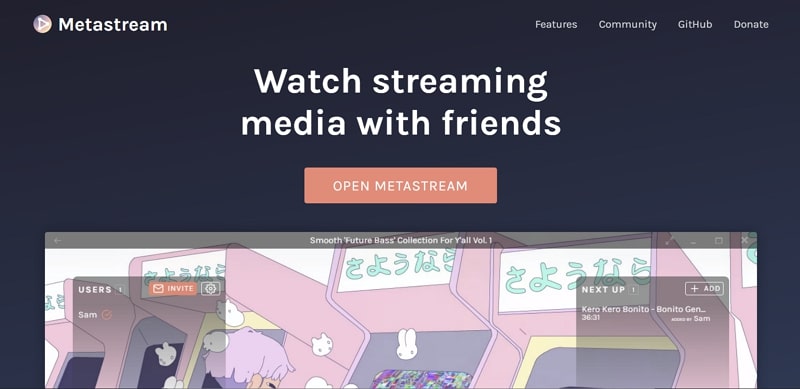 With Metastream, enhance virtual collaboration by means of online watch parties within your favorite streaming platforms. With this watch movie together platform, users can interact, laugh, and enjoy movies through virtual cinematic exposure. Importantly, the quality of the video is top-notch so that users can experience a crispy clear display. On the other hand, the provided connection is fully stable, which reduces the chances of disruptions during video sessions.
Key Features
Invite Using Code
Add Video URLs
Timestamp Markers
Chats in Real-time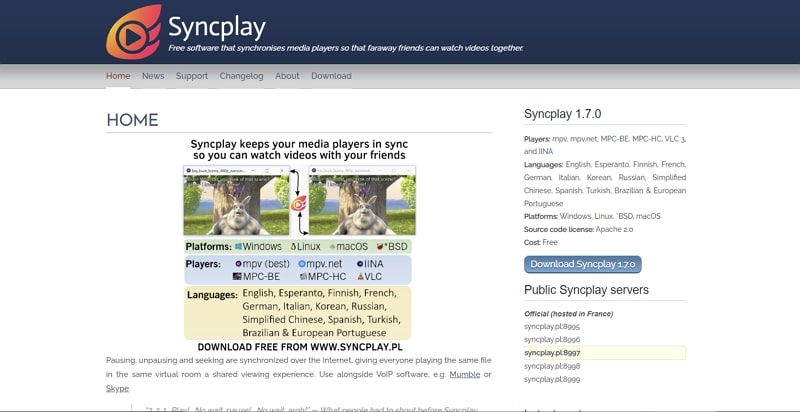 No matter if your friends are living far across the borders. With Syncplay, you can easily interact through a perfect virtual hangout. Moreover, this watch-together movie service is an ideal solution to stage digital watch parties where friends can actively watch their favorite action movies or anime screenplays. All this happens inside a virtual room based on a powerful server from Syncplay. Hence, you won't experience any signal drop.
Key Features
Different Languages
Video Players (mpv.net, MPC-BE, IINA, MPC-HC)
Windows, macOS, and Linux Support
No Cost
How to Build Your Own App to Watch Movies Together Online
Watching live movies with your friends in a virtual environment is always fun and entertaining. Subsequently, while using ZEGOCLOUD Live Streaming SDK, you can easily create your watch movies together online app. After all, ZEGOCLOUD comes with 20+ pre-built UIKits that can make your applications with simple integrations and no coding. Moreover, this will save you both time and money while launching your product.
In addition, ZEGOCLOUD provides interactive live streaming that comes with 99% stutter-free streaming and low latency of 600ms. Thus, you can organize movie sessions, live events, live shopping, and more.
Steps to Create Your App to Watch Movies Together Online
ZEGOCLOUD is a great way to build an app to watch movies together with friends. Moreover, the connection is super-efficient, and the quality is exceptional. Let's find the steps to make your watch together app:
Step 1: Launch ZEGOCLOUD and Create Project
Open the ZEGOCLOUD website on your computer's browser, and log in using your credentials. After signing in, press the "Create your Project" button.
Step 2: Select the Desired Use Case
You will see 12 different use cases in front of you that you can choose to create your app. Proceed by selecting the "Live Streaming" use case and clicking on the "Next" button. Following this, provide a suitable project name and press the "Start with UIKits" button. Wait for some time until your application's admin console processing is finished.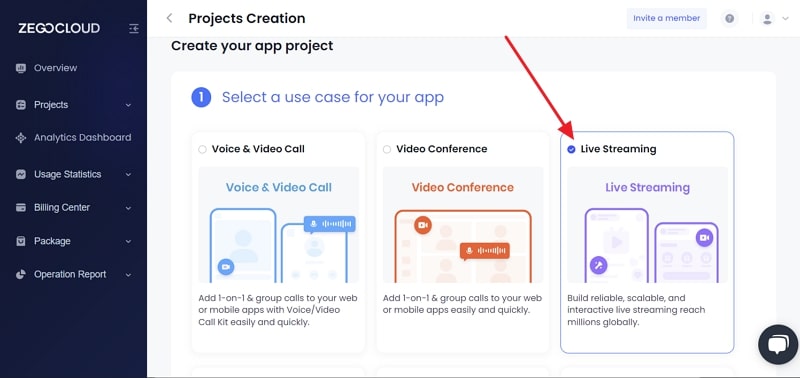 Step 3: Choose Framework and Apply Configurations
Furthermore, you need to select and click on your desired UI framework from 5 platforms depending on your application requirements. Afterward, enable "Screen Sharing" and other possible features from the "Feature Configuration" section. Once done, press "Save & Start to Integrate" to obtain your application's configuration.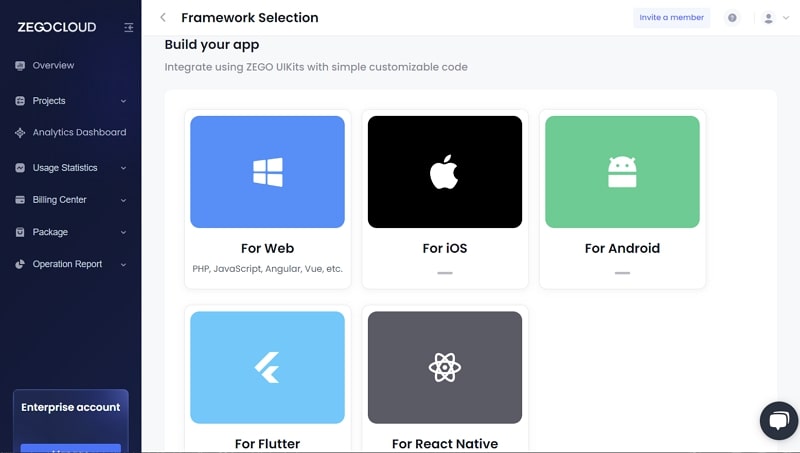 Conclusion
To conclude, virtual hangouts are a common thing in this digital world. Currently, they are not only limited to online business meetings, academic presentations, or family conferences, but you can also schedule watched-together movie parties with friends. This way, users across the world can join and watch the best movies.
Moreover, this article provided the 10 best apps for hosting and watching group watch parties. Besides this, the article also discussed ZEGOCLOUD API/SDK, which is a great way to create your app to watch movies together.
Read more:
Talk to Expert
Learn more about our solutions and get your question answered.
Talk to us
Take your apps to the next level with our voice, video and chat APIs
10,000 minutes for free
4,000+ corporate clients
3 Billion daily call minutes