Voice chat games are particularly popular because they allow multi-player games that are always exciting and thrilling. With the rising esports community, here comes the need for the best app for games with voice chat. In this article, you'll get to know the best options for you.
Best 5 Apps for Voice Chat Games Online
Although several voice chat games are online, picking out the best option is difficult. Meanwhile, as a gamer, you don't want to waste your precious time searching for the right voice chat app. For you, we've searched the internet far and wide to collect some good choices: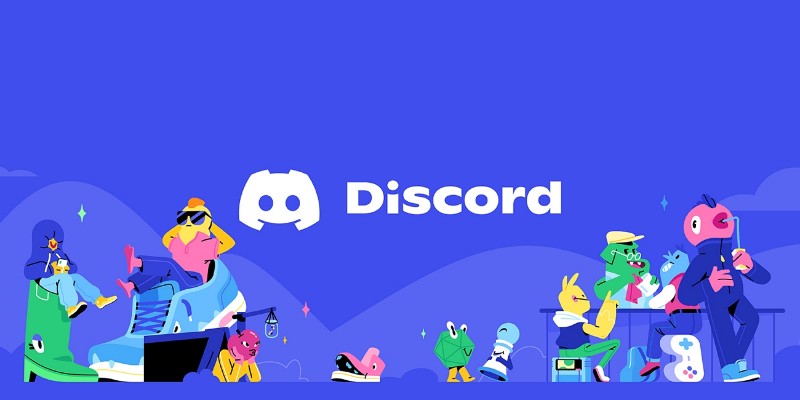 Discord is an industrial-leading tool for voice chat games that are used by millions of professional gamers all around the world. Subsequently, you can create customized or private servers for playing games with your friends while also leveraging the best voice chat functionality that comes with zero interruption. For the gaming community, this voice chat app is truly a blessing with its extended and modern capabilities.
In addition, Discord equips a functional and easy-to-understand GUI that makes it a great gaming utility platform for everyone. Remember, with its extended support for high-quality video layout and low-latency voice, you'll feel immersed in a gaming virtual reality world. With the availability of moderation tools, you can manage large communities on various servers without disruption.
Key Features
With the streaming service, you can effortlessly go live by sharing your screen. Hence, you can share your gameplay with your friends or gaming community without interruption.
You can also perform video calls as required during in-chat sessions, and more importantly, you can set desired video background during the call for a better experience.
You can also use a screen reader to navigate the browser community. This tool is beneficial for people who are blind or partially blind and thus have to depend on a screen reader for telling gaming updates.
With the availability of age-restricted commands, the 18+ content can be restricted. Ultimately leading to a safe environment for everyone, which improves overall community standards.
Compatible Platforms: Windows, iOS, Android, Linux, macOS, and Web Browsers.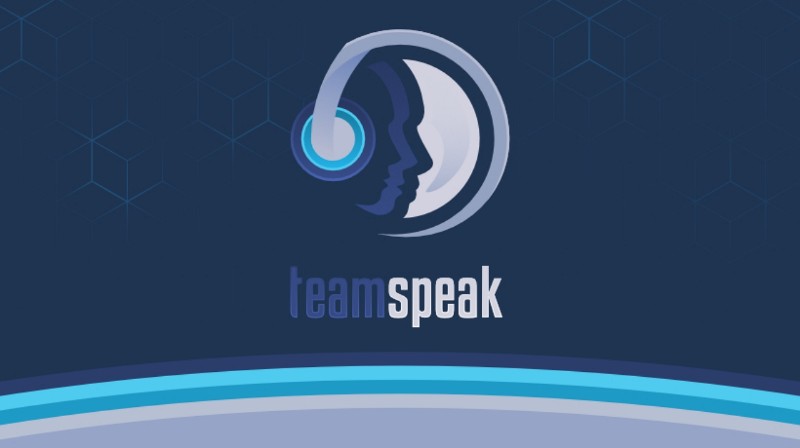 TeamSpeak is a gaming-friendly VoIP application that allows professional gamers to enjoy spam-free audio communication while playing games with voice chat. Similar to a voice call, users must use headphones with a dedicated microphone when using TeamSpeak. Of course, your gaming data and important credentials are safe on this voice chat app since it protects privacy with a decentralized system.
For all professional gamers involved in esports, TeamSpeak has everything to take their gaming to the next level with its zero-interruption calling facility. After all, when you compete in multi-player battles against some best teams, you need solid understanding and effective communication within your team to take the opposition out. So, overcome all hidden barriers to feel gameplay like a reality with TeamSpeak.
Key Features
With the availability of 360° soundscape, you can hear your teammates with crystal-clear voices, as if they're sitting close to you. You are henceforth given an opportunity to devise a collective strategy and plan to overtake opposition control in the game.
The possibility also includes the scalability of audio conversations, which allows you to move from small audience connectivity to bigger gaming conferences with more like-minded gamers.
Of course, there is room for privacy, as you can also chat with your friends through a direct message if you're uncomfortable with voice chat. Don't worry; your message will be sent privately without any noise.
You can also opt for a blazing-fast file transfer to share your gaming content with your friends or gaming community. This tool removes the risks of firewall issues and ultimately transfers your content without risking privacy and affecting inner content.
Compatible Platforms: Windows, Linux, Android, iOS, and macOS.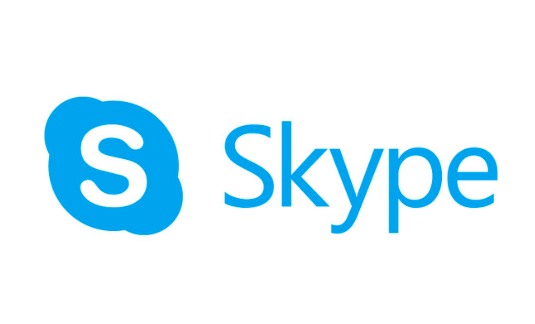 Skype is among the world's most well-known audio and video calling tools currently available. For gamers, it's a perfect partner as the best PC game voice chat. After all, Skype enables users to continue playing games with a non-interrupted and spam-free call in the background. Therefore, allowing gamers to capitalize on building teamwork with collective strategies to overcome opposition gameplay.
The best thing about Skype is that it eliminates geographical barriers, which means people from around the world can easily communicate while playing games. Subsequently, you don't have to worry about your important gaming data or information because Skype has industrial-leading data encryption that keeps you safe and protected.
Key Features
Skype allows its users to make a group of up to 25 people simultaneously, which is surely a great facility for multi-player gamers. Interestingly, this feature is unavailable in some of the best voice chat apps.
With an option of integrated screen sharing, you can also share your gameplay to impress your friends and other gaming community already on a call.
Suppose you're uncomfortable sharing your gaming views, strategy, or plan with your friend in public. Well, there's an option for personal messaging that is completely encrypted.
As a gamer, you'll always want to share gaming content with your community and fellows. Well, Skype allows file transfer of up to 100 MB. Thus, you can share small reels or shorts that illustrate your gameplay style and power.
Compatible Platforms: Windows, Linux, Android, iOS, and macOS.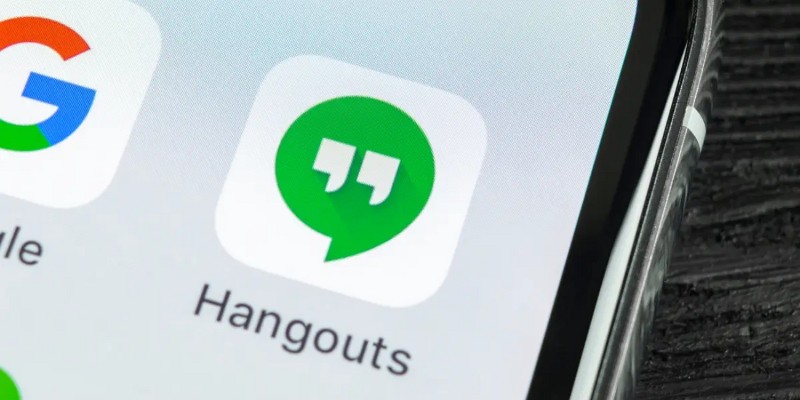 Google Hangouts is a communication application developed by Google that supports voice chat functionality to help people easily hang out in a virtual space. Subsequently, it's also a great app for voice chat games online. After all, it can facilitate gamers to improve their gaming abilities by allowing distortion-free and effective communication, which ultimately enhances teamwork improvisation during multi-player games.
For any professional gamer, it's important to develop interaction with a like-minded community where they can collectively participate in gaming events and competitions. For all these professionals and gaming streamers, Google Hangouts provide an easy-to-use platform with comprehensive tools and functionalities. The best thing is this platform processes everything with speed and efficiency irrespective of participant number.
Key Features
Google Hangouts is your reliable yet trusted solution for a perfect gaming conference in a free environment. It offers a world-class in-game calling facility at a dedicated platform provided by Google.
You can share your all-important gameplay pictures and videos with your friends and gaming communities. This offers you an opportunity to impress your circle with an extended skillset.
At Google Hangouts, you can also screencast your gameplay by sharing a screen. Henceforth, you can interact with your audience without compromising your real-time gameplay.
You can easily mute anyone in a large conference with an intelligent muting option. This helps avoid unnecessary chaos of audience noise during a live gaming session.
Compatible Platforms: Android, iOS.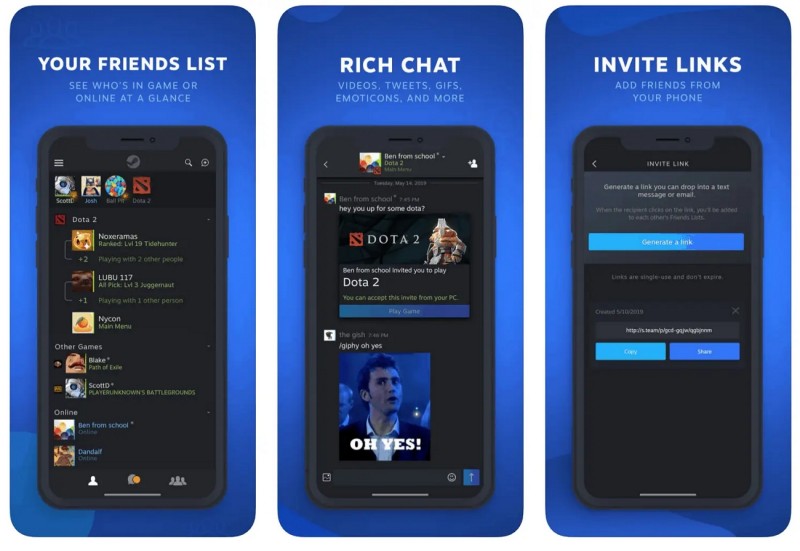 In the gaming industry, Steam Chat is the most popular name when it comes to voice chat games. This platform leverages its voice chat tool, allowing professional gamers to collaborate and talk with other gamers in a thrilling gameplay experience. You require good communication with your team members when playing multi-player games, and Steam Chat is a good option here.
Steam Chat offers endless possibilities for gamers, including sharing important gaming videos and images with friends and other communities. In addition, you can also send private messages if you're not comfortable with audio chat. With AES encryption, all your gaming and personal data are completely safe and secure. The intuitive UI ensures easy-to-understand functionality for everyone.
Key Features
With its sharp and crystal clear sound, you'll not face any problem hearing your friends and other members during an important stage of the game.
Steam Chat has its own global servers. Therefore you won't witness any distortion or connection problems during gaming intervals. Hence, you can confidently play games from any part of the world.
The availability of shareable URLs allows you to welcome only your desired members in the gaming stream or session. Any unknown person won't be able to join and unnecessarily spam the group.
The connected voice chat would run interruptedly in the background during the gaming session. Therefore, you can seamlessly enjoy your games with standardized communication.
Compatible Platforms: Windows, Linux, Android, iOS, macOS, and Web.
Best Free Voice Chat API/SDK Services – ZEGOCLOUD
ZEGOCLOUD is one of the best voice chat APIs/SDKs available in the market that can easily integrate into various voice chat game applications without the need to code from scratch. Hence, this tool can bring its industry-leading voice chat support within the web and mobile applications for Android and iOS. Moreover, this tool is also beneficial for platforms that intend to provide communication support for voice chat games.
Although you'll rarely find free API/SDK services on the internet, ZEGOCLOUD provides 10,000 free minutes after a new sign-up. Therefore, you can enjoy free services and integrate this amazing tool into your existing application using API. In contrast, SDK allows you to build customized voice chat SDK applications as required easily.
Key Features of ZEGOCLOUD to Keep Note Of
With an overview of how ZEGOCLOUD operates, we will now proceed to view its prominent features. Look through these features provided next to have explicit knowledge of this impressive voice chat API.
Getting good sound quality is always a priority in voice chats. With ZEGOCLOUD, you can enjoy a clear and crispy audio experience that supports up to 48kHz audio sampling rate alongside low latency of 300ms on average. In addition, the availability of noise reduction technology ensures the elimination of external noise to help you hear only human voices.
Moreover, you can also improve and customize the audio effects using features like reverb effects and voice changes. With the call monitoring functionality, you can solve underlying audio issues in a real-time scenario.
Well, you can make your gaming more interactive with voice chat support by ZEGOCLOUD. Within this feature, you can add your voice to your game through one-on-one voice calls, screen sharing, spatial audio, and team voice chats. Simultaneously, you'll have a next-level gaming experience with enhanced team communication.
ZEGOCLOUD is compatible with 15000+ devices which also includes smart devices like IoT. Therefore, its outstanding voice functionalities effectively enhance the in-game audio experience with respect to spatial and voice chat support for VR devices, smart speakers, and smartwatches. By adding voice, you can enjoy IoT technology with better possibilities.
Well, cybercrimes are only increasing in the internet world because of compromised personal data issues. At ZEGOCLOUD, you're fully protected from such scenarios because this platform is compliant with GDPR, ISO/IEC 27001, ISO 27018, and ISO/IEC 27701. So your data is safe with maximum user privacy.
Final Thoughts
There are many voice chat apps available that can make games with voice chat totally fun and enjoyable. While using these apps, you can easily communicate with your friends during in-game sessions and events just like by sitting close to each other. Meanwhile, if you want to build your own voice chat app with multi-features and minimal effort, ZEGOCLOUD is your trusted solution.
Read More
Talk to Expert
Learn more about our solutions and get your question answered.
Talk to us
Take your apps to the next level with our voice, video and chat APIs
10,000 minutes for free
4,000+ corporate clients
3 Billion daily call minutes