With the continued advancement of the internet and technology, the need for recording your screenplay is also rapidly rising. After all, there is a huge buzz to screen record and share your crucial gameplays, TV shows, clips, meetings, and more with your digital community to stay an active member. Meanwhile, you need good software to record video from the screen, and this article will help you find the top 10 video screen recorder options.
Best Software to Record Video from Screen
Apparently, finding the best video screen record downloader could be a tricky task because you will find a whole bunch of software, all with similar functionalities. Thus, making a decision extremely tough to proceed, considering your requirements. Here you'll discover the list of the top 10 video screen recorders:
Making screen recording easy, convenient, and smarter, Awesome Screen Recorder is a stunning 2-in-1 video screen recorder that records your screen and allows you to capture an instant screenshot. Surprisingly, there isn't any time limitation on the screen recording facility, so you can continue to record as much as you want, depending on the available storage.
Also, you can use a webcam to capture your emotions and reactions. In addition, you can also annotate the screenshot using different editing options and, finally, share them with friends as needed.
Icecream Apps is your trusted solution if you're looking for a reliable yet simple screen recorder to record your games, videos, live streams, conferences, or more. After all, this recorder can effortlessly record video from the screen in a quick time within the highest of qualities and display. Meanwhile, you can either record a complete screen or a selected part that depends on you.
With the dedicated servers, upload your recorded video and instantly share it with your friends on social media. In fact, you can also take screenshots as JPG or PNG and then apply annotations to them as per your requirements.
Recording a screenplay has never been this easier, but Wondershare DemoCreator has undoubtedly made it much more convenient. All is possible because of its highly-intuitive GUI that provides easy access to all features in a simple way. With this video screen record downloader, you can enjoy an overwhelming display of screen recording that comes with specialized drawing tools, scheduled recording, dual monitor recording, screen capturing, and more.
Interestingly, you can use both the screen recorder and webcam at the same time in order to capture important facial moments. Moreover, you can also apply fancy effects to your webcam recording for fun purposes.
Meet one of the best free video recording software currently available; Bandicam is an easy and simple way to screen record video for tutorials, games, meetings, etc. With extended features like real-time drawing, audio recording, scheduled recording, 24-hour long-term recording, and webcam overlay, Bandicam extends your overall video recording experience with a one-stop solution. Ideally, you cannot take a screenshot but also screencast a particular file.
No need to worry about the quality of the video because Bandicam records video in full resolutions giving you crispy clear video quality. Apparently, you can also apply real-time drawing on your screen during a screencast.
Video screen recording is now easier, faster, and more efficient with iTop Screen Recorder, an industry-leading video screen recorder. The best part is you can record your videos in 4K/1080p resolutions, backed with excellent sound support, zero lags, and no time restrictions. Interestingly, you can also apply virtual backgrounds to your webcam video through blur and other effects.
With the integrated noise reduction technology, you won't face issues of background noises that can affect the quality of your video. Meanwhile, if you're a gamer, continue recording your gameplay without facing FPS drops. If needed, you can also trim, split or merge your recordings.
Record your essential gameplay, talk shows, meetings, or conferences with minimal hassles. Debut Screen Recorder is a fantastic video screen record downloader that offers a diverse solution to record your screenplay. Moreover, you can efficiently use your webcam during screen recording and capture your moments and real-time reactions. You can also make your recorded video more interesting by adjusting the color, adding video effects, or blending text captions.
All the recorded videos are stored in file formats like WMV, MOV, AVI, MP4, FLV, and more. In addition, you can also apply a watermark logo to your recorded video to protect your video from illegal use.
Known as one of the best game screen recording video applications, EaseUS RecExperts records your video in the best quality with outstanding sound support. After all, it equips a video enhancer for 4K/8K content while leveraging an audio extractor with an auto-recording facility. No need to worry about background noises, as there is an integrated AI-powered noise removal technology.
Subsequently, enjoy a smooth and lag-free video recording of your intense gameplay in a 2D/3D display. Afterward, take snapshots as needed, and create funny stickers and GIFs from them. Don't forget to trim, cut, merge, or rotate the video to personalize it according to your needs.
Recognized as a popular open-source video screen recorder, OBS Studio instantly begins recording your screen with just a button press. The video quality is excellent, but the audio support is even better with noise suppression, noise gate, and more. The overall configuration is straightforward to follow, allowing you to access different options for necessary adjustments to your video.
By setting up hotkeys, you can ideally switch between different scenes in your recording, start or stop recording, mute audio, etc. With the studio mode, preview all your sources and scenes before making them live.
Making video recording easier, simpler, and more convenient for everyone, FlashBack Express is a unique video screen recorder that can record your screenplay for absolutely free. Due to its colorful layout and user-friendly interface, this video recorder is accessible to everyone. If needed, you can also record the video using your webcam, which allows you to record facial expressions and funny gestures.
Apparently, by using the microphone, you can add narration to your video while recording. Meanwhile, there isn't any time restriction on the video duration; thus, continue to make long videos with zero hassles. Yes, the videos are recorded with no watermarks.
TechSmith Capture, formerly known as Jing, is the ultimate answer to all your video screen recording needs. This software records video from the screen and allows you to record full-screen and specific screen regions. Interestingly, you can also annotate your video by adding context and highlighting useful information with available tools. Meanwhile, taking screenshots of your video is also a possibility.
You won't be disappointed at all when it comes to video quality. In comparison, you have the option to share your video or snapshots to screencast or save them into your local drive.
How to Choose the Best Video Screen Recorder
As the internet is filled with multiple video screen recorders, and that's where you may get confused as a user. Choosing a good screen recorder may look difficult, but it isn't impossible. Here are some interesting factors to make the decision easy for you:
Annotation Tools: A good video screen recorder must have embedded annotation tools. After all, with annotations, users can add text, images, stickers, and further elements to make the video more interesting.
Editing Tools: It's essential that a good video recorder should have editing facilities available. Due to this, users can trim, rotate, merge, or crop the video without visiting other platforms.
Webcam Overlay: Video recording in the modern age is incomplete without a webcam facility. Thus, a good and reliable video recorder must also support webcam recording that allows users to capture body reactions.
Snapshots: Taking snapshots of your favorite screenplay moment is always interesting; since you can share them with friends or family. Hence, a good video recorder must support a snapshot facility.
How to Build Your Own Video Screen Recorder
A video screen recorder is a great utility for recording your all-important screenplays. Meanwhile, building your video screen record downloader tool is an easy task with minimal complexities. However, creating an application from scratch can cost you a lot of money and time. In this case, ZEGOCLOUD Could Recording is the best solution to have.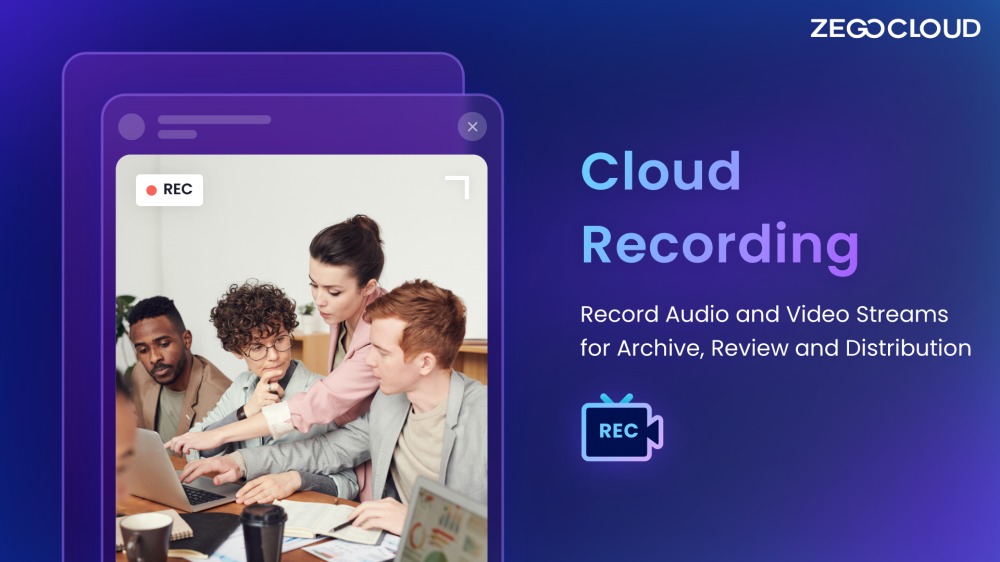 ZEGOCLOUD is an API/SDK that provides prebuilt UIKits for implementing ready-made Cloud Recording functionalities into existing applications. This means the developers don't need to code from scratch, which saves time and resources.
Some Important Key Features of ZEGOCLOUD Could Recording
Using the ZEGOCLOUD Could Recording API service, you can quickly build screen recording applications without many issues. But it doesn't end here, as ZEGOCLOUD provides many other benefits:
Flexibility: The feature-rich APIs are not only easy to integrate, but they can also be modified according to your business goals.
Scalable Infrastructure: Serving the growing needs of screen recordings on a larger scale, ZEGOCLOUD Could Recording continuously upgrades its infrastructure to maintain quality.
Safe and Secure: ZEGOCLOUD Could Recording is fully compliant with GDPR and thus guarantees data privacy.
Supports Screenshots: During video recording, you can take screenshots of your video using ZEGOCLOUD Could Recording.
Summary
Whether you're concerned with recording gameplays, movies, meetings, conferences, or anything, video screen recording is a great utility in the current scenario. In this article, you have already discovered the 10 best screen recording video tools to start your video recording process. Despite that, if you're looking to build your video recording app, ZEGOCLOUD Could Recording is always available.
Talk to Expert
Learn more about our solutions and get your question answered.
Talk to us
Take your apps to the next level with our voice, video and chat APIs
10,000 minutes for free
4,000+ corporate clients
3 Billion daily call minutes