The 2020 pandemic challenged health systems worldwide, trying to continue essential medical services. This emergency has sharply increased the demand for telemedicine solutions and boosted telehealth app trends.
Pandemic effect on the telehealth app market
Since the early 2000s, the global telehealth app market has been growing steadily. 2019 was valued at $49.9 billion, accelerating during the pandemic to estimates of $194.1 by 2023. By 2030 it is expected to be worth over $400 billion.
A survey conducted by American Well in 2016 assessed that 65 percent of consumers were inclined to use telehealth.
The most significant telehealth trend: investments
Telehealth app trends will become a significant source of global trade. International investments are steadily strengthening the industry.
Hampleton, Partners' Healthtech M&A Market report, reveals how the pandemic has resulted in a surge of venture and growth investments in the digital health sector, raising a total of $57.2 billion in 2021, 79 percent more than in 2020. Venture capitalists diversify into telehealth apps with artificial intelligence-based clinical decision-making software and digital therapies.
Europe is a hot zone for telehealth investments, accounting for about 12% of global assets. 2021 was also a hot year for mergers and acquisitions in the health tech sector, with the closing of deals worth more than $1 billion involving tech giants such as Oracle and Microsoft.
Industry definitions, terminology, and trends
Let's first clarify the terminology used in the field:
Telehealth
Includes electronic and telecommunications technologies, tools, and solutions used to provide health care, health information, and educational services at a distance. Telehealth covers a broader range of services not limited to clinical services.
Telemedicine
It is a category of telehealth. It uses many modern technologies to provide remote medical services via software and communication tools, mainly video conferencing.
Mobile Health
Identifies telehealth apps and mobile technologies, allowing consumers to interact directly with their medical data. M-health is a significant segment of the telemedicine market along with:
Telehospitals: a branch of hospital medicine that uses high-definition audio video to enable physicians to assess patients, communicate with staff, and provide remote recommendations.
Telephone: also known as telehomecare, denotes home health care and monitoring. It has been one of the biggest trends in telemedicine in the past year.
Telehealth apps for Chronic Disease Management.
The medical field changing telemedicine the most is chronic disease management. Telehealth apps reveal new opportunities to ensure control of these diseases and reduce casualties. Moreover, the ability to track patients' health facilitates the conduct of virtual clinical trials that healthcare organizations can use for medical research.
Telehealth apps for Mental Health
More remarkable changes involve mental health practices. Statista reports that 70 percent of healthcare providers in northern Europe have implemented telehealth apps for cognitive services. More than half of Spain's mental health medical practices have used telemedicine solutions.
This data suggests that the market expands beyond North America, which will nevertheless be the leading market for mobile telehealth app trends. Reasons for its prominence include:
the increasing prevalence of chronic conditions of COVID-19
the need to reduce healthcare spending
the increase in the geriatric population.
For the same reasons, the Asia-Pacific market will also hold a significant market share, where it is urgent to solve hospital overcrowding.
Major Technology trends
We have already had the opportunity to discuss the revolution in telecommunications initiated by video conferencing and video chat and how the introduction of these features is prevalent in the development of telehealth app trends.
Live video streaming enables two-way interactions between medical professionals and patients online. It benefits special categories such as those living in rural areas or inmates. Also, voice technology is finding its way into several areas of health care, where many hospitals use voice-based devices such as Alexa and Google Home.
The telehealth app ecosystem's most enormous driving and disruptive force is 5G technology, enabling real-time transmission of medical images, remote patient monitoring, virtual meetings, etc.
Digital tech telehealth app trends
Alongside these macro trends, major digital technology telehealth app trends include:
1.Internet of Things (IoT).
Multiple devices connected with the specific goal of improving health constitute the Internet of Medical Things (IoMT). It consists of remote health monitoring programs that help physicians identify irregularities they might otherwise miss. IoMT contributes to accurate virtual real-time patient diagnosis and eases the lives of people with disabilities. However, privacy and security issues arise, so much so that it is now one of the main tasks for developers.
2. Artificial intelligence.
Telehealth apps incorporate AI in many forms, from chatbots to voice recognition to automated health alerts. These features help patients save time, book appointments, and get in touch with specialists. In contrast, telehealth apps automate several tasks for doctors, such as quickly checking a patient's history, viewing reports, and generating digital prescriptions.
3. Augmented, Virtual, and Mixed Reality.
To date, VR and AR functions are typically used for accurate remote diagnosis and in the educational sector, providing a renewed and efficient experience for medical students. Integrating AR and VR into mobile telehealth apps is rapidly becoming a standard feature in telemedicine, alongside mixed reality, creating an interactive virtual environment for accurate diagnoses.
4. Gamification.
The healthcare sector is opening to the introduction of gamification. It is now finding its way into medical training, rehabilitation, fitness, participatory health, and emotional/cognitive games.
5. Machine Learning.
The potential of ML tools in healthcare medicine and AI, as fields in the making, is not yet fully known. ML is used to improve treating chronic diseases, simplify workflows and manage medical data. Overall, it increases the quality of healthcare facilities' services.
6. Cloud.
Cloud solutions allow sharing and accessing of critical patient medical information from anywhere. They provide security and privacy through data encryption, fine-grained access controls, and access logging. The expected surge in digital prescription use will further lower these costs. The cloud-based E-Rx prescription system has become a significant telehealth app trend because of its immense benefits.
7. Store-and-forward.
This trending form of telemedicine involves collecting clinical information and sending it electronically to another site for evaluation, uploading it to a secure Web site, or using a private network. This technology also crosses cultural and linguistic boundaries for patients who do not speak a particular language. Physicians, primary care providers, and specialists can review patient cases regardless of location.
8. Big data.
Due to the vast amounts of data in the form of medical reports, statistics, records, and other documents, having access to reliable databases is essential. Innovative data management and reading tools improve treatment quality, diagnostic accuracy, and costs.
9. Blockchain.
Its main benefit is ensuring immutable, traceable, and secure transactions across the network. Despite the convenience of telehealth apps, there are potential security issues that blockchain can help solve. This technology also facilitates integrated data sharing, which authorizes information to be collected and made available across multiple medical facilities. Therefore, patients don't have to provide data every time they have an appointment with a new doctor.
10. Contact tracing.
The pandemic was an opportunity to develop and test contact tracing technology for state-made containment of covid-19 transmission. Many countries' governments have encouraged using these telehealth apps to help state health officials quickly contact people exposed to covid-19. Still, concerns about data security and privacy have constrained their widespread use.
11. Predictive analytics.
It's the most studied technology in the medicine ecosystem and telehealth app trends, particularly for risk estimation, geo-mapping, and simulations. Tremendous investments are being reserved for it.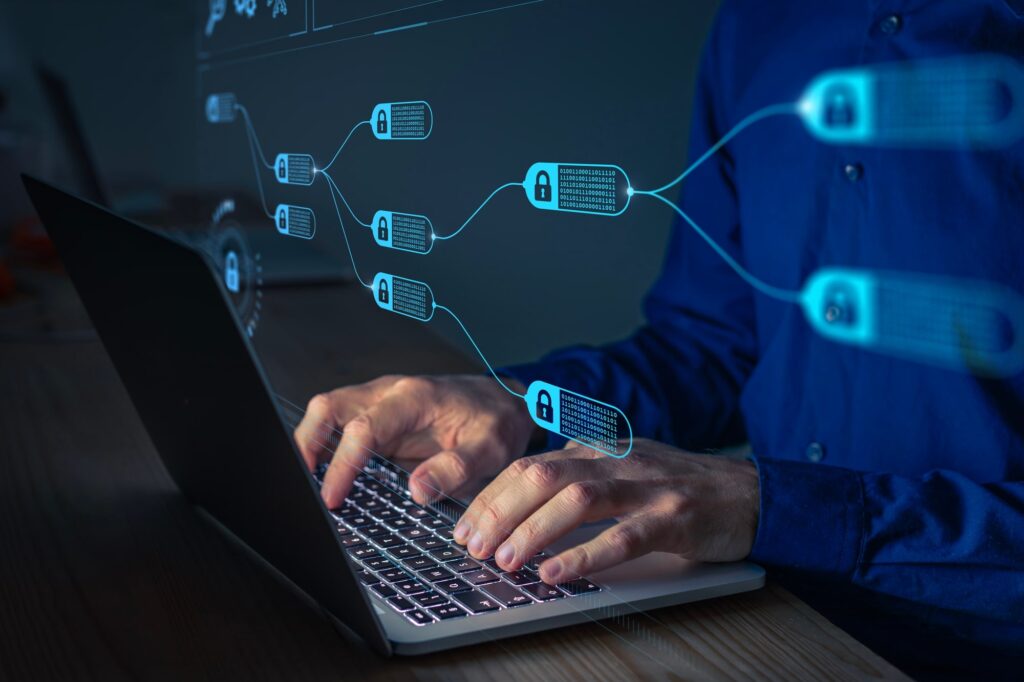 Challenges to telemedicine and telehealth apps
Despite conceptually being widely accepted, there is no shortage of obstacles and resistance to telehealth apps.
A significant challenge is the restrictions on the legal status of telemedicine visits. Also, insurance companies are concerned about the abuse of telemedicine services. It takes time to address these issues, given the slow pace of legislators around the world compared to the frenetic pace of technology.
However, the biggest challenge revolves around ensuring patient privacy and data confidentiality. Heinous data leakage from a Finnish psychotherapy clinic in 2020 has raised alarm bells about data security and patient protection. It keeps many people wary of the digitization of medical services.
The technical challenges are :
maintaining face-to-face interaction between doctors and patients over time
meeting the demands for integrated solutions
defining prescription procedures for pharmaceuticals
patient retention in remote monitoring
What telehealth solutions to consider?
As previously mentioned, investment in technology is the leading future trend in telemedicine. Clinics, pharmacies, and hospitals are keen to allocate larger budgets to develop telehealth apps and services.
Nevertheless, before implementing a solution, appropriate considerations should be made regarding the choice between a wide range of software on the market that is ready to use or implementing one's own telehealth app development project.
Off-the-shelf solutions cut implementation time, whereas developing a telehealth app from scratch takes up to several months. Given the adaptation to business requirements and processes, it would be worth it.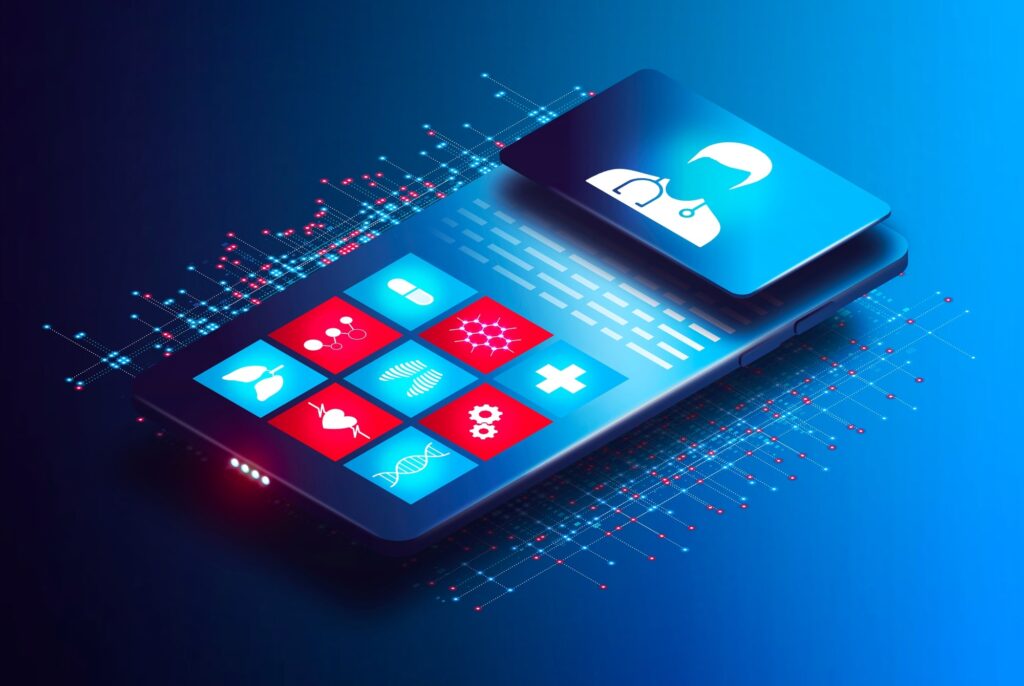 Off-the-shelf solutions VS developing customized telehealth app
From a purely economic perspective, the monthly licensing fee to be paid to a vendor for the use of a ready-made solution is convenient and affordable for small clinics. However, the situation changes for long-term use, especially for larger organizations. The exact amount of investment depends on the features of the solution.
On the feature side, with off-the-shelf solutions, there is a risk of acquiring unnecessary features at the expense of others that may be indispensable to the clinic. In addition, in the event of problems, the development service provider usually offers high levels of one-on-one support. In contrast, third-party software support services are not always timely and efficient. Thus, vendor dependence would neutralize potential time savings and price advantages. Even more relevant is the issue related to the privacy and security of patient data, which is generally better ensured in sophisticated, purpose-developed telehealth apps than in off-the-shelf technologies.
In conclusion, all these risks are surmountable with a well-thought-out custom telehealth app with a team of developers. The investment of time and money is rewarded by an application that will fully cover medical institutions' needs, be flexible and scalable for business growth, and allow more decision-making freedom and excellent stability.
Referring to experts, ZEGOCLOUD is the best option available now. With ZEGOCLOUD's real-time engagement solutions, clients can deliver better patient-centered care and boost interprofessional collaboration.
Schedule a demo with our tech experts to learn how to build real-time engagement into telehealth apps with just a few lines of code in minutes!
Read more:
Talk to Expert
Learn more about our solutions and get your question answered.
Talk to us
Take your apps to the next level with our voice, video and chat APIs
10,000 minutes for free
4,000+ corporate clients
3 Billion daily call minutes