Nowadays, video streaming services are widely popular due to the rise of Netflix, Amazon Prime Video, and HBO Max. However, most of them either cost a lot or have geographical restrictions. If you are also looking for live streaming services, many services are available online. This article will give you a short overview of the top free streaming services.
10 Top Streaming Services List
A simple search for the best streaming services available for free on the internet will reveal numerous options. However, you need to be very careful, as most scams intend to get you to watch their ads. It doesn't mean there isn't any suitable option. After looking at services, content, and user reviews, we have listed the top streaming services below:
Formerly known as IMDb TV, Amazon Freevee is probably the best streaming service when it comes to the content offered. Since it is linked with Amazon Prime Video, it holds large swaths of movies, TV shows, and originals. It comes pre-installed with Amazon's Fire TVs and Fire TV Sticks, while its application can stream content on other major streaming devices.
With TV shows like Lost, Desperate Housewives, and Fringe and movies like The Hunger Games, Deadpool, and Spy, it offers a great experience. Freevee has many originals, like Bosch Legacy, Alex Rider, Troppo, and Love Accidentally.
Considered by many to be at the top of the free streaming services list, Crack is an excellent choice if you hate signing up. It was launched in 2004 and didn't require any account to stream its content. The movie library of Crackle is much bigger than its TV show catalog and is a prominent feature. There are many movies that you won't find anywhere else on the internet.
Although you don't need an account on Crackle, creating one will ensure you are able to watch shows where you left off. You can watch movies and shows like A Little Bit Of Heaven, Lars, and The Real Girl, Serious Moonlight, etc., on this service.
If you are interested in watching live TV channels, The Roku Channel is a decent choice. It is a popular choice among live-streaming services. You can get it automatically if you own a Roku TV or download its app. The best thing about it is that you are able to watch the first episode of famous TV shows like Game of Thrones, Outlander, and Watchmen.
You don't need an account to watch content on The Roku Channel, but it is recommended. There isn't a huge library to watch, but shows like Die Hart, The Stranger, and Chad make it worthwhile.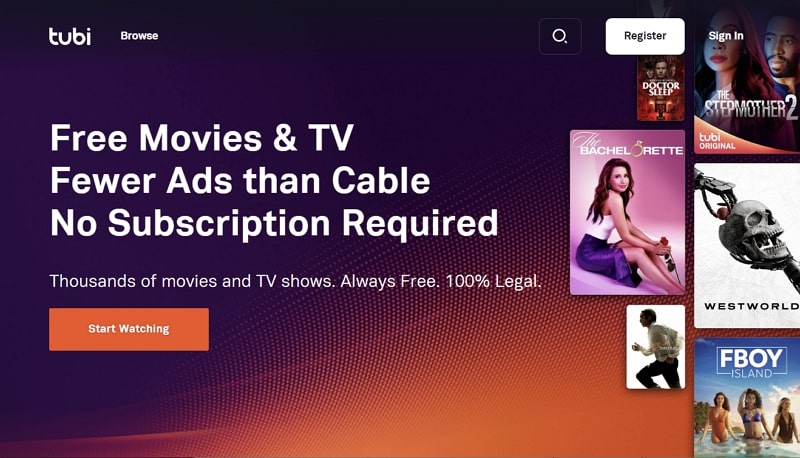 Known as free Netflix, Tubi is an excellent choice when looking for free streaming services. It has over 20,000 movies and TV shows for you to watch. Although it doesn't contain much of the most recent content, there is still a lot of top-quality content for you to stream. It has movies like Spiderman, The Help, Now You See Me 2, Kill Bill, and Rambo.
There is no need to register to watch content on this streaming service. It is only available in the USA, so you will need a VPN to use this service if you live anywhere else in the world.
Owned by Viacom, Pluto TV can be the streaming service you want, as it offers great and popular shows like Baywatch, Stargate, and Degrassi. It relies heavily on other Viacom properties to get most of the content. Through its live streaming services, you can watch channels like BBC Food, CBS News, CNN, Minecraft TV, etc.
This service is also available for iOS and Android devices. You also don't need to register first to watch your favorite shows or movies,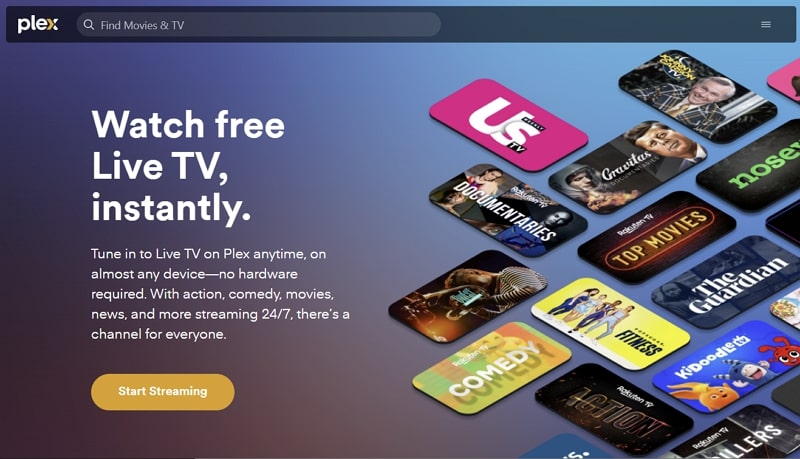 Starting as home media streaming service, Plex has evolved into one of the top streaming services on the internet. It partners with many other streaming services like Crackle and Pluto TV. That means you can easily stream tens of thousands of shows for free. There are also many live TV channels for you to watch, like Hallmark, Stories by AMC, and Horrorfy.
This streaming service is available on the web, Android, and iOS platforms. Shows like The Curious Case of Benjamin Button, Hannibal, and The Girl Next Door makes Plex a popular choice.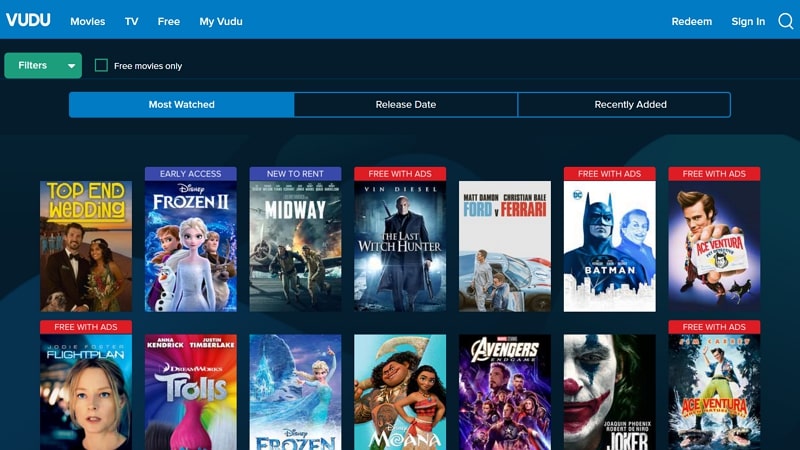 Walmart's streaming service, Vudu, is primarily used by customers to buy and watch the latest movies. It also has a decent free section with over 10000 movies and TV shows to enjoy. You are required to register or log in through your Walmart account before you can use this service. The free section includes movies like American Exit, Infidelity, Beauty and the Beast, and much more.
You are also able to watch TV shows like Hell's Kitchen, Sanctuary, Salem Witch Trials, and others in free sections. However, there are a lot more ads in Vudu's free section compared to other free streaming services.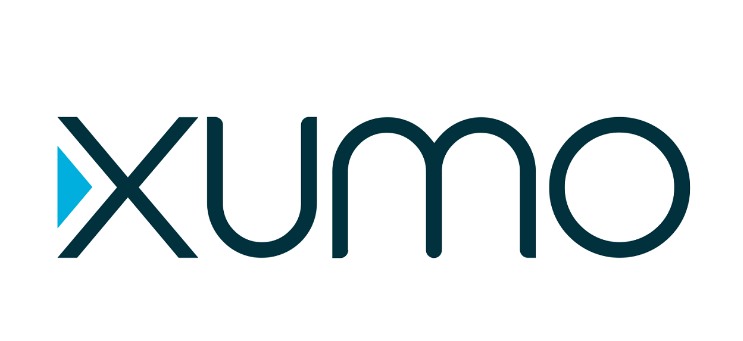 You can watch over 190 live TV channels using this free streaming service. Xumo is available on Android and iOS devices and offers top channels like Fox Sports, TMZ, and NBC News. There is no need to register, and you can watch shows like 21 Jump Street, Family Feud, Heartland, and others. This streaming service also supports a decent movie section.
Its interface is a bit outdated and can be unfriendly when looking for certain movies. There are also no originals that you can watch on Xumo.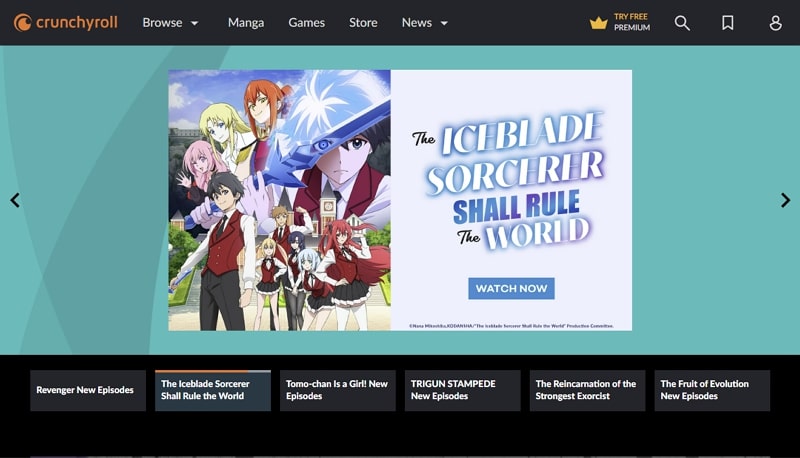 Are you an anime lover and want to watch your favorite anime for free? Crunchyroll is the best streaming service when it comes to only anime. You don't need to register to watch its free section. However, doing so will grant you many benefits. It offers a large range of top-quality anime like Attack on Titan, My Hero Academia, Sword Art Online, Naruto, and Jujutsu Kaisen.
The Crunchyroll streaming app is available for iOS and Android devices. It also has many original animes, but most are in the paid section.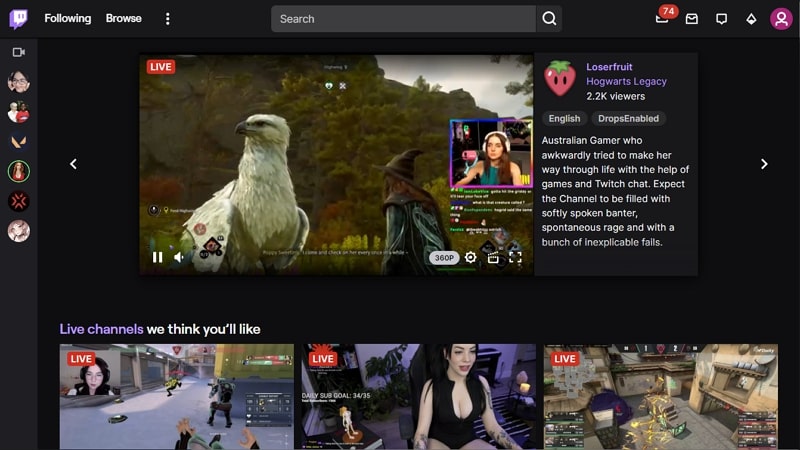 For gamers, there is no better live streaming service than Twitch TV. Owned by Amazon, it is the most-watched streaming platform for gaming. You can easily find your favorite game on this service and watch the top streamer channels. There is also a list of the most popular channels if you aren't sure what to watch.
There is no need for any account registration to watch gaming content here. Although creating an account will allow you to subscribe to channels, add comments, and other features.
Best Live Streaming API/SDK for Developer – ZEGOCLOUD
Given the rise of streaming services in the market, you might be tempted to build your streaming platform or add a streaming service to your already existing website. It may appear like a very hectic and complex task, but that's not the case. If you use the right API/SDK for live streaming, like ZEGOCLOUD Live Streaming API/SDK, you can achieve your dream in no time.
ZEGOCLOUD allows you to build a fantastic live-streaming platform with numerous features using its live-streaming API. With it, you can create a streaming platform that can easily handle over 10 million viewers in a single stream. It will also allow streamers to interact with their audience members. The streams will also be of high quality with almost zero stutters or lag.
Key Features Of This Explicit API/SDK Service
To ensure that your streaming service becomes the best streaming service in the market, ZEGOCLOUD has added many amazing features to its API & SDK. Below are a few of the most popular features of ZEGOCLOUD:
The Covid-19 pandemic has taught people the importance of social gatherings. Being locked into their own houses, away from everyone, people learned to connect with others through live streaming. With ZEGOCLOUD, you can easily host different social events, from casual gatherings to charity dinners. The participants can even send virtual gifts and engage in real-time chitchat.
In the streaming world, gameplay streaming has taken a central spot. Platforms like Twitch TV have made gameplay streaming extremely popular. When using ZEGOCLOUD API or SDK, you can create a unique live game streaming platform. The platform's users will be able to share screens, send bullet messages, and record and playback their streams.
To get more viewers and popularity, the streamers can battle with each other when using ZEGOCLOUD live streaming services. It will make the streams more interesting and engaging for the viewers. The streamers can also benefit more from these battles by receiving more gifts from their viewers. They will also be able to share these streaming battels to other social media platforms.
With the rise of cybercrimes, most users have trust issues when it comes to sharing their personal details. ZEGOCLOUD provides complete data protection through reliable end-to-end encryption using AES-256 encryption. You do not have to worry about data security, as ZEGOCLOUD ensures that no one is able to access your sensitive information.
Conclusion
It can be concluded that streaming services will get more popular as people move towards content that can be accessed anywhere. Free streaming services are an excellent place to start when looking for a streaming service. If you ever want, ZEGOCLOUD Live Streaming API/SDK can help you develop the best streaming service in the market. Its amazing features, from security to scalability, make it a popular choice.
Read more:
Talk to Expert
Learn more about our solutions and get your question answered.
Talk to us
Take your apps to the next level with our voice, video and chat APIs
10,000 minutes for free
4,000+ corporate clients
3 Billion daily call minutes