With the rise of remote work and online collaboration, online whiteboards are what people need now. While most team collaboration tools have inbuilt whiteboards, a majority only have basic features. Thus, you need a specialized and best online whiteboard to enhance productivity. Learn about the 5 best online whiteboards and the whiteboard SDK in this article.
Must-Have Features of a Great Online Whiteboard
What makes an online whiteboard best is a question we need to tackle before moving to the list of tools. As you have used whiteboards in your academic and professional life, you will have a basic idea of the required features. For online whiteboards, they must also perform all the tasks not possible on a physical whiteboard. A few of the must-have features for a great online whiteboard are these:
Real-time Collaboration: While it may seem like a common-sense attribute for an online whiteboard, it is also the most important. If there is lag and delay when collaborating live, it can ruin the whole collaboration. So, ensure that the tool you choose offers ultra-low latency.
Clean and Simple Interface: The online whiteboard you choose should be simple enough to use so that everyone can use it easily. Not all members of your team or group are going to be tech-savvy. Thus, choosing a tool everyone can use without any trouble is important.
Third-Party Tools Integration: In most cases, the whiteboard isn't the only tool you use to convey your point. That's why it is essential you choose a tool that allows integration with other services you use.
Drawing and Writing Tools: A great online free whiteboard should offer a variety of drawing and writing tools. These tools should include pens, markers, shapes, and text boxes. It should also allow users to customize the tools' size, color, and style to suit their needs.
Wide Accessibility: Since online whiteboards are usually for remote work and online collaboration, they should be able to access them regardless of their device. It means any tool you choose should have optimization for both desktop and mobile.
Top 5 Online Whiteboards in 2023
Now let's dive into the best online whiteboard tools currently available in the market. To decide which tools merit inclusion in this tool, we have judged them on the basis of the aforementioned features plus some more. Summarized below are the top 5 online whiteboards for multipurpose use:
Limnu: Collaborative Online Whiteboard.
Miro: Interactive Online Whiteboard.
InVision: Design-focused Online Whiteboard.
Stormboard: Agile Online Whiteboard.
Mural: Creative Online Whiteboard.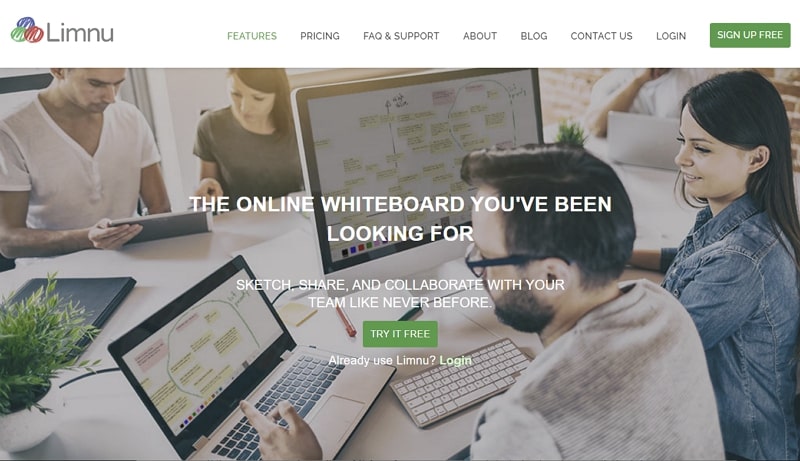 If the reason you need an online whiteboard concerns remote or distant education, Limnu is the best choice. It provides a complete set of features to ensure you feel as comfortable using it as you do in an actual classroom. With it, you get markers that are really close to the markers used in the schools. Moreover, it also allows you to add images and documents to the whiteboard.
Limnu also allows you to control the whiteboard access fully, meaning you can make it view-only for others. Additional features in this tool include invitations, copy/paste, sharing, video conferencing, etc.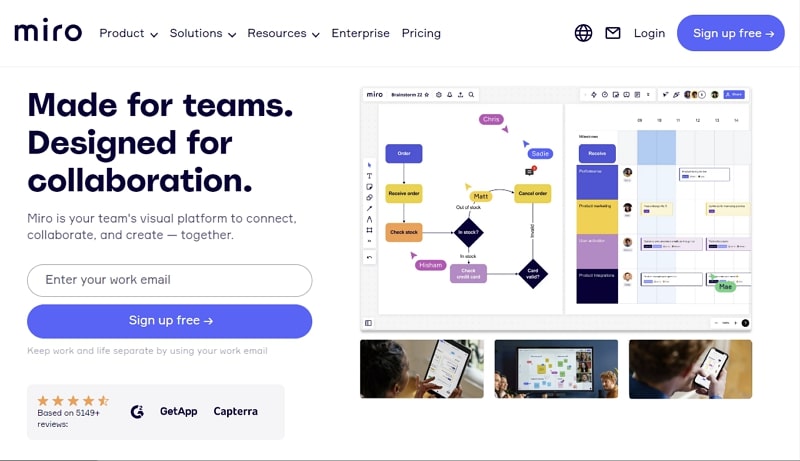 With over 45 million users worldwide, Miro is an ideal online whiteboard for all kinds of tasks. It has a long list of unique features that can make your task a lot easier when collaborating. There are over 1000 pre-designed templates in this, which means you don't have to start from scratch for most tasks. To make the live work more fun, it includes features like polls, reactions, etc.
Miro is available for all major platforms like Web, Android, iOS, Windows, and macOS. Furthermore, this virtual whiteboard also supports integration for numerous tools like Microsoft 365, Google Workspace, etc.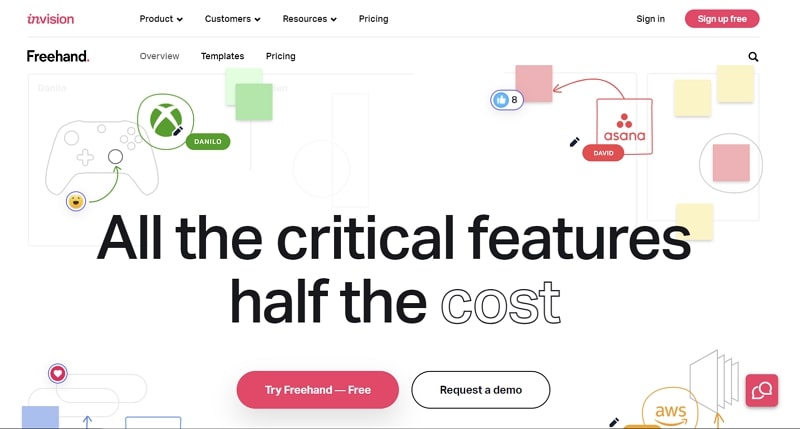 When looking for an online whiteboard for collaboration or presentation on designing, the best one is InVision Freehand. A product of InVision, it has been designed specifically for designers who want to live to present their mockups to clients or collaborate with other designers. That's why it has all the tools a designer might need during his work.
InVision Freehand has a simple and attractive interface. Furthermore, this best online whiteboard includes over 200 pre-built templates and is able to integrate with a wide range of tools.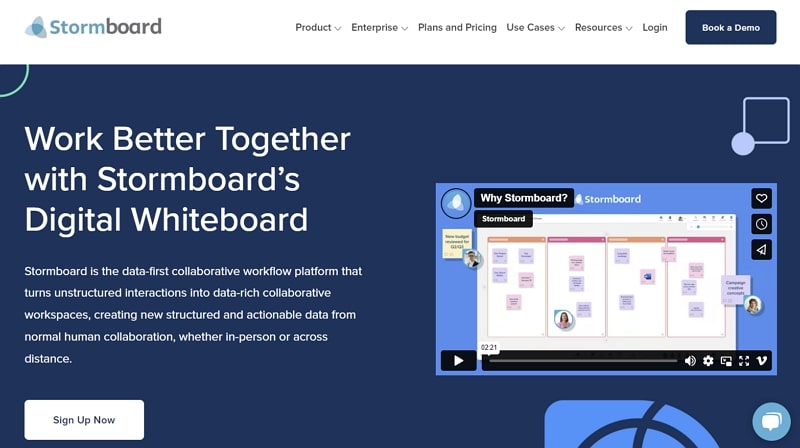 In case you are looking for a free online whiteboard, you should give Stormboard's free version a try. While you won't get all the features of the premium version, there are still enough that make it better than most free ones. It has a sticky notes style interface, making it easier for people to use. Like sticky notes, you can also start multiple boards simultaneously.
Stormboard maintains your working history between different boards, letting you review and revise them. There are also features like text chat, polls, video chats, etc., in this app.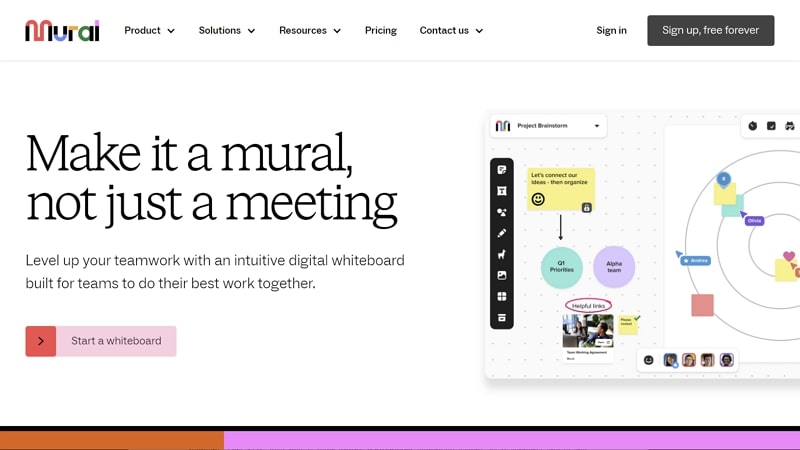 Allowing you to use features like infinite canvas, mapping, and diagramming, Mural is an excellent choice for remote teams. This virtual whiteboard allows you to use an infinite and resizable canvas area for multiple boards simultaneously. Why is it recommended for remote teamwork? Because it has a "Room" feature that you can use to create whiteboard space with varying degrees of permissions.
Mural also allows you to increase team productivity using timers, outlines, super locks, etc. Additionally, you can also call for an anonymous vote count to help decide important things.
Why ZEGOCLOUD Online Whiteboard SDK for Business Collaboration App
Online or virtual whiteboards have become an essential need nowadays. The trend of working remotely or studying online is becoming normal, increasing the importance of online whiteboards. Thus, if you cannot find a suitable online whiteboard, you should focus on developing your own, as it is a necessary tool for businesses. The quickest and cheapest way to build the best online whiteboard is by using ZEGOCLOUD Whiteboard SDK.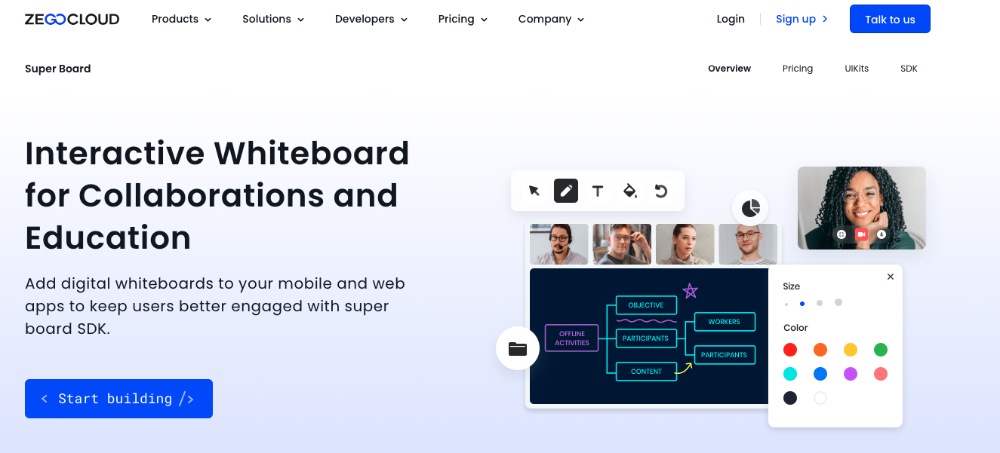 It is the perfect way to create a virtual whiteboard with complete tools like drawing tools, erasers, and laser pointers. This SDK also makes your online whiteboard extremely secure, as it supports end-to-end encryption with advanced encryption algorithms. Moreover, it is also fully compatible with other ZEGOCLOUD APIs and SDKs such as video calls, voice calls, app chat, and live streaming.
Key Features of ZEGOCLOUD Online Whiteboard SDK
ZEGOCLOUD Whiteboard SDK is popular due to the fact that it has a large number of advanced and unique features. Described below are some of these features:
It is the white background color that gives the whiteboard its name. However, it is not the right color for each situation. While there isn't much you can do about it in the real world, anything is possible on a virtual whiteboard. That's why ZEGOCLOUD Whiteboard SDK allows the users of your whiteboard app to change the background to any color or image.
While the primary purpose of an online whiteboard is to enable collaboration with others, you still need specific permission controls. There are many situations where you do not want everyone to access the whiteboard, like online classes or webinars. For these scenarios, ZEGOCLOUD Whiteboard SDK has dedicated sections for permission controls. Furthermore, it also allows users to assign permission settings for each participant.
Being able to add images or documents to a whiteboard directly is an essential feature for any best online whiteboard. To ensure your whiteboard app can be the best, ZEGOCLOUD Whiteboard SDK allows users to add images to their whiteboard. They can also draw, rotate and zoom in/out of these images.
If the users on your online free whiteboard want to record the session for future use, ZEGOCLOUD Whiteboard SDK provides this feature. It allows users to share the screen, start the whiteboard, and record the screen at the same time. Moreover, this feature is extremely useful in team collaboration as it ensures all team members have the session stored on their devices.
Conclusion
In summary, the importance of online whiteboards is a fact, and with time it will only increase. So, if you are thinking about creating a virtual whiteboard app, now is the time. Sing up for ZEGOCLOUD Whiteboard SDK to get 10,000 free minutes now, you can create the best virtual whiteboard for real-time collaboration!
You may also like:
Talk to Expert
Learn more about our solutions and get your question answered.
Talk to us
Take your apps to the next level with our voice, video and chat APIs
10,000 minutes for free
4,000+ corporate clients
3 Billion daily call minutes