Slack is a famous team collaboration tool that supports instant messaging services for organizations of all sizes. Moreover, Slack is commonly used as a communication medium within different healthcare industries that allows doctors to collaborate with patients or in-house staff actively. However, a question arises, is Slack HIPAA compliant? This article provides answers to your questions with brief details.
Is Slack HIPAA Compliant?
Although Slack is designed for businesses to help them scale and streamline their workflows with enhanced productivity. However, its instant messaging facility enhances the overall use cases. One of Slack's popular use cases is within telehealth which involves Patient Health Information (PHI) which is always confidential. Therefore, Slack, HIPAA compliant or not, is the first thing coming to mind.
In general, Slack is both HIPAA compliant and not. After all, you won't be getting HIPAA compliance when you pursue its Free, Pro, or Business+ plan. In contrast, when you subscribe to its Enterprise Grid plan, you'll receive enterprise-grade security through its HIPAA compliance support. Consequently, you'll be able to use Slack for all your healthcare tasks without worrying about data privacy breaches.
Meanwhile, Slack requires putting a Business Associate Agreement (BAA) in place to achieve HIPAA compliance. Basically, it's termed as a written contract between a Business Associate and Covered Entity. Moreover, in terms of HIPAA, here is what Slack has to say in its Terms of Service for all healthcare customers.
"Unless Customer has entered into a written agreement with Slack to the contrary, Customer acknowledges that Slack is not a "Business Associate" as defined in the Health Insurance Portability and Accountability Act and related amendments and regulations as updated or replaced ("HIPAA") and that the Services are not HIPAA compliant. Customer must not use, disclose, transmit, or otherwise process any "Protected Health Information" as defined in HIPAA ("PHI") through the Services. Customer agrees that we cannot support and have no liability for PHI received from customer, notwithstanding anything to the contrary herein."
You may also like: How to Build a Slack Clone App
How to Make Slack HIPAA Compliant
Regarding using Slack within the healthcare industry, there are necessary steps to follow. After all, Slack doesn't provide HIPAA compliance straight away. Hence for this purpose, you have to make it HIPAA compliant first. Follow the simplified instructions provided below to learn how to make Slack HIPAA-compliant:
1. Use Slack Enterprise Grid Plan
Slack comes with different plans, among which of them is the Enterprise Grid Plan. This is an advanced plan that is specifically built for large organizations or even enterprises. Meanwhile, this plan is ideal for healthcare use cases because it supports HIPAA compliance. Apparently, the plan also supports data encryption, two-way authentication, and other security features.
2. Fulfill Business Agreement
According to its privacy policy of Slack, there needs to be a business agreement between Slack and the business entity before pursuing the Enterprise Grid plan. This agreement is basically a signed contract as a business associate agreement (BAA). Under this agreement, Slack conveys that the customer acknowledges that Slack is not a business associate in health-related acts and services that aren't HIPAA compliant.
3. Setup Roles and User Permissions
You need to implement Slack HIPAA compliance protocols within your workspace. Since different people work in your organization, you need to determine who accesses the patient's PHI. Thus, you will give roles and user permissions to allow those who can view and access patients' health-related files and messages. This way, some Slack features will also become limited for some organization members.
For this purpose, it's possible to use Slack APIs for implementing tools and processes that will help monitor the in-house user activity. Furthermore, this enables you to determine how your members are using HIPAA-compliant Slack. Ultimately, this prevents issues of data loss or data breaches related to patients' health.
4. No System Record Neither Third-Party Agreements
In general, Slack doesn't maintain any record. Thus, it should never be the system of record for your health information. Moreover, Slack doesn't have any agreement with the third-party application provider. So, if you sign an agreement with the third-party application provider, Slack will not be responsible for this process.
You may also like: Is Microsoft Teams HIPAA Compliant?
5 HIPAA-Compliant Slack Alternatives
Slack is undoubtedly a great platform to communicate and collaborate as a telehealth or telemedicine solution. However, some limitations exist, so you may need to look for Slack alternatives. Let's discover these Slack HIPPA Compliant alternatives:
Known as an instant messaging platform for businesses, Trillian is a Slack HIPAA Compliant alternative and an ideal solution for dealing with HIPAA-compliant healthcare communications. The users can also perform video calls, use screen sharing, create browsable group chats or create two-factor authentication, and more. In general, Trillian helps teams of all sizes within the organization with the possibility of auditing logs.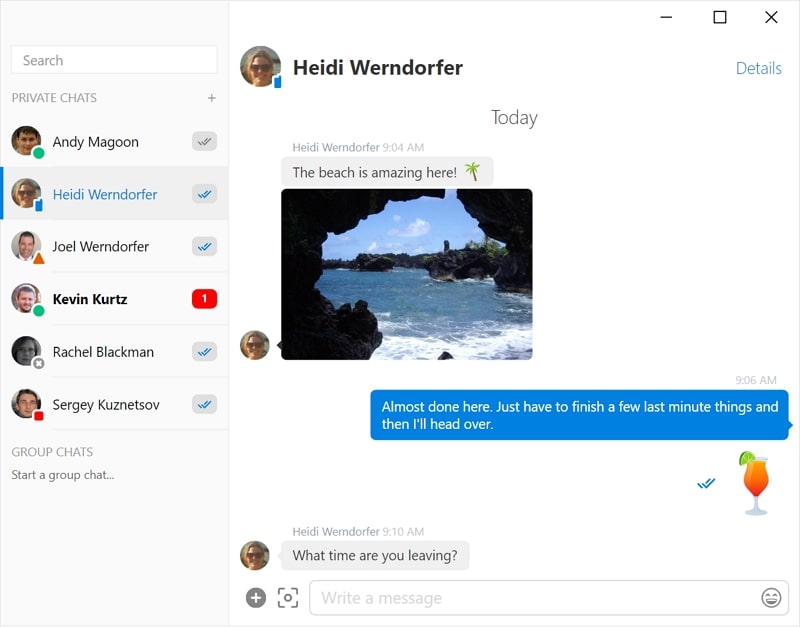 Luma Health is a healthcare communication platform that provides HIPAA-compliant messaging support. Thus, doctors or other healthcare professionals can communicate effectively with patients using this platform. Meanwhile, with the EHR integration, scheduling appointments at the desired time is possible. There also exist customized reminders within the EHR scheduling.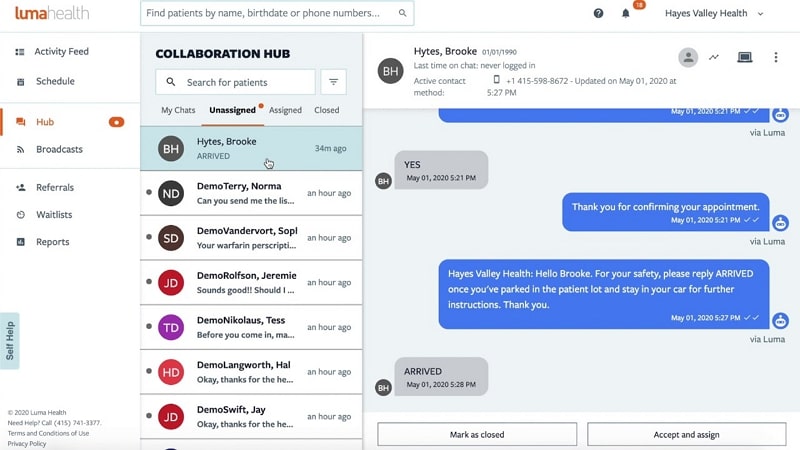 With RevenueWell, streamline your dental business workflows in simple yet convenient ways. After all, this HIPAA Compliant Slack alternative allows you to remain connected with your dental patients through text messages, mail, phone calls, and even social media. You can also schedule appointment requests on a 24/7 basis. Communication remains seamless throughout the period.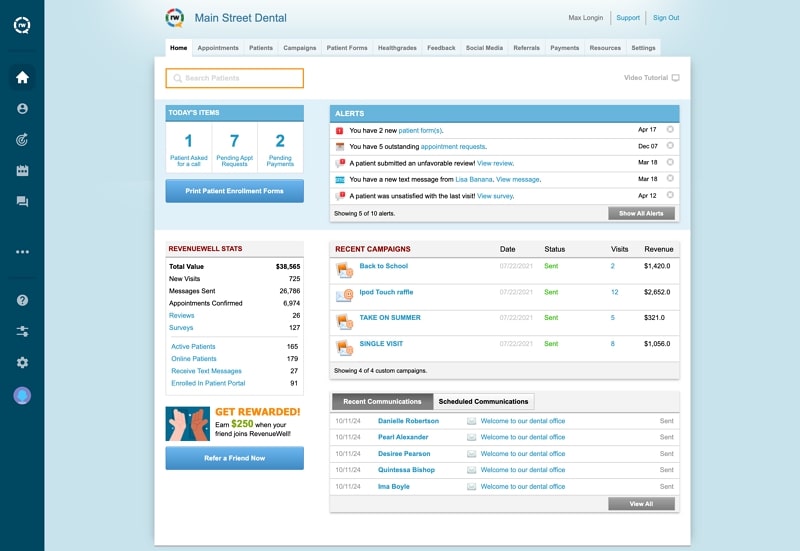 Being a trusted choice for over 12M users in more than 150 countries, Rocket.Chat is a dedicated solution for establishing healthcare communication. Ideally, there's the availability of a HIPAA-compliant messaging service that allows doctors to remain connected with their patients anytime, anywhere. Interestingly, the communication medium isn't limited to messaging because you can connect via video, voice chat, or even social media.
By using OhMD, you can make your healthcare business more extensive while getting connected to your patients much better than before. Besides, this HIPAA Compliant Slack alternative supports live chat, allowing doctors to assess patients' health conditions through real-time conversations. Indeed, file attachments are also supported, which will enable doctors to view patient reports. Meanwhile, with 85+ EHR integrations and video call support, OhMD is what you need.
Final Thoughts
Slack is a popular platform when it comes to establishing messaging-based telehealth communication. Meanwhile, in this article, you also got an answer to the question is Slack HIPAA compliant and how to make Slack HIPAA compliant. Ideally, you also discovered the HIPAA-compliant Slack alternative in 5 different tools.
On the other hand, if you're looking to build your telehealth app with extensive healthcare functionalities, better use ZEGOCLOUD SDK. This is because ZEGOCLOUD SDK has built-in code blocks and resources that allow you to build healthcare applications within minutes. After all, the developers will only need to integrate the SDKs rather than coding an entire application from scratch.
Moreover, ZEGOCLOUD comes with more than 20 low-code UIKits which means you can also scale the application to your telehealth needs. Meanwhile, with the availability of direct voice and video calls, group calls, instant messaging, call recording, screen sharing, whiteboard, file sharing, push notifications, and more, ZEGOCLOUD is ideal.
You may also like: Is WhatsApp HIPAA Compliant?
Talk to Expert
Learn more about our solutions and get your question answered.
Talk to us
Take your apps to the next level with our voice, video and chat APIs
10,000 minutes for free
4,000+ corporate clients
3 Billion daily call minutes