Nowadays, whenever you want to use ChatGPT, it is either down or unavailable. That's because of the heavy user load on ChatGPT servers currently. Recently OpenAI has introduced paid subscription for using ChatGPT. This article will try to answer your question like how much will ChatGPT cost or what ChatGPT paid version has, etc.
Is ChatGPT Free?
Yes, ChatGPT is currently available for free, at least for now. While users worldwide have been using the ChatGPT for free, it was also going to for a short time. Moreover, OpenAI had made it clear at the release of ChatGPT that the free access was only for a limited time. How long will ChatGPT be free is a good question with no clear answer.
Recently, OpenAI, the developer of ChatGPT, rolled out paid subscription plans for the chatbot. However, there hasn't been any major change regarding using ChatGPT for free and paid users. The benefits of buying a paid service are more focused on providing quick service. For how long is ChatGPT free? It is hard to say.
There is a chance that ChatGPT will continue to be available for free use as the parent company Open AI is a nonprofit organization. However, it is also possible that after some time, everyone who wants to use ChatGPT will be required to pay. The company has also indicated many other plans to regulate the usage of its chatbot. So, it can't be said what the future holds for ChatGPT.
You may also like: 10 Best ChatGPT Examples of 2023
ChatGPT Pricing Plan – How Much Will ChatGPT Cost
Do I need to pay for ChatGPT? Regarding ChatGPT pricing plans, there are currently two plans available to users. One is the free version, which is accessible to all, and the other is called ChatGPT Plus, which has a monthly subscription. However, apart from these two, no further plans are currently available, but OpenAI has stated that it is working on more. Find out more about each plan below:
ChatGPT Free
It is the most basic plan of ChatGPT and has been available ever since it was released last year. For the most part, it was the only plan available to ChatGPT users. In most cases, the free plan is sufficient for users as there are no significant differences between paid and free versions. The only downside of the free version is the unavailability of ChatGPT during peak hours.
ChatGPT Plus
To kickstart the subscription plans, OpenAI has introduced the ChatGPT Plus version. The key advantage of ChatGPT Plus is the priority access to the chatbot, even during peak times. Another benefit of the paid ChatGPT version is faster response times. While the basic version of the chatbot can take minutes to respond, ChatGPT Plus promises even quicker responses. Additionally, paid subscribers will have priority access to new features and improvements.
ChatGPT Pro
The ChatGPT Pro is not an official pricing plan but a rumored one. When it was confirmed OpenAI was working on introducing subscription plans, the so-called "ChatGPT Pro" became a hot topic. Different sources even reported its price, $42 per month. However, it was never released, and the company launched ChatGPT Plus at half the price and with the same features.
You can also refer to the ChatGPT pricing plan table given below to get an idea of will ChatGPT cost money:
| Plan | Price | Availability | Benefits |
| --- | --- | --- | --- |
| ChatGPT Free | $0 | Available | Normal Access |
| ChatGPT Plus | $20/month | Available | No Waiting Time – Faster Responses – Priority Access to New Features |
| ChatGPT Pro | $42/month | Rumored | No Waiting Time – Faster Responses – Priority Access to New Features |
Why ZEGOCLOUD Chat API to Add Chat Feature for Apps
Interested in creating your chatting platform? It is not a farfetched idea to build your chatting platform with complete control. Especially when developing your chatting platform has become much easier due to ZEGOCLOUD In-app Chat API. Moreover, it is a cost-effective solution for adding a chat feature to your app. Not to mention, this API is easy to integrate and highly customizable.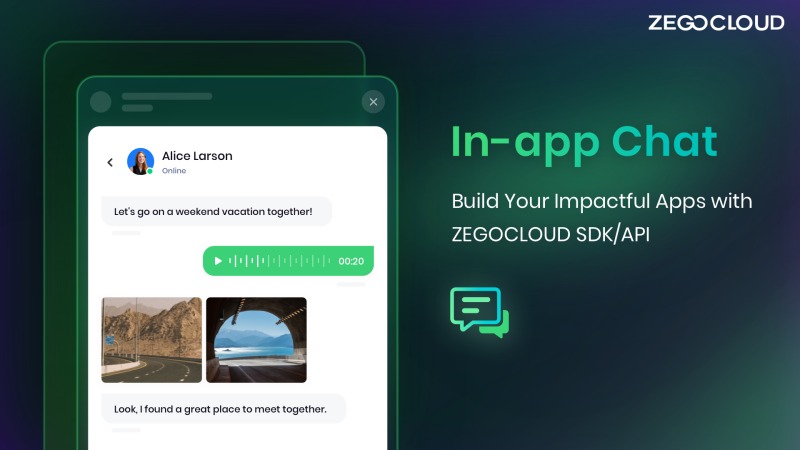 ZEGOCLOUD Chat API has many features to protect user data, including encryption, access controls, and secure storage. Subsequently, it ensures that sensitive user information is protected from unauthorized access or data breaches. This API also complies with GDPR regarding data storage and protection. Due to being highly scalable, it is an ideal solution for proliferating apps or platforms with a large user base.
Main Features to Be Aware Of ZEGOCLOUD In-app Chat API
You will get various essential tools and features to build a robust and secure chat app with this API. Explained below are some of the most popular features of ZEGOCLOUD In-app Chat API:
Having the ability to send push notifications is essential for chatting apps related to fields like business, health, marketplace, etc. That's why ZEGOCLOUD Chat API offers robust push notification capabilities to help you keep your users engaged and informed. It means users will always know when they receive new messages, even when the app is closed or the user is not actively using it.
ZEGOCLOUD Chat API has all the required tools needed to build a robust and reliable gaming chat in your games. It will allow users to create public channels or group chats for communication and collaboration during the game. They will not feel any lag or stutter during their real-time conversations due to the ultra-low latency offered by this API.
The read receipt feature offered by ZEGOCLOUD Chat API will allow users to track if their messages have been read. They can track and display read receipts for individual or group messages. In addition, this API also provides privacy controls for read receipts. With these controls, users can disable read receipts if they do not wish to share their read status with others.
With ZEGOCLOUD Chat API, you can add support for storing message history for individual conversations or group conversations. It means users will be able to view the entire chat history, even messages that were sent before they joined the conversation. With support for offline messages, it ensures users are able to read old messages even if they have weak internet.
Conclusion
Currently, the free version of ChatGPT has an immense load on its servers, making it unavailable during peak hours. While you can ensure smooth use of ChatGPT with the ChatGPT paid version, it will cost you a lot. You can use ZEGOCLOUD In-app Chat API to build your chatting app by saving that money. It will provide you the premium chatting features at an affordable cost.
FAQ about ChatGPT Price
Q1: What will the cost of ChatGPT be?
The cost of ChatGPT varies depending on the version you choose. The standard version of ChatGPT is free, but there are limitations. OpenAI has introduced a paid version called ChatGPT Plus, which costs $20 per month and offers benefits such as priority access during peak hours and faster response times. There are also rumors of a professional version costing $42 per month.
Q2: What are the benefits of the paid version of ChatGPT?
The paid version of ChatGPT, known as ChatGPT Plus, offers several benefits. These include priority access during peak hours, faster response times, and first access to new features and improvements. It is designed to make the service more accessible to students and businesses.
Q3: Why does ChatGPT cost money?
The cost associated with ChatGPT is due to the high expenses involved in operating and maintaining the AI model. This includes the cost of computing power, electricity, data acquisition and processing, storage and management of large amounts of data, and hiring and retaining a team of skilled experts such as machine learning engineers, data scientists, and software developers.
Talk to Expert
Learn more about our solutions and get your question answered.
Talk to us
Take your apps to the next level with our voice, video and chat APIs
10,000 minutes for free
4,000+ corporate clients
3 Billion daily call minutes