Remote work is becoming a norm in the world, and what has helped the most in smooth working in remote teams is the collaborative whiteboard. There is no replacement for an excellent online collaborative whiteboard for increasing work productivity. This article will help you find the best 5 collaborative whiteboard tools and a whiteboard SDK.
Must-have Features of Great Collaborative Whiteboard Software
It is not an easy task to decide which collaborative whiteboard is best and which isn't. There are numerous online whiteboards, each claiming to be the best. That's why to make it easier for you to choose a suitable shared whiteboard, we have devised a list of must-have features below:
Pre-Built Templates: Creating everything from scratch takes time, and having to do it during a video meeting is certainly not ideal. That's why you should look for a tool with a wide range of pre-designed templates for the most common scenarios. By using them, you will be able to quickly create a relative whiteboard at a moment's notice.
Robust Editing & Drawing Tools: The main purpose of using a whiteboard collaboration is to allow people to express their opinions using different tools. If the collaborative whiteboard you have chosen doesn't have proper tools, it will only hurt your and your team's performance.
Mobile Friendly: A basic idea behind remote work is allowing people to work from where they feel comfortable. Unlike offices, not everyone has access to computers all the time. Thus, the tool you use should be able to work perfectly on mobile devices if a team member uses a smartphone.
User Ease: Last but not least, the tool you choose shouldn't have a steep learning curve. Moreover, it should be simple enough that everyone can use it without a hitch. It will also be helpful if the tool has features like text-to-speech, screen readers, etc.
You may also like: How to Add Digital Whiteboard for Your Apps
Top 5 Collaborative Whiteboard Software
Keeping in mind the above-mentioned must-have features and some other parameters, we have devised a list of the top 5 collaborative whiteboard software. All of these are excellent choices and offer some unique features and advantages. You can read about each online whiteboard collaboration tool below and choose the suitable one: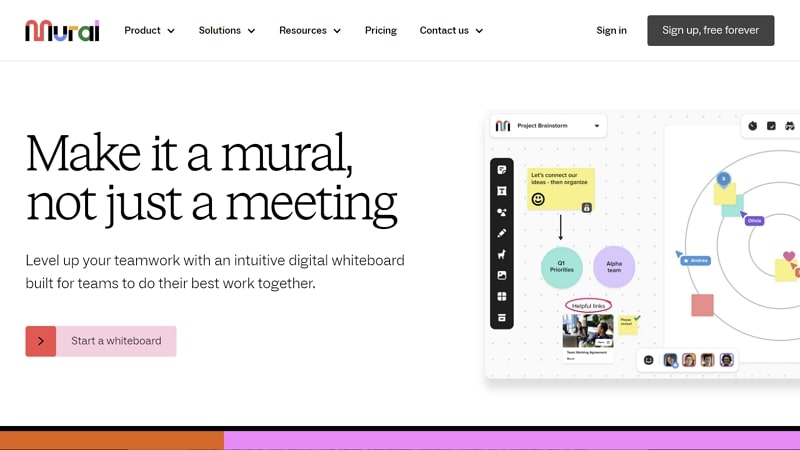 Considered among the best, Mural is a great choice for a collaborative whiteboard. If whiteboard collaboration is your main concern, it allows multiple people to work simultaneously on a whiteboard in real time. Furthermore, its simple and clean user interface means your team member won't face any difficulty using it. This tool also comes with hundreds of pre-built templates to ensure quick working.
Mural also offers a centralized depositary for storing your and your team's collaboration work. This depositary is highly secured with AES-256 encryption.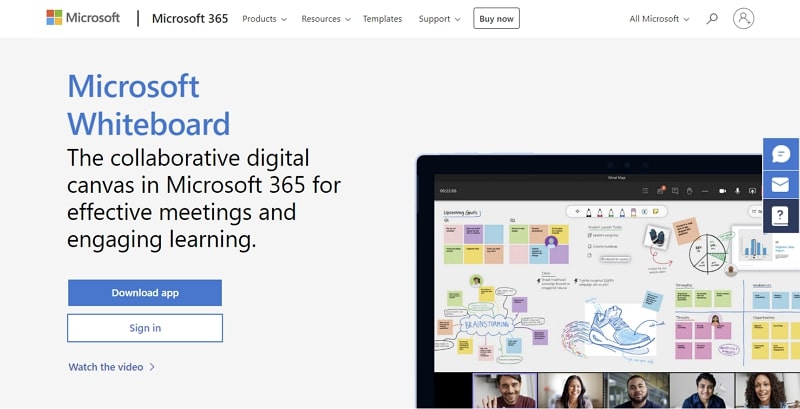 If you use Microsoft Teams to collaborate with your team, the best choice for a collaborative whiteboard is Microsoft Whiteboard. You and your team will also be familiar with it as it is also part of Microsoft Teams as a built-in feature. Choosing the Microsoft Whiteboard app is important because the in-built feature in Microsoft Teams lacks many features.
Microsoft Whiteboard can integrate with Microsoft Teams and other Microsoft products perfectly. That's why it is the best choice if your work revolves around the Microsoft ecosystem.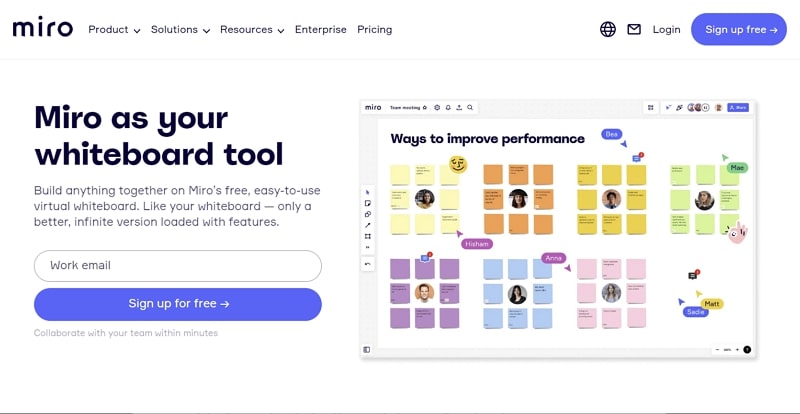 Known for its extensive feature list, Miro is a popular online shared whiteboard used in almost all working fields. The long list of its features includes live collaboration, anonymous polls, comments, user roles, video conferencing, and many more. Moreover, there are also over 1000 pre-made templates that you can use to reduce your team's workload and increase productivity.
Miro is also available for all major platforms, meaning all your team members can use it without issues. Additionally, its attractive interface and fast speed are also the reason behind its popularity.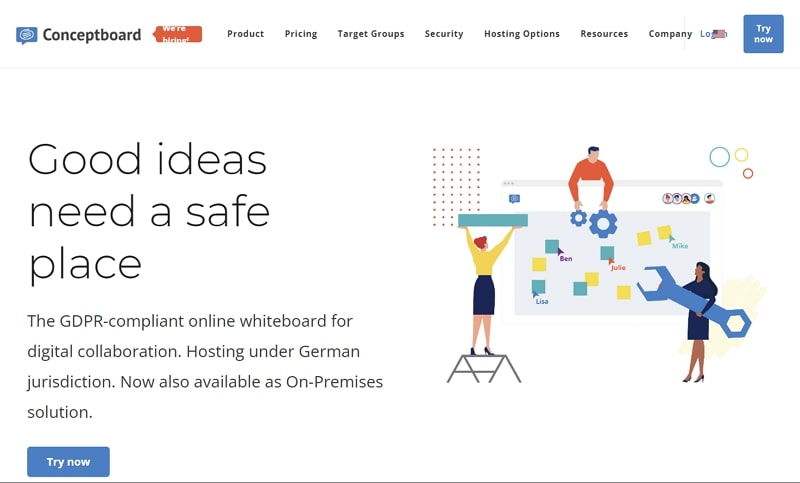 When looking for a great virtual platform to brainstorm and collaborate, Conceptboard is an excellent choice. This online collaborative whiteboard provides a wide range of tools to create and organize content in real time during team meetings. These tools include sticky notes, sketches, diagrams, image-sharing, and video conferencing. Furthermore, it also allows users to use functions like comments, drawings, polls, mentions, etc.
Conceptboard also offers users roles and project organizing features to manage your team flawlessly. Moreover, you can integrate it with services like Dropbox, Google Drive, Microsoft Teams, and many others.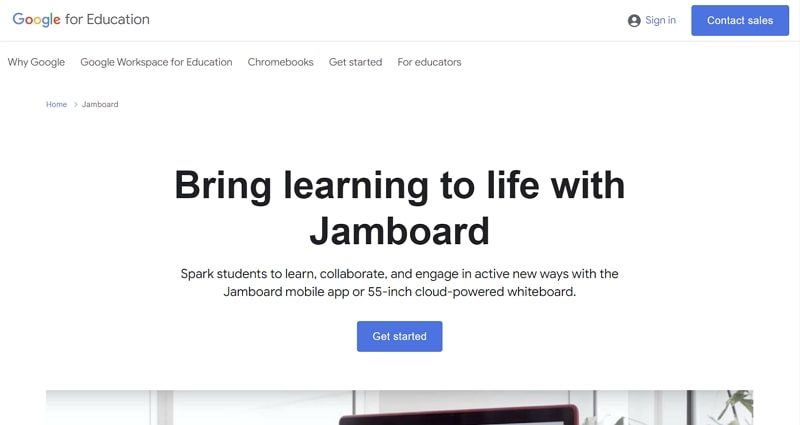 The last entry on this list is Jamboard, a popular online collaborative whiteboard. It is a product of Google and is the go-to collaborative whiteboard for users of Google workspace. This tool has one of the simplest user interfaces making it the ideal tool for all users. Moreover, users can also easily integrate it with Google Meet and Google Drive to increase their work productivity.
Jamboard is available on web and mobile platforms. Additionally, it is an ideal tool for virtual meetings, remote teamwork, and online teaching and learning.
Why ZEGOCLOUD Whiteboard SDK for Collaborative Whiteboard Software
There is no denying that online whiteboard collaboration tools are becoming an essential need for any business. Nowadays, the world is more like a global village, and you need such tools if you want to expand beyond your bubble. If you are unable to find an online collaborative whiteboard for your business, developing one is the best choice.
We have an excellent solution for you if you are worrying about the logistics of developing a new tool from scratch. The solution is ZEGOCLOUD Whiteboard SDK, an almost magical way to build the best online collaborative whiteboard. Moreover, you can develop a collaborative whiteboard with ultra-low latency, high scalability, user-friendliness, and advanced security using this SDK.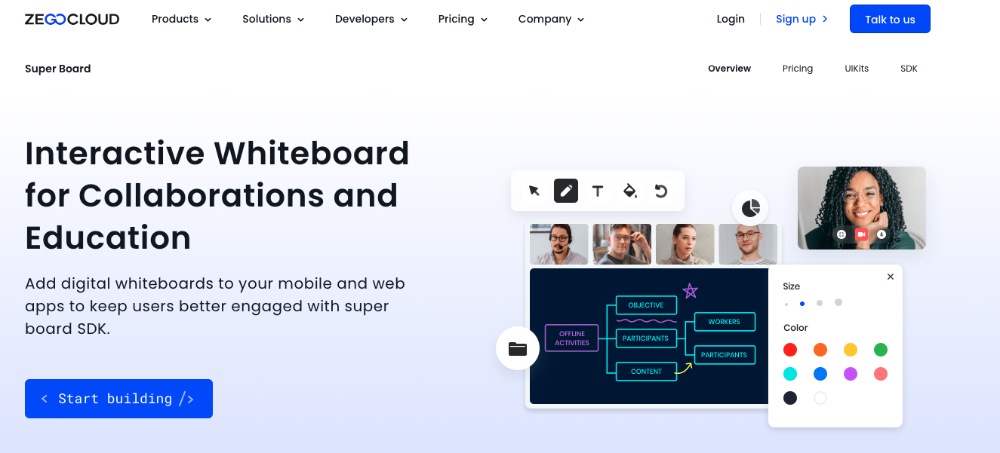 Main Features of ZEGOCLOUD Whiteboard SDK
Given below are some of the features that make ZEGOCLOUD Whiteboard SDK an industry standard for developing online collaborative whiteboards:
Any collaborative whiteboard needs a wide range of tools to stand out. ZEGOCLOUD Whiteboard SDK includes complete tools for all the situations you or your teams can face. These tools include drawing tools, erasers, laser pointers, undo & redo buttons, adding images and shapes, and many more.
For any online collaborative tool, it is essential that users can track each other's progress and changes in real time during collaboration. With ZEGOCLOUD Whiteboard SDK, you can ensure the collaboration happens in real-time and sync the whiteboard with video streams. It will make sure that there is no lag or time delay between video streams and whiteboard collaboration.
While allowing multiple people to simultaneously work on a single whiteboard, defining the levels of permissions is highly important. If everybody has equal permissions or user roles, it will be akin to courting chaos. ZEGOCLOUD Whiteboard SDK ensures users on your collaborative whiteboard can correctly define roles for each team member for collaboration.
As mentioned before, an online collaborative whiteboard needs to ensure that all progress and modification occur in real time. The tool must have an ultra-low latency with high stability and functionality capabilities to do that. With ZEGOCLOUD Whiteboard SDK, you get latency as low as 200ms for your collaborative whiteboard.
Conclusion
In summary, a great online collaborative whiteboard is essential to instill a healthy and productive culture for remote work in your company. Without it, the productivity of your remote teams will suffer a lot. If no tools on the market satisfy your business needs, you can develop your own collaborative whiteboard using ZEGOCLOUD Whiteboard SDK. It is the easiest way to get your whiteboard collaboration tool.
Talk to Expert
Learn more about our solutions and get your question answered.
Talk to us
Take your apps to the next level with our voice, video and chat APIs
10,000 minutes for free
4,000+ corporate clients
3 Billion daily call minutes