In today's fast-paced digital age, finding love has never been easier thanks to the plethora of dating apps available at our fingertips. However, with so many options out there, it can be overwhelming to choose the best dating app that suits your specific needs and desires. That's why we have taken the time to curate a list of the absolute best dating apps in the market.
Top 10 Dating Apps You Should Know
Whether you're looking for a serious relationship, casual dating, or simply expanding your social circle, these top-notch dating apps offer innovative features, robust matching algorithms, and a user-friendly interface that will make your dating journey both exciting and successful. Join us as we explore the cream of the crop in the world of dating apps, helping you navigate the digital landscape with confidence and ease.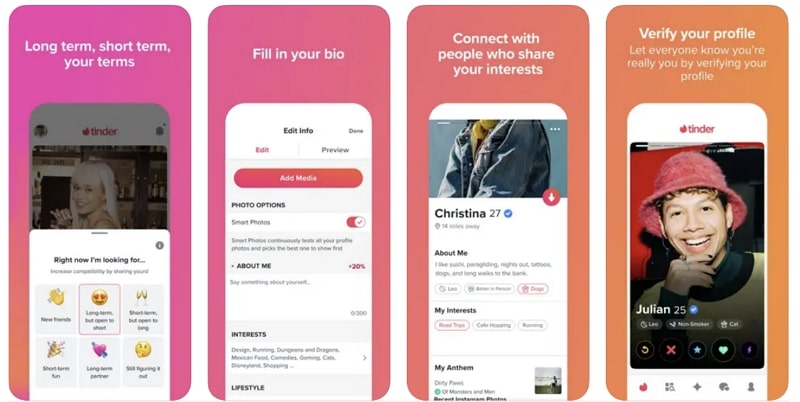 You will not be single anymore when using Tinder, which is amongst the best dating apps in 2023. Thus, meet people in a virtual world, make friends, and ultimately date them to enhance your relationship goals. The game starts with messaging the person you love or like, and once the chatting reaches the point where your partner is satisfied, proceed with video calling.
Key Features
Profile Verification
Photo Options
Video Chat
Set Activity Interests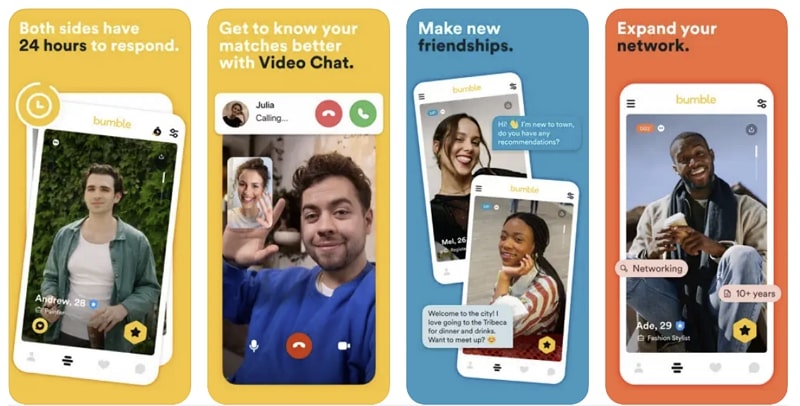 Mostly, men are the first to proceed with relationship pathways. However, in Bumble, women will make the first move. Apparently, Bumble falls among the best online dating apps where women can find their next BFF and ultimately schedule the much-needed date. Moreover, there are three modes to meet people, which include the date, BFF, and bizz. Meanwhile, women will start the chat, and men need to reply within 24 hours.
Key Features
Filtered Search
Link Spotify
Spotlight
Video Chatting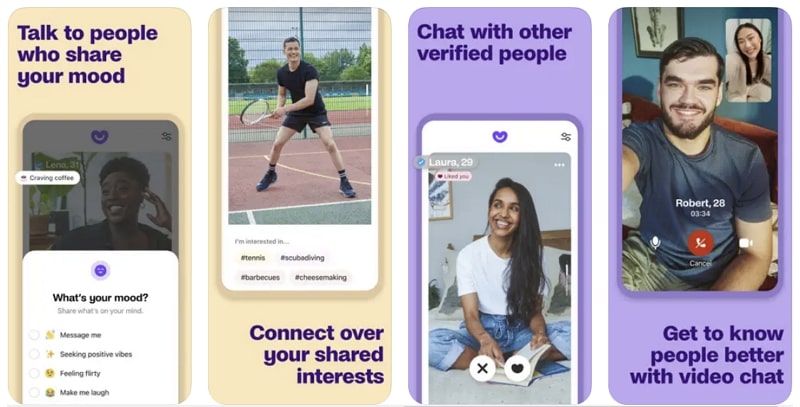 Badoo is among the best dating apps enabling you to chat with people, make friends, find a partner, and ultimately date your GF or BF. This means you will not remain single anymore because Badoo will help you find a partner. In addition, there is the availability of a filtered search by which you can find a person based on your desired characteristics.
Key Features
Add Fun Videos to Profiles
Record Clips
Rude Message Detector
Boost Profile
Clover can be your trusted live stream best online dating app that allows you to make new friends within online watch streams. Hence, if you're single, you can easily find a matchmaking partner for yourself who is maybe single as well. Surprisingly, you can also go live to get more followers, and earn rewards, and, who knows, you may get a partner that you're looking for on a date.
Key Features
Leaderboards
Virtual Dating
Schedule Dates
Group Chats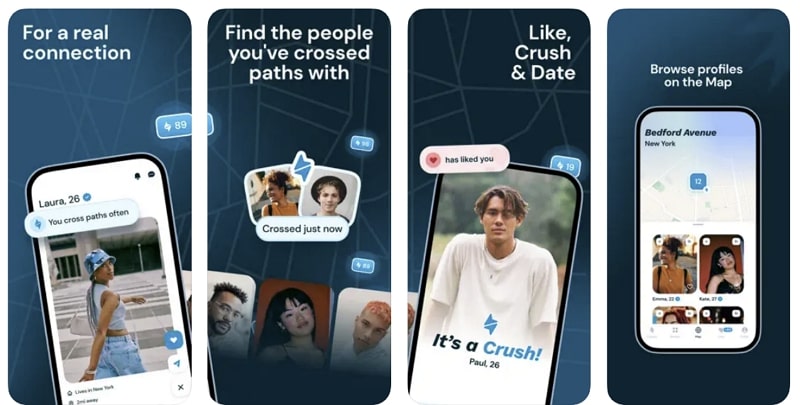 With over 100 million members, happn will be amongst the best free dating apps in 2023. By using this dating app, you will cross path with everybody who shares similar interest as you, have a similar personality, and share the same objectives. Henceforth, you will find a perfect BF or GF for your relationship goals. Simply like the profile of the person you're interested in, and send an instant flash note to unleash your crush's desires.
Key Features
Hide Location
Profile Map Browsing
Shared Interest
Text Messages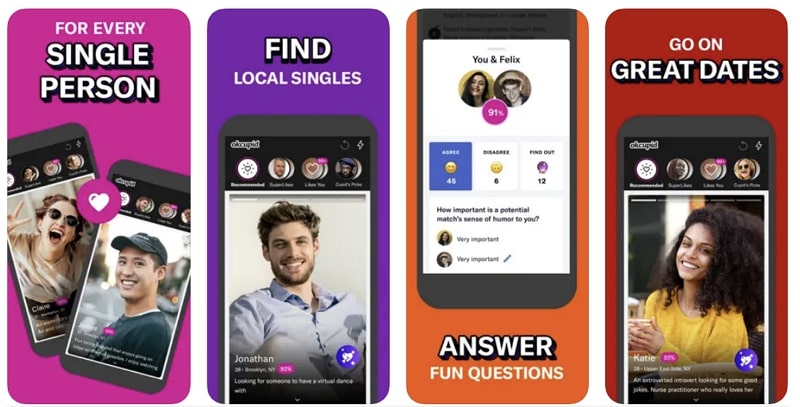 Find a special match for yourself on OkCupid, which is the best online dating app. Apparently, this dating application helps you establish great connections by which you can find the person you want to love and date. Initially, you need to create a profile for yourself where you highlight your unique personality alongside an attractive display picture. In addition, there is an option to choose from over 60 gender identities.
Key Features
Question Answering
Chat Connections
60 Different Gender Identities
Find Local Singles
Make friends, spread love, and remove the single tag from yourself with eharmony, the best free dating app. While using this app, you can easily and conveniently locate your dream partner because the app allows you to check common interests with the target person's profile. In the beginning, you need to do a compatibility analysis to describe your personality. Thereafter, eharmony will match singles likewise with you.
Key Features
Compatibility Quiz
Push Notification
Communication Starter
Similarities Cards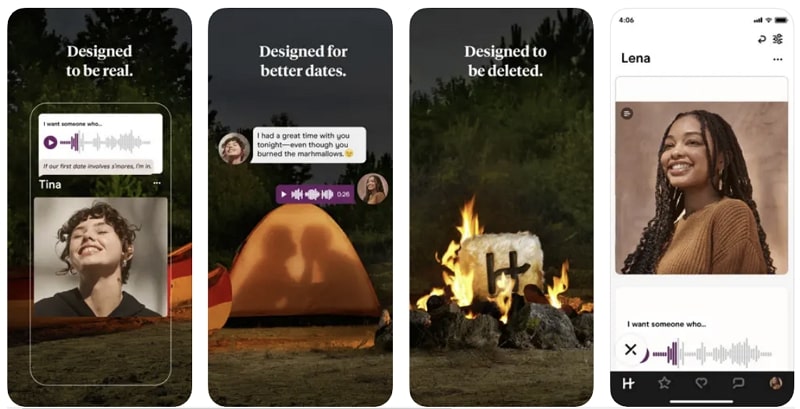 A solution to get rid of being single is finally here; Hinge allows you to find your next dating partner in a convincing way. Therefore, with this best dating app, you can connect, chat, make friends, and schedule dates to proceed with your romantic relationship goals. According to Hinge statistics, about 3 out of 4 people have intentions to go on a second or third date. Ideally, you can find your partner in the desired personality traits.
Key Features
Voice Prompts
Text Messages
Profile Building
Audio and Video Call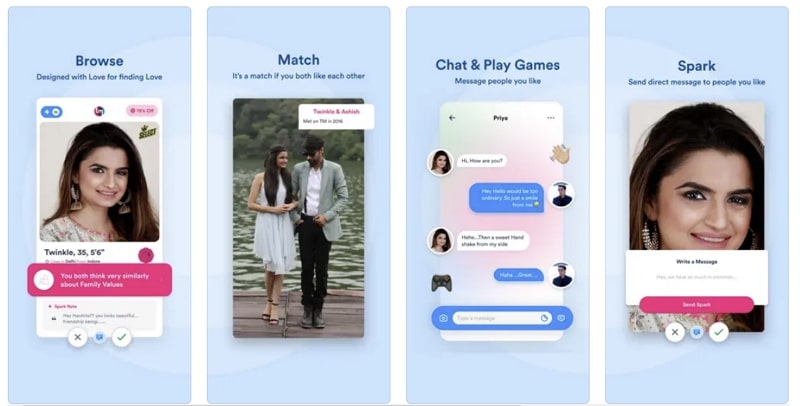 Relationships for singles are now a possibility because TrulyMadly provides the best opportunity to find true love with perfect matchmaking. With over 11 million users, TrulyMadly is surely among the best dating apps in 2023. Hence, you can easily find your partner or even soulmate from this love-making app. Using the profile display, you can convincingly figure out the personality traits, characteristics, and interests of your loved person.
Key Features
Trust Score Verification
Chat and Play Games
Get Endorsements
Screenshots Not Allowed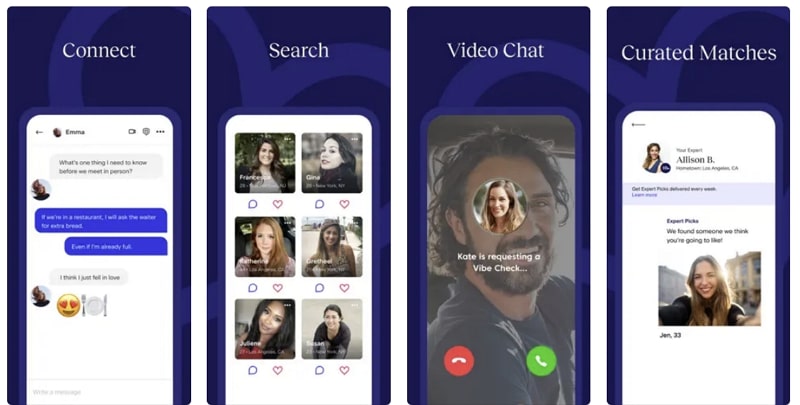 Match with your next dating partner in a simple and quick way using Match Dating. This platform falls within the best free dating apps available currently. After all, it allows singles looking to make romantic love by finding their ideal partners from matching to meeting in real life. Thus, users can begin with messaging that leads to video chats and then meet and greet in a physical environment.
Key Features
Give Likes
Customized Search
Highlights and Recommendations
Virtual and In-person Events
How to Build a Dating App with ZEGOCLOUD SDK
However, building a dating app is not a complex task with available internet resources. In the meantime, it can surely consume your time and money to develop such an app. Thus, a better and more trusted solution is to use ZEGOCLOUD in this regard.
Building In-App Chat for Your Dating App
Chat messages are the first way to start a meaningful conversation with your loving partner that ends with a purposeful date. So, if you're looking to add chat functionality to your dating app, ZEGOCLOUD in-app chat API is the best solution. After all, this platform comes with pre-built UIKits and resources that can easily be integrated with no coding required.
In addition, ZEGOCLOUD in-app chat is featured with a 99.99% transmission rate while supporting concurrent messages. Moreover, you can also read receipts, push notifications, check message history, or share media attachments. Not to forget, you can also access offline messages or have a view of unread messages.
Building Video and Voice Chat for Your Dating App
Of course, text messaging is the conversation starter, but it's proceeded with voice calls and then video calls; once the relationship strengthens and grows further. Meanwhile, if you want to add video and voice chat support to your dating app, look no further than ZEGOCLOUD. Its developer-friendly UIKits API has ready-made UI components that can integrate video and chats in just minutes.
Apparently, ZEGOCLOUD delivers video calling in a 4K resolution display with ultra-low latency of 300ms. Thus, you can schedule live broadcasts, live streaming, or direct one-on-one video calls with high-fidelity audio and noise reduction.
Conclusion
Relationships are essential to overcome loneliness and a sense of inferiority. While having a partner, you can go on dates and have fun meeting your loved one with shared interests. Similarly, this article illustrated the 10 best dating apps in 2023. Meanwhile, if you think about what is the best dating app, ZEGOCLOUD API can surely be one if integrated into your app.
Read more:
Talk to Expert
Learn more about our solutions and get your question answered.
Talk to us
Take your apps to the next level with our voice, video and chat APIs
10,000 minutes for free
4,000+ corporate clients
3 Billion daily call minutes